Exhibitions Not to be Missed
June 18–22, 2018
ART EXHIBITIONS OPENING ON BOTH COASTS (and one museum somewhere in-between) offer something for widely divergent tastes, from Old Masters and 18th-century Japanese woodcut prints to early 20th-century photography, and new work created in the current millennium. There even is a show of artworks inspired by the myth of the wild west cowboy.
---
| | | |
| --- | --- | --- |
| | | |
| Shawcross' monumental 2016 sculpture Monolith (Optic), will be sited outside the Wadsworth Atheneum for the duration of this exhibition. | | Conrad Shawcross, Slow Arc Inside a Cube VI, 2013. Powder coated steel, aluminum, light, mechanical system, 220 x 66 x 66 cm. |
Conrad Shawcross / MATRIX 179
June 21 – September 9, 2018
Wadsworth Atheneum
600 Main Street, Hartford, CT 06103
The Wadsworth was the first art museum in the United States to start a "matrix" series, regular exhibitions of works by up-and-coming artists. The '179' in the exhibit's title indicates the number of these displays to date, going back more than 30 years. This exhibition of indoor and outdoor welded steel sculptures marks the first museum show for Conrad Shawcross, a British artist, whose work otherwise has been exhibited in museums in the U.K., Italy, Germany, Japan, China, Mexico and Spain.
| | |
| --- | --- |
| | |
| | Clarence H. White (United States, 1871–1925), Drops of Rain [Dew Drops] (detail), 1902, platinum print, 20.2 x 14.9 cm. Library of Congress. |
Clarence H. White and His World
The Art and Craft of Photography, 1895–1925
June 22 – September 16, 2018
Portland Museum of Art
7 Congress Square, Portland, ME 04101
Not a great exhibition title, but a worthwhile exhibition to see, with more than 100 prints, albums, and illustrated books by Clarence White (1871–1925), who was a founding member of the Photo-Secession, the Alfred Stieglitz-led group of photographers who sought to break away from the soft-focused, storytelling imagery of 19th century photography. This exhibition will include paintings, prints, and drawings by artists who influenced or were influenced by pictorial photography, as well as photographs by White's closest friends, collaborators, and students, including Gertrude Käsebier, Alfred Stieglitz and Alvin L. Colburn.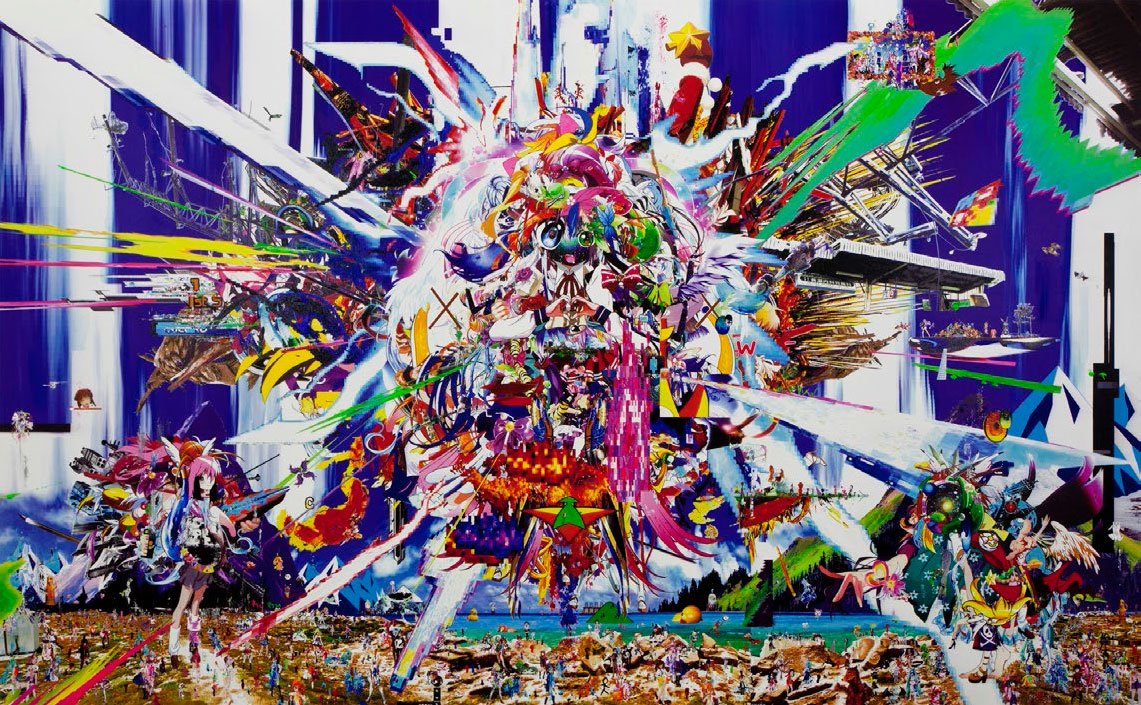 Kazuki Umezawa (b. 1985, Saitama, Japan; based in Japan), Over the Sky of the Beyond, 2014. Digital print, acrylic, and glitter paste on wood panel, 39-3/8 x 48-7/8 in. Pizzuti Collection. © Kazuki Umezawa.
Chaos and Awe: Painting for the 21st Century
June 22 – September 16, 2018
Frist Art Museum
919 Broadway, Nashville, TN 37203
In the event that you don't get depressed or exhausted from listening to political pundits describe the destabilizing effects of such 21st-century forces as globalism, mass migration, radical ideologies and complex technologies, The Frist Art Museum offers the take on many of these issues by artists from around the world. Some artists, yes, express despair at humanity's darker side, while other reveal a feeling of exhilaration at ever-expanding possibilities. This is a show of paintings and, if anyone has been despairing of the death of painting, this exhibition offers a pick-me-up.
| | |
| --- | --- |
| | |
| Suzuki Harunobu (Japanese, 1725?-1770), Ofuji at the Moto-Yanagiya with a female customer, ca. 1769, color woodblock print on paper, Bequest of Winslow B. Ayer, 35.40. | |
Suzuki Harunobu and the Culture of Color
June 23 – September 16, 2018
Portland Museum of Art
1219 SW Park Avenue, Portland, Oregon 97205
Suzuki Harunobu (Japanese, 1725?–1770) is not as well-known to ukiyo-e enthusiasts as Hiroshige, Hokusai and Utamaro, but this exhibition will offer a first-rate introduction. As his compatriots, his subject was everyday life – going on a date, going to the theater, relaxing at home – and this exhibit highlights his drawing skills and use of saturated color. He was the first to produce full-color prints in 1765, using better woods for the woodblocks, using cherry wood instead of catalpa so that they would hold up longer, and employing not only more expensive colors but also a thicker application of the colors in order to achieve a more opaque effect. His work almost overnight rendered obsolete the former modes of two- and three-color prints.
---
Carl Rungius, Two Cowboys in the Saddle, 1895-1950. Oil on canvas, 24 x 31-15/16 in. Bequest of William N. Beach. 1960-376.43. Photography by Andy Duback.
Playing Cowboy
June 23 – October 21, 2018
Shelburne Museum
6000 Shelburne Road, Shelburne, VT 05482
John Wayne privately told friends that he hated wearing those dirty cowboy outfits and chaps, but he kept getting those Hollywood roles and he kept putting those clothes back on. And he became the mythic American western man. The myth of the west, however, predated John Wayne and Hollywood, and many artists portrayed the cowboy, the Indian, the pioneer, the gun fight, the army scout, including Frederic Remington (1861–1909), N.C. Wyeth (1882–1945), and Carl Rungius (1869–1959). Each ventured west in search of artistic inspiration, translating their experiences into romantic portrayals that continue to influence contemporary understandings of life on the open range. The Shelburne Museum's exhibition reveals the myths they created or perpetuated for good and evil.
| | |
| --- | --- |
| | |
| | Hendrik Goltzius, The Sleeping Danae Being Prepared to Receive Jupiter, 1603, Oil on canvas, Los Angeles County Museum of Art, Gift of The Ahmanson Foundation (M.84.191), photo © Museum Associates/LACMA. |
To Rome and Back: Individualism and Authority in Art, 1500–1800
June 24, 2018 – March 17, 2019
Los Angeles County Museum of Art
5905 Wilshire Boulevard, Los Angeles, CA 90036
Before going to Paris was every (non-Parisian) artist's goal, the place to learn about art for artists and non-artists alike was Italy, particularly Rome. The Los Angeles County Museum of Art has brought together 130 objects from its various collecting departments (painting, sculpture, paper, ceramics, glass, cork, tapestries, and costumes) that reveal the importance of Rome to artists and audiences operating in a variety of contexts from the Renaissance to the Enlightenment.