Exhibitions Not To Be Missed for August 13-19
SIMPLY PUT, FIVE INTERESTING EXHIBITIONS THAT ARE INTERESTING FOR THEIR OWN SEPARATE MOTIVATIONS. The Virginia Museum of Fine Arts' "Precisionism" show features a type of artwork that looked to industrial planning and manufacturing as a solution to a world gone mad, that madness epitomized by the First World War of which the Museum of Fine Arts, Boston is holding an exhibit of propaganda postcards, while the Bruce Museum in Connecticut displays Navajo textiles whose abstract designs proved high influential to a generation or more of Modern artists.
The Precisionist Impulse
July 28 – November 12, 2018
Virginia Museum of Fine Arts, Richmond
Precisionism was one of the many short-lived isms that grew up in the period shortly after the First World War, when everyone seemed to want to come up with some new system of order in the wake of the chaos caused by the war. "Precisionism" was an American coinage that largely defined the work of Charles Demuth and Charles Sheeler, although this exhibition broadens its focus to include various other artists, such as the early 20th century photographer Berenice Abbott and the contemporary photographer Andrew Bordwin. This exhibition of 18 watercolors, prints, drawings, photographs and paintings from the museum's collection demonstrates that the term "Precisionism" has longer legs than might have been previously understood.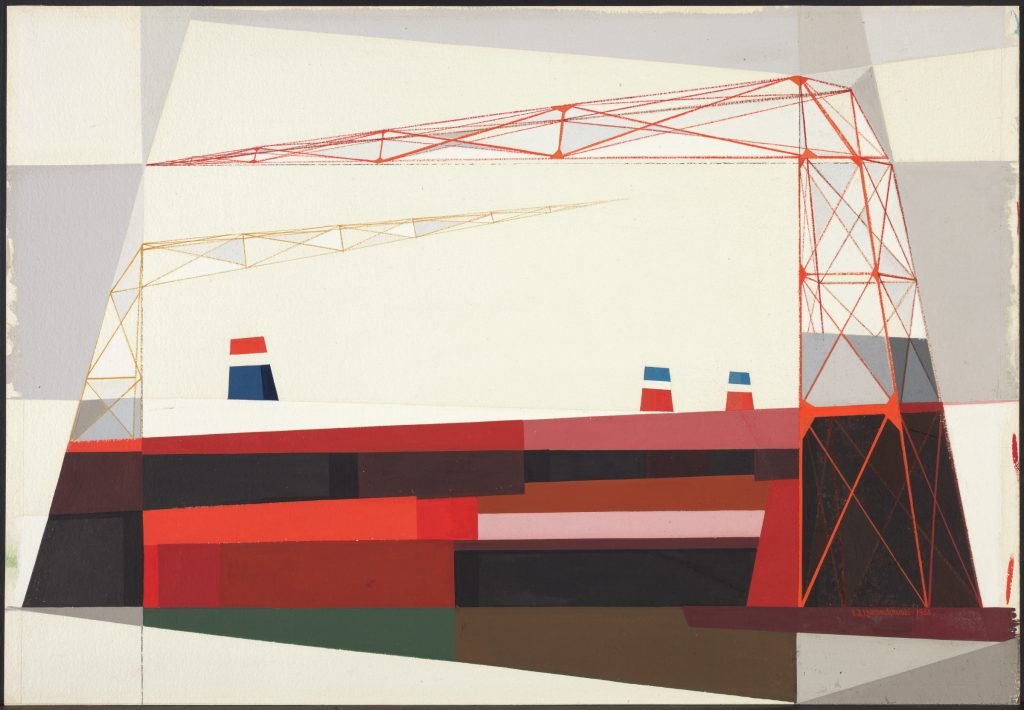 Edmund D. Lewandowski (American, 1914–1998), Drydock and Repair, 20th century. Casein on paperboard. John Barton Payne Fund, 58.20.
The Art of Influence: Propaganda Postcards from the Era of World Wars
July 28 – January 21, 2019
The Museum of Fine Arts, Boston
The 100th anniversary of the end of the First World War has brought out a number of museum exhibitions that display the efforts made by governments in the United States and Europe to encourage patriotism, justify war, lionize leaders, demonize the enemy, or underscore the need for citizens to make sacrifices for the cause. A harder sell sometimes than others. This exhibition includes both posters and postcards, most of the postcards drawn from the Leonard A. Lauder Postcard Archive.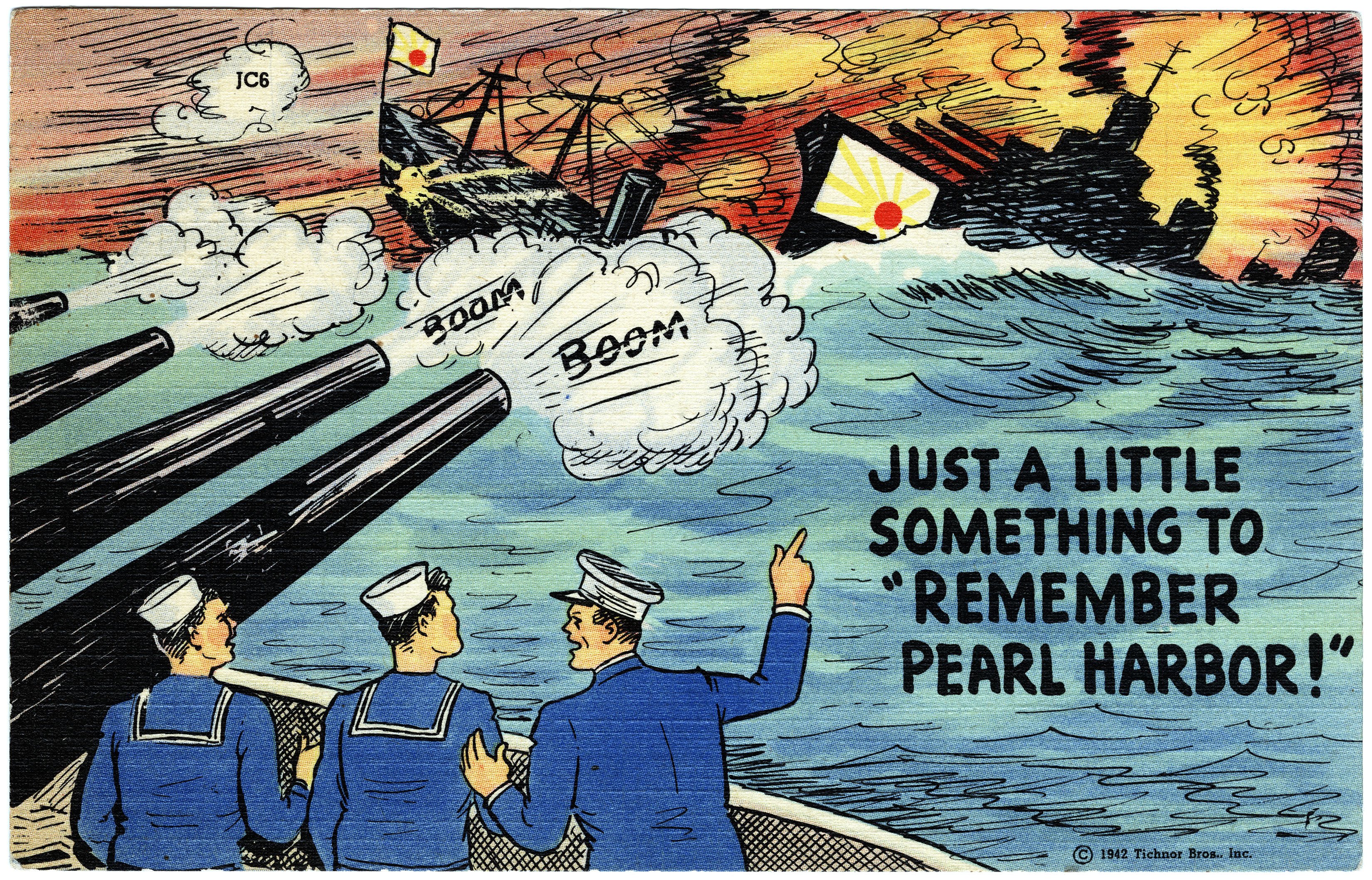 Just a little something to "remember Pearl Harbor!" 1942. Walt Munson. Color lithograph on card stock. Published in Boston by Tichnor Brothers Inc. *Leonard A. Lauder Postcard Archive—Promised gift of Leonard A. Lauder. *Courtesy, Museum of Fine Arts, Boston.
Reckoning with 'The Incident': John Wilson's Studies for a Lynching Mural
August 17 – December 30, 2018
Yale University Art Gallery, New Haven, Connecticut
This is an exhibition about an artwork that is lost, presumably forever. In 1952, while a student at La Esmeralda, Mexico's national school of art, American artist John Wilson (1922–2015) painted a powerful mural that he titled The Incident. The fresco depicted a scene of a racial terror lynching at the hands of the Ku Klux Klan, as witnessed by a young African American family. Was the mural whitewashed? Was the building torn down? What remains are nearly all of Wilson's known preparatory sketches and painted studies for it, as well as related prints and drawings. Inspired by the political and social activism of the Mexican muralists, in particular José Clemente Orozco, and haunted by images of lynchings that he had seen in newspapers as a child, Wilson revisited the subject of The Incident over many years as a way of grappling with racial violence, both past and present. The works on view, some disturbing in content, encourage contemporary viewers to do the same.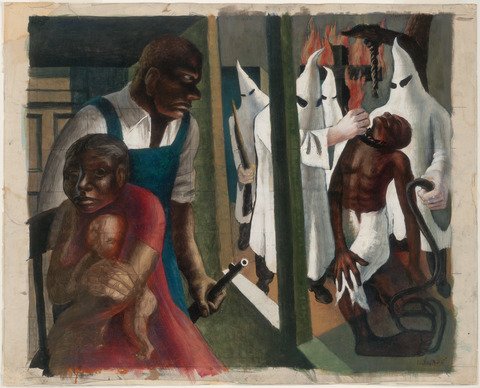 John Wilson, Study for The Incident, 1952. Watercolor, ink, and graphite, squared for transfer. Yale University Art Gallery, Janet and Simeon Braguin Fund. Art © Estate of John Wilson/Licensed by VAGA, New York, N.Y.
A Continuous Thread: Navajo Weaving Traditions
August 18 – November 25
Bruce Museum, Greenwich, Connecticut
Many Native American tribes wove rugs and blankets, but the weaving of the Navajos holds a special place, in part because of how they worked — the warp (the vertical strings on a loom) consisted of one long continuous piece of wool thread — and because of their geometric patterns, which were quite influential on the work of Modern abstract artists. Influenced by Pueblo weavers, the Navajo made large blankets that were prized throughout the Southwest and across the Great Plains for their quality as outerwear.
The pieces in this exhibit, dating from the 1880s to the mid-20th century, come from the collection of Miss Margaret Cranford (1887–1974), a resident of Greenwich. At the age of 21, Miss Cranford began a lifelong pursuit of traveling across the United States and the world, collecting fine decorative art, jewelry and textiles. Her numerous gifts of rare objects of the highest quality are the foundation of the Bruce Museum's Native American ethnographic collection.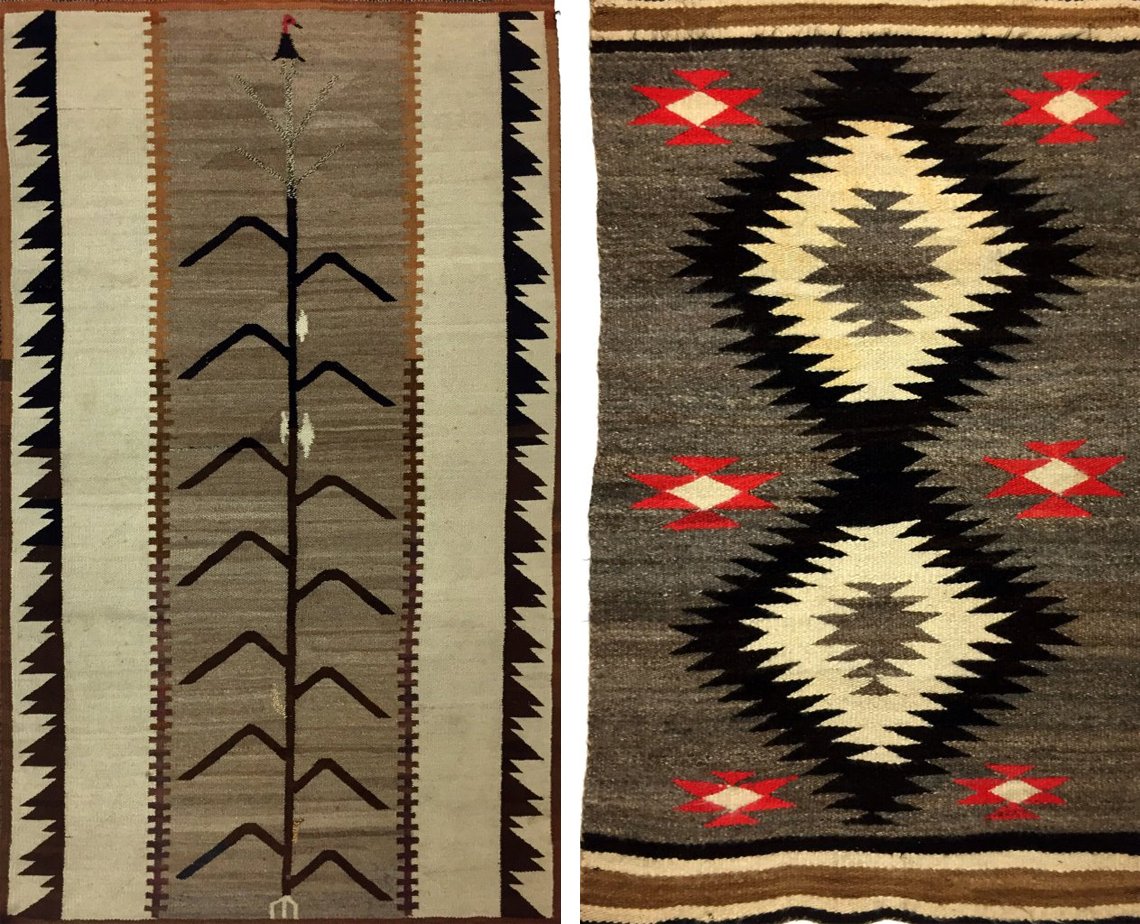 Left: Pictorial Textile, c. 1910. Gift of Margaret Cranford. Bruce Museum Collection 21199.
Right: Saddle Blanket, c. 1900–1910. Gift of Margaret Cranford. Bruce Museum Collection 19822.
APEX: Avantika Bawa
August 18 – February 10, 2019
Portland Art Museum, Oregon
Avantika Bawa, born in 1973 in New Delhi, India who divides her time between her homes in Portland and India, is a multi-disciplinary artist working in site-specific installation, video, printmaking, and drawing. Her influences probably will strike most viewers as more western than Asian, and this exhibition offers new work by the artist – principally drawings – that reveal her long interest in architecture and geometry.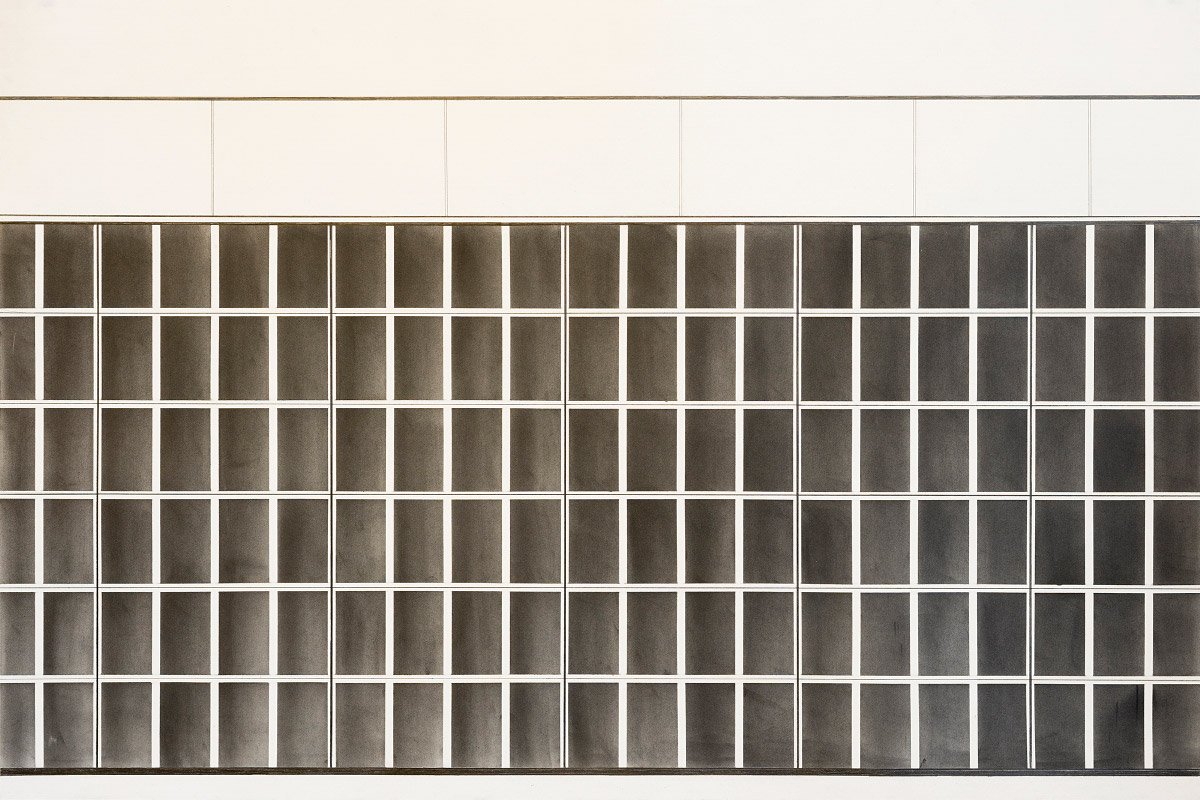 Avantika Bawa, Coliseum 01, Graphite and pastel on paper, 2015.