Exhibitions Not To Be Missed for August 6–12
IMPORTANT EXHIBIT NUMBER ONE: It is probably not unexpected that most artists come from families that are reasonably prosperous, where the arts are appreciated and encouraged. Not Constantin Brancusi, whose parents were dirt-poor peasants whose son was sent out to herd sheep at the age of seven. Two years later, he left home to find work elsewhere, first for a grocer and later as a domestic in a public house in Craiova where he remained for several years. On the side, he tried his hand at carving wood, and a local benefactor who was impressed by his skill paid his tuition at Craiova School of Arts and Crafts from which he graduated with honors in 1898. Lowly beginnings that turned out quite well for him. Do not miss this exhibition!
IMPORTANT EXHIBIT NUMBER TWO: Like a dog, Robert Rauschenberg marked his territory (terrible analogy), claiming it through the artwork he produced there and sometimes left behind. He took his artmaking on the road (click here), traveling to different continents so, theoretically, a hundred different museums around the world could produce Rauschenberg: In and About____. LACMA's exhibit focuses on the artist's creations specifically made in Los Angeles and is this week's other top pick.

Constantin Brancusi Sculpture
July 22, 2018 – February 24, 2019
The Museum of Modern Art, New York City
Constantin Brancusi (1876–1957) moved to Paris from his native Romania in 1904 and was soon after invited by the renowned sculptor Auguste Rodin to join his studio as an assistant. With the moxie only the young can pull off, the younger artist declined, claiming that "nothing grows in the shade of a tall tree." Brancusi stayed in Paris, mixed in the Modernist art circles of the day and began pushing modernist sculpture to the threshold of abstraction, developing a new, simplified vocabulary of graceful crescents, gleaming ovoids, and rough-hewn blocks that often evoked rather than resembled the things named in their titles, such as Bird in Space or Fish. This exhibition is drawn entirely from Modern's collection, featuring 11 of the artist's sculptures, a selection of drawings and photographs, and a collection of archival material.
Constantin Brancusi. Fish. 1930. Blue-gray marble, 21 x 71 x 5-1/2" (53.3 x 180.3 x 14 cm), on three-part pedestal of one marble 5-1/8" (13 cm) high, and two limestone cylinders 13" (33 cm) high and 11" (27.9 cm) high x 32-1/8" (81.5 cm) diameter at widest point. Acquired through the Lillie P. Bliss Bequest (by exchange). © 2018 Artists Rights Society (ARS), New York/ADAGP, Paris.
Collective Recollection
July 27 – January 20, 2019
Rhode Island School of Design Museum, Providence, Rhode Island
Since its invention in France and England in the 1830s, the camera has been used to record historical events, the landscape and the people who shape both. Collective Recollection focuses on people in group settings, both the intimate moments and during some sort of event that brings them together in one place at one time. Approximately 60 photographs from the museum's permanent collection portray people in various ethnic and racial groups and how their get-togethers reflect their collective identity and how they are represented.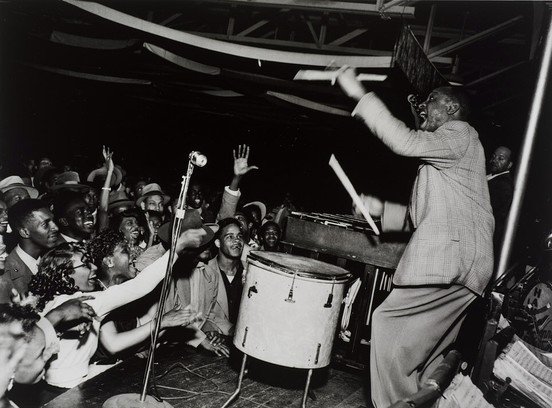 Ernest C. Withers, Lionel Hampton, The Hippodrome, 1950s. Helen M. Danforth Acquisition Fund. RISD Museum, Providence, RI.
Rauschenberg: In and About L.A.
August 3 – November 25, 2018
Los Angeles County Museum of Art
Although Robert Rauschenberg (1925–2008) was born in Texas and lived primarily in New York and Florida, the curators of this exhibition believe that Southern California played a pivotal role in his artistic development. Rauschenberg's first visit to an art museum was in Los Angeles, while he was stationed at Camp Pendleton (two hours south of the city) in 1944–45. This experience prompted his decision to become an artist, and in the following decades he created some of his most groundbreaking work here.
In the late 1960s and early 1970s Rauschenberg partnered with the L.A. print workshops Gemini G.E.L. and Styria Studio. He was also a central participant in LACMA's Art & Technology program, collaborating with scientists and engineers from Teledyne Technologies. In 1981, Rauschenberg photographed L.A. for his In + Out City Limits project, and 17 years later he pictured the metropolis again in his LA Uncovered screenprints. Convinced? Well, see the show anyway.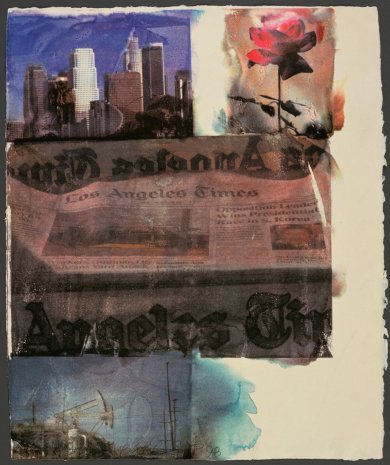 Robert Rauschenberg, L.A. Uncovered #1, 1998, Los Angeles County Museum of Art, gift of the artist and Gemini G.E.L., © Robert Rauschenberg Foundation

SHOWS
Antiques Week in New Hampshire
August 8 – 11
Manchester, New Hampshire
If other things don't attract you to Manchester, New Hampshire, perhaps all the antiques will. Three separate antiques shows will offer visitors lots to look at and, maybe, even buy, such as antique furniture, clocks, folk art, paintings and prints, textiles, woodenware, nautical and scientific items, metalware, glassware, pottery and ceramics, early lighting, samplers, Shaker furniture and accessories, decoys, architectural and garden ornaments, as well as books about antiques.
Antiques in Manchester: The Collector's Fair
August 8 – 9
Sullivan Arena, on the campus of St. Anselm College, Manchester, New Hampshire
Now in its seventh year, Antiques in Manchester offers a wide range of antiques, Americana and art for collectors at every level, from dealers who save their most exciting acquisitions for August. Whether you are the most sophisticated collector or just beginning, you will find many things to tempt you, so plan to spend several hours with us. Join in interesting conversation with the dealers and collectors from across the country who make the pilgrimage to New Hampshire for Antiques Week. It is an experience you will thoroughly enjoy and all of us look forward to welcoming you.
Midweek in Manchester Antiques Show
August 8 – 9
JFK Memorial Colosseum, Manchester, New Hampshire
Midweek in Manchester, the show that started Antiques Week, presents outstanding and diverse exhibitors featuring fresh American and English 18th century through mid-century modern antiques and decorative arts expanding your collecting horizons in air-conditioned comfort. Free parking, gourmet cafe, on-site shipper.
Active buying at the 2017 Midweek in Manchester show.
The 61st Annual New Hampshire Antiques Show
August 9 – 11
The Manchester Downtown Hotel, 700 Elm Street, Manchester, New Hampshire
The city is a tourist draw, while the hotel (the former Radisson) offers a variety of amenities for guests and visitors alike, and for the 61st year the New Hampshire Antiques Dealers Association will hold its annual show there, featuring 67 antiques dealers from around the country. The Maine Antique Digest has called this "the best show of its kind in New England." Lots of stuff: antique furniture, clocks, folk art, paintings and prints, textiles, woodenware, nautical and scientific items, metalware, glassware, pottery and ceramics, early lighting, samplers, Shaker furniture and accessories, decoys, architectural and garden ornaments, as well as books about antiques.