Exhibitions Not To Be Missed for July 16–22
SOME RECENT ARTISTS SEEM TO HAVE THEIR "MOMENT," and this appears to be one for 89 year-old Japanese artist Yayoi Kusama, who creates enormous installations of colors and shapes. Installation art is the medium of control freaks who want to dominate your senses, permitting no distractions and forcing viewers to focus only on the all-round experience. Other exhibits this week are not quite as dominating.
Yayoi Kusama: Infinity Mirrors
July 7-September 30, 2018
Cleveland Museum of Art
Back in the early 1960s Japanese artist Yayoi Kusama (b. 1929) staged polka-dot "Happenings" in the streets of New York, but these days her work is viewed inside museums as enormous installations. Still very trippy, seven of Kusama's captivating Infinity Mirror Rooms, including Where the Lights in My Heart Go, which is exclusive to the exhibition's presentation in Cleveland.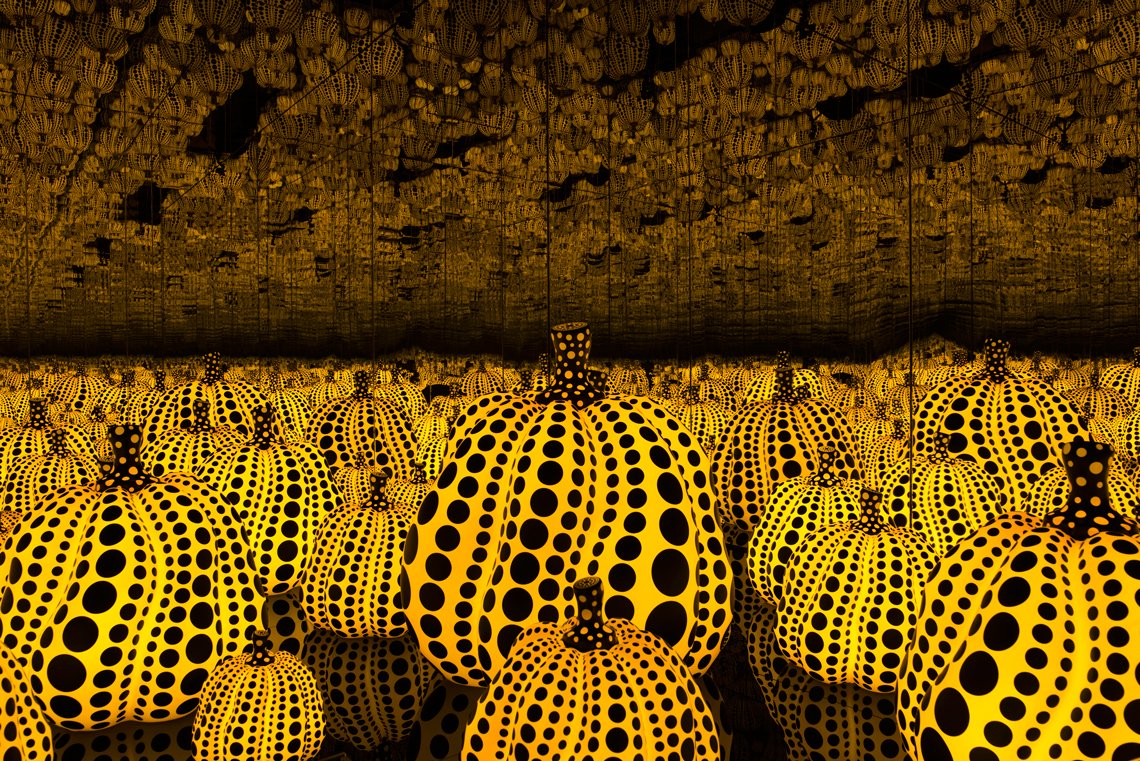 All the Eternal Love I Have for the Pumpkins (detail), 2016. Yayoi Kusama (Japanese, b. 1929). Wood, mirror, plastic, black glass, LED. Collection of the artist. Courtesy of Ota Fine Arts, Tokyo / Singapore, and Victoria Miro, London. © Yayoi Kusam.
Kusama's work is immensely colorful, as has been her life. In 1957, she left Japan for New York City, claiming her homeland was "too small, too servile, too feudalistic and too scornful of women," arriving in Manhattan at the height of abstract expressionism but also when a new sensibility – later deemed Pop Art – was picking up steam among a younger generation of artists. Her work, abstract by nature and not easily confined within a picture frame, reflects both of these two art movements, and others as well. She opened several naked painting studios and offered to have sex with President Richard Nixon if he would agree to stop the Vietnam war.
In the early 1970s, Kusama returned to Japan and, in 1977, checked herself into the Seiwa Hospital for the Mentally Ill, which has been her permanent residence ever since. (She is free to leave but likes it there.) Meanwhile, her reputation has continued to grow and, in 2017, a 50-year retrospective of her work opened at the Hirshhorn Museum in Washington, D.C. One work from her Infinity Mirror series was part of that exhibit. The illustrated work was included in Top Museum Acquisitions: 2017 in Review, published in Antiques & Fine Art magazine and on Incollect.com.
Casanova's Europe: Art, Pleasure, and Power in the 18th Century
July 8, 2018 – October 8, 2018
Boston Museum of Fine Arts
There are names for guys like this – Romeos, Lotharios, Casanovas – who woo women, seducing and abandoning them. Unlike Romeo and Lothario, however, Giacomo Casanova (1725–1798) was not fictional but a real life Italian who hobnobbed with royalty, popes, and intellectuals such as Voltaire and Benjamin Franklin, as well as with (or course) quite a few women.
He wasn't a painter or sculptor and is known to us principally through his 12-volume autobiography, The Story of My Life, and through his legend, as other writers and artists depicted his exploits and the world in which he thrived. This exhibition includes more than 250 paintings, sculptures, works on paper, decorative arts, furniture, costumes, and musical instruments in a lavish display of the visual riches of Casanova's world. A world of pleasure.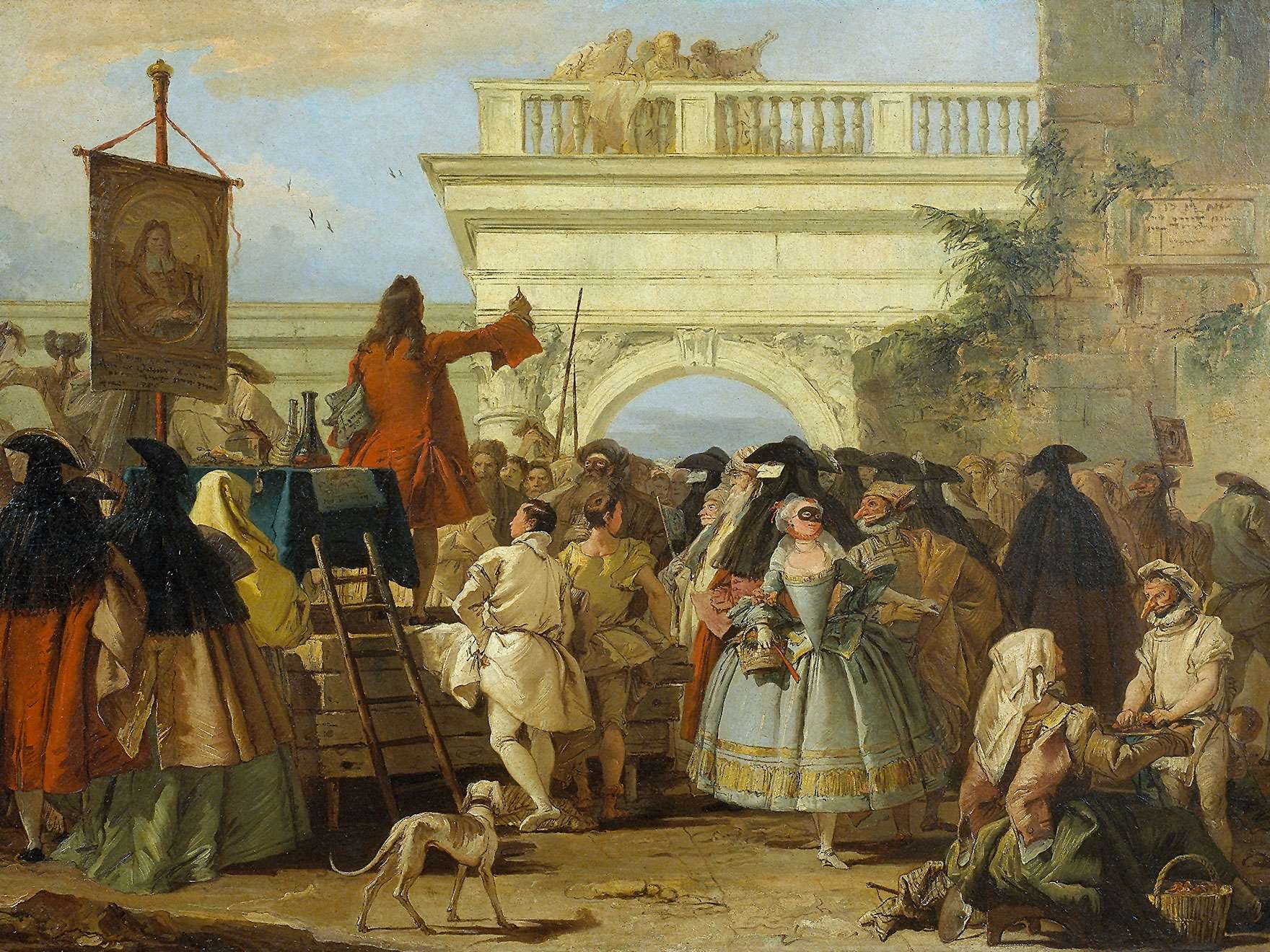 Giandomenico Tiepolo, The Charlatan (detail), 1756. Oil on canvas. Museu Nacional d'Art de Catalunya, Barcelona. Francesc Cambó Bequest, 1949. © Museu Nacional d'Art de Catalunya, Barcelona.
Flirtation, gossip and seduction can be fun but, perhaps, these days we are looking at men's "jollies" in a somewhat different light. The Museum of Fine Arts offers some balance to the fun with a series of programs and events with prominent feminists, films about heroic women and girls, as well as conversations about wealth and status in contemporary Boston, which address issues of political, social, economic, sexual power both in Casanova's time and in our own. Spoilsports!
Sandra Ramos (b. 1969 in Havana, lives and works in Miami), Apocalyptic Cartographies. Limbus, 2017. Mixed media, photograph/paper and engraving on acrylic, 41x 61 x 2 inches, Courtesy of the artist and Pan American Projects.
Deconstruction: A reordering of life, politics, and art
July 10, 2018 —September 30, 2018
Frost Art Museum, Florida International University, Miami
There is a lot to take in with the Frost Museum's new exhibition Deconstruction: A reordering of life, politics, and art, which presents the work of twelve Miami-based artists – Eddie Arroyo, Zachary Balber, Frida Baranek, Christopher Carter, Yanira Collado, Gonzalo Fuenmayor, Pepe Mar, Glexis Novoa, Sandra Ramos, Leyden Rodriguez-Casanova, Jamilah Sabur, and Frances Trombly – who take apart ("deconstruct") contemporary life, politics and art.
About that title: It comes from an 1960s essay on the need for a "reordering of life, politics, and art" by French philosopher Guy Dubord (1931-94), who worried that images of social interactions (in effect, television and advertising) were replacing actual social interactions and that individuals were becoming more disconnected from other people and from themselves. We still think that, but today's villains are more apt to be social media, which you might understand if you could put down your phone for a minute, buster.
When the Water Rises: Recent Paintings by Julie Heffernan
July 10 - September 2, 2018
Palmer Museum of Art, Pennsylvania State University, University Park, Pennsylvania
Socially-conscious artwork, once the domain of the art world's fringe, has popped up everywhere. Sometimes, the art project examines social injustice, immigration, racial bias, male privilege and income inequality, and sometimes – as in the case of Julie Heffernan (b. 1956) – ecological disaster. Cities explode, garbage is strewn about, and animals and meteors fall from the sky. Hurricane Katrina and the BP Oil Spill are not horrific events but, to her mind, the new normal.

Julie Heffernan, Camp Bedlam, 2016, oil on canvas. Courtesy of Catharine Clark Gallery.
Heffernan's oils, which are filled with references to the art of the past, have been described as "a new kind of history painting" for their mix of personal worries and up-to-date content, as well as "a hybrid of genres and styles." In her own words, she has written on her website, "We are slowly making our world unlivable, and I want to find imagery to describe the destructive action, waste, and contamination that is generally invisible to us. I paint to imagine alternatives, mountains and seas that remind us of the 2016 refugee crisis, shanty towns made out of old mattresses and appliances, or characters outfitted with tools for clean up, to envision how we might remake the world as it is slowly falling apart."
This exhibition of recent paintings explore imaginative scenarios and alternative habitats as her personal response to the threat of environmental challenges, evoking the work of Hieronymus Bosch, Thomas Cole and Albert Bierstadt.
| | |
| --- | --- |
| | |
| | Peter Hujar: Fran Lebowitz at Home in Morristown, New Jersey, 1974; gelatin silver print; 13-1/2 × 13-1/2 in.; Peter Hujar Collection, Morgan Library & Museum, New York, purchased on the Charina Endowment Fund. © 1974 Peter Hujar Archive LLC, courtesy of Pace/MacGill Gallery, New York, and Fraenkel Gallery, San Francisco. |
Peter Hujar: Speed of Life
July 11–November 18, 2018
Berkeley Art Museum, University of California at Berkeley
Peter Hujar (1934–1987), one of many artists lost too soon to the AIDS epidemic, is best known for his intimate, searching, and playful portraits of artists, writers, and performers, including Susan Sontag, William S. Burroughs, David Wojnarowicz, as well as performers in drag theater. This exhibition, the first retrospective of Hujar's work, presents more than 100 photographs that chart his career from his beginnings in the mid-1950s to his central role in the East Village art scene three decades later.