Exhibitions Not to be Missed for July 23–29
BEFORE WE GET TO THE EXHIBITIONS, let's first look at a way of paying less to see them: The Frick Collection, The Morgan Library & Museum and Neue Galerie, all in New York City, once again are offering the Connoisseur Pass, a special $45 ticket that provides one-time admission to all three institutions through September 2, 2018. The ticket is available for purchase online at frick.org/CPass or on-site at all three museums and is valid for two weeks from the first time it is used.
Now to the exhibitions: In New York, the Neue Galerie has its own exhibit of early 20th century angst while the Museum of the City of New York rabble rouses with a show of rebellious women of the Victorian era. For those traveling in Maine, you have your choice: There is Lois Dodd, a very nice painter of serene landscapes, in a show at Ogunquit and you have an exhibition of German Expressionist prints at Colby College in which anxiety is the dominant theme. No judgments.

Gustav Klimt and Egon Schiele: 1918 Centenary
June 28 – September 3, 2018
Neue Galerie New York
Gustav Klimt (1862-1918) and Egon Schiele (1890-1918) are two of the greatest artists Austria produced in the early twentieth century. Although born nearly thirty years apart, both tragically died in 1918 — the same year that the Austro-Hungarian Empire ceased to exist following its defeat in World War I. Over the intervening century, the works of Klimt and Schiele have come to define the fertile creativity that marked the so-called "joyous apocalypse," an apt term used to connote the waning days of Habsburg rule. This show pays tribute to the groundbreaking achievements of Klimt and Schiele, two masterful artists who are key figures in the collection of the Neue Galerie New York.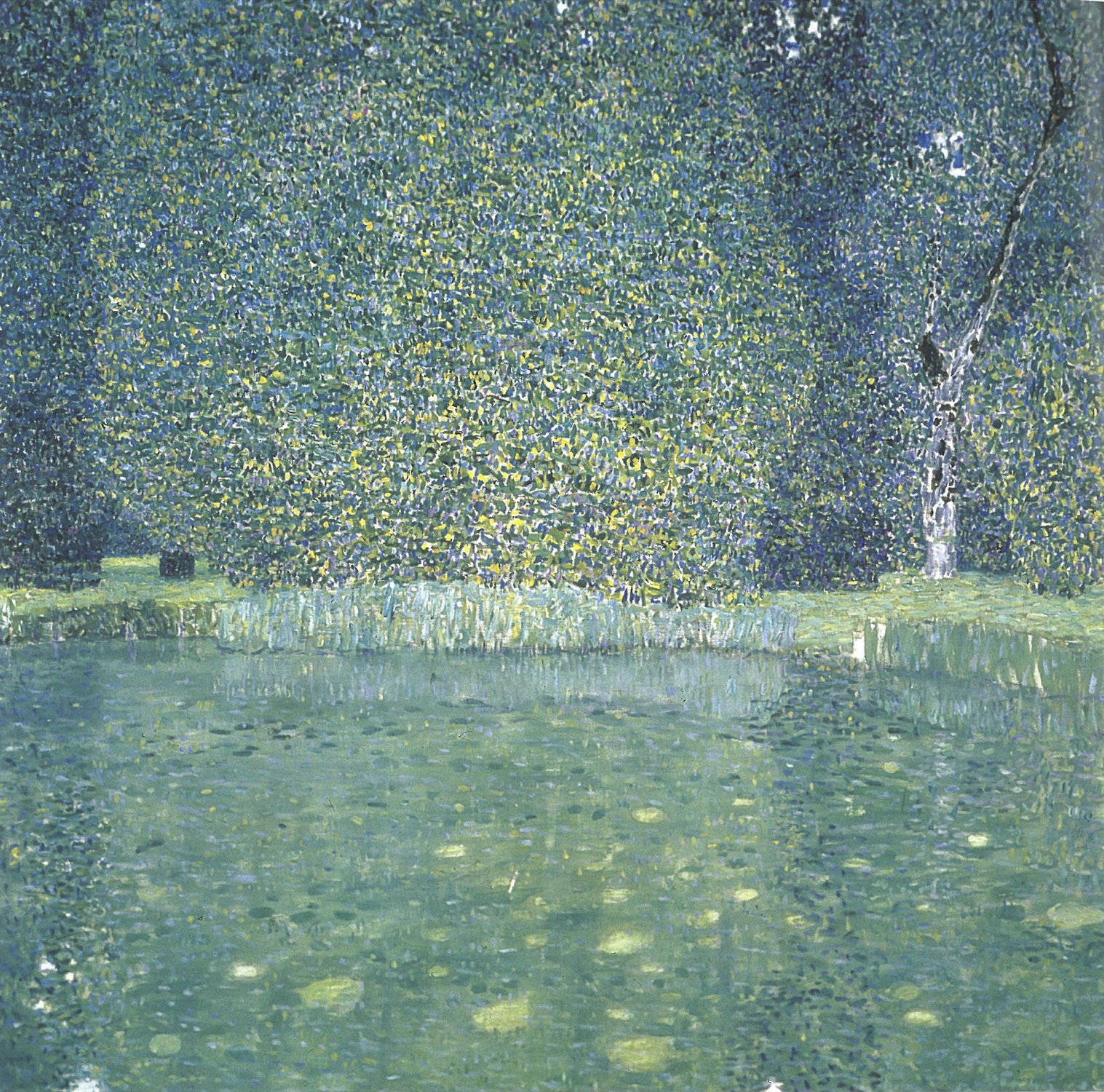 Gustav Klimt (1862–1918), Park at Kammer Castle, 1909. Oil on canvas. Neue Galerie New York. This work is part of the collection of Estée Lauder and was made available through the generosity of Estée Lauder.
Lois Dodd: Drawings and Paintings
July 14 – October 31, 2018
Ogunquit Museum of American Art, Ogunquit, Maine
There is a strong element of defensiveness in the praise offered of painter Lois Dodd (born 1927) by her supporters. The late New York Observer critic Hilton Kramer wrote of a show of the artist's work in 2003 that she "belongs to this class of neglected talents," while David Cohen, in the catalogue essay for a 2008 exhibition of 40 paintings at the New York Studio school, viewed Dodd as being part of a "lost" generation – "'lost' between free, open, gestural abstraction and modernist figuration." Her work hasn't slipped through the cracks, but the work of a lot of other (often younger and bolder, frequently angrier) women artists have tended to hog center stage more. The landscape is her main subject, representational and painterly, uninflected by irony. If others have overlooked her work, you don't need to.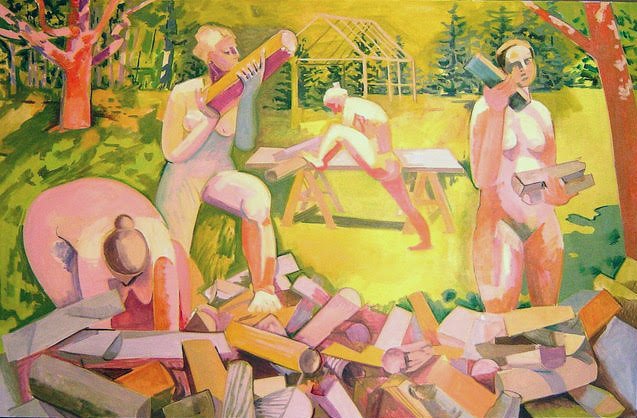 Lois Dodd (b. 1927), Four Nudes and a Woodpile, 2001, oil on canvas, 44 x 68 inches. Courtesy of the artist.
Black Survival Guide, or How to Live Through a Police Riot
July 14 – September 30, 2018
Delaware Art Museum
This year is the 50th anniversary of quite a few events, and one that may have slipped from memory is a National Guard occupation of Wilmington, Delaware following what was then called a "race riot" in the aftermath of the assassination of the Reverend Martin Luther King, Jr. The occupation lasted several months and was fully documented by staff photographers of the local News Journal newspaper.
A number of those photographs have been archived at the Delaware Historical Society, which invited conceptual artist Hank Willis Thomas to look them over. He did, blowing up to mural size a number of these images onto which he added text and what might be called attitude. The race riot is now seen as a police riot, and the African-American rioters are now viewed as victims of oppression. There is no guide or handbook to surviving this type of event, only a look back at a military crackdown on Black anger that makes implicit parallels to the present day.

Hank Willis Thomas (born 1976), Cherry Island, 2018. Screen print on retroreflective vinyl with aluminum backing, 32 x 40 inches. Commissioned by the Delaware Art Museum. Photograph of Wilmington Riots, Cherry Island incident by unknown photographer, August 31, 1968. Courtesy of the Delaware Historical Society. © Hank Willis Thomas. Courtesy the artist and Jack Shainman Gallery, New York.
Rebel Women: Defying Victorianism
July 17, 2018 – January 6, 2019
Museum of the City of New York
New York women have a history of pushing the envelope.
What constitutes rebelliousness certainly has changed over time. Working outside the home, speaking in public, refusing to defer to men, demanding equal rights won't strike today's woman as unusual but, in 19th century America, some things just weren't done. This exhibition of photographs, garments, paintings, and prints from the Museum's collections provides a sense of some women – most notably, Elizabeth Jennings Graham, an African-American New Yorker who refused to get off a segregated trolley in 1854, Hetty Green, a wealthy businesswoman and broker branded "the witch of Wall Street" and Helen Jewett, New York's most prominent courtesan – who defied the stereotypes.
Hetty Green, Helen Jewett, Elizabeth Jennings Graham and Adah Isaacs Menken. Photograph: Courtesy of the Museum of the City of New York.

| | |
| --- | --- |
| | |
| | Emil Nolde, Tingel-Tangel III (detail), 1907–15. Color lithograph over transfer lithograph, 16 7/8 x 24 in. (42.9 x 61 cm). Colby College Museum of Art. Norma Boom Marin Collection of German Expressionist Prints, 2017.461. |
Self and Society:
The Norma Boom Marin Collection of German Expressionist Prints
July 14, 2018 – January 13, 2019
Colby College Museum of Art, Waterville, Maine
The group of 28 prints, spanning the years 1907 to 1924, includes works by the leading artists of the Die Brücke (The Bridge) movement of German Expressionist art, including Max Beckmann, Ernst Ludwig Kirchner and Emil Nolde, who sought to be what we now refer to as "change agents." In the group's 1906 manifesto, these artists announced that "we intend to obtain freedom of movement and of life for ourselves in opposition to the older, well-established powers."
Nowadays, we are more apt to view German (and Austrian) Expressionism as an expression of anxiety, with distorted shapes and slashing brushstrokes as key components, than as a guide to a new world of freedom. Cubism, Surrealism, Constructivism and a variety of other early 20th century artistic isms all promised their own version of a door to lead to a better world, and now we just view them as style choices. We can forgive artists for thinking that their work might matter in some way.
| | |
| --- | --- |
| | |
| Donald Judd, Armchair, designed 1984 and fabricated 1988. San Francisco Museum of Modern Art, gift of Byron R. Meyer. Photo: Katherine Du Tiel. | |
Donald Judd: Specific Furniture
July 14–November 4, 2018
San Francisco Museum of Modern Art
Donald Judd (1928-94) often referred to his sculpture, for which he is primarily known, as "specific objects," but he also occasionally created pieces of furniture that the curators at this exhibition are calling "specific furniture." Judd's designs emerged out of a need for functional, simple, and agreeable furniture and were developed in response to what he saw as an absence of good and available pieces. In addition to his roles as artist, designer, and critic, Judd was also a collector of furniture designs by Alvar Aalto, Ludwig Mies van der Rohe, Gerrit Rietveld, and Rudolph Schindler, among others. This presentation brings together Judd's furniture designs with works that he owned and drew inspiration from, as well as a selection of Judd pieces that visitors can use outside the gallery.
In case you like what you see, Donald Judd furniture – chairs, benches, tables, bookshelves, carts, desks, bed frames and stools – continues to be produced, based on the designs he created, and can be ordered (www.judd.furniture). Prices on request.
| | |
| --- | --- |
| | |
| | David Wojnarowicz with Tom Warren, Self-Portrait of David Wojnarowicz, 1983–84. Acrylic and collaged paper on gelatin silver print, 60 × 40 in. (152.4 × 101.6 cm). Collection of Brooke Garber Neidich and Daniel Neidich. |
David Wojnarowicz: History Keeps Me Awake at Night
July 13 – September 30, 2018
Whitney Museum of American Art
Towards the end of his life, David Wojnarowicz (1954–1992) became as well-known for his advocacy for people with AIDS – which ultimately took his own life – as for his own artwork, which ranged from photography, painting, music, film and sculpture, as well as writing and public speaking. In order to recover the artist and not just as a footnote to a gloomy period of an epidemic that was so strongly associated with gay men, the Whitney is presenting Wojnarowicz's work, which explored American myths, their perpetuation, their repercussions, and their violence.
David Wojnarowicz was the subject of enormous controversy during the culture wars of the 1980s, and one of his artworks, a four-minute 1987 video called "A Fire in My Belly," which included a segment in which live ants crawl over a crucifix and that was part of a 2011 exhibition – titled Hide/Seek: Differences and Desire in American Portraiture – at the Smithsonian Museum's National Portrait Gallery. The New York City-based Catholic League protested the work's inclusion, sparking similar condemnations from a few members of Congress and, eventually, to the work being removed from the exhibition altogether by Smithsonian's then Secretary G. Wayne Clough. That decision led The New York Times in an editorial to call the Smithsonian's actions "an appalling act of political cowardice," and the controversy led the Museum of Contemporary Art in San Diego, The New Museum in New York City and the Rose Art Museum of Brandeis University to set up screenings of the Wojnarowicz video. Life is short and controversy is long.

FRONT International: Cleveland Triennial for Contemporary Art
July 14 – September 30, 2018
Museum of Contemporary Art, Cleveland, Cleveland Museum of Art and elsewhere in Ohio
Taking place at 11 museums, civic institutions and alternative art spaces across Akron, Cleveland and Oberlin, this exhibition showcases an ambitious roster of projects, including performance and theater throughout the landscape and built environment, with a roster of national, international and area-based artists at all points in their career.
At the Museum of Contemporary Art, for instance, one may see a sound installation by interdisciplinary artist Johnny Coleman that focuses on the history and heritage of African-Americans in Cleveland; a 3-D film and sound installation by Cyprien Gaillard; a virtual reality project by Lin Ke'; a "dystopian" installation by Josh Kline comprised of a group of gray sculptures that appear to be piles of concrete rubble; and, a film by Martine Syms that fictionally recalls the Motown recording studios of the 1960s.
Casey Jane Ellison is Kidding/Not Kidding. The L.A.-based media artist brings serious humor to art.

MESDA Conference: Middle Tennessee
October 19 – 20, 2018
Tennessee State Museum, Nashville, TN
To register, call 336.721.7369 or visit www.mesda.org
Let the Volunteer State's decorative arts dazzle you at the 2018 MESDA Conference! Join us as we celebrate the Tennessee State Museum's beautiful new building, opening this October. This 137,000-square-foot space will launch a new era in Tennessee history and material culture, and the conference offers an unparalleled opportunity to get a behind-the-scenes look at the new exhibits, with both a reception and conference sessions at this new downtown landmark. In addition, special themed rambles explore rarely viewed private collections and homes in Williamson and Sumner counties while a Nashville tour looks at the city's roots as the Athens of the South.