Fawn Galli Offers Up Inspiration and Information In "Magical Rooms"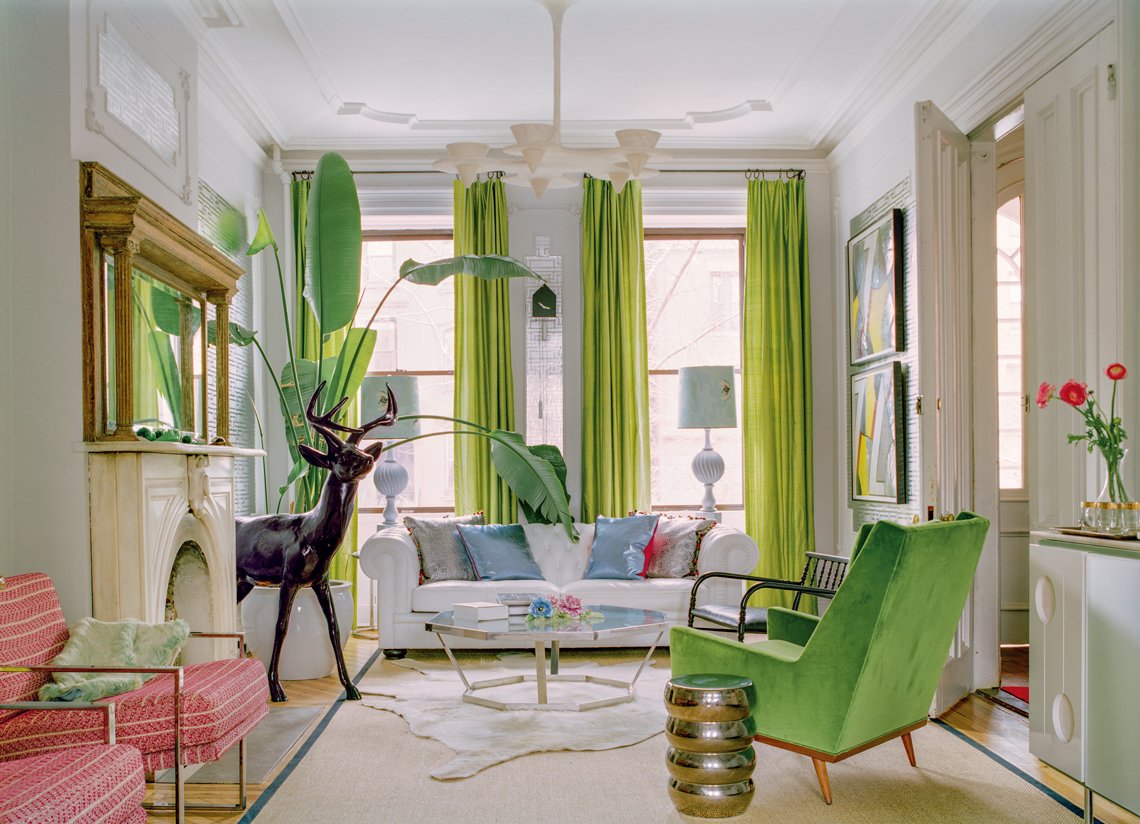 From the chapter titled "Jungle Disco," the living room of Fawn's Brooklyn home, shared with her architect husband and two sons. All her inspirational elements are woven together to transform a dark, heavy, traditional parlor into a truly memorable room, one that awakens the senses. A deer statue from a garden center, painted a glossy black, is positioned to emerge from a banana tree forest, animating the room with its benevolent presence. Walls with original historic moldings are painted pale gray and highlighted with inset panels of shimmery wallpaper for a bit of disco sparkle, boosted by the chrome frames of an octagonal glass-topped table and a pair of Milo Baughman-style lounge chairs. A very traditional Chesterfield sofa is covered in very untraditional white leather, recalling disco banquettes, and is strewn with a swath of glitzy throw pillows. Thrift-shop lamps with orbs like tournéed mushroom caps were painted white, and sport custom lampshades wallpapered with a pattern of birds on a pale blue ground. Placed behind the sofa and directly in front of the windows, they pull a bit of the sky into the room. Photo by Laura Resen
| | |
| --- | --- |
| | |
| | Fawn Galli |
From child of nature, to gypsy wanderer, to a stint at Christie's, then as decorator for eminent architect Robert A.M. Stern, followed by a position with the legendary architect Peter Marino, to today, helming her own interior design firm, one thing is a constant for Fawn Galli: she is always reinventing her world. Her knack for reinvention, her ability to visualize the possibilities, is a key component in creating the uniquely personal interiors she is known for. She has an innate talent for mixing things up, delights in embracing and even celebrating clashing elements, and turns her visions into interiors that are startlingly, poignantly beautiful, and rich in the physical comforts of a well-designed home.
Fawn's interiors are imbued with a vibrant mix of influences, derived from her real-life experiences. She comes by her boho credentials honestly: her first home was a houseboat on the banks of a tidal river in Northern California, her second, a cabin with a salvaged stained glass window, built by her father. Neither had electricity or indoor plumbing, but what they did offer was an intimate connection with the richness of the natural world, and the guidance of Mother Nature as the ultimate decorator. After college, she studied in Paris, where she haunted the flea markets and began to train her eye, searching out and evaluating the objects for sale. And incongruously, or perhaps not, she spent her nights on the dance floor of discos, reveling in the freedom of glittering nights, which she likens to dancing under the stars.
| | |
| --- | --- |
| | |
In her just-released book, Magical Rooms: Elements of Interior Design, Fawn casts a spell, and by telling the stories behind her designs, coaxes the reader to open their eyes wider, to explore the options, and seek what touches their soul, whether it be music, paintings, nature, fables, or something more transient, such as a cloudy day. She taps into the notion of home as a lodestone, exerting its magnetic pull on memory, emotion and fantasy. And, If all that sounds a bit other-worldly, it's worth noting that Fawn teams the inspirational with the practical, naming paint colors, sources and explaining the whys and hows of what makes her rooms work. The opening pages of her book are titled with her guiding principles: Nature, Clashing, Surrealism, Bohemian, and Sparkle. She goes on to present eight projects, highlighting the principles in effect in each of the rooms, with details on her choices and how they contributed to the finished result.
Magical Rooms: Elements of Interior Design by Fawn Galli with Molly FitzSimmons, is published by Rizzoli International Publications, 2019 and can be purchased directly from the Rizzoli Bookstore online, from Amazon, or support your local bookseller.
---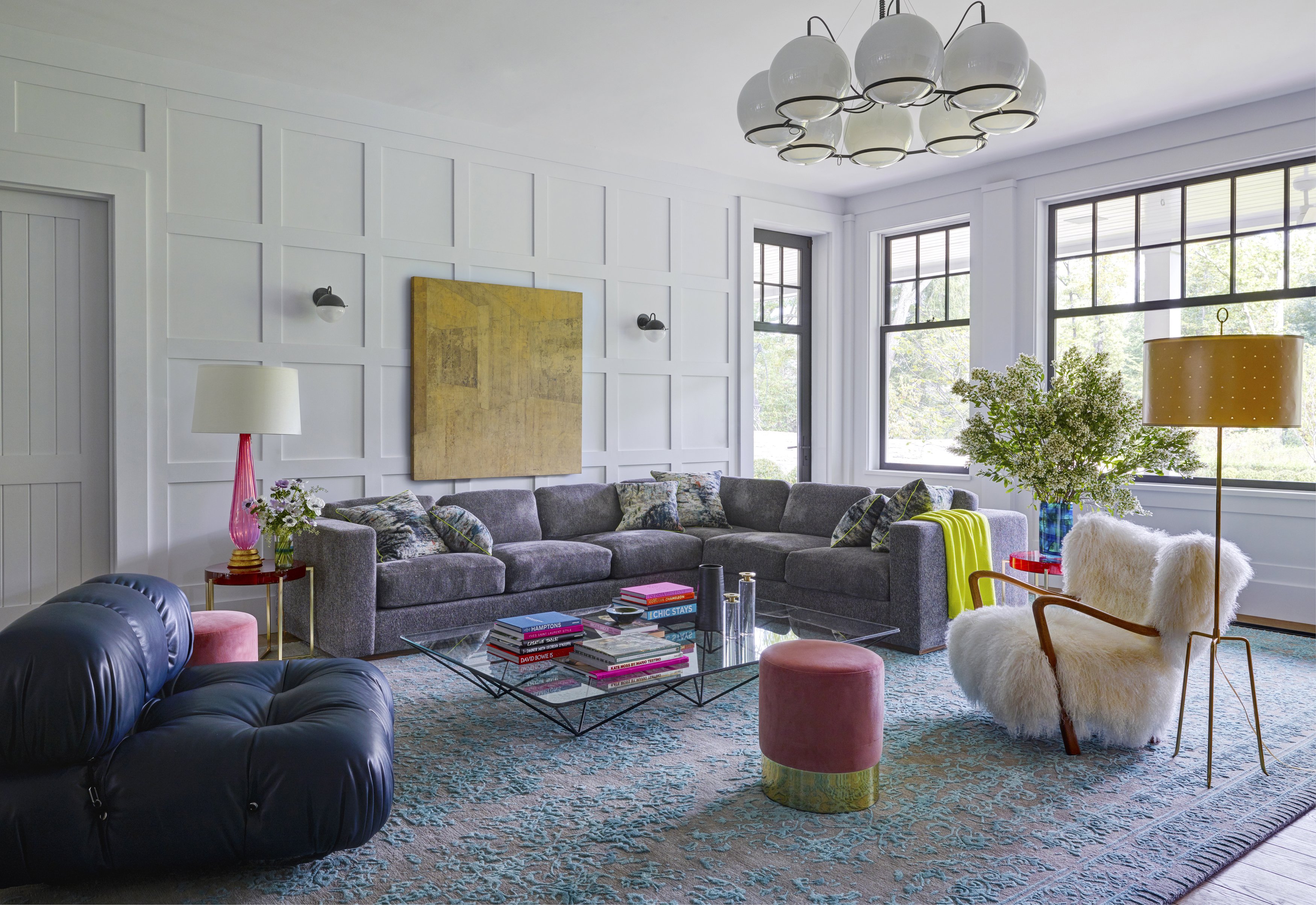 The overscale "party" sofa, an invitation to flop, sprawl or perch, always covered in a sumptuous textile, is a frequent feature in Fawn's rooms, and this custom-designed L-shaped example is dreamy. More party seating – a voluptuous 1970s Italian blue leather lounger, and a vintage 1930s teak chair covered in shaggy Mongolian lambskin, designed by Viggo Boesen, a Danish architect/designer who felt that furniture should embrace the body. Pink velvet stools are easily repositioned, and a pink Murano glass lamp and 1950s Viennese floor lamp provide mood lighting. The cosmic energy of pyramid power is channeled through a Paulo Piva-style cocktail table; the original design was from the 1980s. Photo by Richard Powers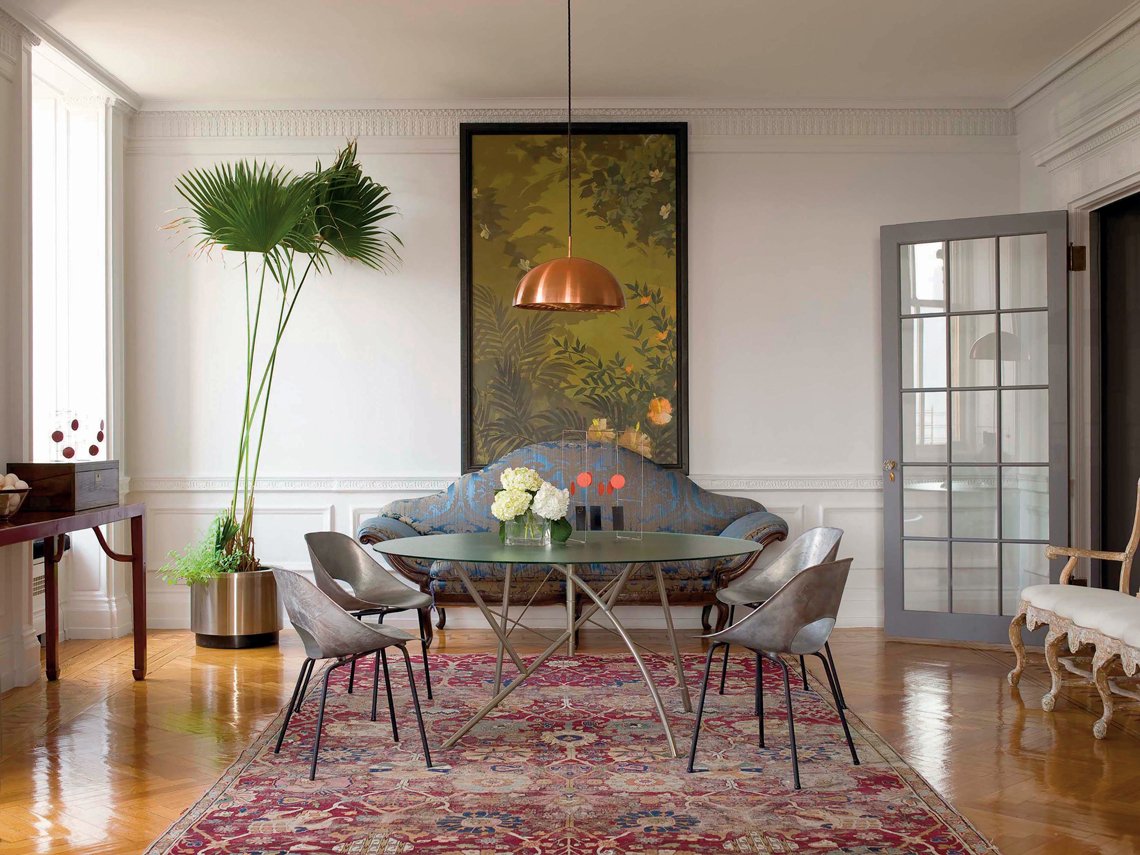 A mysterious jungle was the inspiration for Fawn's design for a Manhattan dining room. Although sparely furnished, the effect is rich. Overscale artwork of lush tropical vegetation is a doorway to another world, and emphasizes the dramatic height of the room, stretching to the ceiling, while the real thing – a towering palm tree, is a burst of vibrant green energy. A field of flowers in the form of an oriental rug, a dining table with intersecting branch-like legs, the highly polished parquet floor and the vintage French furniture forms were chosen to play off each other in a sophisticated mix. As Fawn counsels, "Don't Match, Go!" Photo by Richard Powers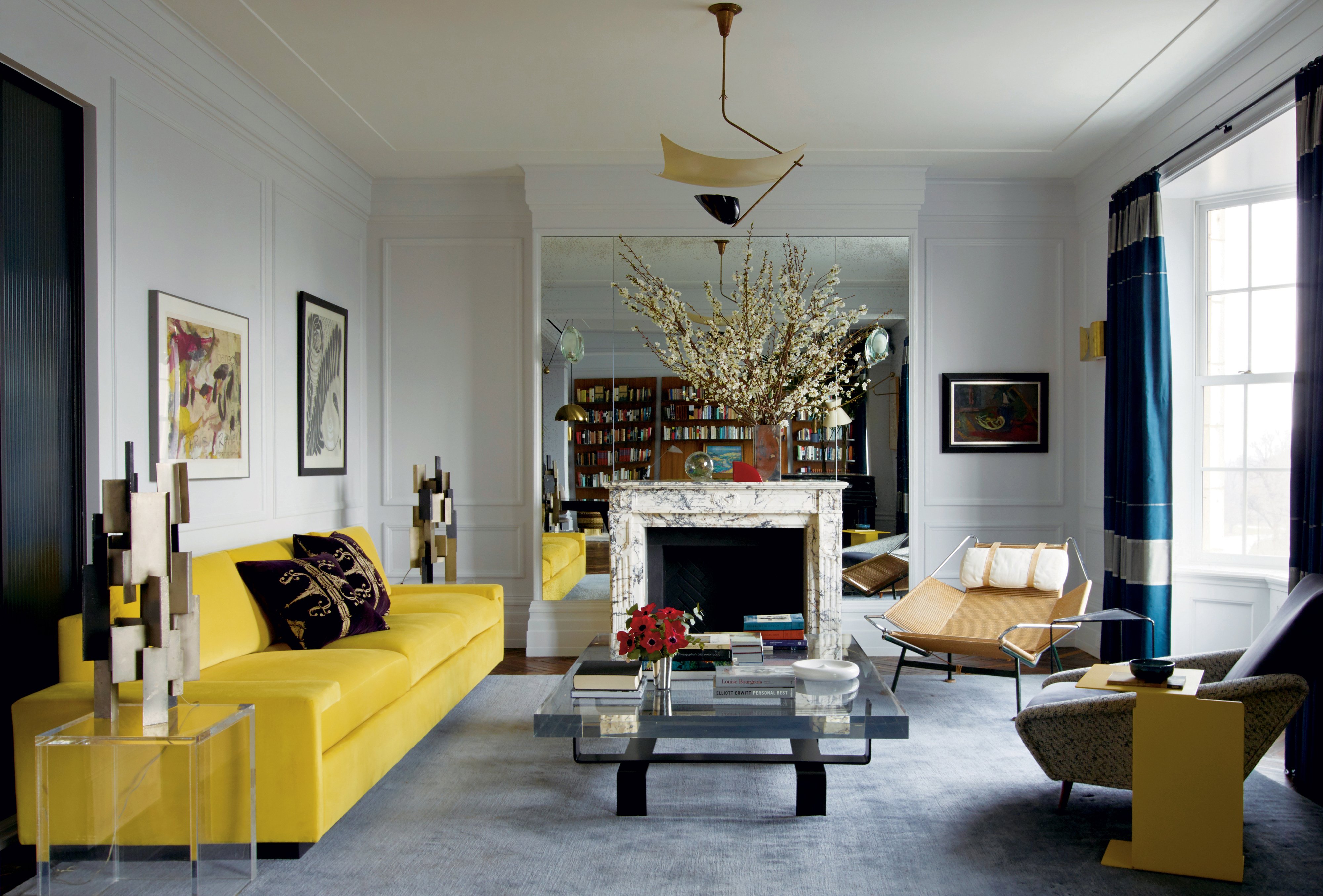 Fawn adores rich and vibrant color, but doles it out judiciously, often against a backdrop of her favorite cool grays. The piquant punch of an acid yellow Hermes velvet sofa clamors for attention, but also serves to point up the sculptural forms of the other furnishings in a Central Park West living room. The client's collection of vintage pieces includes Hans Wegner's Flag Halyard chair, a midcentury design classic conceived to mirror the impression Wegner's body left in the sand on a day at the beach. A lounge chair styled after Gio Ponti offers a similarly relaxed profile, but is dressed in a mix of lush fabrics. Fluttering above, the ceiling light is a rare midcentury design by Angelo Lelli for Arredoluce, modeled after a kite. Photo by Richard Powers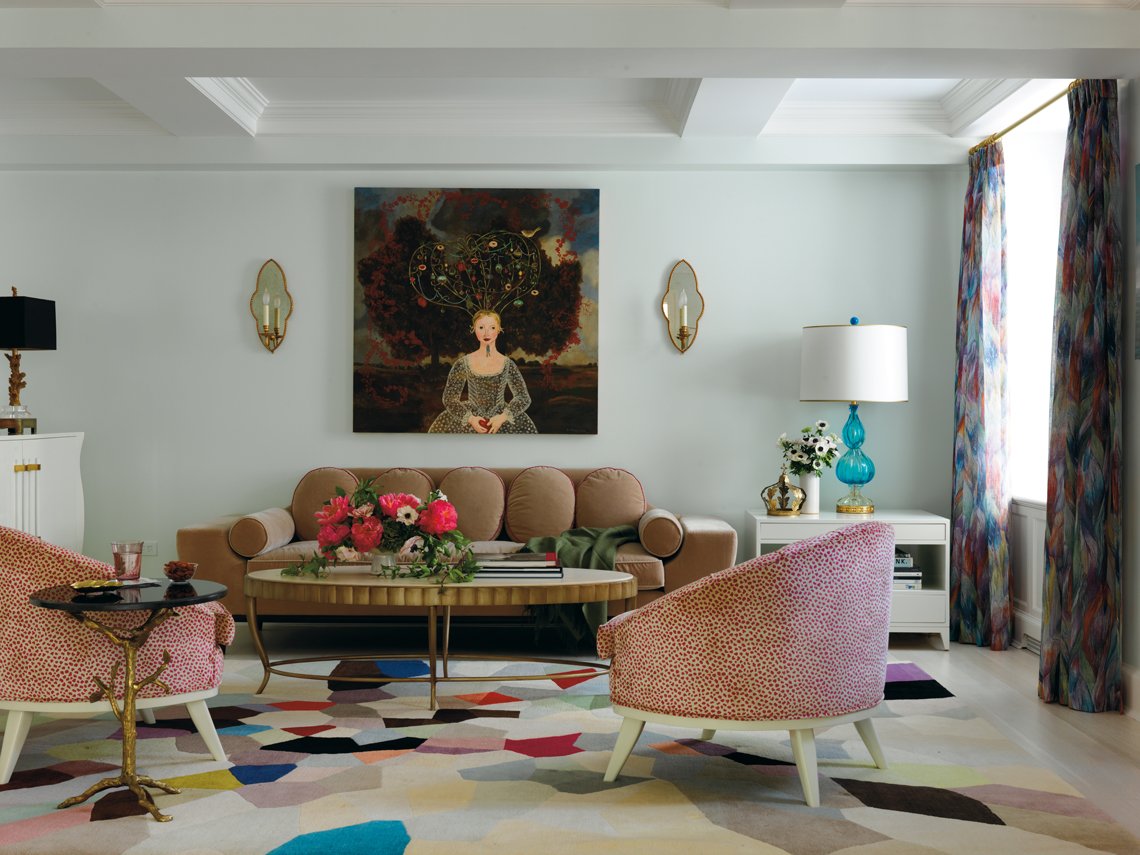 In the heart of Greenwich Village, a wintry fantasy forest is conjured up for the client, a photographer with a deep appreciation for the stories from her childhood. As Fawn wrote, "We set out to create a space of elevated whimsy and airy surrealism." Pale icy green wall color is the backdrop for a grouping of low-slung pieces with romantic proportions, as best befits the rather low ceiling. The rug, with its patchwork of pale and saturated tones, and colorful sheer Missoni curtains are lively and fresh. Hanging above the sofa, the princess of this magical forest presides over all in Anne Siems "The Crown". Photo by William Waldron/OTTO