Fine Art & Design Converge in Hand-Painted Case Goods From Morgan Clayhall
E
xpressive custom art panels are the signature feature of Morgan Clayhall's bespoke case goods. One half of the duo behind the design atelier, self-taught artist Murray Duncan paints and carves original artworks directly into the surface of cabinet and armoire doors. A local fabricating studio crafts the pieces by hand, using select walnut and metals. "We aim to create one-of-a-kind pieces of artwork that also function as usable furniture," says Jordan Tabachnik, Duncan's business partner.
Duncan and Tabachnik met in high school in Toronto. The name of their collaboration derives from the streets of their childhood homes, Morgan Ave and Clayhall Crescent, and emphasizes the designers' attachment to their native city. In the five years since the launch of Morgan Clayhall, the atelier has built a client list that includes top interior designers including such luminaries as Nate Berkus, who has used the studio's bold art-driven pieces in his projects.
Recently, Morgan Clayhall has developed new creative objects such as console tables that incorporate sculpture instead of paint. Tabachnik talks with Incollect about the evolution of Morgan Clayhall and their detailed approach to design.



Left: A limited-edition art print called

Intersect 7

by Murray

Duncan for Morgan Clayhall. Right: Placed in a contemporary living room, a custom armoire from Morgan Clayhall mirrors the style of the Duncan Cabinet.
Tell us about the process of creating the Duncan Cabinet [pictured top]. How did you inscribe the artwork into the cabinet?
To create each panel, Murray develops a physical relationship with the painting based on the words he plans to use. He uses an Old-World technique called sgraffito, in which artists apply multiple layers of glaze or plaster and then scratch the top layer to unveil the color underneath. In our furniture, like the Duncan Cabinet, we create a mixed-medium base [described above] in a color chosen by the client and apply sealant. After that dries, we layer a glaze on top. Murray then scratches away the top coat revealing the base layer. To finish the work, Murray paints directly onto the panels by hand.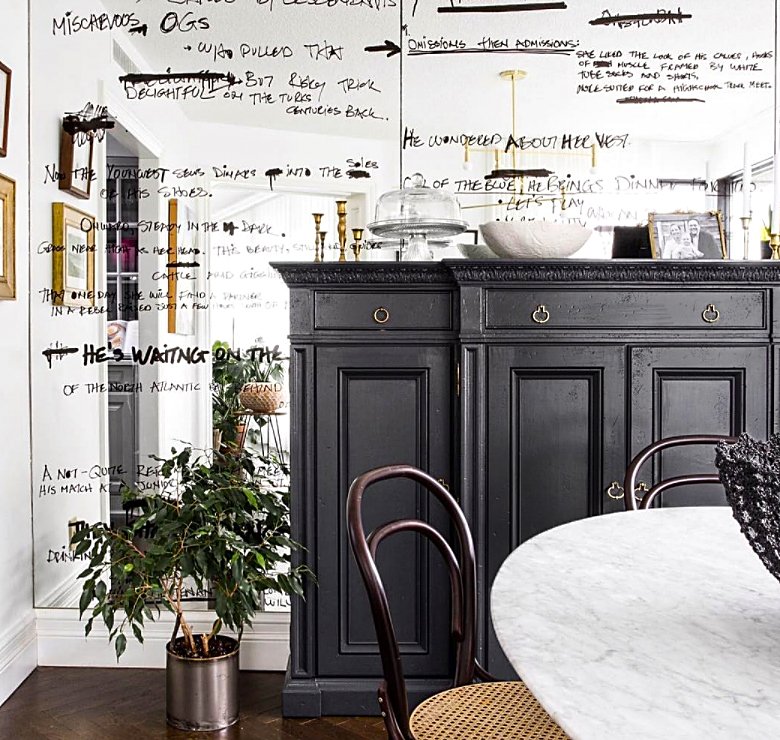 Duncan was commissioned to develop an art installation to layer over a client's mirrored wall. Interior design by Ashley Montgomery Design.
How do your non-traditional backgrounds — in graphic and jewelry design — create a unique perspective on designing unconventional pieces such as the Duncan Cabinet?
Because of our backgrounds, Murry and I are very comfortable playing with scale, size, and the dimension of a piece. We design without being held back by rules and traditional ideas, and are fearless in our approach towards designing furniture.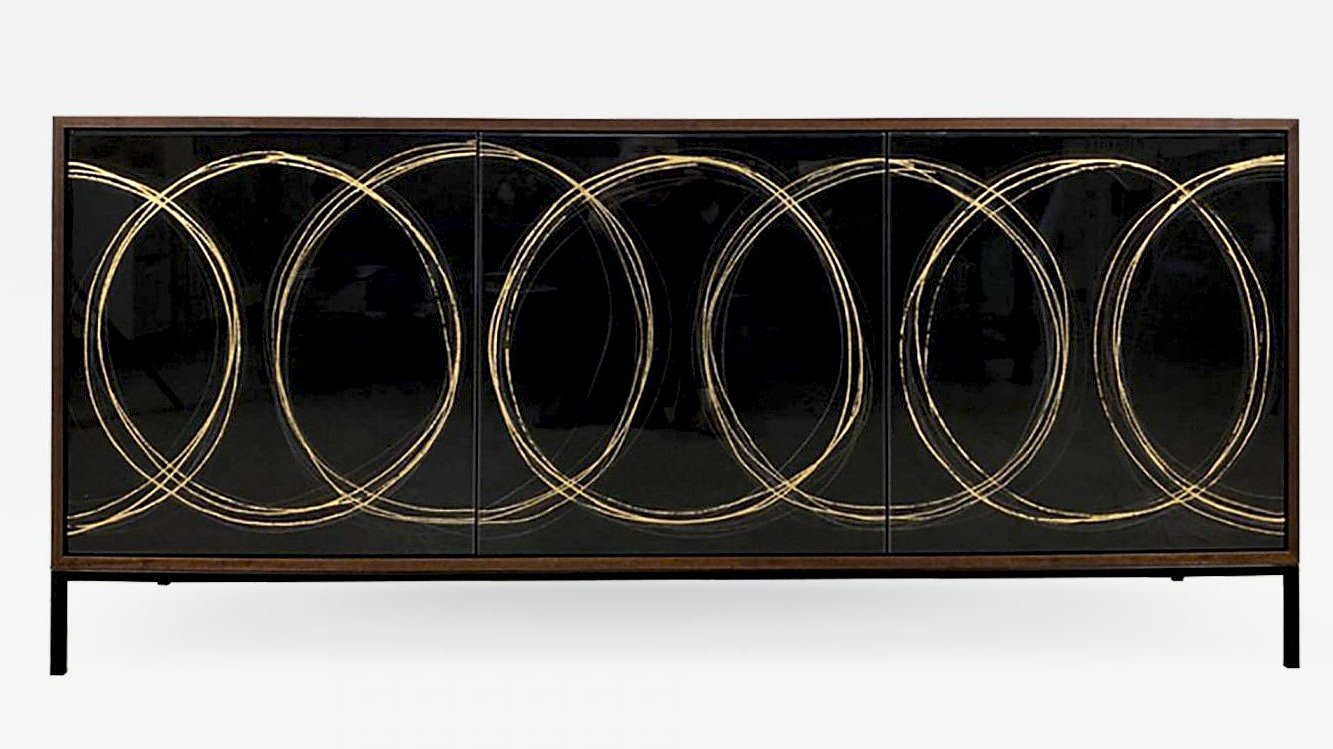 In the
Gold Loop Cabinet
, Duncan paints a pattern of intersecting gold rings directly onto the cabinet and seals it with a lacquered finish. The color of the cabinet can be customized, and the loops can be rendered in silver or gold leaf.
How does that approach play out in Duncan's design of the cabinet panels?
His approach includes conversations with the client and the client's experiences that he incorporates into the artwork. The approach is organic, based on emotions, feelings, and experiences emerging from a personal and social dialogue. His artwork is applied using mixed mediums. Each of his large pieces uses different layers depending on the desired effect.



Top:

Abstract 6

by Murray Duncan for Morgan Clayhall. Bottom, left: Like Abstract 6, the panels of the Hudson Armoire are abstract expressionist. The armoire illustrates the close relationship between art and design in Morgan Clayhall's collection. Bottom, right: The Pratt Armoire features an ebony-stained walnut body and sits on a matte-black steel base. The armoire is coated in a clear satin eggshell finish.
After you design an object, which materials do you rely on to bring your vision to life?
We use the highest quality materials available and pay meticulous attention to details when we are creating each piece. To create the artwork, the surface must as smooth as possible and sealed before applying the layers. The layering is a mixed medium and includes spray paint, oil paint stick, pastels, gold leaf, and resin.



Inspired by a bird's nest, the

Nest Console is assembled from steel tubing and solid steel rods. The top can be customized in either stone, wood, or concrete. The Nest Console is an example of newer work by Morgan Clayhall that does not include painted panels.
Which artists/designers influence your work at Morgan Clayhall?
Jean-Paul Goude [French photographer, illustrator, and art director, best known for his work in fashion and advertising] inspires us. Eclectic interior designer Kelly Wearstler, painter and filmmaker Julian Schnabel, and conceptual artist Rudolph Stingel all influence us as well. These artists all inspire Murray because they create outside-the-box art and design objects. Importantly, our inspirations are not only painters or furniture designers. We appreciate a cross-disciplinary approach to art.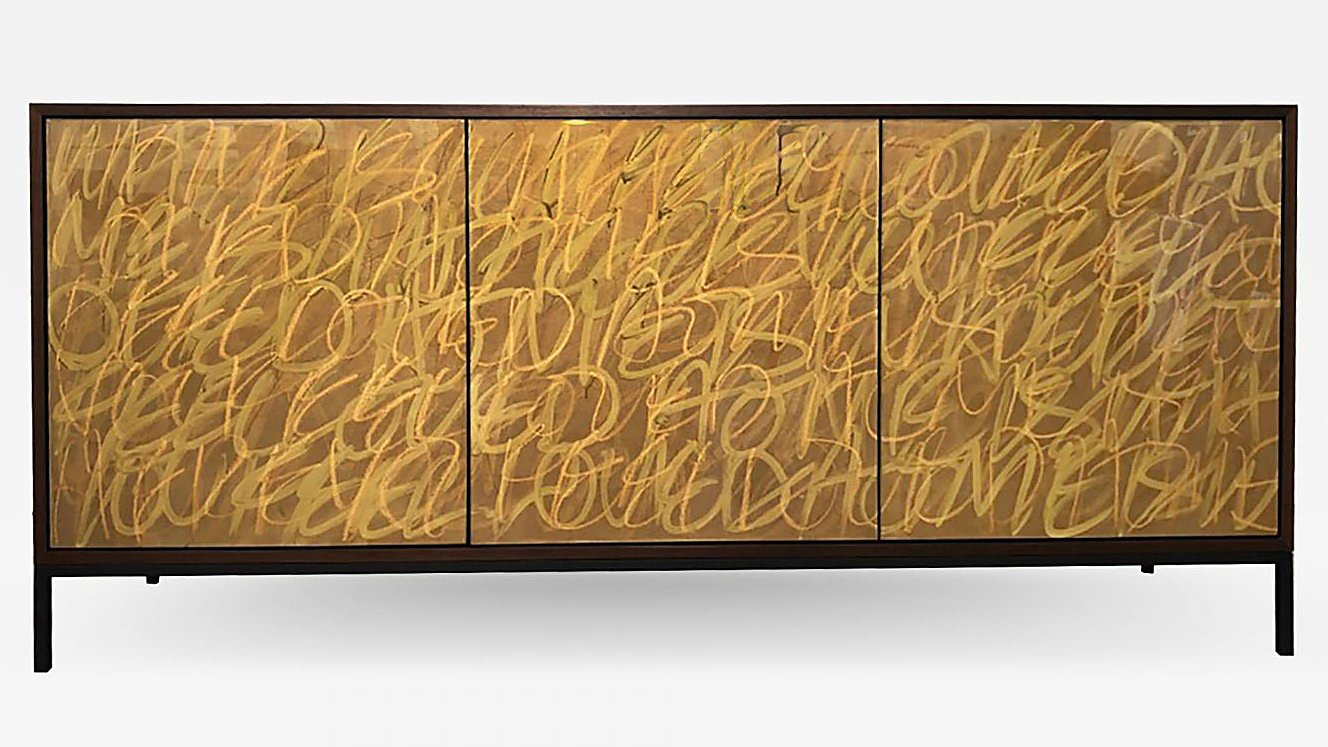 The
Gold Graffiti Cabinet
is constructed with a walnut body and doors, and a steel base finished in matte-black powder. Camouflaged stainless steel doors open to reveal interior adjustable shelving. Several aspects of the cabinet can be customized. For example, Morgan Clayhall recently produced a Gold Graffiti Cabinet with brushed brass feet.

What motivated the design of your Graffiti series?
The Graffiti series speaks to how urban art is incorporated into luxury interiors. We were inspired by artists like Stephen Sprouse, whose collaboration with Louis Vuitton twenty years ago changed the way that fashion brands engage with pop and punk art movements. For us, graffiti is high design. We approach each piece with a sense of purpose to translate the art into a refined statement.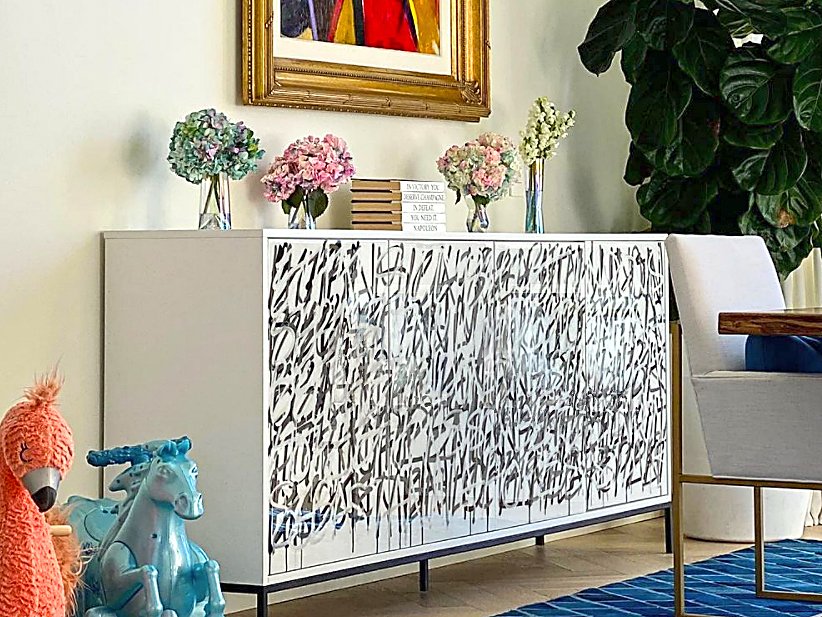 A custom high-gloss sideboard for a client in the style of the Graffiti Cabinet. "We customize our case goods in dimension, base details, closures, hinges, hardware, finishes, and color," says Tabachnik. "We'll personalize any details to meet the client's needs and specifications."
How do you incorporate words, dates, and names to personalize that statement for the client?
We first have an intimate conversation with the client commissioning us. Murray then interprets the set of words and images gleaned from the client, rendering them in a graffiti style to articulate meaning and personal significance.



Left: A custom version of the Say It Again Armoire . Right: A custom dining table from Morgan Clayhall.
What have been your favorite interior design projects featuring your pieces?
Our highlights include working with Nate Berkus and Matt Berman of Workshop/APD, as well as collaborating on the Timeline collection for Italian kitchen design brand Aster Cucine. Recently, the Canadian government approached us to create custom pieces for official ambassador residences in countries throughout the world.


In the future, are you planning to branch out into other types of art-focused designs?
Yes, we are working on new designs. Although Covid has slowed us down, as restrictions lift we are getting back on track. We are creating a new line that incorporates cast resin, and we've also started sampling lighting components and building an upholstery line.