James Devlin's Sleek Furniture Construction Highlights the Beauty Inherent to Marble & Metal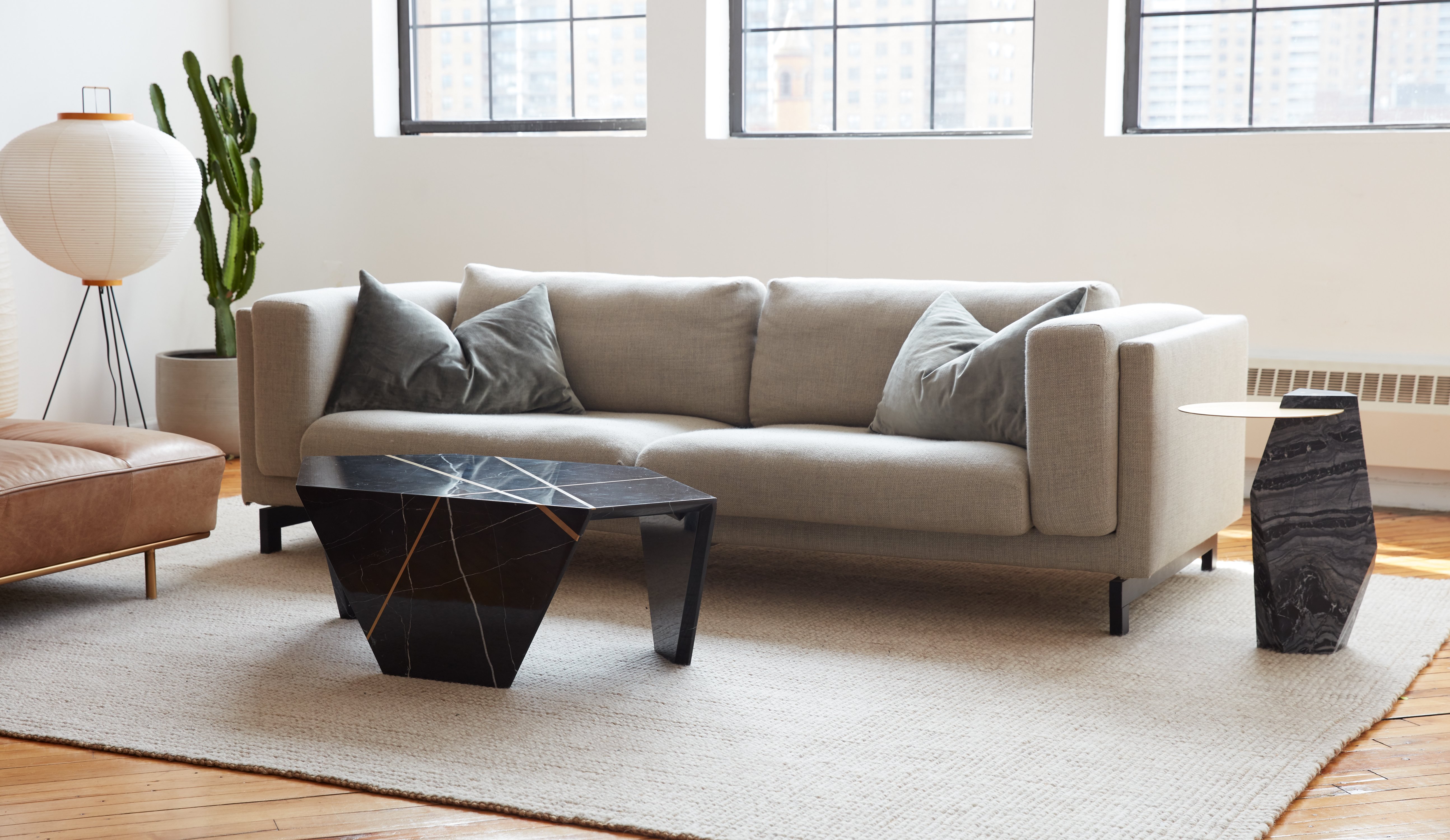 Styled in the center of this room, the
Planar Cocktail Table
from James Devlin Studio is crafted from marble and inlaid with bronze. The
Lapidary Drinks Table
to the right of the sofa features a base made from Kenya Black marble.
| | |
| --- | --- |
| | |
| | Furniture designer & maker James Devlin |
F
urniture designer James Devlin creates polished contemporary pieces that deftly mix marble and metal. WIth delicate inlaid details and inset trays that seem to hover in space, each object from Devlin carries a sense of lightness, despite the heft of the materials. Developed using both high-tech software and an artisanal approach, his furniture appears simple and yet, through his mastery of working with luxurious materials, conveys a sophisticated effect.
Devlin is based in New York City. Formerly an interior designer at Foley & Cox, he now crafts opulent tables and lighting for his designer clients. Recent collaborations have resulted in one-of-a-kind furnishings for Bella Mancini, Ashe Leandro, and the Nordstrom flagship store in Manhattan. His work is also available to design enthusiasts on Incollect. "I create pieces that are legible in terms of their construction and engineering, yet also luxurious in the surfaces and materials they feature," he says. He references his bespoke Planar Cocktail Table as an example. "The bronze inlaid into polished black marble gives it a dramatic and jewel-like quality that contrasts with the simple fabrication."
In an interview with Incollect, Devlin breaks down the details and inspirations behind several pieces from his collection.
What materials do you like to use in your work?
My primary materials are marble, bronze, and steel, but I also like to experiment with other natural materials like leather and eggshells. I avoid synthetics as much as possible.



The

Planar Cocktail Table can be customized in various marbles. Top: Interior designer Heather Wells incorporated the Planar Cocktail Table into a living space in Big Sky, Montana.
These are almost always made in custom sizes for particular clients, so the first step is a cardboard mockup. Many times I meet with the client onsite to look at two or three different iterations and see which shapes and heights work best. Once the shape is determined, cutting the stone and cementing the pieces together is relatively simple. What takes more time is routering out the channels for the brass inlay. It has to be done slowly and with a lot of water to avoid chipping. Once the brass has been cemented into place with an adhesive that matches the color of the stone, the surface has to be re-polished to make it flat again. Luckily, the marble and the brass both have similar harnesses, so polishing them together is less difficult than it is with inlaying metals into wood or other softer materials.



The

Struthio Ostrich Egg Chandelier from James Devlin Studio is hand-crafted from real ostrich eggs, and paired with sleek blackened steel arms and brass joints.
I came across these giant eggs at a farmers' market in upstate New York. I was so captivated by their shape that I bought a couple and began experimenting with them in my studio. They are easy to cut with high-speed drills, and I discovered that they transmit light beautifully, giving off a warm amber glow. I made a few sconces before scaling up to the six-armed chandelier now sold on Incollect. When I first started on a prototype, I didn't expect the fixture to become as popular as it is currently. I've been happy to see clients respond to the chandelier as enthusiastically as I did when I first saw those eggs at the market.
How do your clients typically style this chandelier in their spaces?
So far these have almost all been installed over dining tables. That's a great application because they throw so much light up to the ceiling and create a very flattering and inviting space below, without any harsh shadows.
Who are your favorite furniture makers?
Lately I've been really enjoying Tony Duquette's work. Though he was primarily an interior designer, he created a lot of original pieces, and in many cases, he made them himself. His daring and theatrical designs contained abundant historical references and a palpable joie de vivre, which I find very appealing at this moment in time. And the designer I always come back to is Jean-Michel Frank. So much of what is considered fresh and contemporary today goes back to the work he did a century ago.
Where do you source your materials?

My metals all come from suppliers in the New York City metro area. The marble blocks come from Italian wholesalers. No matter where the stones I am using come from — whether South America, Europe, or the Middle East — it's the Italian suppliers who bring them together under one roof. The marble industry is long established there, so it's great to be able to draw on that history when looking for materials and craftspeople.



Featuring an inset metal tray, the

Lapidary Drinks Table

is shown here in Kenya Black marble (left and right) and Rosso Collemandina marble (right).
I really love the Kenya Black marble because it features dramatic, high-contrast veining while still having consistent coloring. Many times clients request a specific color, and I go on a hunt for suitable blocks. Many of the stones I find are totally unique, and I often end up using something I've never seen or would not think to ask for from a supplier. And in many cases the stone itself will inspire me to create a new design.
How do you shape the marble?
These are cut from a computer file using what's called a seven-axis CNC, a machine with a large multi-jointed robotic arm that combines great strength with high precision. It is used in everything from automobile assembly to surgery. Before turning to the machine, I develop the shapes using 3D modeling software and then build successive cardboard models to check them in real space. It's hard to predict the visual balance of a piece on a computer screen, so working with them by hand is very helpful. Once the shape is finalized it can be exported to a digital file, which is read by the machine and carved out with a high degree of accuracy. Ultimately, each table is finished and polished by hand.



Pictured above, the Interface Dining Table can be customized with a base in a range of marbles, and the tabletop is available in leather, glass, wood, or stone.
What inspired you to create the Interface Dining Table? What is unique about it?
This was the first piece I designed to be carved from a single block of stone. I had wanted for some time to create a pedestal table with a fluid sculptural shape that would make the stone seem weightless. When a client needed a breakfast table for the space in front of a floor-to-ceiling window in Manhattan, I began looking for a shape that was very engaging, so that it wouldn't simply disappear in front of the view. At the same time, the table had to seem inviting. Ultimately, it was looking at tree branches that led me to the final shape and the organic lines that make the table so unusual. I welcome collaborations with clients to develop new custom versions as well.



The

Shard Table features intersecting polished brass plates and a solid marble or translucent pink onyx top, as well as custom metals, marbles, and quartzites.
What are some of your favorite details from pieces you've worked on?
One of my favorite details is the way the legs of the Shard Table intersect with one another. The visual effect of these three bronze plates interlocking is very dramatic, almost kinetic. It has a different look depending on the angle it's seen from, and even slight changes in lighting can change its appearance. It's details like this, that come from complex shapes interacting with one another, that I enjoy the most in my work.
How do you cut and attach the brass plates of the Shard Table?
Both the stone top and the brass plates are cut with a machine called a water jet, which uses a high pressure stream of water mixed with garnet crystals to make very accurate cuts through metal or stone of almost any thickness. It's a very fast way of getting precise incisions that require almost no manual finishing before assembly. The initial design and prototyping process on the computer was very complex and went through multiple iterations. However, now that the cut files are all in place I can produce additional pieces very quickly.
What inspired you to make the brass base cut through the onyx tabletop?
I wanted to find a way to continue the lines of the base up through the top of the table without having them just stop at the stone in the traditional way. There's so much motion in the base, I didn't want to interrupt it by simply capping it off. Through this kind of construction, I let the base of the table remain in the foreground and lead the eye down to take in the piece as a whole.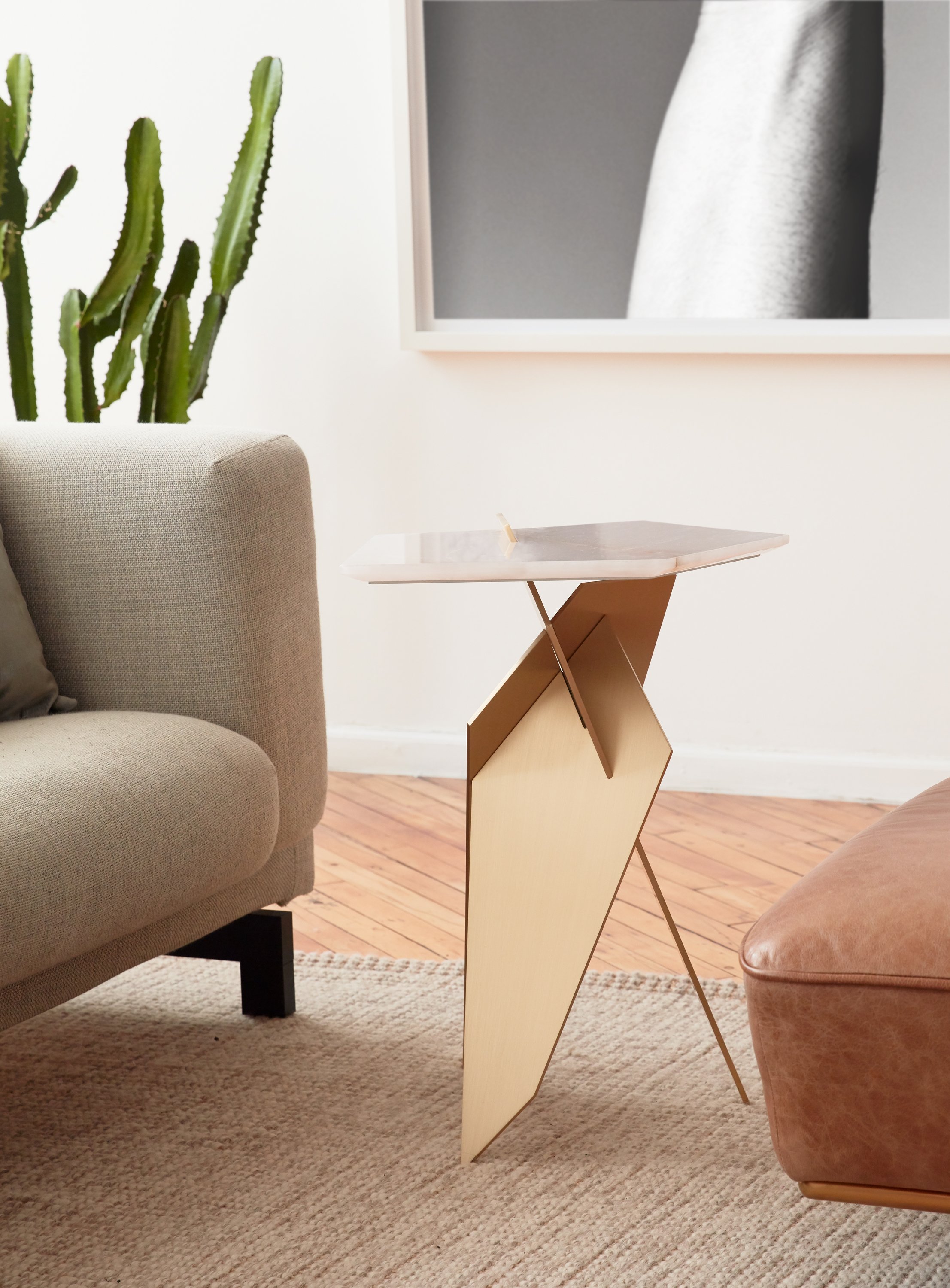 The Shard Table is available for Quick Ship. "I keep all of the components ready in my studio," says Devlin. "When clients place orders I can quickly assemble and polish them."
What does luxury mean to you?
Whether it's jewelry, furniture, or works of art, everyone is drawn to pieces that are made with great care and an aspiration for beauty. This is what I try to create with my work: objects and furnishings that delight and amaze, not because they reference the latest trends or look expensive, but simply because they are beautiful and refined in a way that is direct and universal.
Photos by Mikael Schulz and James Devlin