Former Apprentice to Eva Zeisel, Olivia Barry Launches Her Own Ceramics Brand
L
ifelong ceramicist and industrial designer Olivia Barry has released her own personal collection, Olivia Barry / By Hand. For 13 years, Barry collaborated with legendary designer Eva Zeisel — known for transforming table settings of the post-war world — and her work with Zeisel is currently on display at the Cooper Hewitt Museum in New York. Barry has also designed ceramic collections for a range of high-end clients including Royal Stafford and Robert A.M. Stern Architects. Under her namesake line, she launched two product series: a set of unique, scroll-inspired luminaires offering ambient lighting, as well as porcelain wall art influenced by the colors and terrain of the moon. Here, we interview Barry about her past work with Zeisel and her collectable new product line.
How did you end up working with ceramics?
The passion for clay and the urge to create with it must be part of my DNA. My grandmother was a potter in England while I was growing up in Toronto, and the little exposure I got to the medium through her was enough to put the spark in me forever. I rediscovered that passion in junior high school when I was fortunate enough to join a pottery studio near my home that offered weekend classes. Wherever I lived after that I found a local studio to satisfy the urge to be with clay. Last summer, I built my own studio, and though I miss the camaraderie of fellow potters, I have a new ability to focus and create freely.
After a career in industrial design, what motivated you to launch your own brand?
I love the problem-solving aspects of industrial design, and I crave the physical connection to materials and the feeling of making something with my own hands. I like to live comfortably in both worlds.
Tell us about your New Moons series.
I created my New Moons as a way to take clay off the table and onto the wall. I wanted to try "painting" with clay. This wall art is created by staining the porcelain. When the clay is wet, I add various pigments to it, and then work with it in a graphic, less sculptural direction. They are as large as I can fit in the kiln, about 20 inches in diameter. I get cracks sometimes, and I love those. I recently took a Zoom Kintsugi class, which is the Japanese art of filling cracks with gold. Now, when I get a spectacular crack, I fill it with gold. It actually makes the piece even more beautiful.
What motivated the design of your Scroll Luminaires?
My background is in dinnerware. One day I found myself making custom ceramic lamp bases for Robert A.M. Stern Architects. This partnership presented a new kind of product for me to work on, and I loved the idea of a designing a ceramic product with different boundaries and challenges than those for plates and bowls. It seemed to me that I could be more sculptural and adventurous now. I started imagining a way to create a lamp that did not need a lampshade. I have nothing against lampshades, but I wanted to explore the concept beyond the classic base-and-shade combination.
| | |
| --- | --- |
| | |
| | |
| Barry and Zeisel working together on the design of a tea kettle. | |
You worked for Eva Zeisel for 15 years. What was it like to work for her, and how does her influence show up in your work?
Working with Eva was rewarding and unusually challenging. When I met Eva at age 93, she had commissions from Nambé and Royal Stafford and needed help to draw, model, and draft her designs. We worked together in her living room, drawing at the dining table and clearing the papers away for dinner. Whenever we completed a project, she was eager to keep working, and so we would come up with our own ideas and then keep designing. If the results were fabulous, we'd approach a manufacturer that we respected. We created a collection for The Rug Company and glass Christmas ornaments for the MoMA Design Store this way. Eva suffered from painful headaches, so we worked only when we could, but she had absolutely unstoppable energy to design and create beautiful things. We worked right up until she passed away in 2011. She thrived by creating.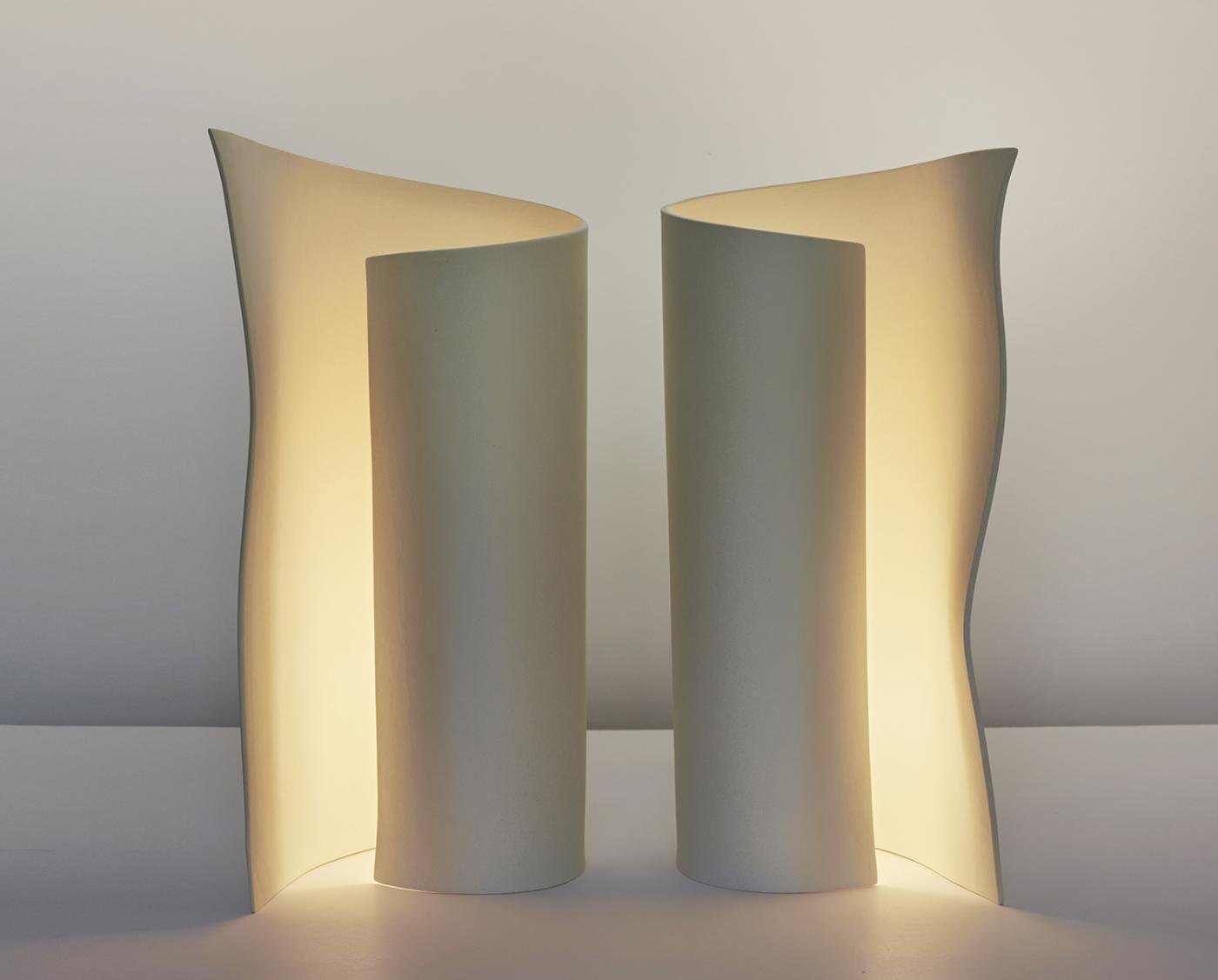 A pair of the Scroll Luminaires. Each light in the collection is hand-crafted and wholly unique. Photo by John Muggenborg.
What inspires you about ceramics as a material?
Working in ceramics is not easy. It can be incredibly humbling. I'll admit that I've shed some tears upon opening a kiln of exploded works. It's been a lifelong relationship of learning, but I still love what I can do with the material: pushing it to new boundaries and finding ways to do things that haven't been done before.



Left: An ornament that Barry designed with Eva Zeisel for the MoMA Design Store. Right: A sketch of the same fuchsia ornament.
Which fellow ceramicists or industrial designers have inspired you?
Eva Zeisel, of course, and also my grandmother, Mary Wem. I am excited by the works of artist Theaster Gates and ceramicist Peter Lane .
In the video above, Barry hand throws a plate on a wheel for her 2012 Crate and Barrel Spool Collection.
Video by John
Muggenborg.
What does a typical day in the studio look like for you?
A typical day in the studio actually starts the day before because it involves some thinking ahead. To make my pieces thin and strong, I go through a laborious process of making my own clay. I roll the clay flat, dry it, break it into pieces, and reconstitute it with the addition of paper fibers. These fibers add strength to the clay and burn out in the firing process. While the clay is wet and the consistency of Greek yogurt, I add stain in powder form if I want to add color to the clay. My main tool these days is a large clay roller, like a table-sized rolling pin. I usually have about seven or eight ideas that are currently percolating, and I'll start with what is the most resolved in my mind. The wall pieces take several weeks to dry, which means there are pieces in various stages around that might need to be attended to.



Left: A sculptural light that was co-created by Zeisel and Barry for Leucos. Right: Two products from Barry's Scroll Luminaires series.
How would you describe your design philosophy?
I design to solve a problem or find a solution to a question. I borrow inspiration from nature, but I try to reinterpret it to create something new and never seen before.
What's the best advice that Zeisel ever gave you?
Hilariously, the only advice she ever really gave me directly was to get married and have kids. From observing her, I took away the following advice: to enjoy life, be happy when you are working, and don't take it all too seriously.
VIEW THE SCROLL LUMINAIRES FROM OLIVIA BARRY / BY HAND