French Brand Dragonfly Brings Nature Into the Home With Unique Contemporary Objects
AD100 France interior designer and furniture designer Stéphane Parmentier's Galactica III table combines glass, oak, gold and bronze leaf in a rich and refined expression of natural elements and materiality. Three pillars, each a composition of texture and color, can be configured as desired — together, forming the profile of a tree stump, or separately, as unique sculptural pieces.

French Brand Dragonfly Brings Nature Into the Home With Unique Contemporary Objects
By Benjamin Genocchio
What does Dragonfly specialize in as a design brand?
Our brand is the result of a creative interaction with artisans and designers. It brings Nature into the home with unique contemporary objects that highlight local resources and French know-how in an ethical and eco-friendly way. The name of our brand is a tribute to the Dragonfly, which reminds us of the constant fluctuation of life. Dragonflies have survived throughout all eras and are a sign of adaptation to a pressured environment and of sustainability, reconnecting us to Nature and our own nature.
How did you come to be designers and have a design object business?
Dragonfly is a family-owned international project and the brainchild of founder Garance Primat. It aims to offer an authentic, fair, different kind of luxury. Our brand is a link between Tradition, Transmission, Preservation and Creation. Every single piece is unique and tells a story.
Tell us about what you are working on now — is there a piece or idea you are especially excited about?
We are working on new developments to be added to the collection, exploring new combinations of materials and shapes. We are delighted to have just launched our new wooden and ceramic capsule collection.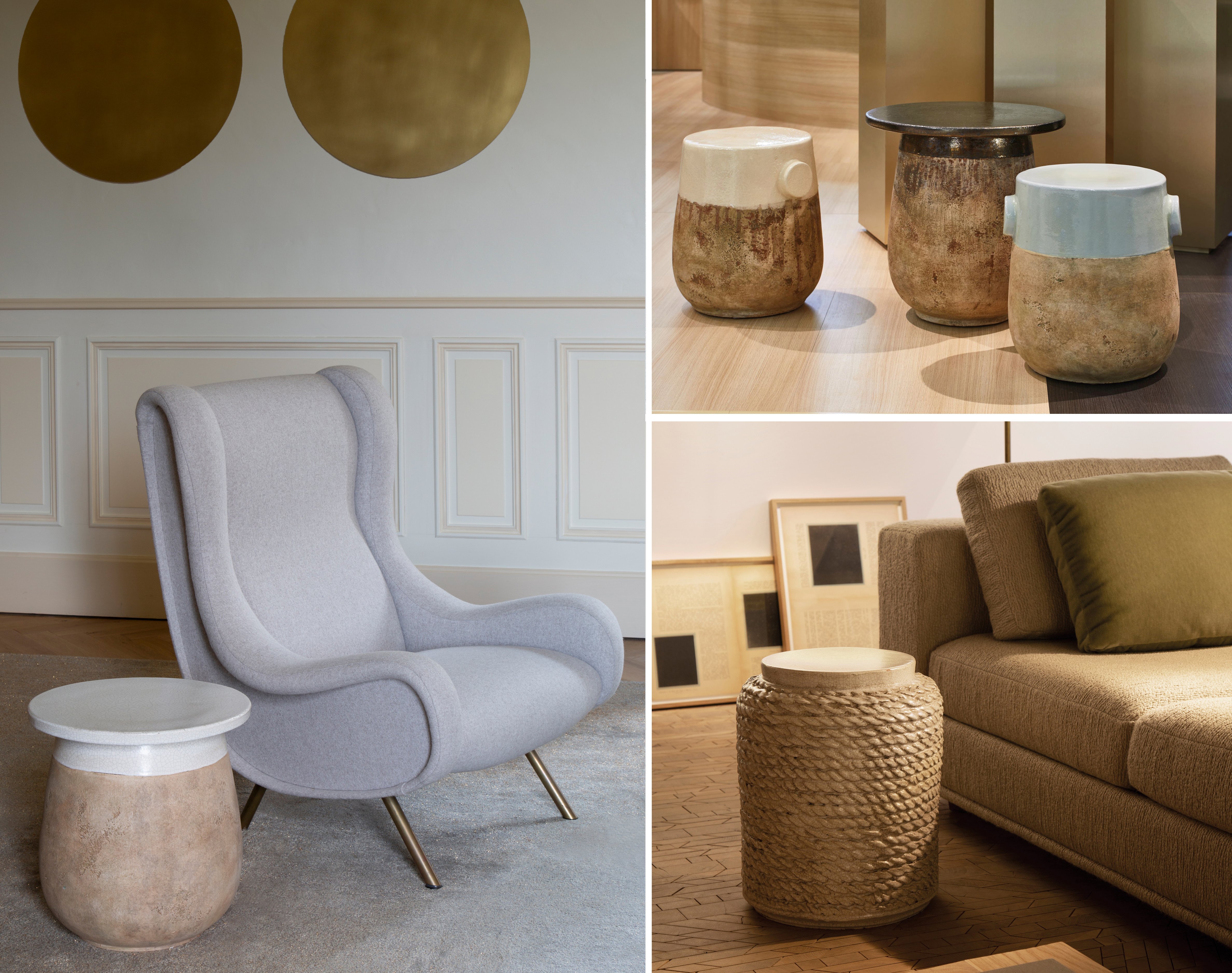 Clockwise from left to right:
Handmade ceramic furniture designed by Stéphane Parmentier. 1. The Present Time Table is inspired by traditional earthenware vessels used to store olives and olive oil made in the town of Biot in southern France since the early eighteenth century. The jars distinguishing features are a bulbous shape, suggestive of an olive, and a glazed rim, both of which are honored here in a new incarnation. 2.

A pair of Present Time stools and a table, available in a selection of glazes.

3.

The Sign of the Times stool has a patina finish glaze, offered in antique white or bronze. The rope texture is created by wrapping rope around a wooden form which is then lined with clay.



What kind of materials do you gravitate towards in design and why?
We gravitate towards natural materials and local resources to create beautiful and unique pieces which give back to Nature more than they take from it. These materials participate to inspire the designs of the collections.
What do you consider is the distinctive appeal of your brand?
We contribute to the preservation of ancestral know-how and enable its transmission while respecting Nature and its cycles. By choosing to manufacture unique contemporary objects in France, we are celebrating regional resources and the excellence of French know-how.
Which designers do you admire and why?
We admire designers such as Stéphane Parmentier, Isabelle Stanislas, and Raphaël Navot, to name but a few, because of their unique contemporary take on Interior Design and the designs they create by combining several materials as well as their approach to space.
Left:
Lux Orbis cordless table lamp in porcelain and anodized bronze finish metal. The ribbed porcelain shade is translucent, allowing soft, glowing LED light to pass through. Right: The Équinoxe and Solstice hand-painted ceramics can be used as table accessories or displayed as decorative objects as shown here. Both useful and exceptional, they are an exploration of contrasting colors and shapes.

Nature is a strong inspiration for all your work, can you explain why?
Our Art of Life seeks to create an ecosystem of wellness, respectful of the earth and its land, of people, and of beautiful crafts and gestures. These values directly inspired by Nature drive everything we do, which is a tribute to Nature, to the Earth and to Life.
What do ethics and sustainability in design mean to you?
It means respecting others and the environment, the beauty of the materials and know-how. It is being aware of the impact we have and how we can actively participate to be the change we want to see. When you buy one of our objects you are taking care of your own nature and Nature.
I love the way your designs and those you promote often use contrasting materials, surfaces and textures — can you explain the inspiration here?
The inspiration comes from Nature and we like to express ourselves through contrasts to create something new, something we haven't seen before. If you go into Nature with all different materials within the same frame, the idea is to combine the different textures and materials to create a beautiful and unique piece.
"House Jewelry" designed by Stéphane Parmentier is crafted from natural river stones sourced in the Cognac region of southwestern France, and embellished with fine gold embroidery by the only master craftsman embroiderer of gold thread in France. Each stone is unique and individually selected, adding to the rarity and authenticity of these exquisite objets d'art.

The level of craftsmanship on everything you create and promote is very high, how do you achieve this?
We achieve this high level of craftsmanship by working with skilled artisans whom we find locally in France, then exploring with them ways to enhance the materials and showcase their unique skills. For example, we have gold pyrite home jewelry, meticulously decorated by the only master of art embroiderer with gold thread in France. This unique decorative object has been decorated with applications of 3D cubes embroidered with fine gold. A technical and artistic feat, where the natural stones of the Domaine des Etangs river are combined with the pure elegance of fine gold. We want to showcase beautiful techniques and craftsmanship through our objects. Our Present Time stools offer generous curves and pure lines. A very natural sandstone seat inspired by the Biot jars typical of the Mediterranean basin. The stool takes up the challenge of a refined balance of colors in all simplicity and efficiency.
What are your other inspirations?
Contemporary art and the world surrounding us.