Galerie Philia Opens a Contemporary Design Installation at New York's Walker Tower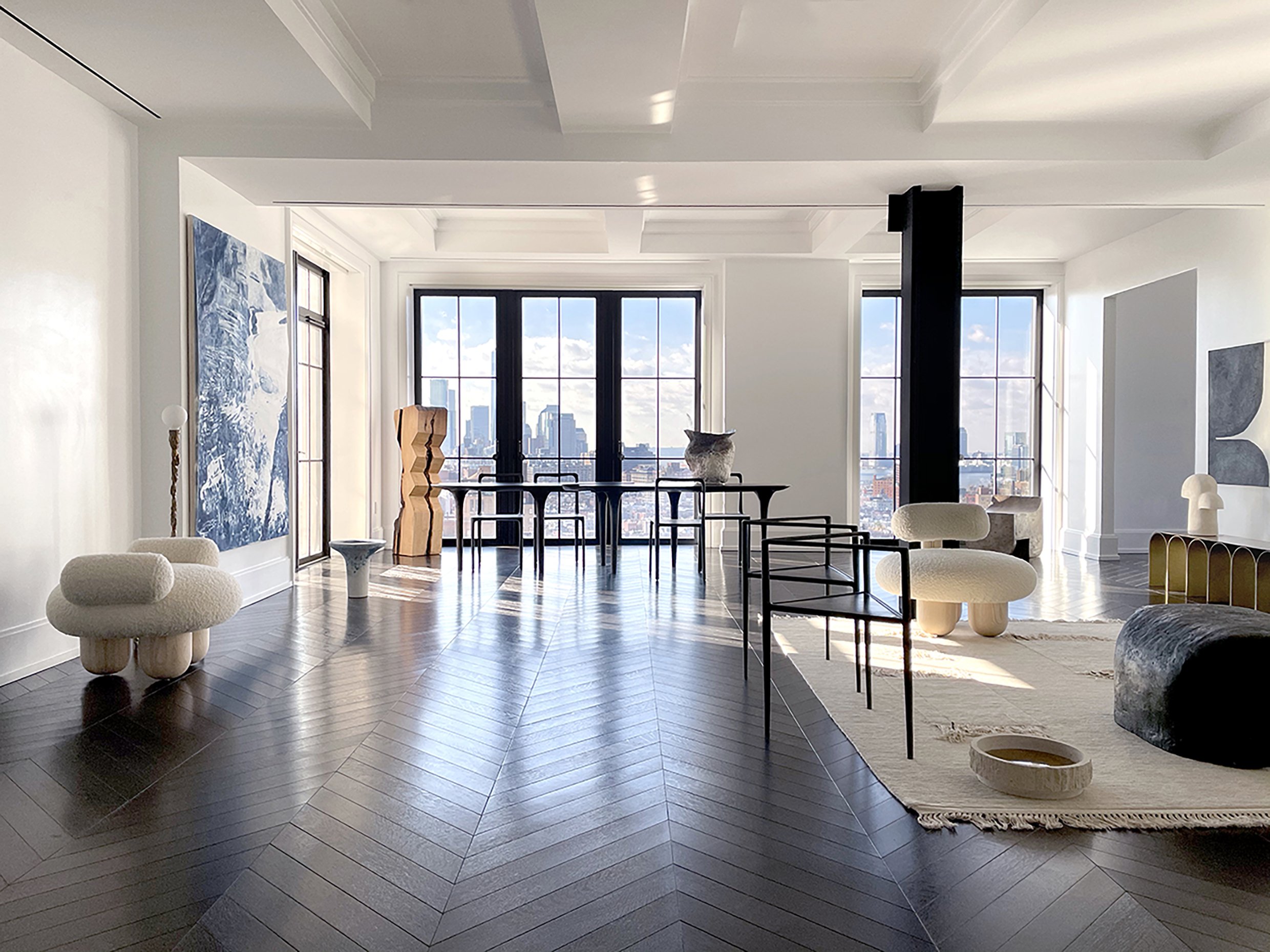 "The Walker Tower is an architectural gem in the middle of Chelsea," says co-curator Pietro Franceschini
. "Here the brutalist Gotham meets the finest Art Deco." The light-filled living space of the exhibition looks out over New York's skyline.

K
nown for its collectible European design, Galerie Philia has created a new group exhibition, opening on February 15 at Walker Tower in Manhattan. Galerie Philia at Walker Tower features more than 70 artworks produced by 40 different designers working in Europe or influenced by European aesthetics. Co-curated with Italian designer and architect Pietro Franceschini, the tastefully styled loft reveals the breadth of talent among Galerie Philia's makers.
"This exhibition was conceived as a first-time presentation in the United States of Galerie Philia's distinct universe — a beautiful collection of works by artists and designers from Europe who define today's art and design scene," says the gallery's co-founder, who prefers to remain anonymous.
Built in 1929, the Art Deco-style Walker Tower is a quintessential fixture of the Chelsea skyline. An airy, loft-style apartment on the 18th-floor plays host to the minimalist curation, which suggests how limited-edition, European-inspired pieces can complement an upscale, New York City lifestyle. "The goal was to put together a scenario sitting between a gallery and a real, livable apartment," says Franceschini. "We wanted the objects and artworks to have enough space to express themselves but at the same time be in constant communication with each other. This tension between 'being displayed' and 'being functional' shaped every decision, and eventually set the mood of the entire exhibition."
The exhibition runs from February 15 to May 15, and visits are available by appointment only.
Please call (646) 469-9775 to schedule a viewing.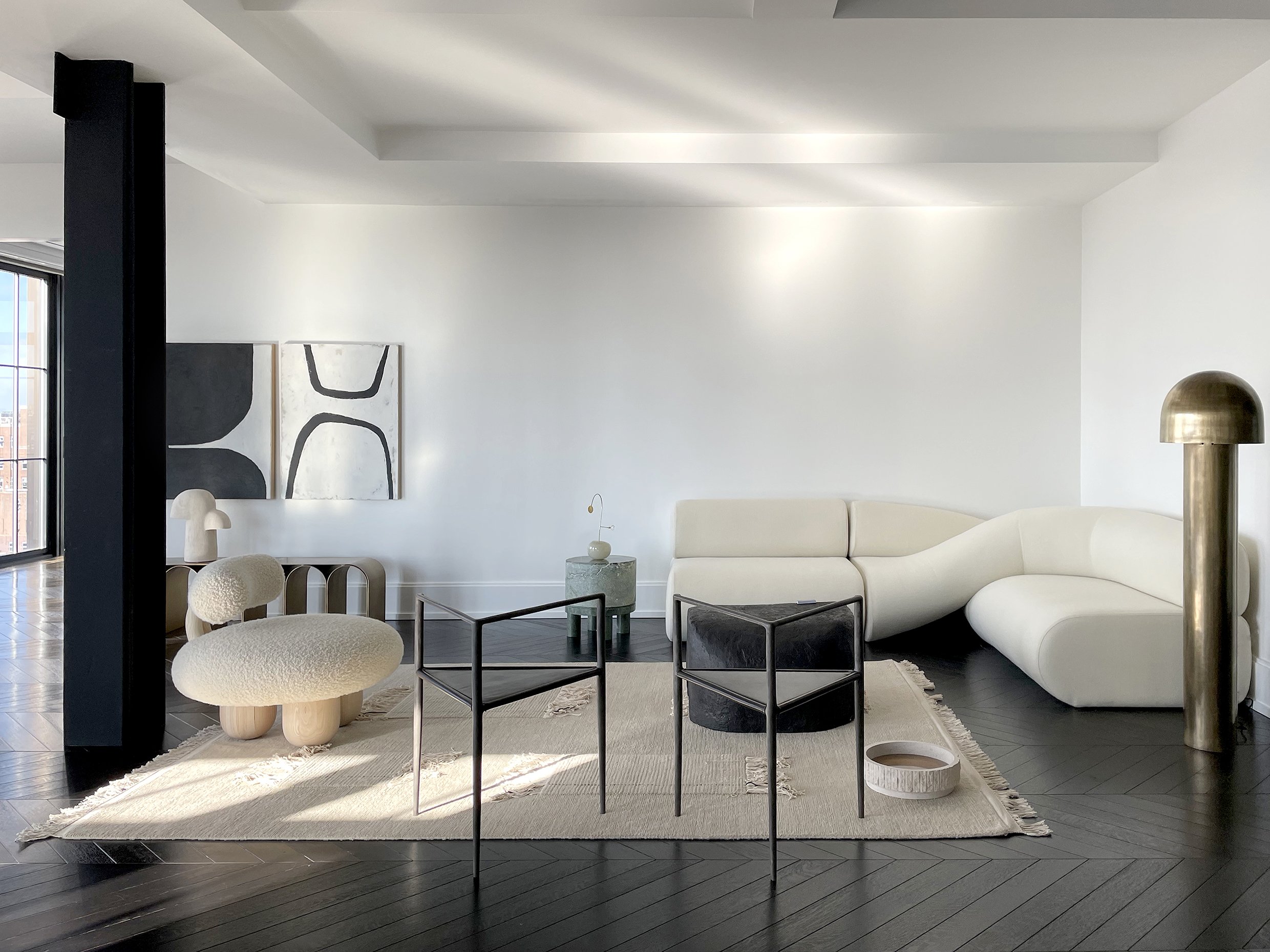 In the back right corner, an
L-shaped sofa
from Nina Edwards Anker of
nea studio
— sustainably made from organic latex and lentil beans — offers a comfortable space for lounging.
Rick Owens
designed the chairs with a triangular seat, and the brass floor lamp is by Paul Matter. The black side table was created by Lucas Morten.



Left:

Rooms

designed this jade side table, which lends a note of delicately subtle color to the room. Right: Artwork by Flora Temnouche is paired with a marbled salt gueridon by Roxane Lahidji.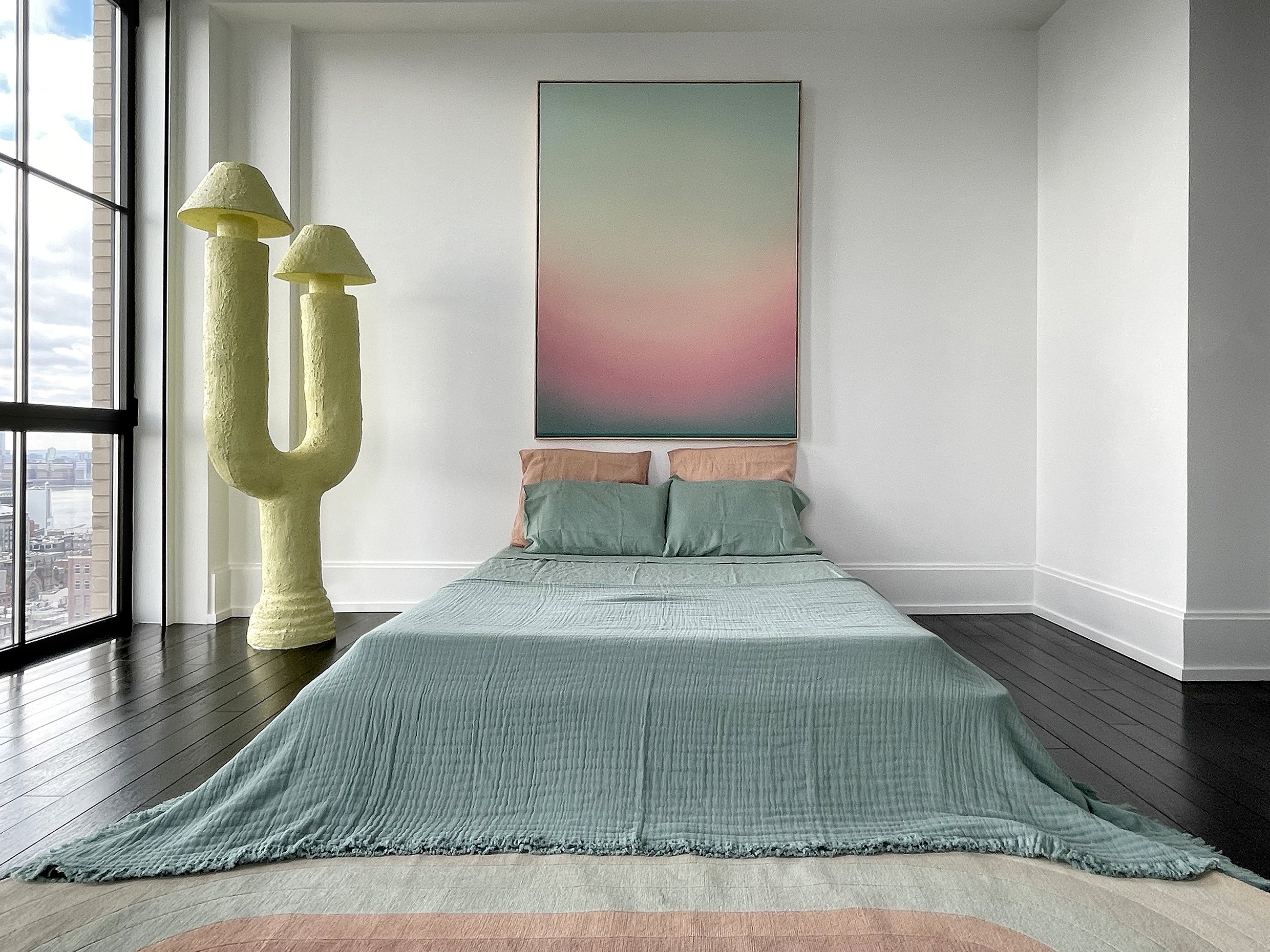 Léa Mestres crafted this chartreuse floor light, which dialogs with the modulated hues in "Late Summer Twilight," a work from the Skyscapes series by Brazilian artist Theo Pinto.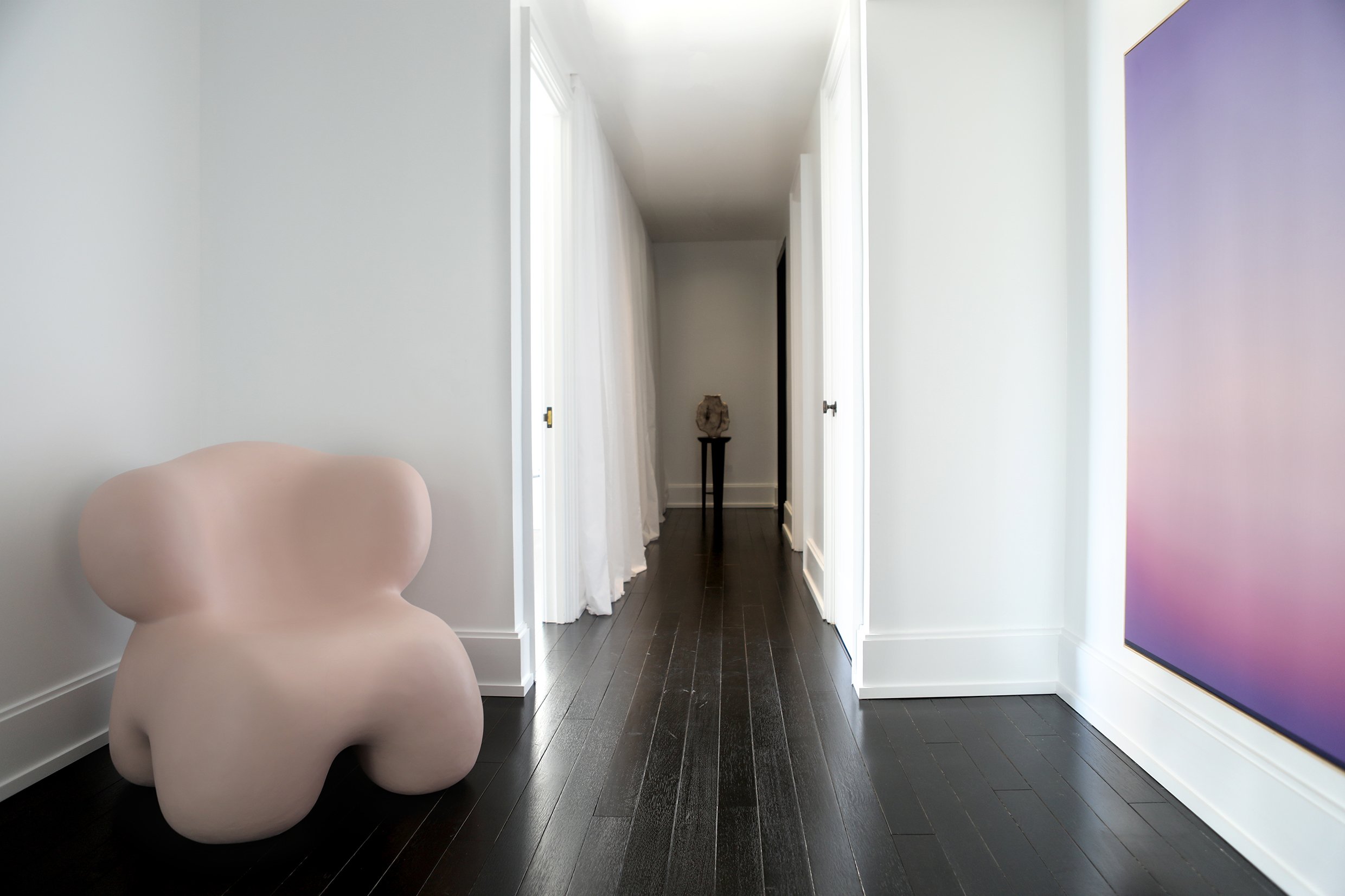 A sculpted, petal pink chair from Studio Noon is placed at the opening of the corridor across from a conceptual Theo Pinto painting.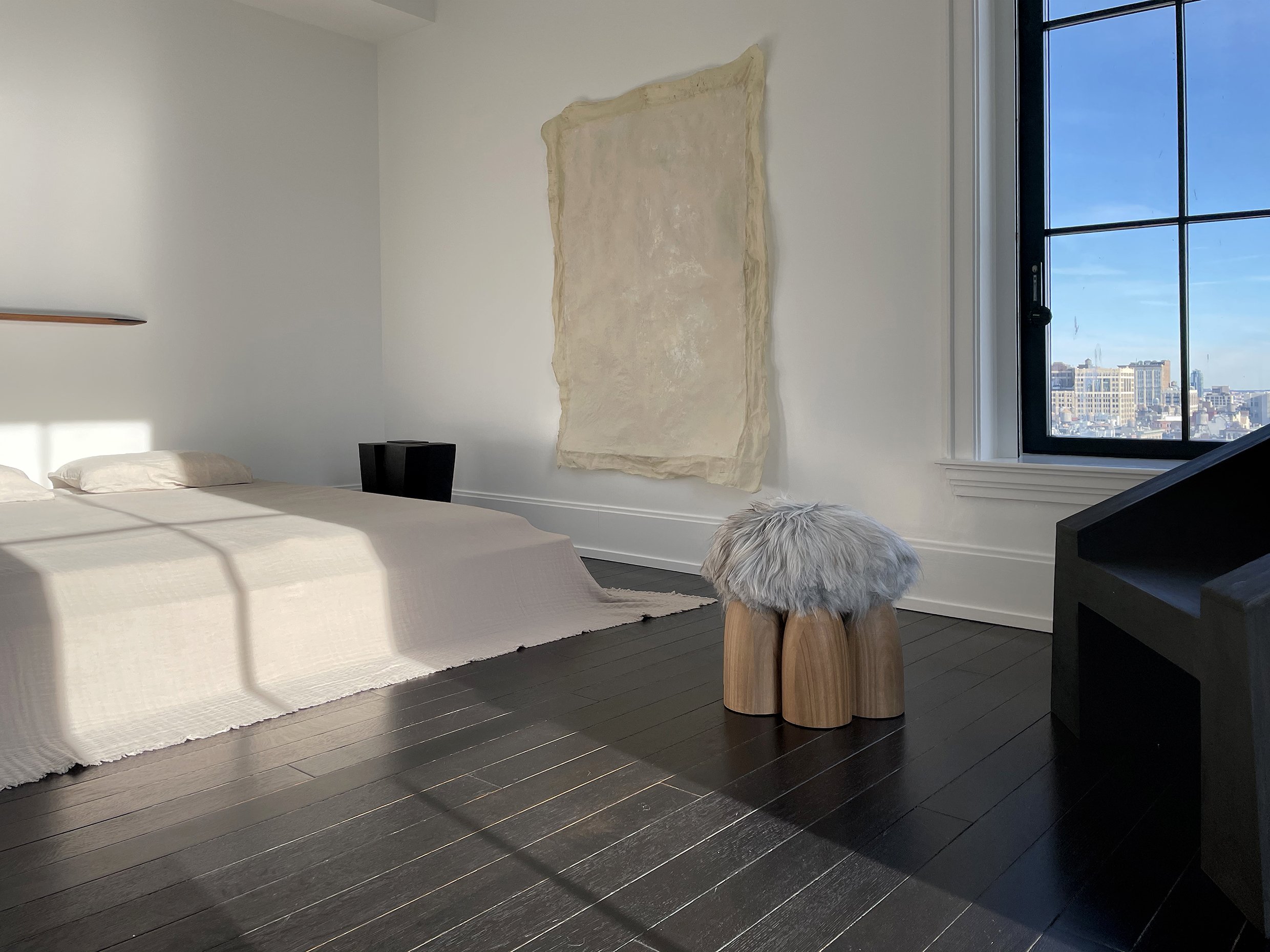 In one of the bedrooms, an ebony Lucas Morten chair is set beside the
Studio Arno Declercq
ottoman. The artwork is by Lorenzo Brinati.
Photography: courtesy Galerie Philia.