Gianluca Pacchioni On How Looking at a Sky Full of Stars Inspires Creativity in Design
| | | |
| --- | --- | --- |
| | | |
Left: 'Metaphysical Cabinet,' 2018. White onyx with veins created in liquid brass, inspired by the Japanese art of Kintsugi, in which cracked pottery is repaired with a mixture of lacquer and powdered gold, honoring the age and history of the object and embracing the imperfect. Cast bronze stand with mirror polished brass shelf and patinated brass interior. The personal favorite of Negropontes Galerie director Sophie Negropontes, artist Gianluca Pacchioni has, with this piece, explored the tenets of metaphysical philosophy. The cube is a cabinet, in essence, but it is also a vehicle for experiencing beauty. It opens to unveil a gleaming patinated brass interior, a moment of delight. Is it an object or an experience? Pacchioni has employed what has become a signature detail, a reflective shelf below the body of the piece, so that it may be revealed in full dimensionality, its true and complete existence. As always when viewing art, one's individual perception heightens self-understanding. But aside from the metaphysical musings that inspired this piece, it is an exquisite work of artistry and craftsmanship. Right: 'Vulnerable' sculptures, 2021. In cast bronze, concrete and stainless steel, one of a kind. A lotus bud, symbol of purity and beauty, emerges from a distressed concrete base. Photos courtesy of Negropontes Galerie.
Gianluca Pacchioni On How Looking at a Sky Full of Stars Inspires Creativity in Design
By Benjamin Genocchio





Self-taught artist and master in the art of forging metals, Gianluca Pacchioni creates collectible design and sculpture in his Milanese atelier. He is represented by

Negropontes Galerie

in Paris. Photo

courtesy of Negropontes Galerie.
Sophie Negropontes, founder and director of the renowned Negropontes Galerie in Paris first met Gianluca Pacchioni several years ago when he was showing his bronze panels at a gallery. "I thought immediately how incredible they were, huge and detailed at the same time, modern and classical," she says. "I knew I wanted to work together."
Ms. Negropontes loves all of Pacchioni's pieces, each in a different way, but her personal favorite is Metaphysical Cube, made of cast bronze, liquid bronze, polished brass and a piece of white onyx. "It is a stunning cube form in snow white onyx made with the Kintsugi technique. It floats on delicate bronze legs like a ballerina and the inside finish is an amazing patinated brass." She describes it as "poetry made concrete."
There is something very Italian about his design work, in the way he mixes modernity with classicism, specifically classical baroque. His details and finishes are minute and exact, but not always immediately evident — like a philosopher building a written theory or idea, he likes the true nature and purpose of a piece to be revealed slowly over time. Little wonder that his minimal, conceptual works inspire devotion among collectors, interior designers and savvy design connoisseurs.
Do you envision your objects in interiors when you initially design and make them, with a specific place or space in mind, or do you think of them as standalone works of art?
Well, it depends if they are on commission or not. If I have a commission project I'd love to imagine them in their environment, as a matter of fact I rarely start a project without a physical site visit or virtual one. On the other hand, as a sculptor, I work without compromises and I am totally free to imagine them freestanding in my space.
What is going on in your head when you begin a design?
To me, an artist is a combination of people, places, intentions, elements, lights and influences, with an immature/mature touch.
Where do you get your stone materials and do you shape and form them yourself?
I visit quite often my favorite quarries and suppliers wherever they are, they are my natural playgrounds. Working with stone involves teamwork, there are so many skills needed and involved.
| | | |
| --- | --- | --- |
| | | |
Left:
A Negropontes Galerie vignette with three works by Pacchioni. On the wall, left is Lilibet, a one-off lighted wall sculpture from 2021. In white and rose onyx with mirror polished brass. The form is illuminated along its length behind the rose quartz forms and also with a diffused halo-effect light behind the overlapping white quartz shapes. On the wall at right, Pupil mirror in pink aluminum, 2017, 66.9 in. diameter. One of a kind, solid brass and satinated aluminum. This piece has also been created in a graphite finish. In the forefront, Under the Sheets console (see detail below), 2021, 31.4 in. H x 80.3 in. L x 23.6 in. D. In Patagonia granite, glass and patinated brass. Right: Fossil 1, 2018. 98.43 in. H x 59.06 in. W x 3.55 in. D. Monumental handcrafted sculptural panel in copper, one of a kind. Pacchioni's studio is home to a veritable rainforest of tropical plants, a source of never-ending inspiration. Ovale Cremino sculptural side table, 16.54 in. H x 27.56 in. W x 13.78 in. D and console, 33.86 in. H x 35.44 in. W x 16.15 in. D. In cast bronze, polished brass and white onyx; both are unique pieces.

Photos

courtesy of Negropontes Galerie.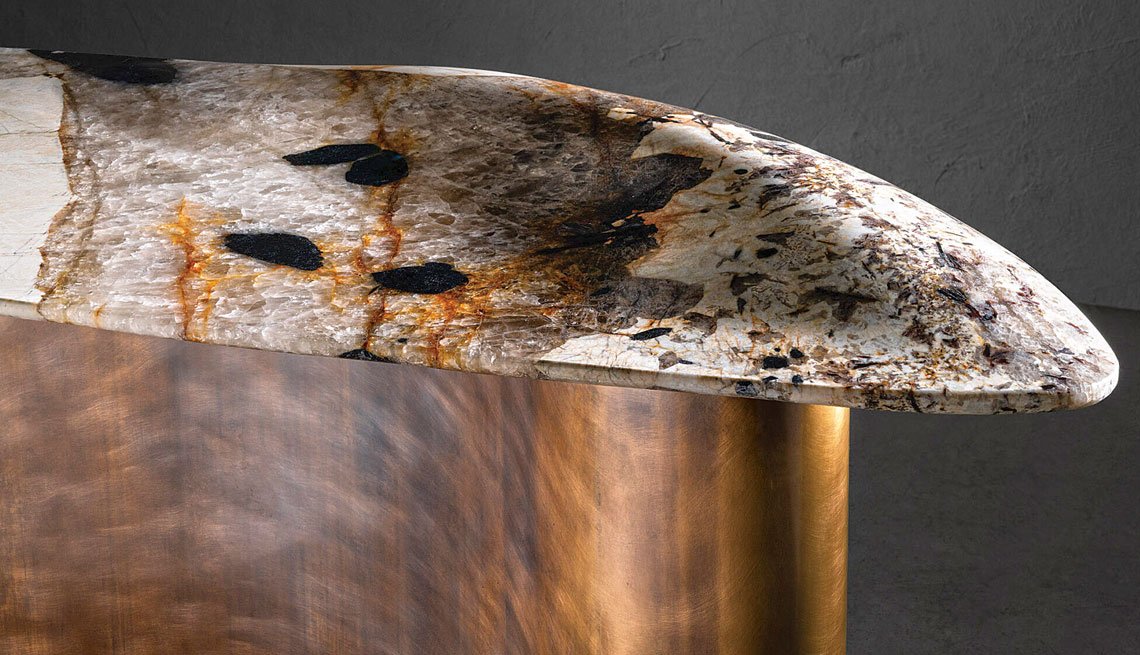 Is there a material you haven't worked with yet but would like to work with?
Yes, glass blowing could be my next exploration. I love working with fire and its alchemic power.
Tell us about your background and training.
Very easy, from a degree in finance to a Mastership in Fine Arts and Crafts, as a self-taught artist, of course!
Can you describe the process of evolution and transformation from an initial idea for a design to completion of an object?
I think that this is the magic of the human being: Imagine and create…no rules…from dust to beauty.
How much do ideas of age, of permanence and impermanence play into your thinking?
Stratification and transparency, the possibility to describe time is very fascinating to me. I love to dive into the history, the evidence of ages of a stone like looking at a sky full of stars.
Cremino side tables, 2019. 17.3 in. H x 14.6 in. L x 14.6 in. D. As shown in rose quartz, bronze and brass, with the artist's signature element, a mirror-polished brass shelf that reflects the natural contours and texture of the stone block, contrasting with the smooth table surface. The tables appear to defy gravity, with stiletto-slim legs supporting thick slabs of stone. The series includes additional pieces: a tall side table/pedestal and console in Persian travertine, orange or green onyx. Photos courtesy of Negropontes Galerie.
Metal is a foundation for everything you do, why is that? Practicality or aesthetics?
As a self taught artist I started with metal, a very indulgent material. It gives you the possibility to learn and correct quickly. It also allows you infinite access to forms and shapes without putting you in a frustrated state of mind. Perfect for explorations. This is only the practical side. Then there is the fire, its noise, its danger and its poetic effects. Nothing better than working on a rainy day in Paris at the forge.
Recently you have worked with liquid metals and patinas. Can you describe this process?
I discovered liquid metals around 10 years ago. It gives you the flexibility to make projects without thinking of the issue of weight. It is a complex process where you use metals with a very thin thickness thanks to the aid of resins. Patinas and surface finishes will bring personality to the final works. They are your signature: for this reason nobody else, except myself, is involved in that part of the creative process.
| | |
| --- | --- |
| | |
| | Photo courtesy of Negropontes Galerie. |
Where did the idea of making the "Skins" screens come from? They are highly original.
"Skins" are an artistic digression and have multiple origins: a very contemporary and elegant shape is covered with a tactile sensation of a prehistoric skin, with colors and patinas. The Italian touch are the lion's legs, taken from an old family dresser and then cast in bronze. I want to also inspire a little smile when you look at them.
What role do contrasts between materials play for you in a final design?
All my creative production has been characterized by this duality: rough and gentle, caress and danger...minimal and baroque.
Do you like to collaborate with other craftspeople to realize your ideas?
Oh yes!!! Nothing better than an exchange of knowledge and vision with skilled artisans and craftsmen…I've learned through curiosity and glimpses…it is a richness.
The market for limited edition sculpture and furniture is growing. Do you receive private commissions and could you describe one or two projects please?
Private commissions are always the best challenge for yourself. Opportunities clarify. Opportunities define who you are.
There is heaviness in your choice of materials, metal and stone, but also a sense of lightness overall in the finished pieces. How do you achieve that?
Thank you, it is a flattering compliment. I guess it is derived from my Italian classic background mixed with French and Japanese influences.
Discover Gianluca Pacchioni at Negropontes Galerie on Incollect