Gil Melott's Modern Elegance
Reflecting on the founding anniversary of Gil Melott Bespoke
| | |
| --- | --- |
| | Gil Melott |
With slicked back hair, a sleeve tattoo, and a verified Texan pedigree — he once dreamed of becoming a country western star — Gil Melott brings a rugged refinement to the polished world of interior design. In his recent product collection, Gil Melott Bespoke, the Chicago-based designer behind Studio 6F takes inspiration in the sensorial nature of childhood, when each experience is immediate, emotional, and self-contained, alongside the painstaking attention to detail and craft that has come to him with adulthood. His unique creative process has resulted in elegant, cultured interiors and furniture with just a touch of the unexpected. This past December, his Luz Lighting Series won a Best of Year Product award from Interior Design magazine, and his product line is only a year old. Here, near the one-year anniversary of the launch of Gil Melott Bespoke, Melott reflects on what he's learned from creating his own collection, and how his background influences his work.



What have you learned in the past year about product design and brand management?
I started my career in advertising where it was all about brand management. While all of those lessons and skills are incredibly helpful, they really feel inadequate when you have a personal interest in the process. I can definitely say this, if you are not a detailed person, if you don't like other people's opinions, if you are highly risk averse, then this process is not for you. Being recognized by Interior Design magazine with a Best of Year Product award for the Luz Lighting Series was huge in our first year. My reaction was, "Hell yeah, now let's work on distribution." No rest.

What inspired you to launch your own product line? What did you feel like was missing from contemporary product collections?
As a creative, I am always looking for the best way to solve a design problem. When I kept running into the same stumbling blocks sourcing certain items, I knew that, with a thoughtful approach and careful commitment to craft, I might be able to design those pieces myself.


Featured in the Studio 6F project above, the Uvalde F 1976 Coffee Table has streaked surfaces that mirror the striated bottom of the Frio River in Uvalde County, Texas.

You grew up in central Texas. How do Texan landscapes and lifestyles impact your designs?
The hill country of Texas is full of trees and green fields of hay, and then two weeks later, it's an arid, 100-degree stretch of dust land. My time in Texas, especially in that part of the state, brings to the surface the importance of sense memory and the importance the senses have on design.



You describe your pieces as "urbanely rustic." What does that mean to you, and how do you envision the lifestyle of your clients?
I didn't grow up in a large city. In fact, I spent my summers working a ranch and my childhood living in suburbs like many kids in the 1970s. What I have learned from traveling and living in places like New York and Chicago is a refinement and exposure that comes from those experiences. My furniture designs are all based on my youth with the lessons I have cultivated as an adult. My interior design work uses a similar filter — how do all the milestones of a person's life get articulated in a home? My job is to take the urbane, rustic, simple, and glamorous, and make it holistic snapshot of who my client is.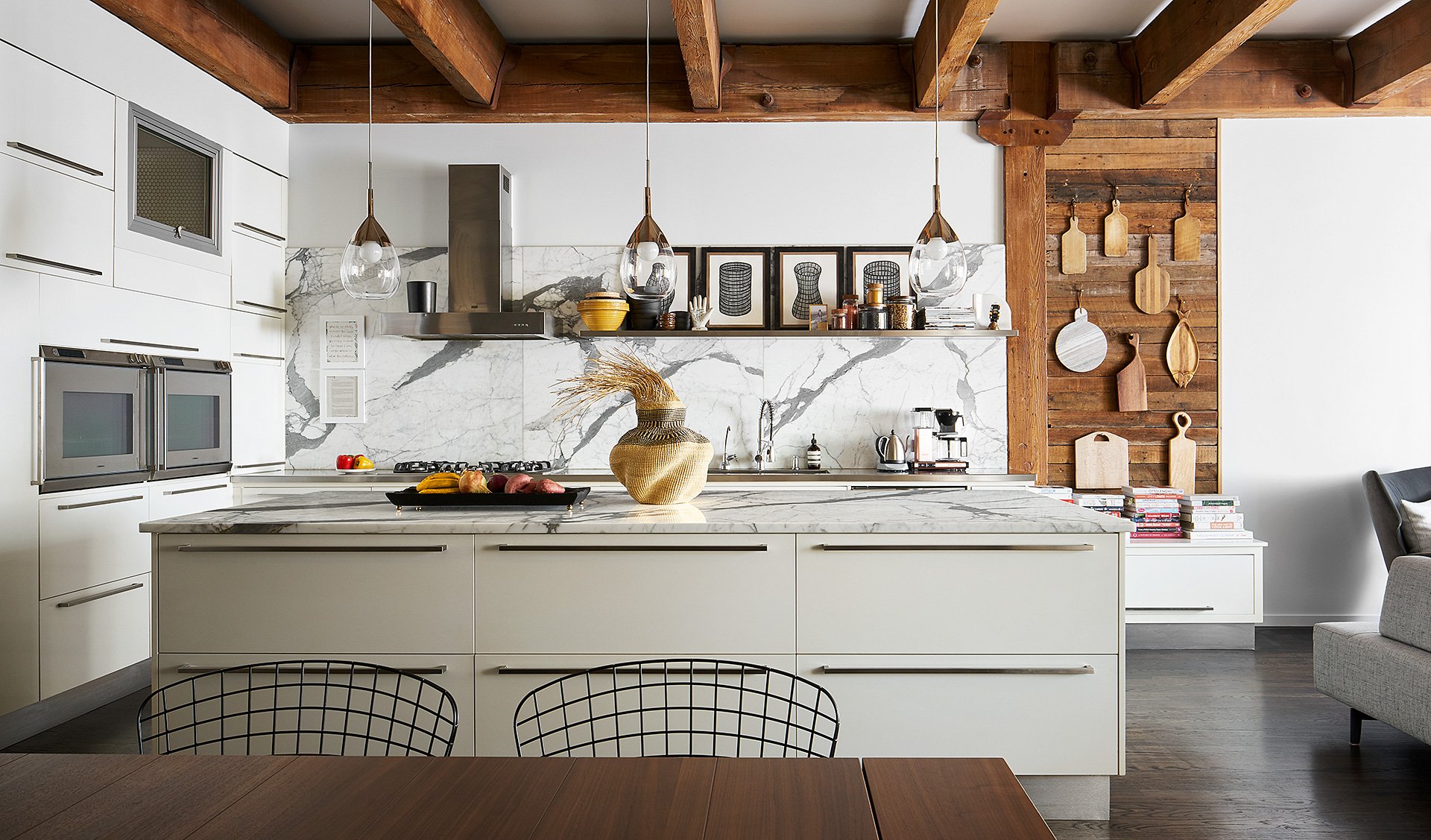 A rustic-meets-contemporary kitchen from Studio 6F.

On that note, what was your childhood like? What did you want to be?
I was the oldest of four kids, so being in charge comes naturally, or that's what my siblings say. I had a laundry list of things I wanted to be — coach, teacher, lawyer, architect, country western star. My Dad was in retail, so we moved with every promotion, and he was successful, meaning there was a lot of moving. But I knew for sure that I wanted to be creative. When I wasn't drawing football plays with my friends, I was drawing floor plans of the next house we were going to live in.

What was the most difficult part of launching your own product line?
The easiest part for me is making a decision. The hardest part for me is waiting on others to make decisions.



How does your interior design work complement your product design? And vice versa, how does your product design affect your interiors?
I have worked with some of the most amazing clients ever — trusting, collaborative, funny, adventurous. They have allowed me, on occasion, to add one of my collection pieces into a project. That's the ultimate compliment. On another level, the bespoke collection has pushed me to constantly refine my eye as I look at new designs or designers. I find myself really seeing past the "moment" and looking toward the longevity of what they have created. That's how I design my own pieces, and how I bring new pieces into my interiors.

Which artists/designers inspire you?
I am inspired in myriad ways. As a furniture designer, I certainly love classics like Gio Ponti and bent plywood pieces from Hans Wegner. I admire fashion designer Hedi Slimane because there is an effortless cool to his designs, and the rising star, artist Jake Troyli, who manages to take a self-portrait and turn it into an op-ed about our culture. All of these things motivate me.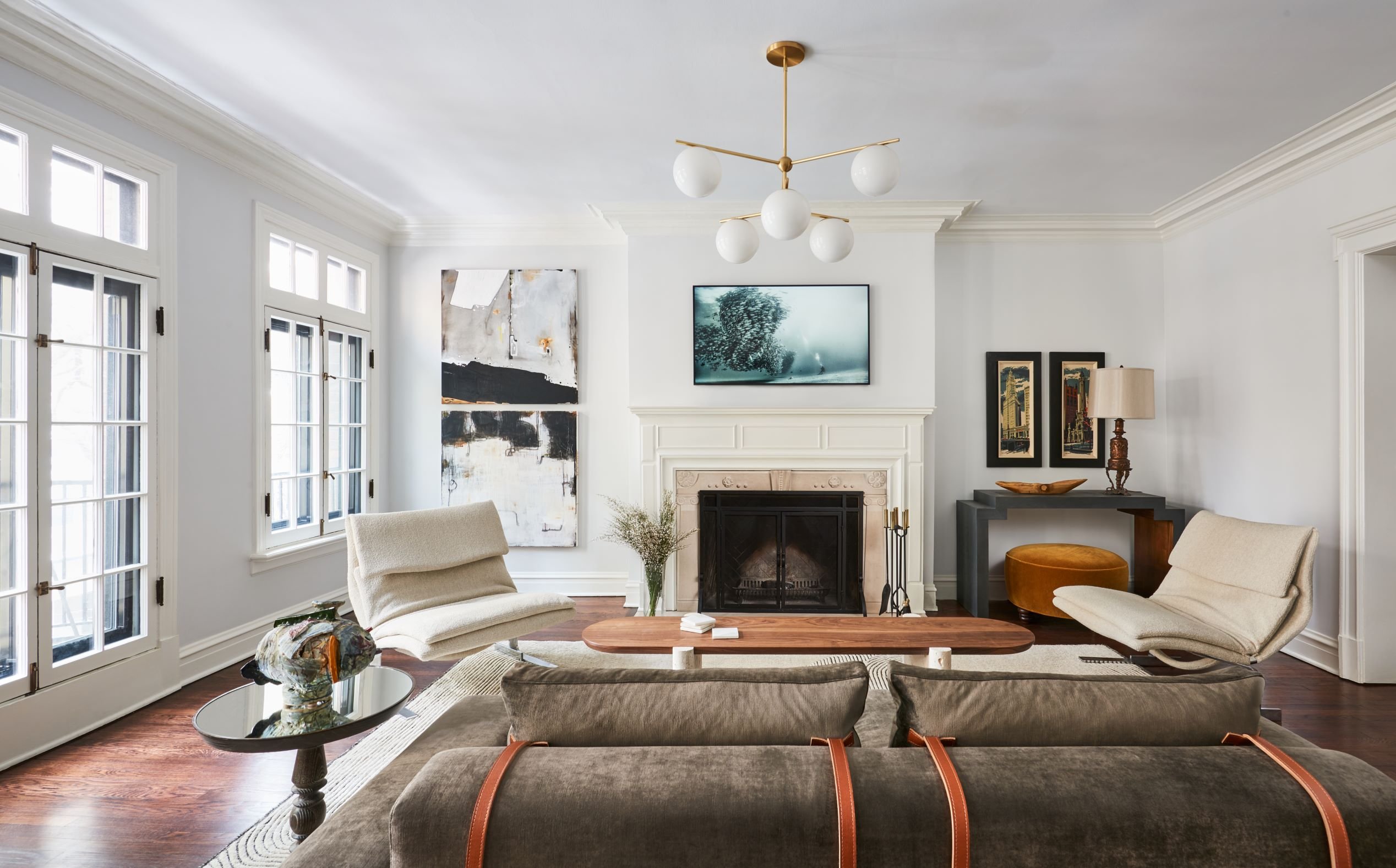 An artistic, modern living room from Studio 6F.

What is your manufacturing process like?
Depending on the item, our fabrications vary. We work with local Chicago metalworkers and blacksmiths for our lighting. All of them are really young, rising talent who embrace art and the trades while creating a new niche for themselves. Our upholstery work is all made in the Bridgeport area of Chicago by a second-generation, family-owned furniture business. We work early and often with engineering the designs, the finishes, and process. I am proud of our partnerships and the local team.

What products are you working on right now?
I am working on expanding the Luz Lighting Series with pendant and chandelier pieces, and I will be adding dining and lounge seating that is hyper-clean and nimble.