Greenapple's Quest to Create Flawless Furniture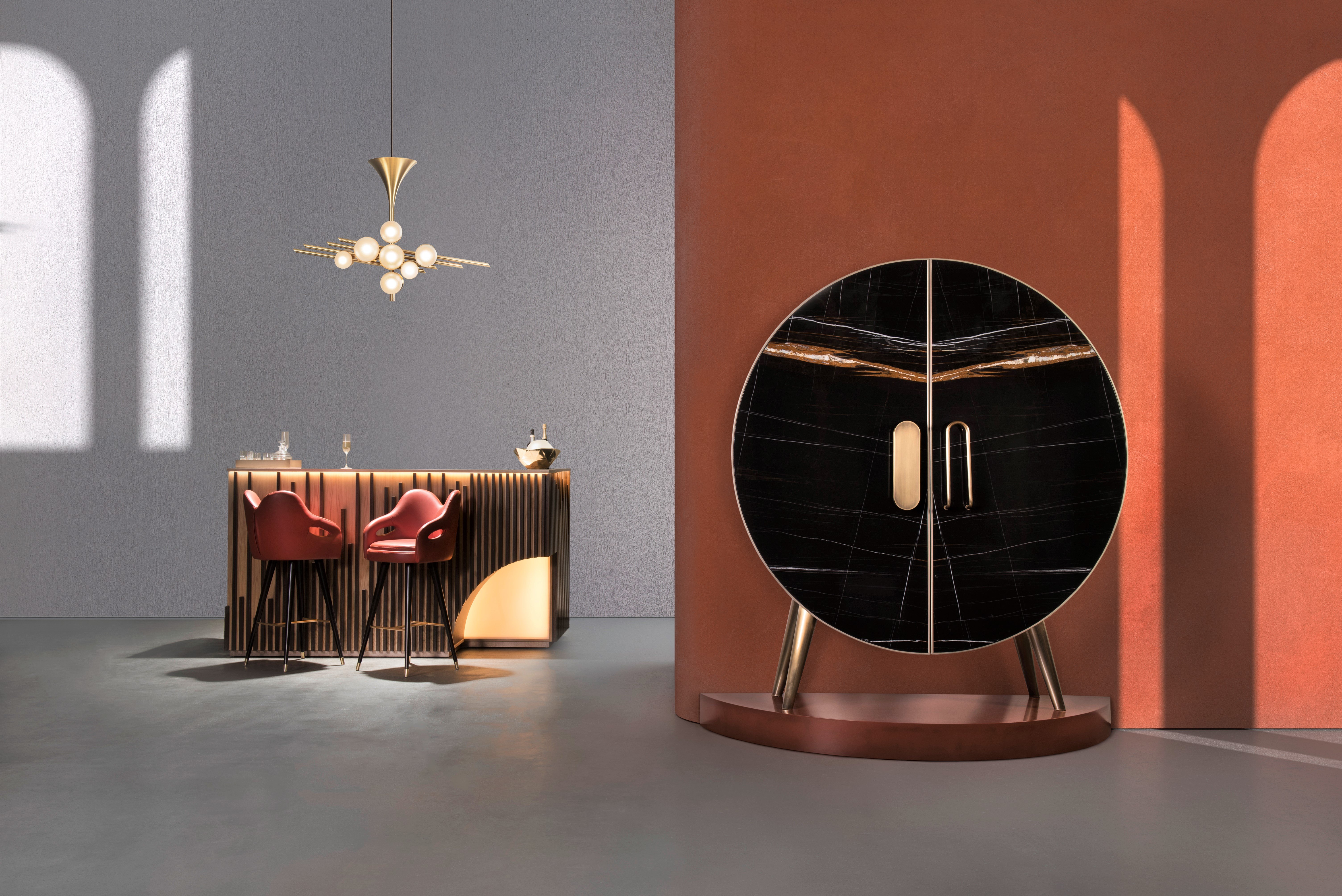 On the right, the
Bongó Bar Cabinet
from Greenapple is shaped like the head of a drum.
| | |
| --- | --- |
| | |
| | Sérgio Rebola with his wife and business partner, Rute Martins |
I
n 2005, Rute Martins and Sérgio Rebola pivoted from careers in economics to a new challenge — launching a design brand. Over the past decade and a half, Greenapple has grown from two business professionals with a dream to a global client-focused company that pairs high-quality materials with superb Portuguese craftsmanship. Now, in an atelier outside Lisbon, a team of 30 artisans creates, assembles, packs, and ships the brand's evolving in-house collection. From decadently soft wool bouclé armchairs to glossy consoles with curved brass panels, each piece is precisely constructed using the finest materials and techniques. Greenapple's attentive artisanal approach avoids the pitfalls of mass production, like energy-wasting technology and a lack of personality, while delivering products from their line to clients in under four weeks.
A sense of obligation to clients motivates their quest to make flawless furniture. "People are complex and detailed," says Rebola, who has taken on the position of CEO with the company, while Martins is creative director. "They are worth our time and absolute dedication. That is why we are obsessed with detail, carefully checking and rechecking and re-rechecking every creation. There are no excuses because perfection is possible."
With range of offerings including their unique furniture line as well as interior design services and custom product design, Martins and Rebola consistently push the boundaries of their brand. In a conversation with Incollect, Rebola dives into Greenapple's commitment to quality and discusses the details of key products from their line.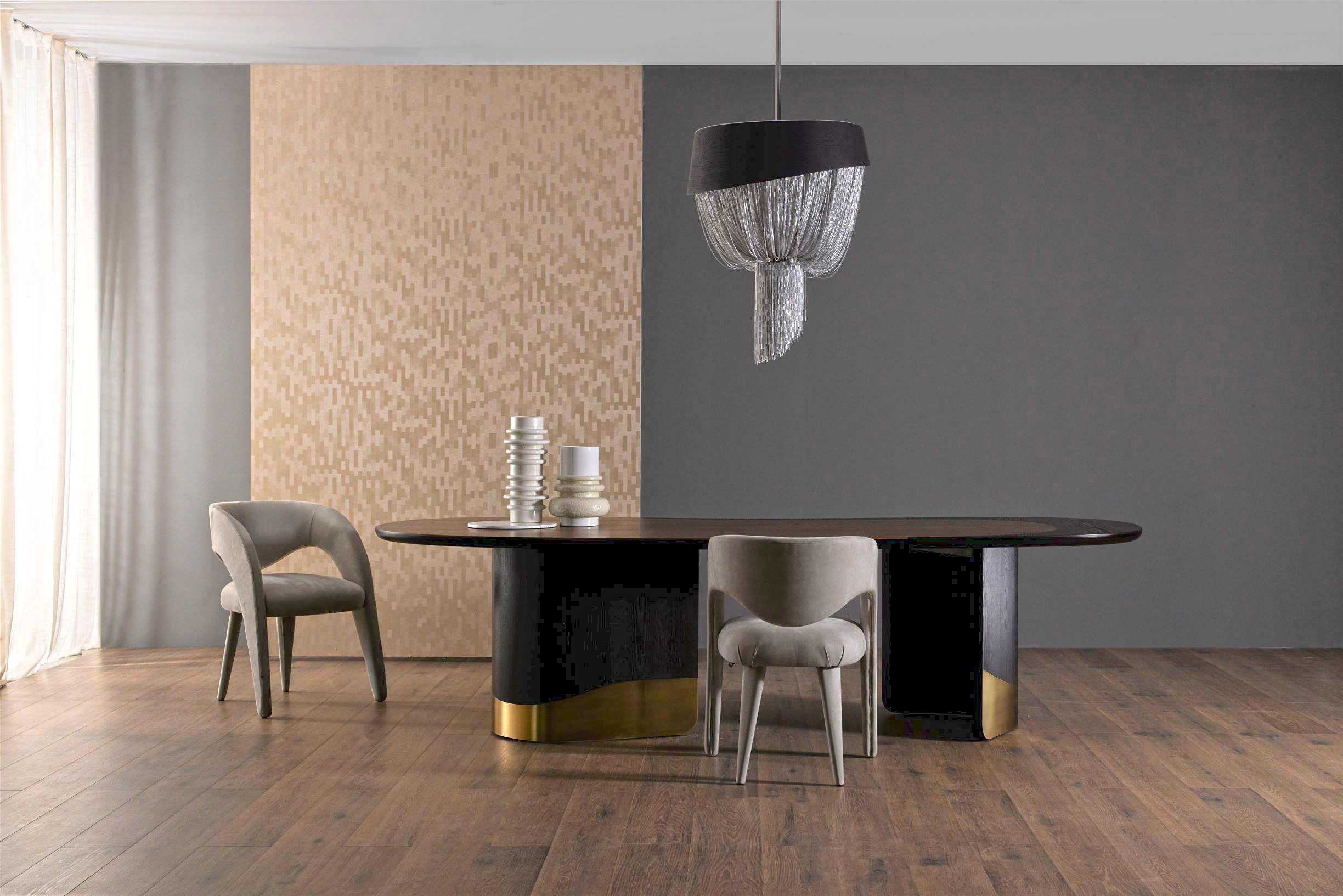 The tabletop of the
Armona 10-Seat Dining Table
, shown above, is crafted with stained American oak and ash veneers. The edges of the table are lacquered in satin black, and the two American oak semicircular bases feature oxidized brass inlay.

How did you transition from working as an economist to founding Greenapple?
We are risk takers. Early on in our careers, Rute and I understood that we are able to take a hands-on approach in our work and create solutions in response to new challenges. Although it was our job, we never actually saw ourselves as economists, but as entrepreneurs, as creators and discoverers. We wanted to go further and push the boundaries. We dove into this exciting new field with total commitment. With Greenapple, we love the challenge of coming up with new and innovative products that deliver a unique sensory experience.
You also offer interior design services, correct? What kinds of projects have you worked on?
Yes, we do. There are many projects that we've worked on that require different approaches and mindsets, from a royal palace in the Middle East to an apartment in Manhattan, from a bank in China to a beach house in Mexico. We have done it all and done it well.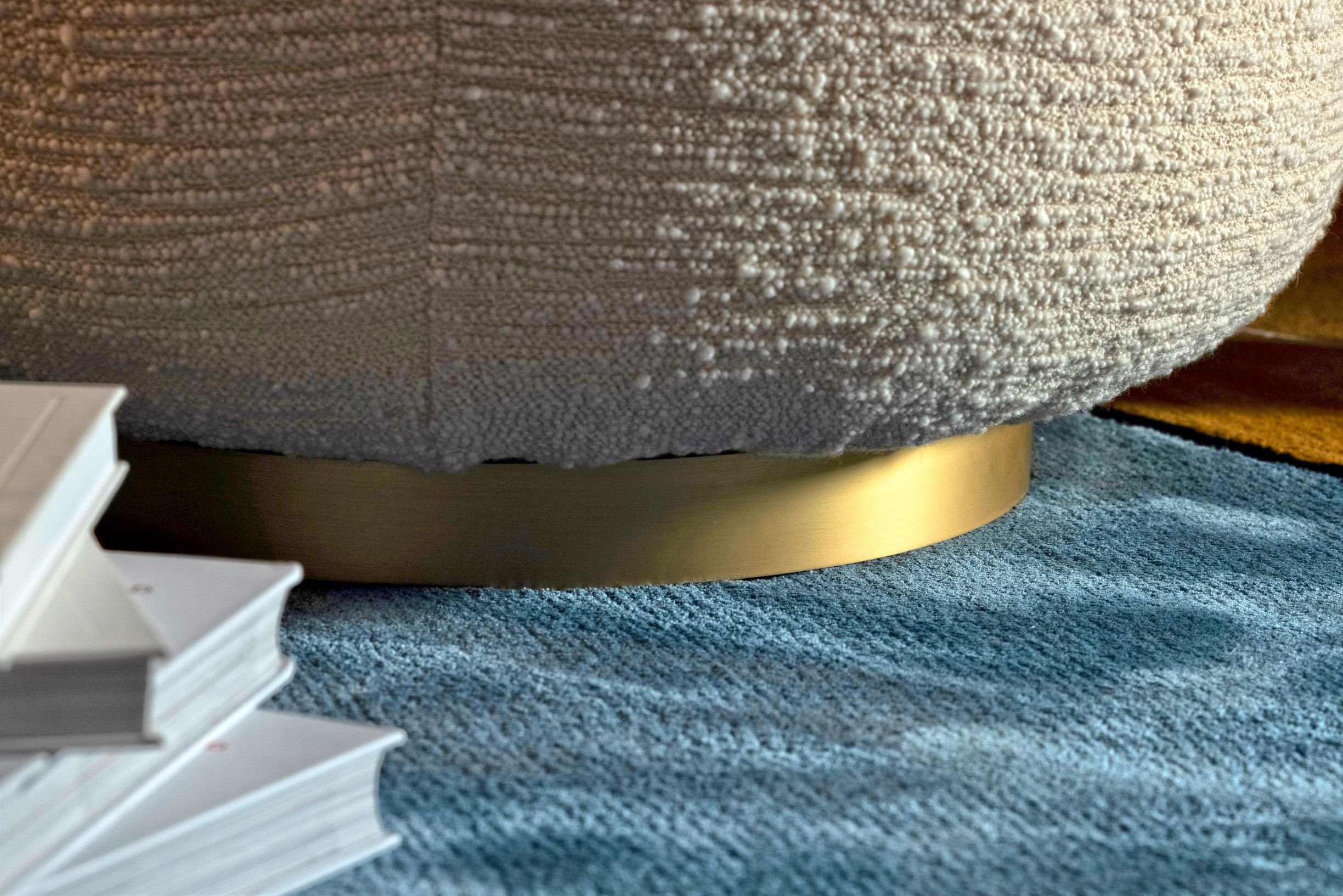 The seat of the Caju Armchair is upholstered in white wool bouclé fabric, while the armrest is covered in white faux fur. An oxidized brass swivel base and armrest support in a matte finish offer contrast.

What is your manufacturing process like?
We insist upon designing, crafting, producing, packing, and personally delivering our goods. With each project we choose to pursue, our approach is all-hands-on-deck and face-to-face. Our work combines the savoir-faire of traditional Portuguese workmanship with technological innovation and design thinking to obtain a luxurious, innovative, and environmentally sustainable product.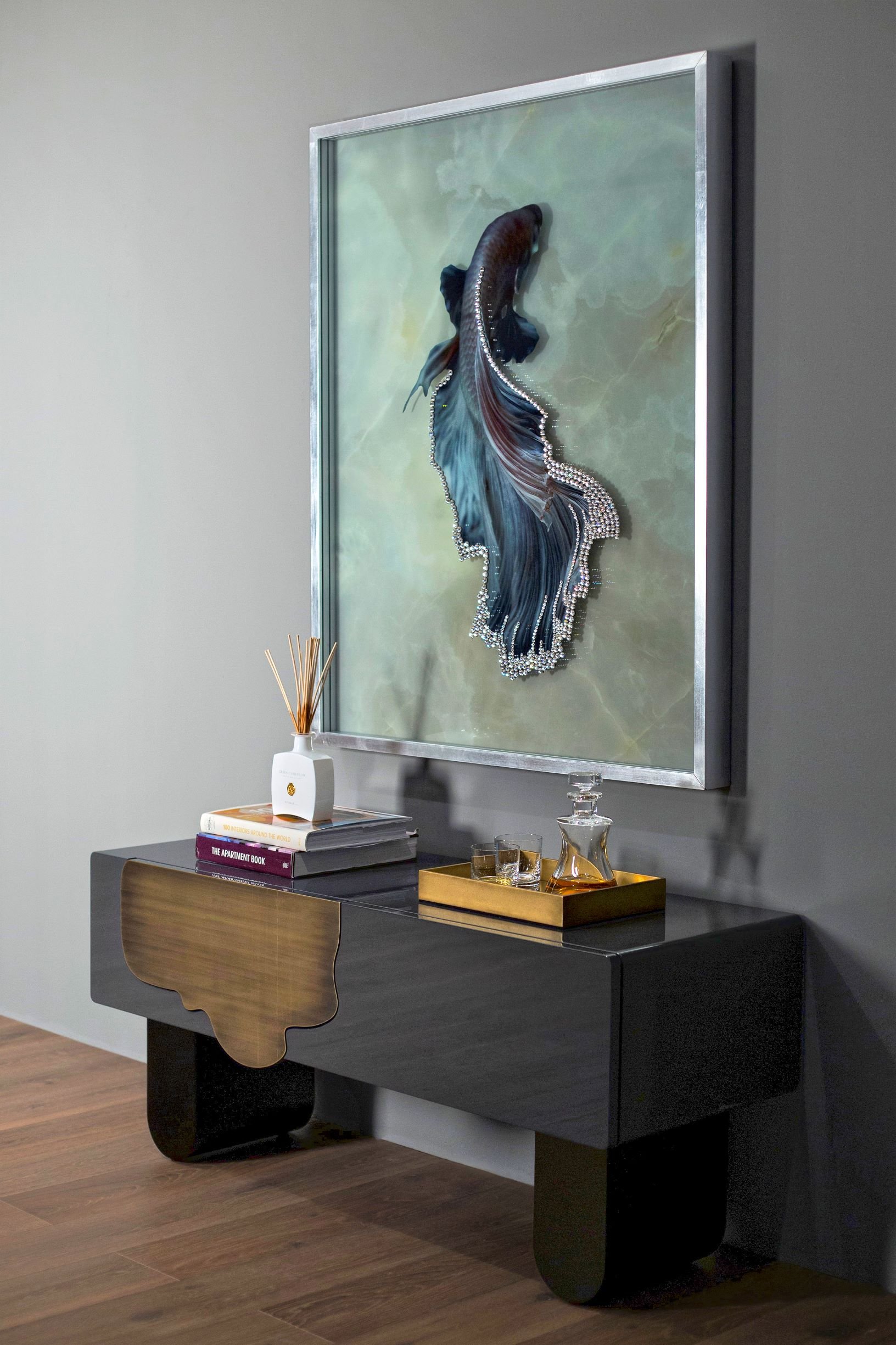 The Alma Console is decorated with a glossy oxidized brass drawer panel. This version features two satin-black wooden legs.
What is the design community like in Portugal?
Although it is a small community located mainly in Lisbon and Porto, it is very active and has a strong international presence due to its expertise in several key areas — like furniture, marble, and leatherwork — that are vital to the design process.
How are you able to have such short lead times?
Most of our bespoke furniture can be ready in four to eight weeks depending on the degree of personalization. However, all of the products within our collection can be delivered within four weeks because the components of those products are already completed and ready to be assembled.



Top: The limited-edition Bongó Bar Cabinet is crafted from pale wood and lacquered in a high-gloss powder, which contrasts with the Sahara Noir marble sliding doors that use touch and movement-triggered technology to gently open and close. Bottom, left: High-gloss oxidized brass is used to create eye-catching legs and handles. Bottom, right: Illuminated by automatic LED lighting, a walnut veneer matte finish contrasts with Patagonia granite across the back interior wall of the cabinet.

Now, let's talk about some specific pieces and design decisions. What makes the Bongó Bar Cabinet unique?
The first thing that stands out is the round shape of the Bongó, which makes it quite unique in the world of furniture, and then there is the mix of the noble raw materials used like brass, walnut, Patagonia granite and Sahara Noir marble. It's also unique because of the design challenges it poses. On the one hand, you have the challenge to the team of artisans to handle this mix of materials and finishes to create a glamorous look that doesn't feel ostentatious. On the other hand, there is the challenge to the team of engineers who developed the technology that is present in this piece, like the touch and motion-activated sliding door technology and LED lighting that illuminates as the marble doors open.
What was your inspiration for this cabinet?
With our initial concept for the object, we wanted to evoke feelings of relaxation and exuberance that celebrated the pleasure of living and enjoying life. Slowly but steadily, an interpretation of a drum started to emerge in terms of form, meaning, and material expression. As brass is an alloy often used in musical instruments, it was a significant choice of material for the accents that accompany the bar cabinet's Sahara Noir marble doors, and the brass contrasts visually with the marble's beautiful deep dark color and intricate veins. The unique musically informed design of the Bongó Bar Cabinet leaves no one indifferent. Like the echo of a drum, its elegance and hand-crafted excellence reverberate throughout any room or space in your home or business. Every detail is carefully handcrafted in our factory to ensure a striking presence and unparalleled quality.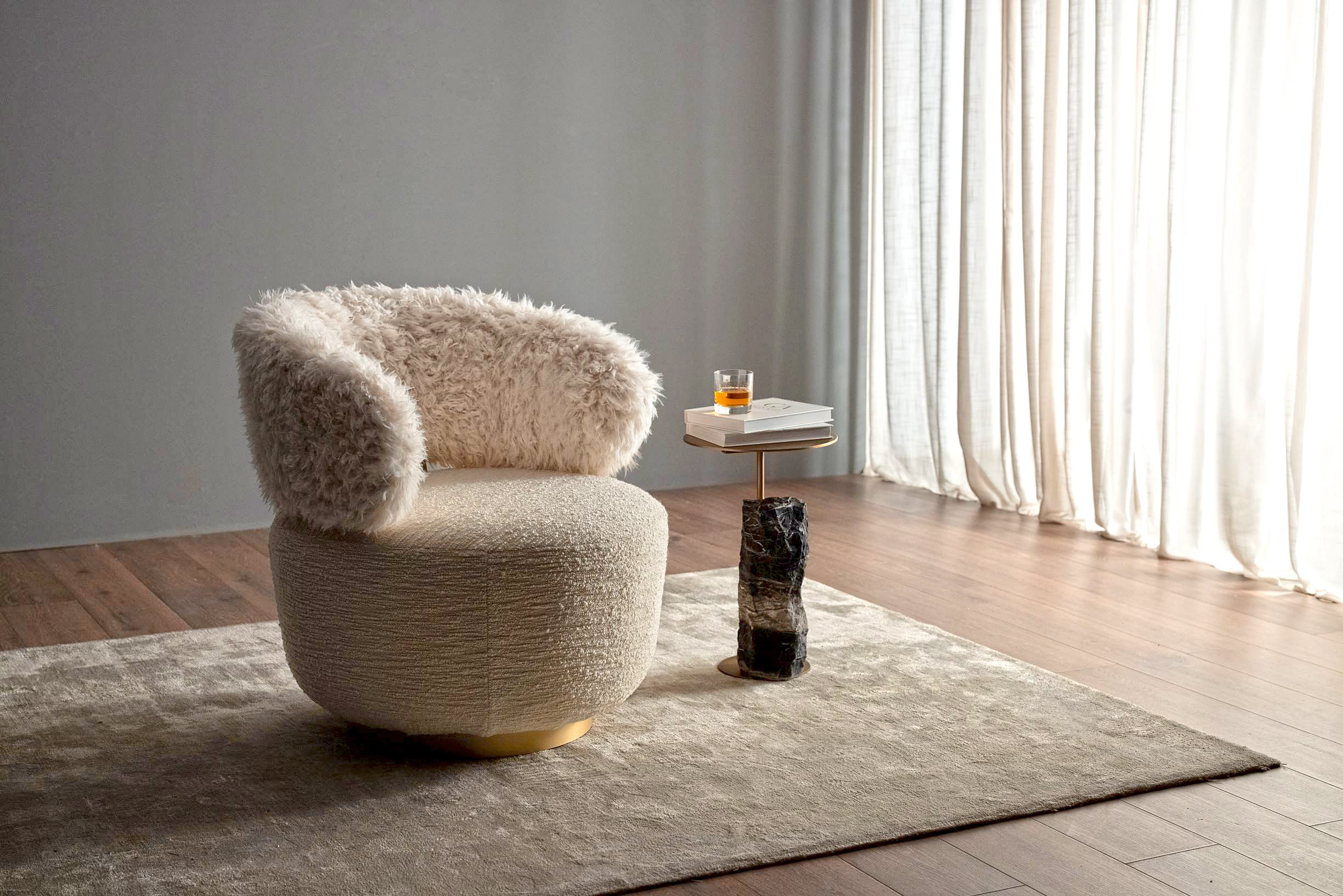 Top: In creamy upholstery, the Caju Armchair complements a contemporary-style room. Bottom, left: The juxtaposition of faux fur and wool

bouclé in the Caju. Bottom, right: The Caju's matte-finished oxidized brass armrest support.
Why do you like to incorporate brass in your furniture, as in the Caju Armchair ?
Applying a noble metal like brass to an exquisite and luxurious material like wool perfectly encapsulates what Greenapple is all about. One of our defining traits is the combination of different types of luxury materials that result in unique products.
What made you choose the textile mix of white wool bouclé and white faux fur?
If you ever sit in one of our Caju Armchairs, you will understand immediately. Together the materials are exquisite, trendy, and amazingly comfortable.



Top: The Armona 10-Seat Dining Table. Bottom, left: A close-up of the Armona's curving base and brass inlay. Bottom, right: The rounded satin-black ends of the Armona.
What inspired you to create the asymmetrical legs on the Armona 10-Seat Dining Table ?
The Armona Dining Table was inspired by Armona Island in Algarve along the southern edge of Portugal. It is a small and pristine beach paradise, where traditional architecture paired with the natural beauty of the land leads to a stunning result. Nature is asymmetrical there, apparently chaotic and yet always on a path to perfection. We hope you see the similarities in our Armona 10-Seat Dining Table.
Which details are your favorite?
The tabletop with its amazing combination of noble woods



Top: The Bordeira Coffee Table is topped with black-stained American oak veneer and inlaid polished onyx. Shaped as cylinders, the legs are crafted from black-stained solid beech. Bottom, left: The Bordeira Coffee Table with

the tridimensional hexagon pattern Hobart bookcase, in a rich mix of matte and high-gloss lacquers and American oak.

Bottom, right: A close-up of the curved edge of the onyx inlay.

How did you choose the materials for the Bordeira Coffee Table ?
Well, what was really decisive about the "how" was the "why." In our design process, we choose only the best materials and work with them sustainably because that is part of our overall strategy with our clients. For the Bordeira Coffee Table, we selected the best onyx marble and oak wood available — those that meet our criteria for sustainability and quality, among other standards — because they offer the best results when they are in the hands of the best workers in the business. And we only accept the best.
What is your process of creating the onyx inlay?
After carefully selecting the correct slab of stone for its visual properties and perfect quality, the pieces are then cut by hand by one of our artisans. Using a rotary polishing tool with water-cooling, the artisans shape the edges of the piece of onyx so that it fits perfectly into the wooden top. Finally it is hand-polished to achieve the beautiful look our customers expect from our furniture.



The Alma Console is lacquered in a high-gloss blue-gray color. Here, the Alma is shown as a floating installation, without the single leg. Bottom, left: The drawer panels of the Alma fit together like pieces of a puzzle. Bottom, right: A detail shot of the finishes.
Tell us about the design of the drawers for the Alma Console.
Alma means "soul" in Portuguese. We were inspired by the idea of the soul to create a console with a continuous line, where reason and emotion bend and defy rules. The drawers of the Alma Console try to encapsulate that feeling of wonder and awe that the concept of a soul has on humankind. You cannot stop yourself from looking at it and opening it to peer inside.
How do you craft the Alma's oxidized brass panel?
Each panel is handmade by an expert artisan, which allows our console to acquire its unique personality. Our process also avoids mass production, in which great quantities of chemical agents are used, making our work more sustainable. The brass is laser-cut to fit the console that we are working on and sanded by hand to remove any marks, so that it's ready for finishing. It is then degreased to prepare for oxidization. After the oxidization is finished, the process ends with the addition of a protective layer of an eco-friendly lacquer.
What finishes are available for the console?
What do you desire? Everything is possible!