Guy Regal NYC Debuts Virtual Gallery Tour
Guy Regal NYC takes pajama-clad shopping to a new level with their Virtual Showroom Tour, which can also be viewed as a true VR experience. Pieces are tagged with links to detailed listing information on their website.
One bright note during these months of pandemic shutdown has been the daily dose of inspiration delivered to our inbox, enticing us with the creative ways that design-related businesses have devised to keep us engaged. An especially exciting new initiative was announced last week, with the debut of a virtual showroom tour now offered online by Guy Regal NYC. The showroom at the NYDC has been closed since March 16th, but even before then, Founder Guy Regal and President Nicole Kapit had been considering ways to bring a more flexible, inclusive gallery experience to clients, and the shutdown was the impetus they needed to move forward. The easily-navigated gallery tour can be viewed by clicking on the link below, and also offers the option of an immersive virtual reality experience. A special viewer is required for the VR tour; Google Cardboard is a simple to use and low cost option. We toured the gallery, and were impressed with how much fun it was to wander about, lingering on our favorites and pausing to find out more by clicking on the buttons.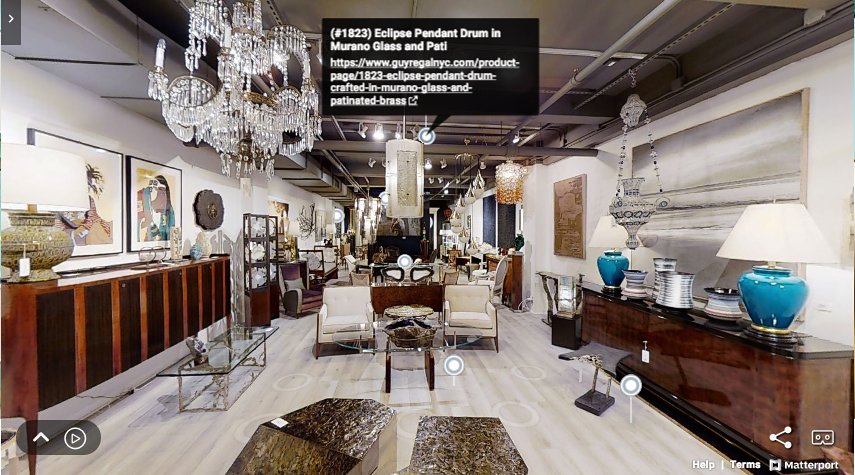 The tour is enhanced by clickable buttons that link to the listing to provide detailed information.
We talked with gallery President Nicole Kapit about her thoughts on the tour, how it came together and what this means for the future of the gallery:
What was the inspiration for creating the VR experience? Obviously it was propelled by the pandemic, but is it a part of a larger marketing plan?
It's hard to say that the pandemic was not the direct inspiration behind this initiative. We wanted to come up with a plan that was outside of the box. Aside from our website, we wanted to find a 24-hour way that a client could access our showroom. We knew we needed to find a way to bring the showroom directly into the visitor's living room that was not just limited to showroom photos, traditional video and product shots.
We toured without the VR option, (because we didn't have a VR viewer) and it was great! The 3D VR experience must be amazing — do you have plans to promote that option?
Yes! The Cardboard is not necessary to view the tour; it's just a fun option to have on hand. We have an idea to send branded Google Cardboard viewers to a select group, so they can experience the showroom as if they are standing in the rooms.


Vignettes staged for the gallery tour.
What are the different ways you plan to utilize the tour in your marketing and sales efforts?
Since we only have access to the showroom in small windows of time during the NYC shutdown, we have plans to style the showroom again and to keep adding different looks to the VR library that the viewer can access through our website. The restyling would mimic our shop redo schedule pre-pandemic.
It has always been our vision for the visitor to have a different showroom experience every time they visited, and now we can mimic that experience by continuing to reshoot the showroom with different products and looks. From a sales perspective it's also a way to keep all the inventory "active" even if it's been taken off the showroom floor.
What is amazing about the VR experience is that you can really understand 'real world' proportions for some of the products and see how the pieces look "in person," per se.
Our marketing plan is to use social media and email campaigns to keep our clients up to date on the changes going on in the showroom. A select number of pieces are linked directly to our website, so the viewer can easily access tear sheets for the items they are interested in.


A stunning sculptural bronze and concrete side table by Silas Seandel is shown to best advantage on the tour.

How did you stage the gallery for the filming?
We had to make some minor adjustments to furniture locations, so the camera could easily navigate the space, but the showroom was in tiptop shape right before the pandemic, so there were no major changes needed. We did move some pieces that were in less prominent locations to a more central part of the tour. This insured the viewer would not miss them. One piece in particular was a concrete and bronze side table by Silas Seandel, which we had been displaying between two large chairs. The table was moved to a location where it could be viewed as a piece of sculpture and it showed beautifully on the VR tour.
After your first rehearsal, were there many adjustments?
For the shoot, the showroom had to be divided into sections so the camera didn't keep capturing the same images, but also so as to not miss anything. First we did multiple walks through the showroom to determine the best path to take on the tour from a viewer's perspective. Once we decided on a path, we then made sure that pieces were positioned at an angle that looked natural through the lens.
We hired a company called Flagship/Focus VR that has had lots of experience filming showrooms in VR. Owner Chris Ochoa was fantastic and was also willing to experiment with lighting and camera positions to make sure he got the best shots possible.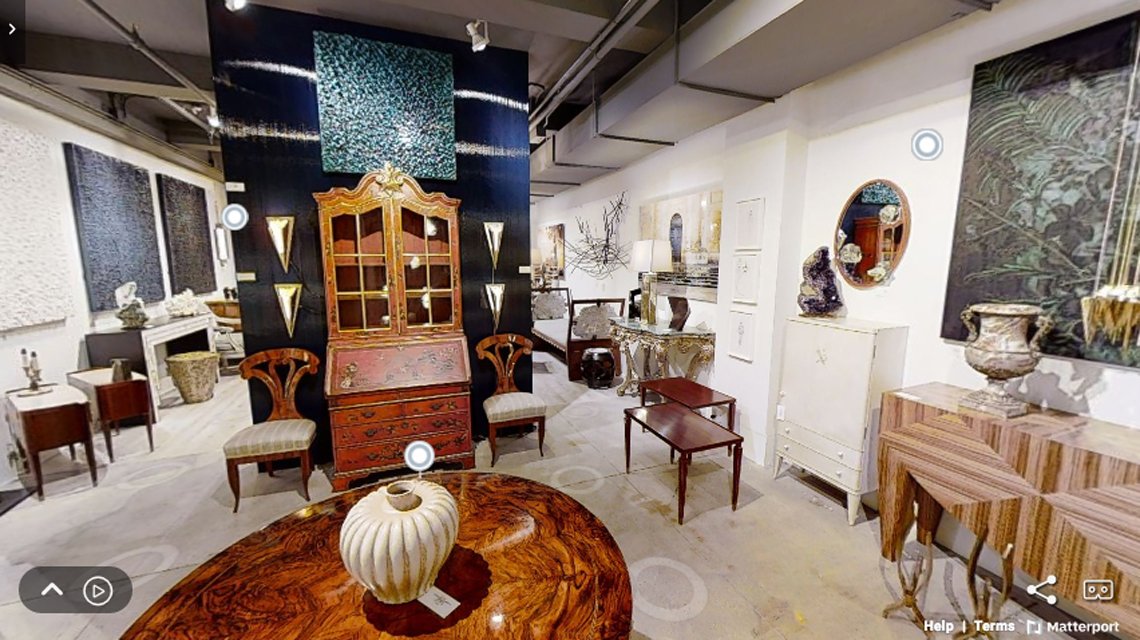 We took the tour, first running through as filmed to see everything, then hopscotching throughout to revisit our favorites.
How difficult was it to translate your vision to the actual tour?
Honestly it was super easy, and the experience was seamless! There was more drama in anticipation, knowing that I had to leave the house and trying to figure out how best to get to the showroom from the Upper East Side where I live. And keeping sanitized! It was the farthest I've traveled in weeks!
Is this part of your "new normal"? Will you be expanding the Virtual Tour experience to other initiatives such as shows or events?
We are now providing an enhanced 24-hour, 7 day-a-week, global virtual showroom experience that we weren't able to provide before with just our website and product shots. Our clients can now enjoy the showroom walk-through experience without ever having to leave their home or office. We do miss the in-person interaction, which is so important in the process, but for now this is the next best thing until we can safely welcome everyone back. We have a very special experience coming up in the Fall, showcasing beautiful works by Studio Greytak, with pieces currently in production that are unlike anyone has ever seen, all inspired by nature. Stay tuned!
Tell us what you learned from the experience and what you might do to enhance it in the future.
It has always been our desire to be innovative in how we present the showroom and market our inventory, whether it's the type of pieces we feature or the way they are curated and displayed. We may make changes to the way images are lit or look into improving the camera quality, but going forward VR will be integrated into all that we do.
Because of the pandemic, how we will function is difficult to predict for tomorrow and certainly for the next year. It is even more difficult to plan anything from a marketing perspective, be it gallery shows, fairs or even buying trips. With this new venture, we have made those predictions easier to plan in the next year — as we now have a "Plan B" for every "in person" concept we create.