Tom Wesselmann (1931–2004), Still Life With Blonde and Goldfish, 2000 (22/75). Mixografia print. Image courtesy of Burgess Modern + Contemporary.

July 14-17, 2022
By Benjamin Genocchio
| | |
| --- | --- |
| | |
| | Ronnie Landfield (b. 1947), Spirit Rising 2. Acrylic on canvas, 88 x 78 inches. Image courtesy of Findlay Galleries. |
Hamptons Fine Art Fair returns in 2022 with an expanded exhibitor list of nearly 100 art galleries and a new, larger venue at the Southampton Fairgrounds located close to the landmark Shinnecock Hills Golf Club. The fair will open on Thursday, July 14 with a VIP preview benefiting Guild Hall Museum and runs through July 17.
Galleries from over 40 cities and several countries will be participating in the popular fair with what the fair organizers estimate will be over $100 million in artworks by more than 400 artists. The 75-year-old painter Ronnie Landfield from Findlay Galleries will be awarded the fair's annual Lifetime Achievement Award in Painting.
Executive Director of Hamptons Fine Art Fair, Rick Friedman says, "Our goal is to provide our fellow Hamptonites a curated, high-caliber selection of important 20th- and 21st- century art, ranging from compelling emerging artists to the blue-chip masters." And given the expanded scale, Friedman adds, "This is perhaps the deepest and widest selection of significant art ever offered in the Hamptons."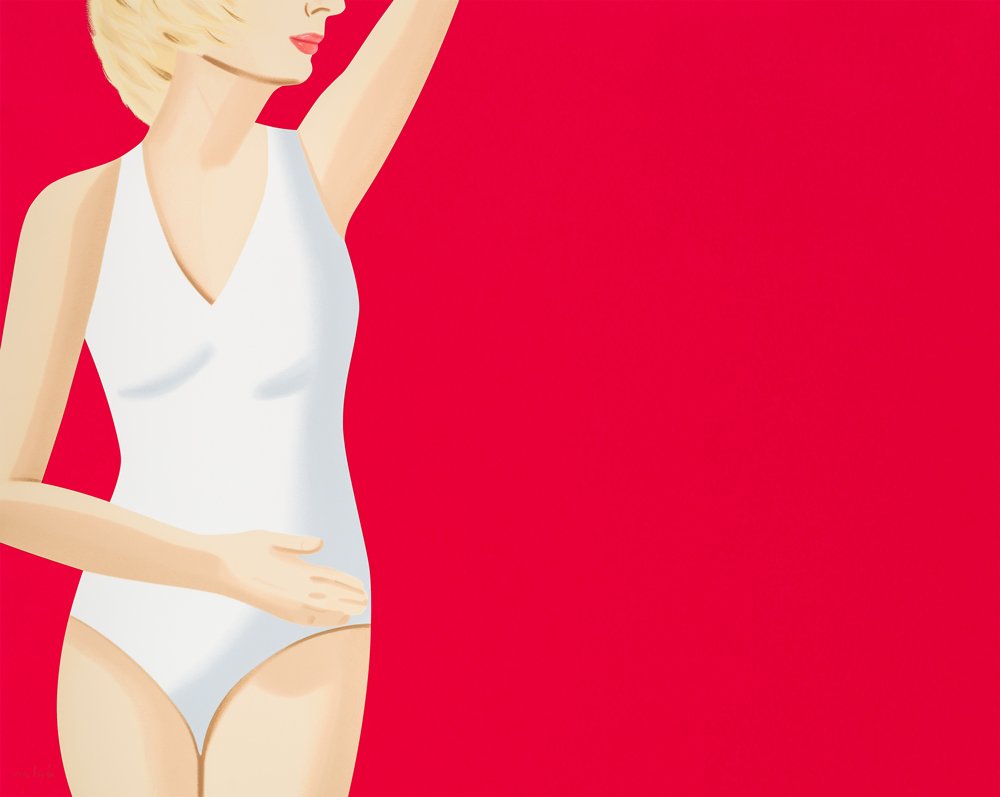 Alex Katz (b. 1927), Coca Cola Girl 4, 2019 (Edition of 60). 18-color silkscreen on Saunders Waterford High White HP 425 gsm fine art paper, 40 x 50 inches. Courtesy of Maune Contemporary.
Specially curated themed booth displays this year include Kyiv-based Lysenko Gallery's presentation of several Ukrainian artists; Hollis Taggart Gallery's focus on Abstract Expressionist masters; Chase Contemporary will present a Richard Hambleton retrospective, now also showing at their East Hampton gallery; while local art dealer Mark Borghi will present Mercedes Matter; The Last Works. Walker Fine Art will present The Magical World of M.C. Escher and New York City-based Vallarino Fine Art will present The Avery Style, about Milton Avery. M.S Rau from New Orleans and Lawrence Fine Art from nearby Easthampton also have notable, dedicated displays.
For more information about Hamptons Fine Art Fair, please visit www.hamptonsfineartfair.com
| | |
| --- | --- |
| | |
| | Albert Kotin (1907-1980), Predators, 1951. Oil and enamel on canvas 36 x 28 inches. Image courtesy of Hollis Taggart Gallery. |
| | |
| | |
| | Andy Warhol (1928-1987), Shaindy Fenton (Society Portrait), 1977. Silkscreen on canvas, 40-1/2 x 40-1/2 inches. Image courtesy of Helwaser Gallery. |
2022 EXHIBITORS
11 [HellHeaven] (Miami, FL) | 532 Gallery Thomas Jaeckel (New York, NY) | Abbozzo Gallery (Toronto, Canada) | Alessandro Berni Gallery (New York, NY & Perugia, Italy) | Art Bond (New York, NY) |Artifact (New York, NY) | Artio Gallery (Toronto, Canada) | Artist Cartel (New York, NY) | Art N Folly (Miami, FL) | Asheville Fine Art Presents Lawrence Leyderman (New York, NY) | Axiom Contemporary (Philadelphia, PA) | Axion Gallery (Palm Beach, FL) | BS Galeria (Sao Paolo, Brazil) | Ben Georgia Contemporary (West Orange, NJ) | Bermano Gallery (Brooklyn, NY) |Blond Contemporary (Middlesex, UK) | Blue Gate Gallery (Sante Fe, NM) | Boccara Art Galleries (Palm Beach, FL) | Burgess Modern & Contemporary (Ft. Lauderdale, FL) | Carol Corey Fine Art (Kent, CT) |Chase Contemporary, (New York, NY) | Colm Rowan Fine Art (Easthampton, NY) | Connect Contemporary (Atlanta, GA) | Contessa Gallery (Palm Bch, FL/Cleveland, OH) | Corridor Contemporary (Philadelphia, PA) | Cre8sart Art Gallery (Ft. Lee, NJ) | Creason's Fine Art Gallery (Carmel-by-the Sea, CA/Naples, FL & New Orleans, LA) | Dane Fine Art (Philadelphia, PA) | David Benrimon Fine Art (New York, NY) | David Rothermel Contemporary (Sante Fe, NM) | Ebony Fine Art & Joysetta & Julius Pearse African American Museum of Nassau County (Hempstead, NY) | Estrella Gallery (New York, NY) | Findlay Galleries (New York, NY) | Fremin Gallery (New York, NY) | Glen Mayo Fine Art Metals (Kingston, NY) | Galerie Calderone (Dinard, France) | Galerie L'Atelier (New York, NY) | Galerie Makowski (Berlin, Germany) | Galerie Mark Hachem (Paris, France) | Gallery M (Denver, CO) | Guarisco Gallery (Washington, DC) | Haas Art Advisory (New York, NY) | Hayes Gallery (Greenwich, CT) | Helwaser Gallery (New York, NY) | Hollis Taggart Gallery (New York, NY) | Hollis Taggart Gallery Presents Francis Hines (New York, NY) | Isabella Garrucho Fine Art (Greenwich, CT) | John Dowling Fine Art & Exhibitions (Dix Hills, NY) | Jumper Maybach Fine Art (Houston, TX) | Karyn Mannix Contemporary ( Easthampton, NY) | Katharina Rich Perlow Gallery (New York, NY) | Laura Rathe Fine Art (Dallas & Houston, TX) | Lawrence Fine Art (Easthampton, NY) | Lincoln Michael Galleries (Washington, DC) | Linjie Deng Art (New York, NY) | Liz Clement Fine Art & Contemporary ( New York, NY & Danvers, MA) | Loves Gallery (Southampton, NY) | Lysenko Gallery (London, UK) | Lurie Gallery (Pacific Palisades, CA) | M.S Rau (New Orleans, LA) | Mark Borghi (NYC, Bridgehampton, Sag Harbor) | Mark Miller Gallery Presents Kevin Berlin "Fresh Tomatoes" (New York, NY) | Maune Contemporary (Atlanta, GA) | Meijler Art (Jaffa, Israel) | Morton Contemporary (Philadelphia, PA) | New River Fine Art (Ft. Lauderdale, FL) | NYC Artwalk (New York, NY) | Onessimo Fine Art (Palm Beach, FL) | Phillip Michaels Art (New York, NY) | Prescott Gallery & Sculpture Garden (Sante Fe, NM) | Quogue Gallery (Quogue, NY) | Red Shoe Studios (Greenwich, CT) | Raft of Sanity (Buffalo, NY & New York City, NY) | Ross Contemporary (Chicago, IL) | Shima - Peace Waters (San Diego, CA) | T.H. Brennen Fine Art (Scottsdale, AZ) | Tableaux Galleries (New York, NY) | The Contemporary Art Modern Project (Miami, FL & Westport, CT) | The Selects Gallery (New York, NY) | The Wild Horses of Sable Island (Old Greenwich, CT) | VK Gallery (Amsterdam Noord, Holland) | VESIANART (Malaga, Spain) | Vallarino Fine Art (New York, NY) | Walker Fine Art (New York, NY) | Walker Fine Art Presents M.C. Escher ( New York, NY) | Winterowd Fine Art (Sante Fe, NM) | Wisse Kodde Presents Harris Allen (Seg Harbor, NY) | Young Art Gallery (Daejeon, South Korea) | Zeit Contemporary Art (New York, NY)

HOURS, LOCATION & TICKETING
Thursday, July 14 — Opening Night Vernissage Benefiting Guild Hall
~ Gold Card: 4–9:30pm
~ VIP Card: 5–9:30pm
Friday, July 15
~ 12 noon–8pm
Saturday, July 16
~ 11am–6pm
Sunday, July 17
~ 11am–6pm
TICKETS
Gold Pass: $150 includes admission to Opening Night Vernissage and VIP access all weekend
VIP Pass: $100
Daily General Admission: $30
TO PURCHASE TICKETS: https://hamptonsfineartfair.com
LOCATION
Southampton Fairgrounds
605 County Road 39
Southampton, NY 11968