Hand to Hand: Southern Craft of the Nineteenth Century
Hand to Hand: Southern Craft of the 19th Century at the High Museum presents key works from its significant collection of nineteenth-century decorative arts to reflect the rich blend of cultural influences across the American South. Each work in the exhibition reveals both the talents of its maker and the history of craft traditions handed down from generation to generation. Techniques and forms drawn from a variety of African, Native American, and European sources reflect artistic individuality and regional traditions, as do the use of materials such as native woods, clay, cotton, and sweetgrass.
Since the 1970s, the High has explored the importance of functional or decorative art of the nineteenth and twentieth centuries including folk or self-taught art crafted by individuals throughout the southeast or from across the United States. The museum now features some of the most important collections of their type, recently revealed in a new reinstallation of its collections galleries as well as within this exhibition.
---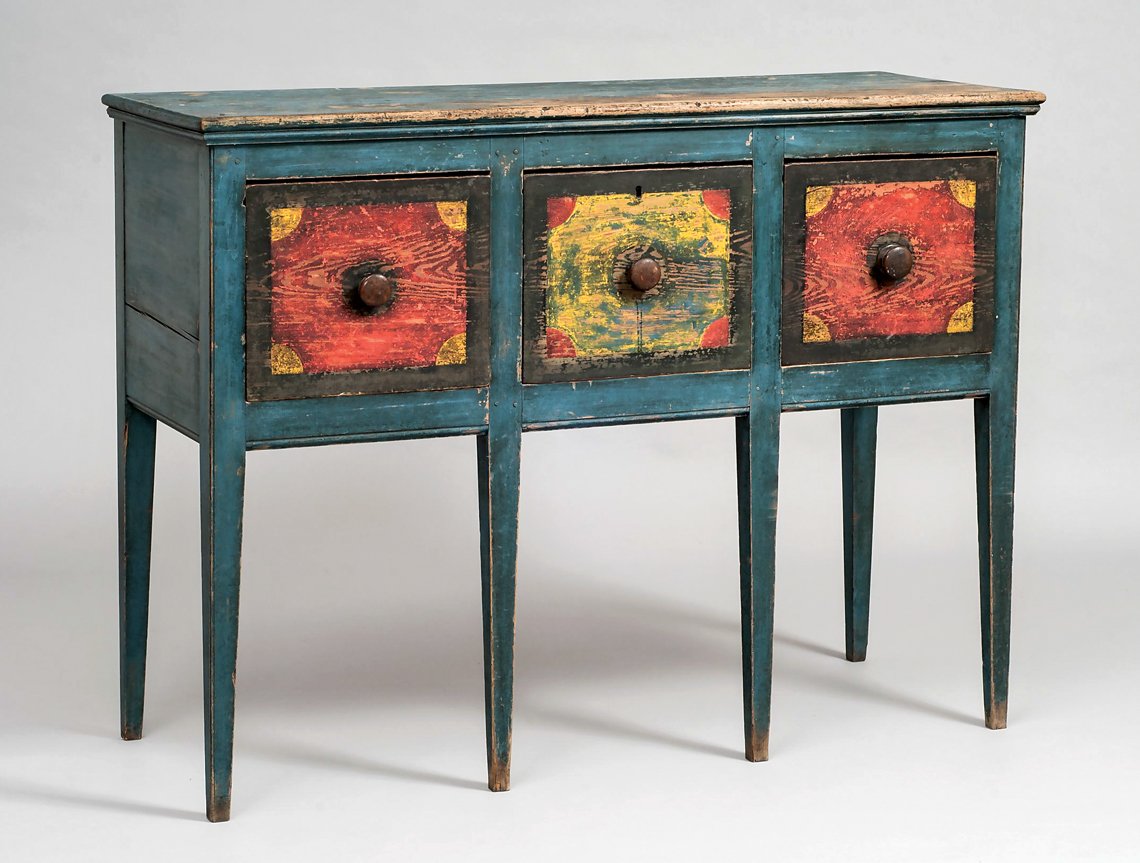 Slab sideboard,
unidentified maker, Eastern North Carolina, 1800–1810. Painted yellow pine. 40½ x 54½ x 21 inches. Purchase with funds from the Decorative Arts Acquisition Endowment (1995.186).

Furniture in rural Southern homes was functional. Made with readily available wood — often yellow pine — it was sometimes painted to disguise its humble materials and frequently to imitate more expensive woods. This sideboard instead features a particularly bold combination of colors, with orange and yellow drawers set in a frame of complementary blue. Typically found in dining rooms of the era, such tall-legged sideboards or serving tables — whether of common yellow pine or of more expensive imported mahogany and marble — were known as "slabs," referring to their narrow, slab-like tops.
---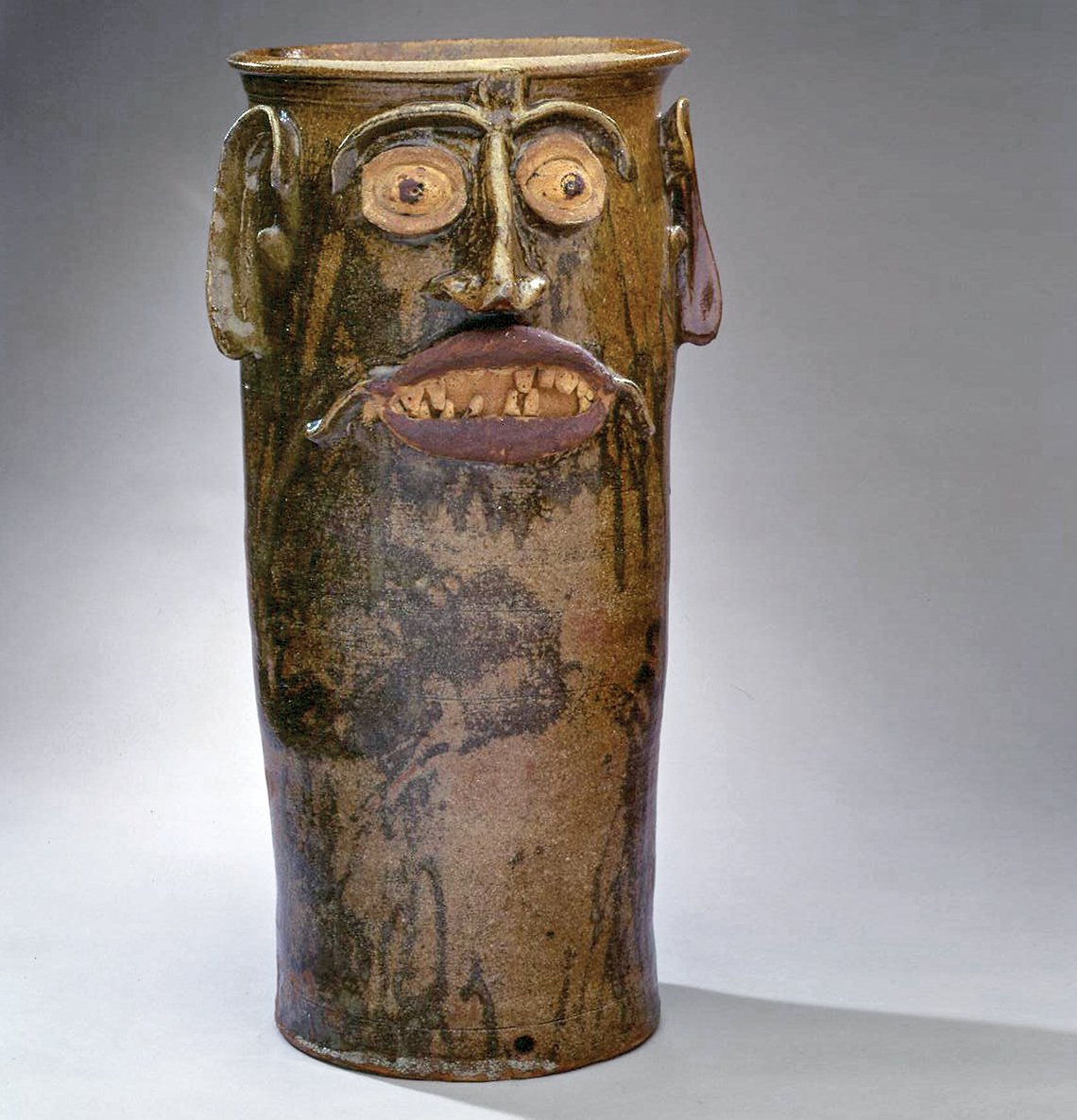 Face jar, unidentified maker from Miles Mill Pottery, Edgefield District, S.C., ca. 1870. Alkaline glazed stoneware and unglazed porcelain. 28 x 14½ x 14½ in. Purchase with funds from the Decorative Arts Acquisition Endowment (1997.190).
The Southern face jug has both African and European roots, yet its development and cultural significance in the nineteenth century are closely related to African-American potters and communities. Grotesque features were hand modeled in clay and applied to a wheel-turned vessel. Teeth and eyes were formed from white clay (kaolin) or other materials and inserted into the stoneware body. While not readily perceived today as depictions of individuals, face jugs are among the most sculptural American ceramics and were used equally for functional or symbolic and spiritual purposes within African- American communities. This vessel's form is quite exceptional not only for its monumental size but also in that it has a jar, rather than jug, shape. A hole near its bottom edge indicates that the jar might have functioned as a water cooler into which a spout tap could have been inserted.
---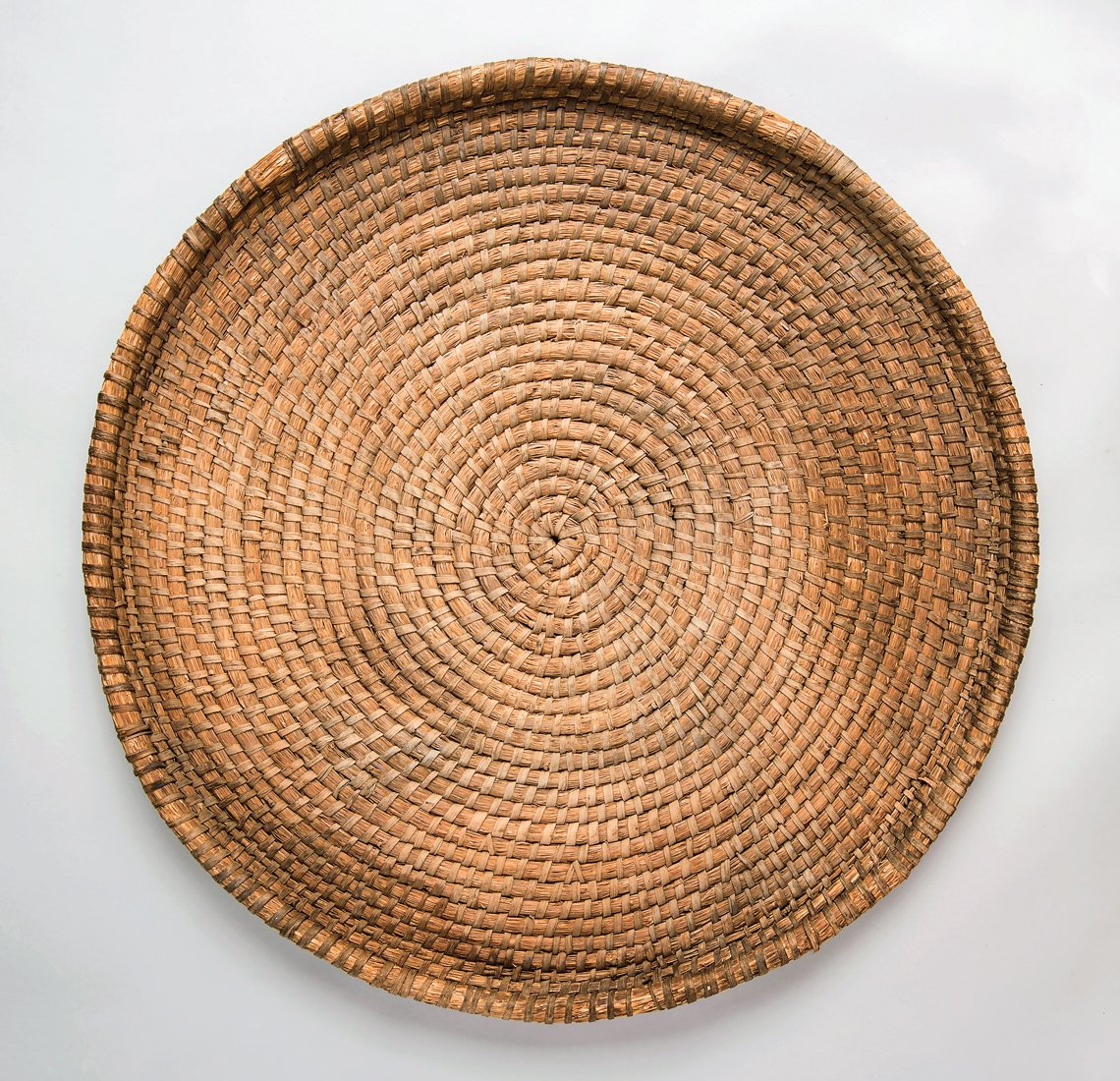 Fanner basket, unidentified African-American maker, South Carolina, ca. 19th century. Woven sweetgrass and palmetto. Diam. 33 in. Purchase with funds given in memory of Jean Wells (1997.202).
Baskets and the stitched-coil method used to make them were brought to coastal South Carolina and Georgia by enslaved rice growers from West Africa. In a process called winnowing, threshed rice was tossed into the air from shallow, pan-like fanner baskets — such as this one — to let the wind blow the inedible chaff away from the grain. Precisely coiled, this early South Carolina basket is based on a corresponding African form and is a direct link to the Gullah baskets of the same extraordinarily fine quality being made in the Lowcountry region by the descendants of African craftspeople today. This work's tremendous size and remarkable condition make it an exceedingly rare testimony to African-American craftsmanship in the antebellum South.
---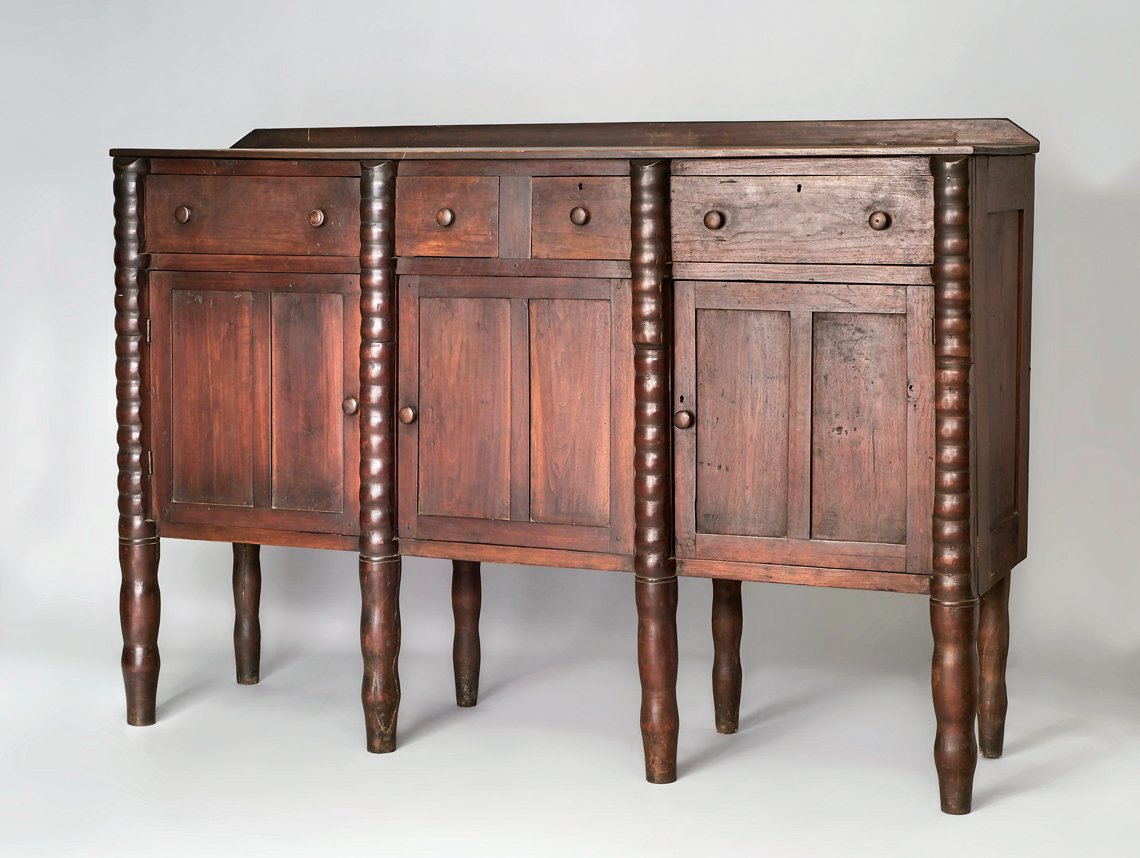 Sideboard, unidentified enslaved African-American maker from the Mills Family, Mill Spring, N.C., ca. 1820–1860. Walnut, poplar, and yellow pine. 51 x 78 x 21 in. Purchase with funds from the Decorative Arts Acquisition Endowment (1998.52).
While there were a great number of furnishings and other works produced by enslaved African Americans, in many instances their names have been ignored or lost. This sideboard is believed to have been made by an enslaved African-American craftsman for the Mills family in Polk County, North Carolina. The style of the sideboard reflects a combination of popular urban forms in its tall, column-like legs drawn from neoclassical design. The Mills family might have owned or seen examples of New York or Philadelphia neoclassical furniture and wished to have a similar sideboard; the resulting adaptation of national styles is characteristic of the increasing rapidity by which fashionable styles permeated even rural areas of the country.
---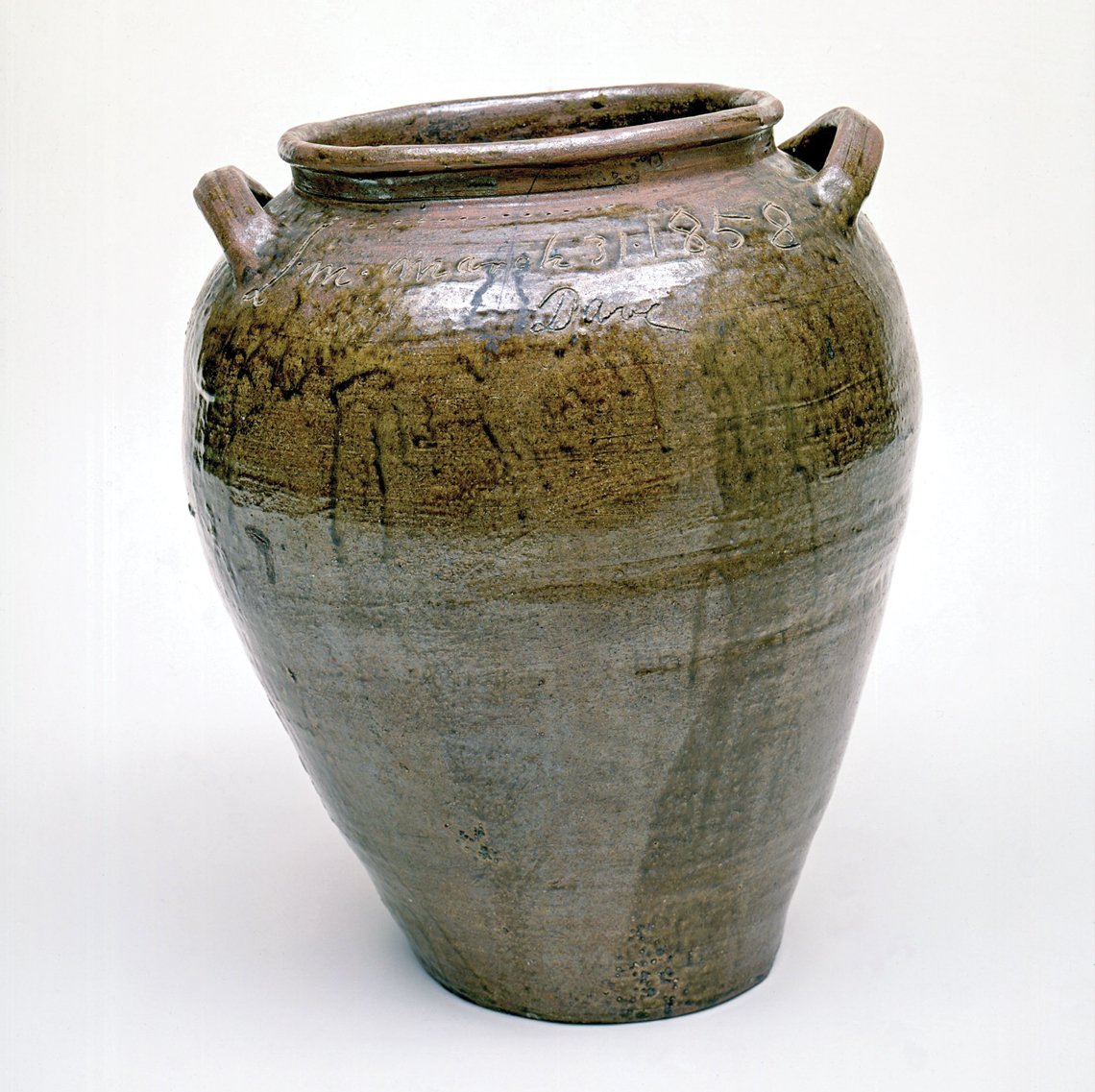 Storage jar, Dave (David) Drake (1801–ca. 1870), 1858. Alkaline-glazed stoneware. 22 x 20 x 20 in. Purchase with funds from the Decorative Arts Acquisition Endowment (1988.85).
Dave Drake was one of the few enslaved African-American potters we know by name. His work is made even more remarkable by the fact that he often signed and dated his pieces and sometimes emblazoned them with verses. Throughout the South, laws passed or amended during the 1820s and '30s prohibited the teaching of enslaved persons to read or write. How Dave learned to write is unclear, but he signed this jar's neck, as was his custom, including the date he made the piece and the initials of his owner, Lewis Miles, at whose pottery workshop in Edgefield, South Carolina, he worked at the time. Dave also inscribed the words "I made this for our sott / it will never-never rott" onto the jar. Storage jars and jugs were made to contain a wide variety of meats, pickled vegetables, molasses, and other foods and drinks. Here, "sott" — which may suggest one who is foolish or drinks too much — implies the vessel was used to store alcoholic beverages, yet it was undoubtedly useful for other foodstuffs.
---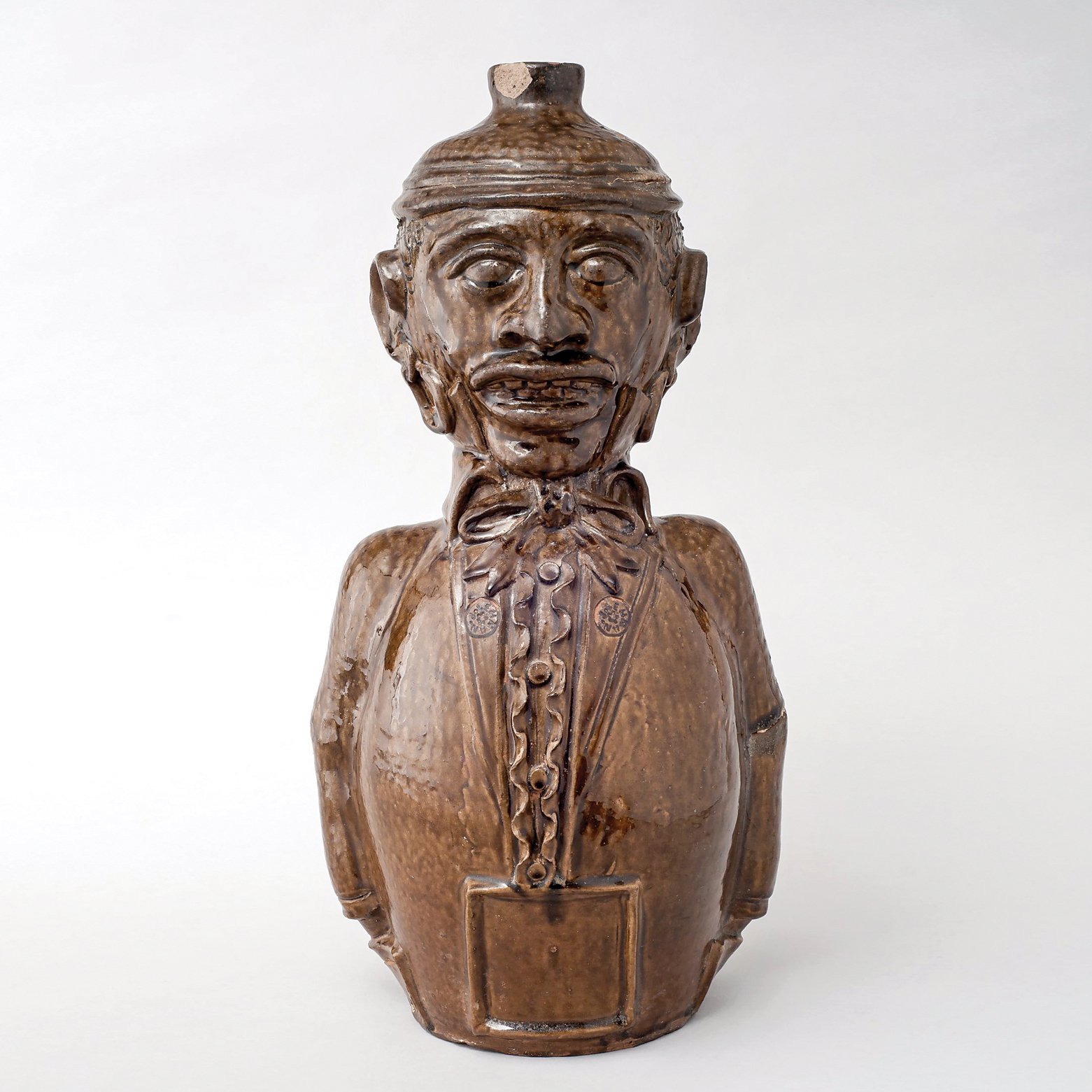 Figural jug, John Frederick Lehman (German, 1835–ca. 1883), 1860. Ash-glazed stoneware. 23¾ x 11½ x 10¾ in. Purchase with funds from the Decorative Arts Acquisition Endowment (1994.19).
Reflecting a combination of African traditions and European techniques, face jugs are a characteristic form in Southern pottery. This jug is one of the largest and most elaborate figural vessels produced by a nineteenth-century potter working in the South. The identity of the African male depicted on the jug is unknown, but the tight-fitting stocking cap and presumably gold earrings, combined with a beautifully modeled tie, ruffled shirt, and well-tailored coat, convey a dashing character. Lehman cleverly signed this jug by impressing his own name onto the buttons of the figure's coat. The molded rectangle on the front, just below the figure's chest, originally must have framed a paper label identifying the jug's contents. The German-born Lehman was known from census records to be operating a pottery in Randolph County, Alabama, as early as 1860.
---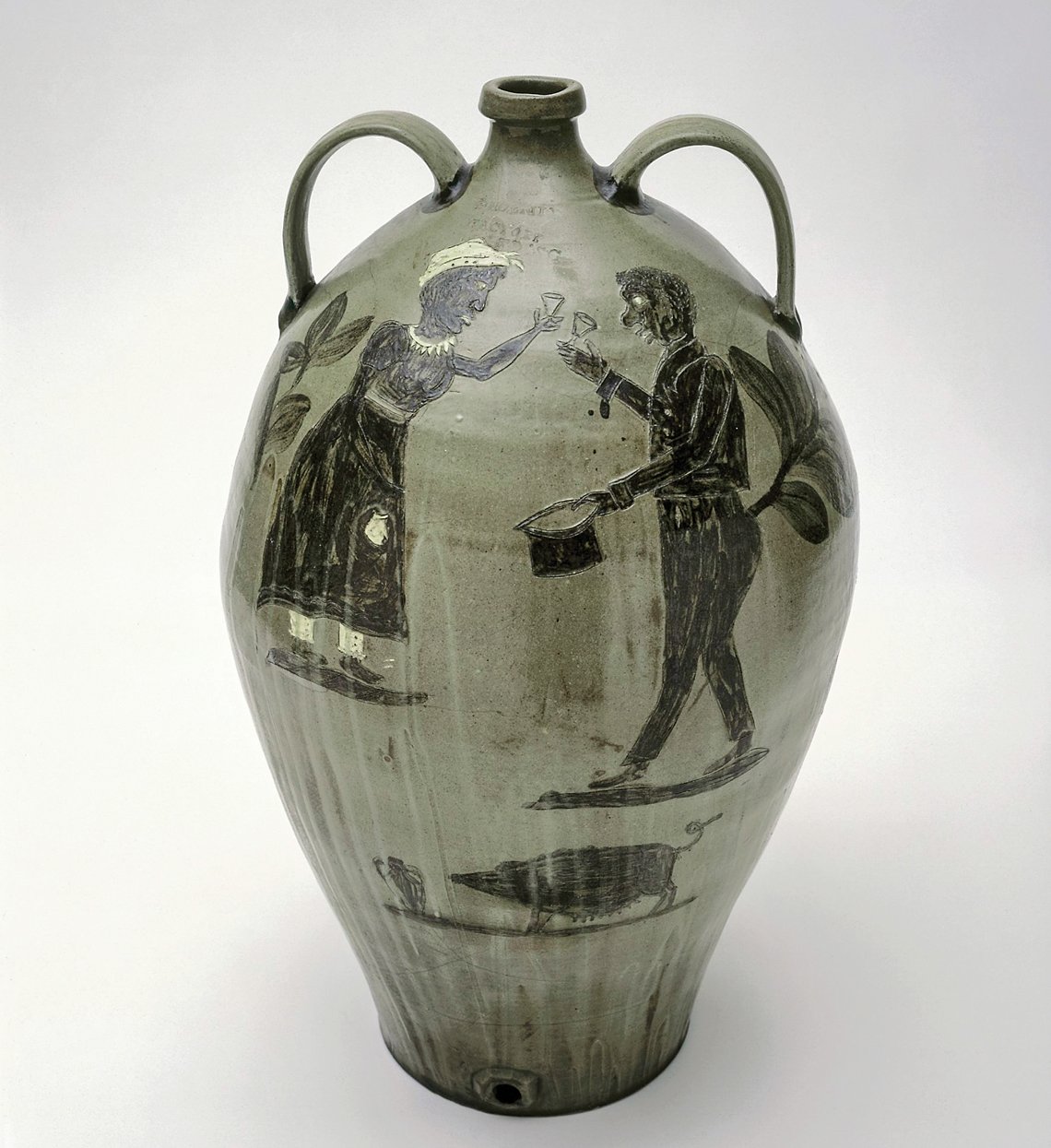 Water cooler, attributed to Thomas Chandler (19th century), maker, Phoenix Factory, Edgefield District, S.C., 1840–1846, manufacturer, ca. 1840. Alkaline-glazed stoneware with slip decoration. 31¼ x 58⅝ in. Purchase in honor of Audrey Shilt, president of the Members Guild, 1996–1997, with funds from the Decorative Arts Acquisition Endowment and Decorative Arts Acquisition Trust (1996.132).
This monumental vessel is among the rarest and most exceptional examples of Southern pottery ever made due to its unusual decoration. Thought to have been created for the wedding of an enslaved couple, the beverage cooler shows a man and woman toasting each other. Below them are a hog and, presumably, a depiction of this cooler, both of which may have played a part in the wedding feast. English-trained potter Thomas Chandler is believed to have introduced the cooler form to the Edgefield District of South Carolina from New England. The great number and variety of stoneware works with distinctive alkaline or salt glazes marked the Edgefield District as one of the most significant centers of ceramics production in the South and, indeed, all of nineteenth-century America.
---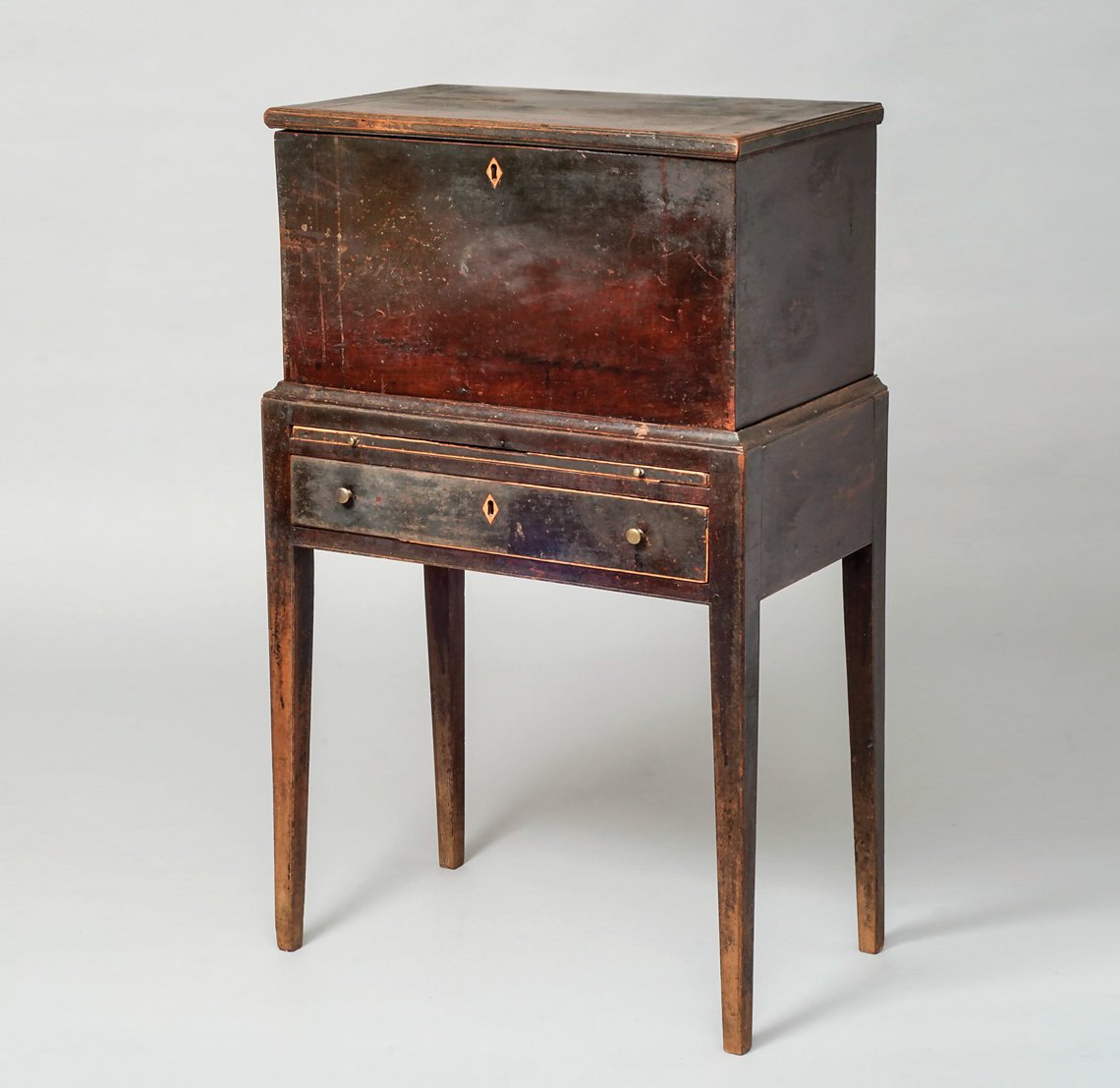 Bottle case, attributed to Joseph Freeman (American, 1772–1842), maker, 1810–1830. Walnut, yellow pine, and light wood inlay. 41 x 25¾ x 15 in. Purchase with funds from the Fraser-Parker Foundation in memory of Virginia Campbell Courts, a loyal friend and benefactor of the museum (2009.24).
This bottle case, a uniquely Southern furniture form, has been identified as the work of early 19th-century North Carolina cabinetmaker Joseph Freeman. A bottle case with a known maker is extremely rare. This example was made in two pieces: a locked cabinet, where the bottles of liquor were stored, and a standing base. The cabinet could be stored in a cool basement and later displayed for use on social occasions. While most existing bottle cases are either combinations of two unrelated objects or show evidence of significant repairs, this example retains much of its original finish and is unaltered save for the replacement of a missing drawer pull.
---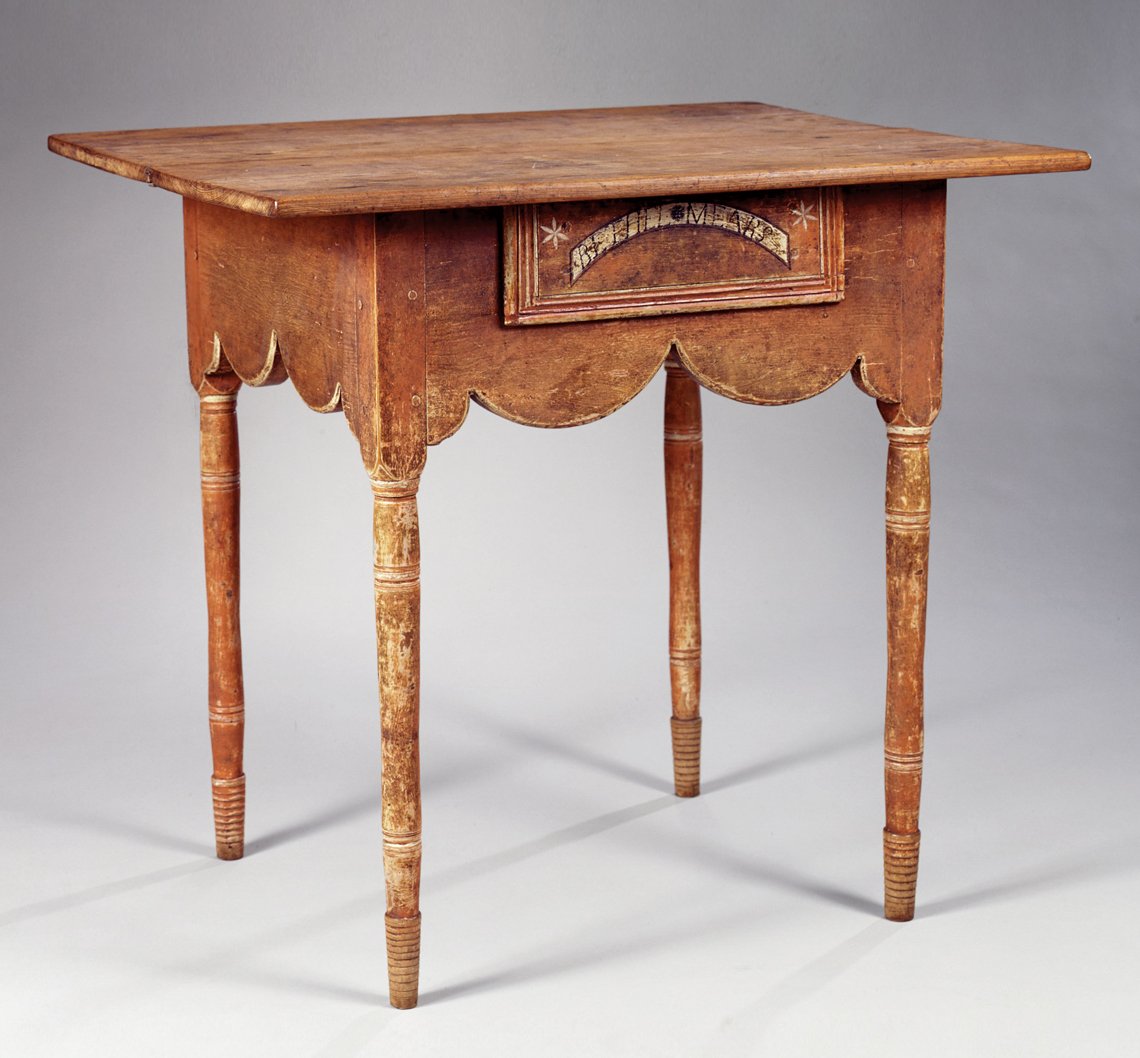 Table, unidentified maker, Eastern North Carolina, ca. 1830–1840. Painted yellow pine and tulip poplar. 28 x 31½ x 26 in. Purchase with funds from Virginia Campbell Courts (1997.200).
Produced in the Bladenboro area of Bladen County, North Carolina, this diminutive table of pine and poplar construction reflects the individual spirit of its presumptive owner, if not maker, Bethel Mears. The name emblazoned on the drawer is likely that of Bladen County resident Bethel Mark Mears (1803–1884). While it is unclear if Mears had any role in the creation of the work, its sturdy construction shows the hand of a reasonably accomplished maker with the cabinetmaking skills to produce the joinery and turn the distinctively shaped legs. The design of the table, from its legs to its exaggerated scalloped apron, are indicative of rural furniture of the region in which bold proportions and equally bold colors — here original to the table — provided drama, whimsy, and delight.
---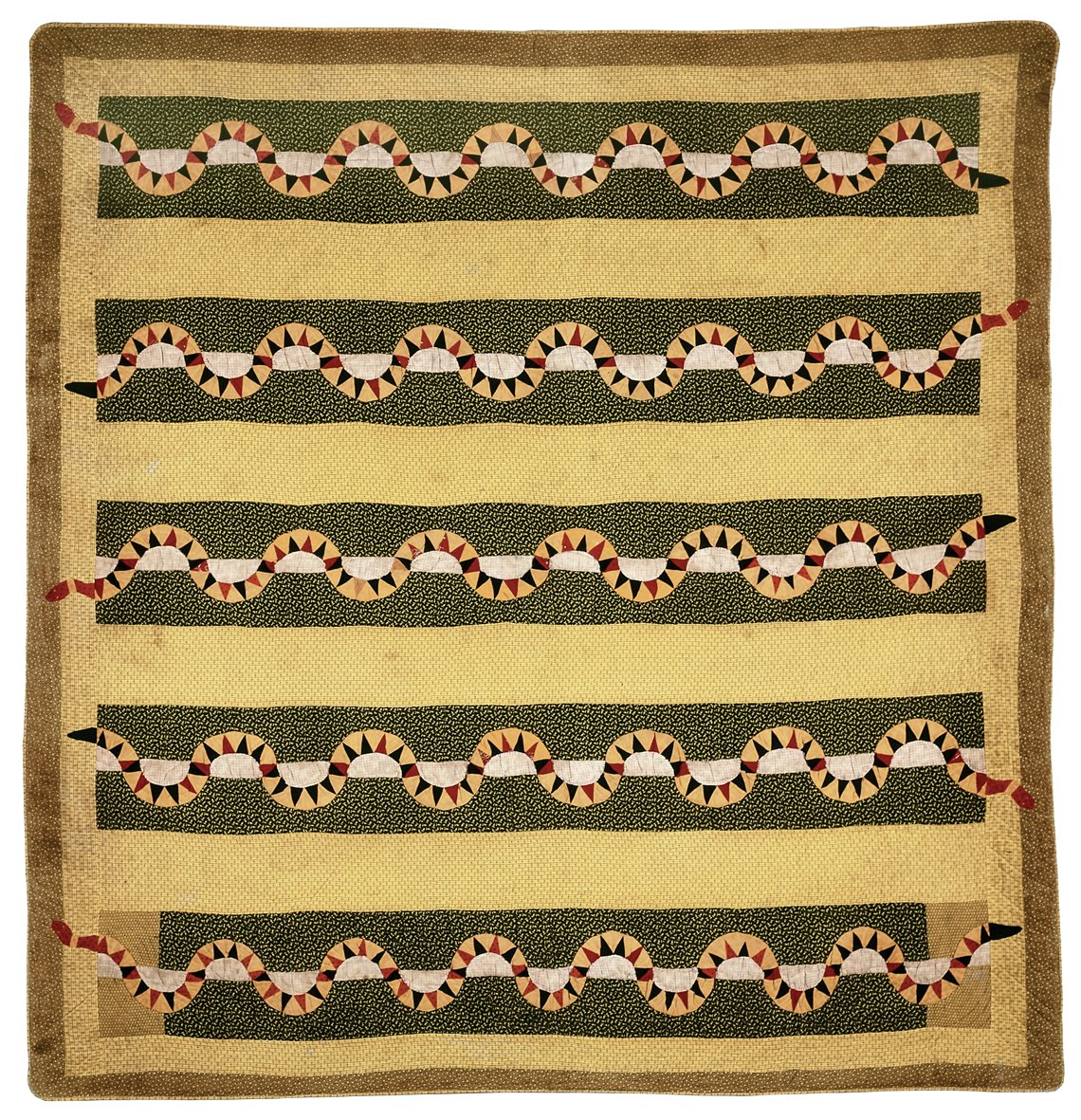 Quilt, unidentified African-American maker, Eastern North Carolina, ca. 1875–1900. Cotton top, linen backing, and cotton batting. 74½ x 72 in. Purchase with funds from Ann and Tom Cousins and the Decorative Arts Acquisition Endowment (1997.203).
While a quilt covered with images of snakes might seem unexpected, nineteenth-century quilters often incorporated unusual motifs into their designs, from spiders to elephants. While a precursor to so-called "snake trail" quilts of the early twentieth century, this example appears to reference the colors of a snake native to the region of Eastern North Carolina where it was made: the venomous coral snake. While quilts were important items in a nineteenth-century household and were produced in quantity by women regardless of color or social standing, this work descended in a family living in the Piedmont area of North Carolina, and is rare in being among the relatively few surviving nineteenth-century quilts documented as being made by African-American women.
---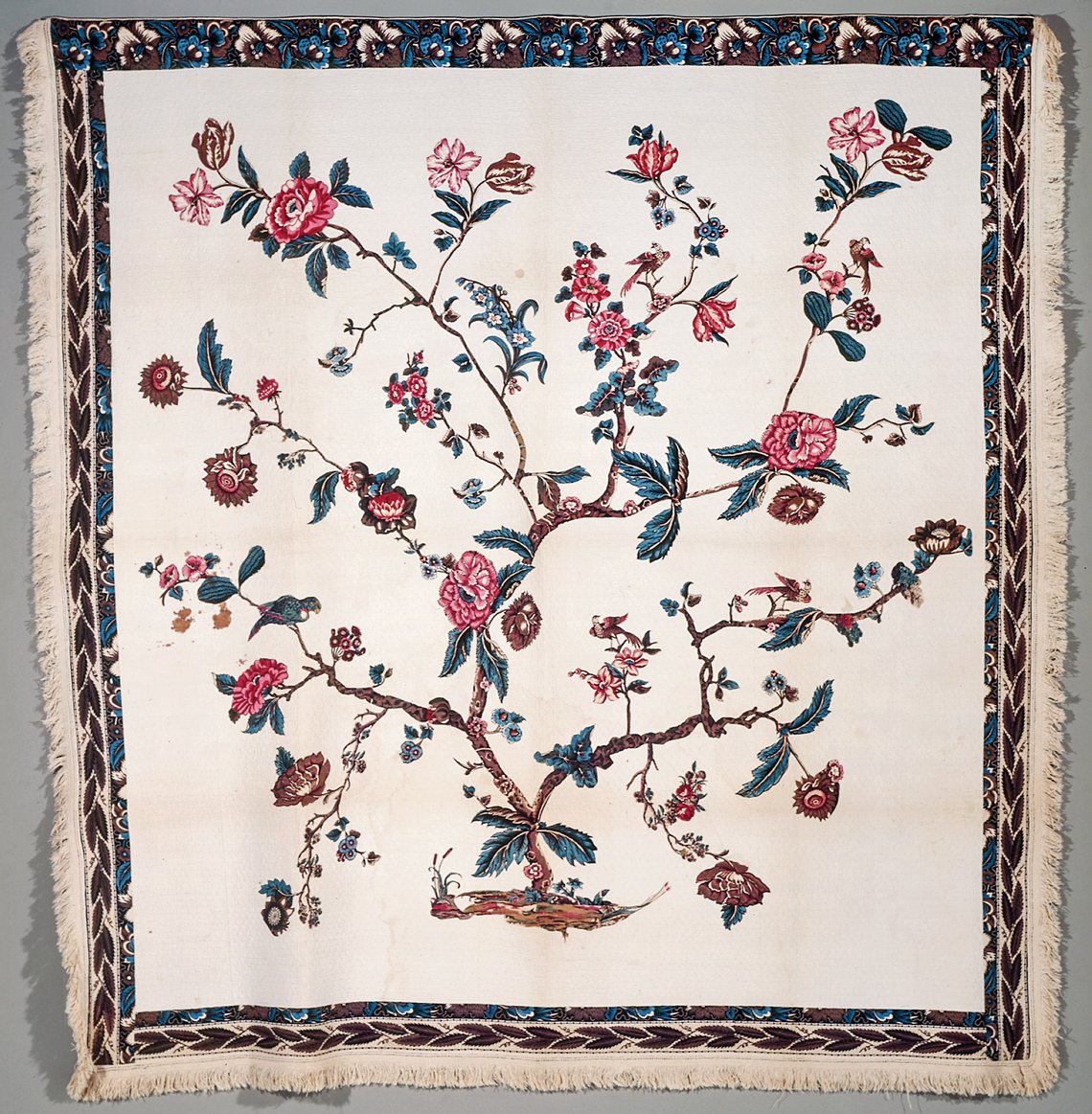 Quilt, Anne Legardere Clay (American, Savannah, 1745–1821), maker, ca. 1800–1820. Cotton. 98 x 94½ in. Not included in measurement is 3 inches fringe on three sides. Gift of Helen Stiles Rose (1979.1000.19).
This work is among the earliest surviving quilts documented as having been made in Savannah, Georgia. Its subject is the biblical tree of life in the Garden of Eden. As was common practice for textile makers of the era, Anne Clay assembled scraps of colorful printed fabrics collected from other sewing projects that she cut into flowers, birds, and butterflies. She then stitched the design onto a solid cotton ground. Although imported from England or France, the printed cottons Clay used in this quilt would have been less expensive than in the previous century, before the advent of mass production techniques made such textiles readily available. The artist's elaborate pattern reflects the popularity of palampores, dyed fabrics and bedcovers made in India specifically for export to Europe.
---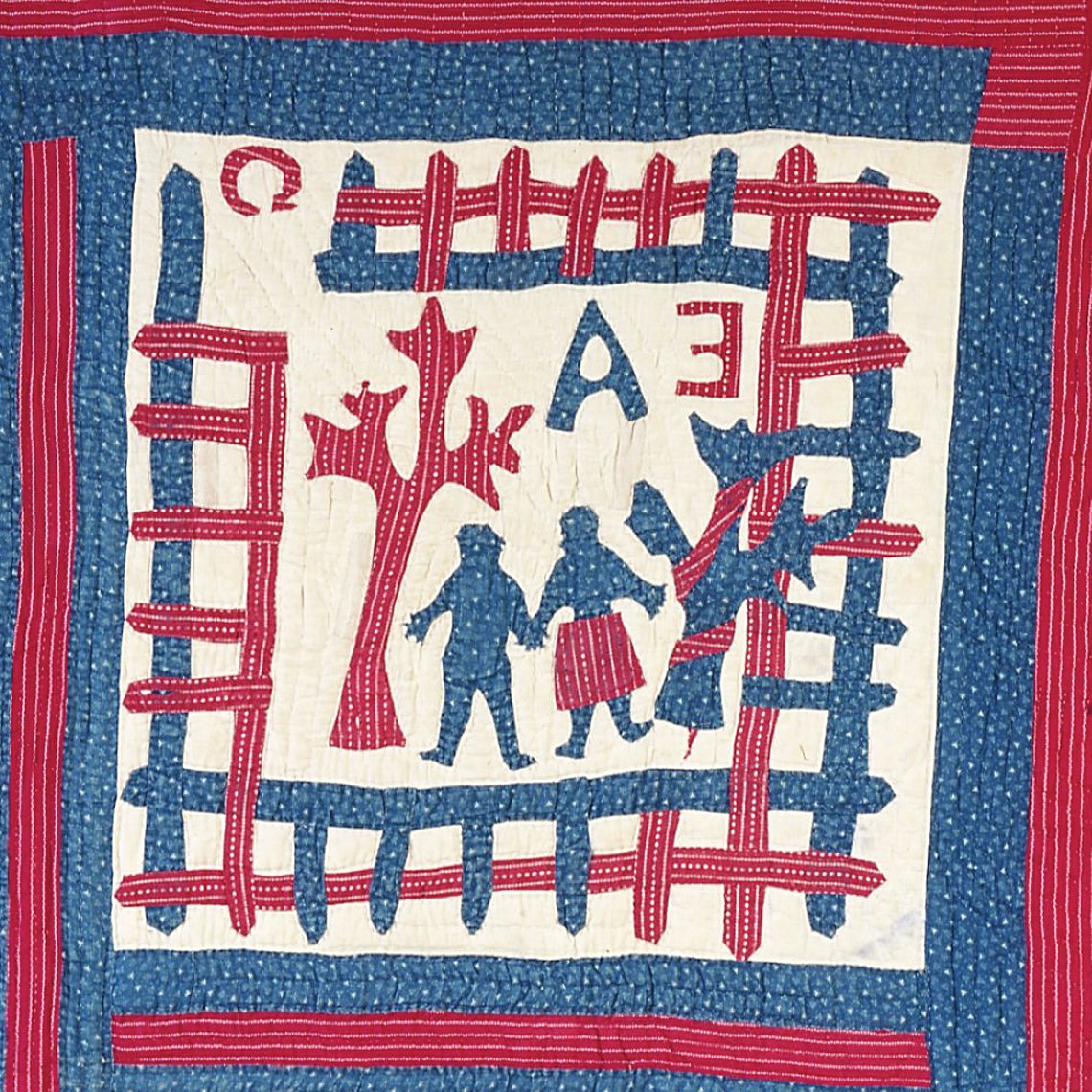 Bible Scenes Quilt, Member of the Drake family, Thomaston, Upson County, Georgia, maker, ca. 1900. Cotton. Purchase with funds from the Decorative Arts Acquisition Endowment (1995.82).
This detail is from an African American quilt that depicts two biblical scenes in opposite sections: Adam and Eve in the Garden of Eden (shown), and the Crucifixion. Symbolic quilts such as this one are creative interpretations of oral imagery passed down through generations. The appliquéd letters A, E, and G represent Adam, Eve, and the Garden of Eden.
---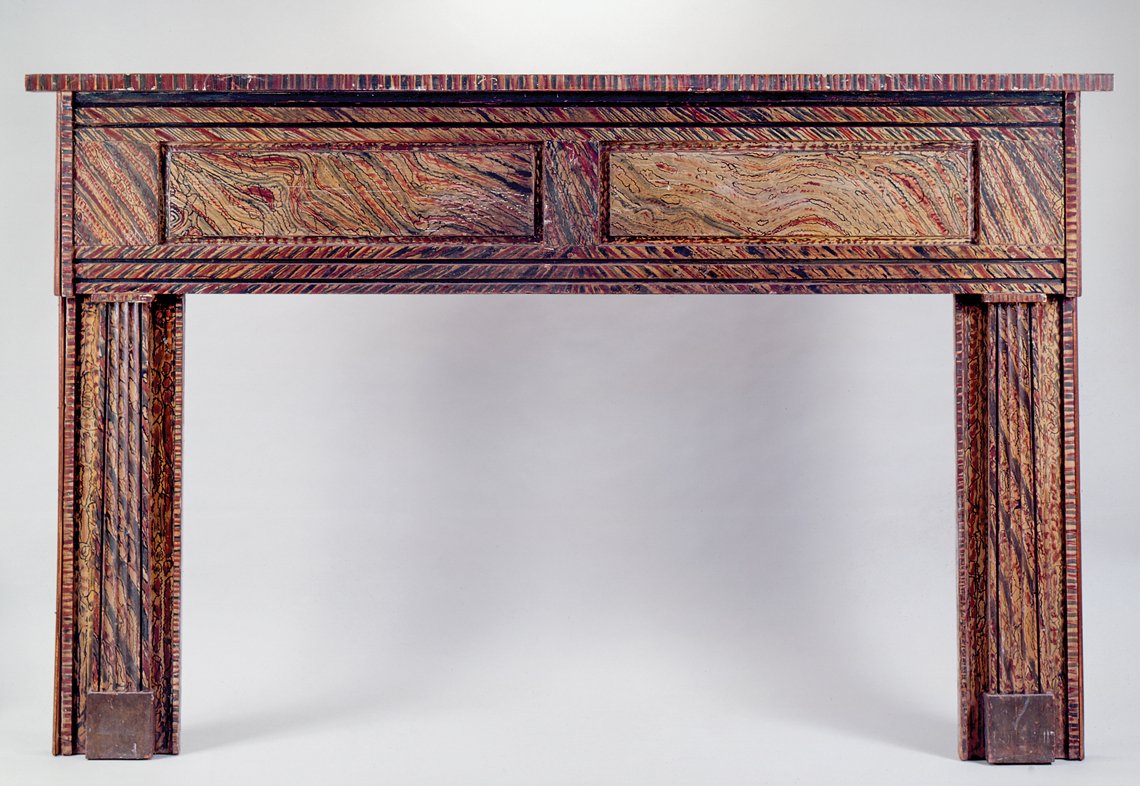 Mantel, Unidentified maker, Salem, N.C., ca. 1830. Painted yellow pine. 55¾ x 86½ in. Purchase with funds from the Decorative Arts Acquisition Endowment (1997.199).
This mantel came from the home of a descendant of one of the first Moravian settlers in Salem, North Carolina. It is decorated with painted marbling in yellow ochre, green, and rust red, which provided a fashionable way to imitate the effect of an expensive marble. The quality of the painted surface suggests this mantel was probably painted by one of the itinerant decorative painters who traveled the country rather than by an amateur. While the common perception is that cost savings were the primary consideration for creating imitation wood and stone, in the early ninetieth century the fashion for such painted surfaces reached such a frenzy that wealthier clients might commission the woodwork of entire rooms to be painted, often at a cost greater than the materials being imitated.
---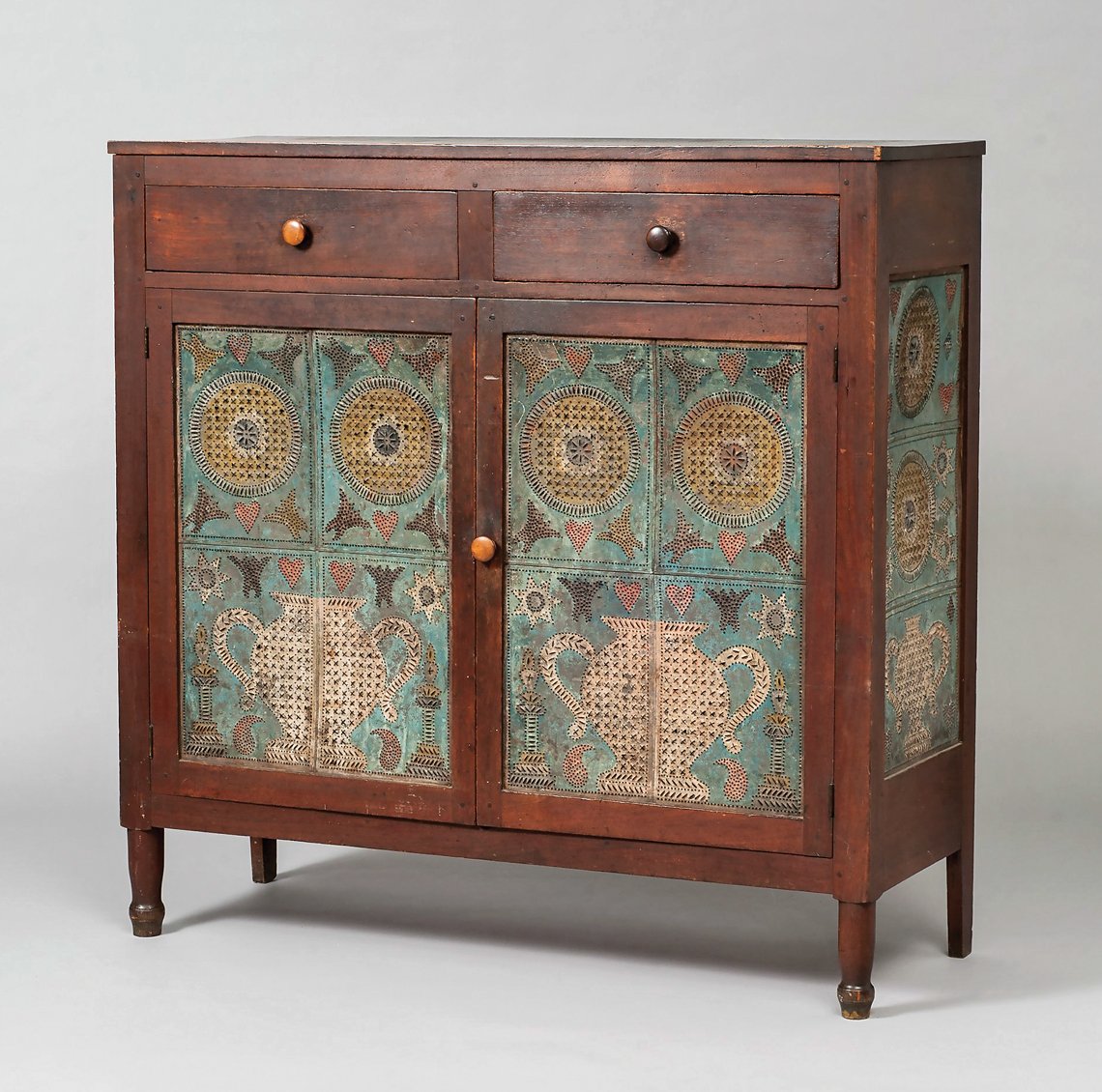 Pie safe, unidentified maker, East Tennessee, ca. 1830–1860. Descended in the Bower family of Greeneville, Tenn. Walnut, tulip poplar, tin, and paint. 47½ × 48½ × 17½ in. Purchase with funds from the Fraser-Parker Foundation in memory of Nancy Fraser Parker, who loved the decorative arts (2016.6).
This pie safe, with its original painted tins and punched ventilation holes, is an excellently preserved example of an important nineteenth-century American household form. This horizonal type is specific to East Tennessee and the southwestern region of Virginia, where decorated pie safes were commonly made. The punched tins probably originated in Wythe County, Virginia, where craftsmen specialized in this technique and often incorporated stars, hearts, and compasses — motifs that originated with German immigrants to Pennsylvania. Used to house and protect pies, breads, and other goods from vermin, insects, or curious children, pie safes reduced the rate of food spoilage and were a staple in the American home until iceboxes and refrigeration rendered them obsolete.
---
Hand to Hand: Southern Craft of the 19th Century at the High Museum of Art, Atlanta, Georgia, is on view through August 4, 2019. The exhibition was developed by Kevin W. Tucker, Chief Curator. For more information about the exhibition, visit www.high.org.
This article was originally published in the Summer 2019 edition of Antiques & Fine Art magazine, a fully digitized edition of which is available at www.afamag.com. AFA is affiliated with Incollect.