HBO Max Design Star Arielle Assouline-Lichten Reveals More About Her Latest Collection
Arielle Assouline-Lichten stands between two
Adri Chairs
from her workshop, Slash Objects.
| | |
| --- | --- |
| | |
| | Arielle Assouline-Lichten. Photo by Sophie Mathewson. |
T
rained as an architect, Arielle Assouline-Lichten of Slash Objects has released a new collection of handmade furniture pieces with designs inspired by crystal formations, and which are ingeniously constructed without the use of joinery. Called "Coexist," the line's simplified geometric shapes and planes are formed to fit perfectly together, joined by their combined gravity. The launch includes a daybed, bench, floor and table lamps, side and coffee tables, and standing mirrors. Throughout the collection, Slash Objects incorporates recycled and salvaged materials — such as cut marble remnants and recycled car tire rubber — alongside natural stones and brushed brass details.
This past spring, HBO Max tapped Assouline-Lichten for one of its newest projects, Ellen's Next Great Designer. Already a noted name in the New York design industry, HBO catapulted her to influencer-level fame. She finished the season in second place. During the show, she designed the Adri Chair, a marble-framed sling chair with a recycled rubber seat, as well as other pieces that she has since produced as one-offs for clients. In the last challenge, she created a three-piece collection in just four days. "I learned that I can bring my vision to another dimension," she says of her experience on reality television.
Below, the award-winning designer recalls her stint on HBO Max and talks more about her Coexist collection.



Top: The Adri Chair in Nero, left, and Pistache, right. Designed for a challenge on

Ellen's Next Great Designer,

the sling chair features two marble slabs connected by brass hardware. The seat of the Nero version is made from recycled rubber, and the Pistache version showcases cognac mohair from Maharam. Bottom left: Assouline-Lichten lounges with three Adri Chairs. Bottom right: Details from the white Adri Chair with a recycled rubber seat.
What's the focus behind your Coexist collection? How is it different from your previous work?
I'm fascinated by how materials with different natural properties can be brought together into one coherent piece. My direct inspiration was a natural crystal formation called pyrite — also called "fool's gold" — that's comprised of perfect golden cubes. Often, the cubes are extracted from the earth before they are fully configured. There's a collision between that concept of perfect geometry and the roughness of the earth. In Coexist, the natural beauty of marble is interrupted or elongated by the introduction of brass. I also didn't use any hardware to assemble the objects. Instead, they come together like a puzzle, seamlessly locking into place through precise fabrication.
So, no joinery? Could you explain how your pieces hold together?
In the Coexist Standing Mirror, a marble cube keeps the brass framed mirror in place. This piece plays with the concept of completing the cube — using the reflection of the mirror to complete the whole. The design of the Coexist Coffee Table uses the marble's weight to stabilize the brass leg as it sits only on its knife edge. The leg pierces through the thick marble slab and is revealed on the other side.
What appeals to you about fitting together materials without joinery?
There is beauty in harmonious materials simply interlocking, and purity in parts coming together to be greater than their sum. I love the idea that we can transform materials to play well with one another.



Top left: The

Dark Spring Coexist Standing Mirror

merges Nero Marquina marble, recycled rubber, and blackened steel. Top right: The

Coexist Standing Mirror in Red Jasper

marble and brushed brass. Middle: Assouline-Lichten kneels beside her designs including a white Standing Mirror. Photo by Sophie Mathewson. Bottom left: The designer also created a release of the Standing Mirror with a

triangular statuary marble base

. Bottom right: A detail of the Dark Spring Coexist Standing Mirror's recycled rubber back, which helps lock the mirror in place.
How did you come up with the idea to include recycled materials in your objects? Is working with sustainable materials important to you?
While working as an architect on a new construction project in Soho, I discovered a practical material made of recycled rubber particles. Typically, this substance is used as a building material for high endurance surfaces. The recycled rubber intrigued me. It is aesthetically satisfying, and at the same time, it's sustainable and highly functional. These characteristics helped inspire my first homewares collection for Slash Objects. I wanted to expand its design possibilities through my creations. I thought design choices can transform people's perceptions of a material through how we form and contextualize it, and render it in a new light. By engaging with new eco-friendly materials, designers introduce new ways of thinking about our everyday world.

Where do you source the recycled rubber?
I source from US manufacturers who work with locally discarded tires.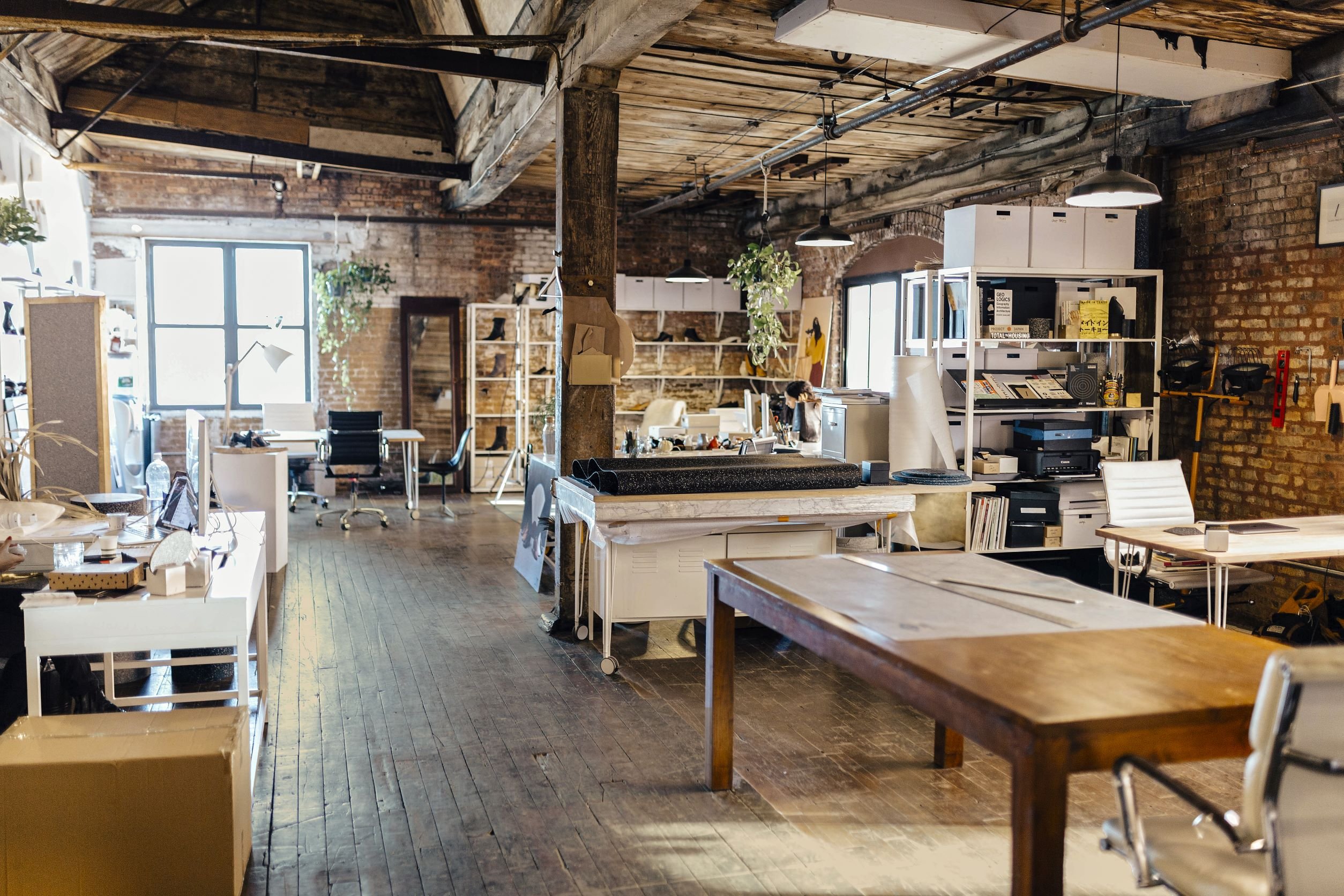 Assouline-Lichten's studio in Brooklyn.
Describe your experience with Ellen's Next Great Designer. How did your appearance on the show affect your career?
Being a finalist on Ellen's Next Great Designer was incredible. As a contestant, I tested out a lot of design ideas I had already been thinking about for Slash Objects. I treated the experience as a lab for new ways of working. In each episode, I pushed myself to create quickly while maintaining a high level of conceptualization and execution.
Which challenge was most difficult?
The finale was the most challenging. We had limited time, and I was truly out of my comfort zone in a woodshop on the other side of the country. I had to find fabricators who would work with me in that absurd time crunch, and I had to make decisions extremely quickly.
Did it change your philosophy as a designer? Could you tell us about that?
The show reminded me that I am at my best when I am creating. I need to spend more time pursuing new ideas.



Top: The

Coexist Daybed

is placed here in a bright environment. The daybed combines a sophisticated blackened steel frame, marble and brass details, and bouclé fabric. Bottom left: Details from the Coexist Daybed. Bottom right: The Coexist Daybed builds on the concept of a traditional chaise longue.
Tell us about your creative process. How do you approach designing a new piece?
I always sketch everything by hand first — it's a quick and messy way for me to get ideas onto paper. I usually doodle an idea for weeks or months before turning it into a piece. I then design a 3D model and figure out the dimensionality, proportion, and scale to embed the functionality within the design. I also make rough physical models or maquettes, which help prove a concept and determine proportion and scale. It's so important to test out all aspects of an idea before making a final version.
Favorite combinations of materials?
I love stone, so I work with marble and onyx quite a bit. I combined bouclé and marble as contrasting textures in the Coexist Bench, and those juxtaposed materials have resonated with people. Now we are working on mohair, marble, and even some recycled rubber together. I love a mixture of different textures.



The Lella Mirror, debuting next month. Right: A detail from the Lella Mirror.
Are you debuting anything new at NYCxDesign in November?
I just released the Lella Mirror online. That will be part of an online showcase with Collective Design.
SHOP SLASH OBJECTS ON INCOLLECT