Herança Gallery on Charting the Future of Brazilian Design
Herança Gallery on Charting the Future of Brazilian Design
Herança Cultural Design Art Gallery on Rua Antonio de Mariz, 131 in São Paulo, Brazil, has a cult following for the quality and diversity of its offerings of Brazilian design, from work by the masters of the 20th century to contemporary designers. Incollect Magazine Editor-In-Chief Benjamin Genocchio spoke with the legendary gallery to discuss the state of the market and the future of Brazilian design.
The gallery floor is packed full of the best of Brazilian modern and contemporary design.

What do you specialize in as a dealer?
With more than 30 years in the design market, Herança Cultural Design Art Gallery is both a pioneer and one of the most important galleries worldwide specializing in mid-century and contemporary Brazilian design. Along with our distinguished and valuable selection of vintage design collectibles, we are also proud to present pieces by some of the most prominent names in contemporary Brazilian design, creators who continue to develop the country's craftsmanship and identity.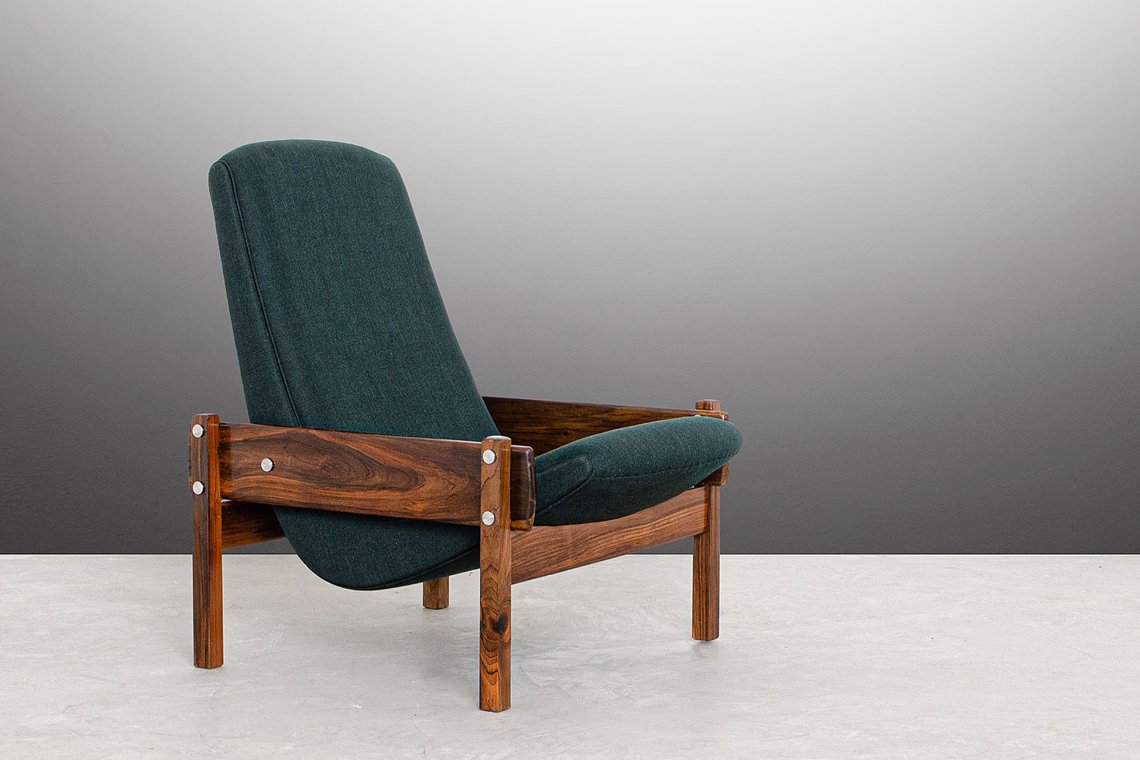 A Vintage Vronka Armchair with solid Jacaranda frame, designed circa 1962 by Sérgio Rodrigues. The Vronka was part of a series of pieces Rodrigues designed that contrasted imposing crossbeam-style frames cradling streamlined ultra-comfortable cushions.
What is special and unique about Brazilian design?
One of the distinctive qualities of Brazilian furniture is the use of native tropical woods — Brazil has an impressive variety of raw materials. In addition, our people celebrate multiculturalism and the diversity of different origins and roots. Architects and designers from all over the world have created things and lived here in Brazil, such as Joaquim Tenreiro, who was Portuguese, Jorge Zalszupin who was born Jerzy Zalszupin in Warsaw, Poland, and Lina Bo Bardi, who was Italian. This mixture of people generated a fascinating artisanal expressiveness, such as the way in which Joaquim Tenreiro worked with wood and straw. Local production is represented by a comfortable and relaxed but elegant aesthetic, based on simplicity and at the same time with a timeless artistic quality.
What is selling in the market right now and how has this changed over the past 10 or 20 years?
The market has changed a lot in recent years. We are witnessing the globalization of the market and a growing interest in our furniture. Brazilian design has begun to be more contemplated and studied, many books were published and exhibitions were held. This helped to promote the sector and also open space for the contemporary scene. Nowadays I see a market very focused on online, for worldwide visibility.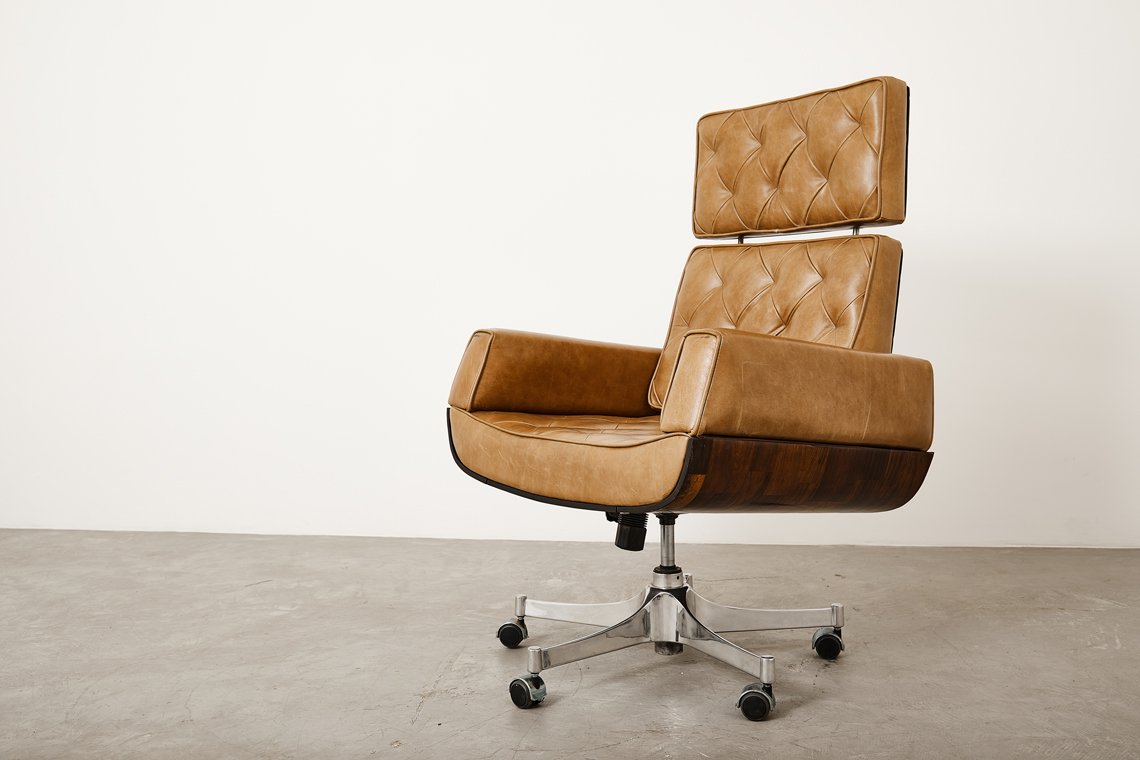 Ambassador Armchair by Jorge Zalszupin, circa 1965. All images courtesy of Herança Cultural Design Art Gallery.
Is there one piece in your showroom that you especially admire?
We admire many of our pieces, but especially for example, say, the Jangada lounge chair made by Jean Gilon, the Zanine Caldas models, and also some very beautiful armchairs that were made by Sérgio Rodrigues such as the "Kilin", the "Mole" and the "Vronka" armchairs, among many others. It is hard to choose one or two pieces.
Looking at the 20th century, which Brazilian designers do you believe made the biggest contribution to modern design and why?
Joaquim Tenreiro was a pioneer in the industry and put his concept of modern furniture into practice. Son and grandson of carpenters, he treated Brazilian tropical wood with mastery and lightness, characteristics worthy of his work as a creator. Sérgio Rodrigues helped define the Brazilian identity and way of making furniture. In his pieces, it was possible to see Italian and European influences, but with an unmistakable Brazilianness or ownership of a strong Brazilian spirit.
On the other hand, Lina Bo Bardi is known not only for her design and architecture but also for having been a thinker. She didn't produce furniture in large quantities but her work is substantial and unique. Zanine Caldas left an impressive legacy and is known for her instinctive treatment of raw materials and the organicity of her creations. Jorge Zalszupin brought to the modernist scene a minimalist, refined aesthetic. Constantly inspired by natural forms, his work conveys an alluring sensuality. Percival Lafer also contributed something here with his innovative and original form of production for the time. He was one of the pioneers of the use of industrial design processes and his pieces have exceptional quality, in addition to a very original design.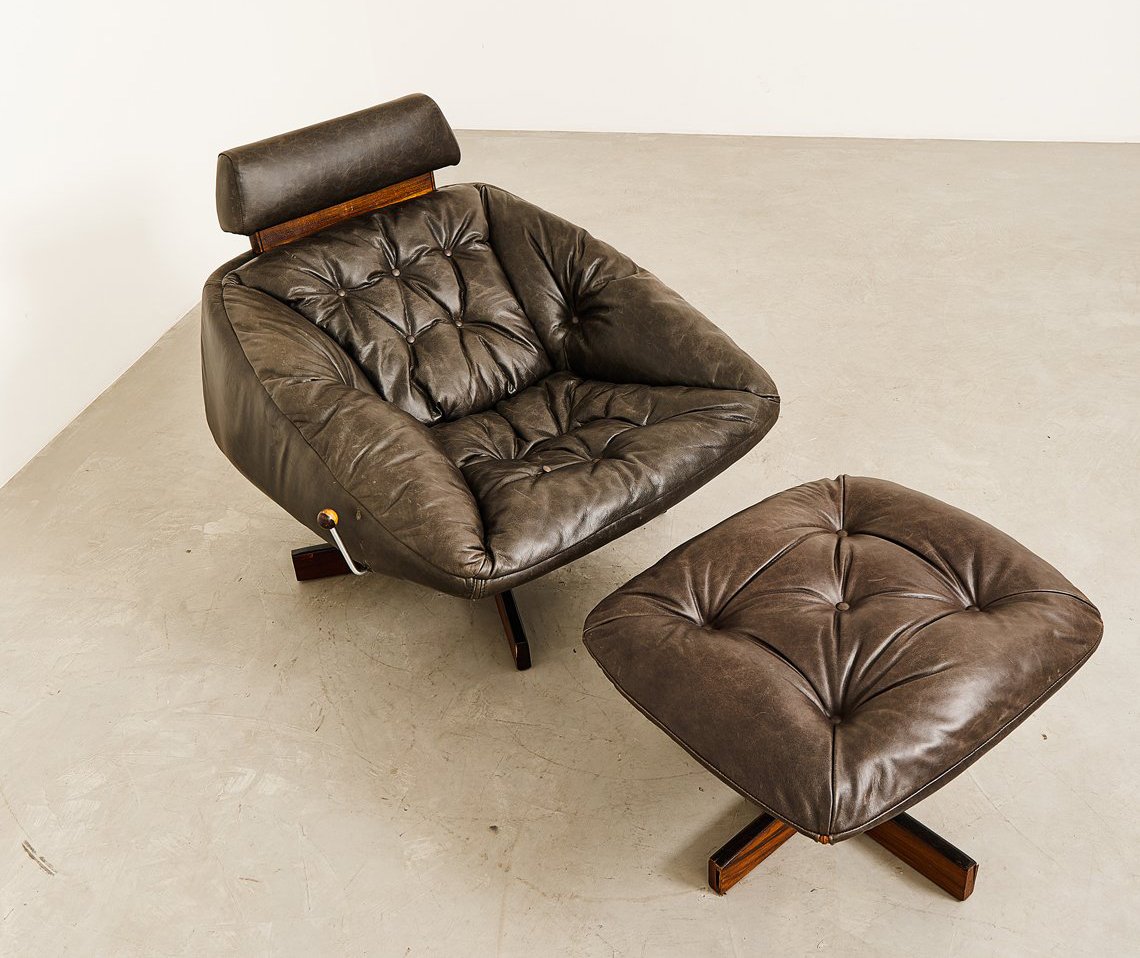 Vintage MP-43 Mirage Lounge Chair by Percival Lafer, circa 1967. Jacaranda frame with original leather upholstery and chrome lever with rosewood tip to adjust the headrest.
How would you characterize the sources of inspiration for Brazilian design?
We believe that the main source of inspiration for Brazilian design is nature and the popular culture of the country.
Which living designers in Brazil today do you most admire and why?
Among the modernists, Percival Lafer. The beauty and comfort of its pieces speak for themselves. Among the contemporary designers, Arthur Casas, Carlos Motta, Claudia Moreira Salles and Ronald Sasson. Sasson's designs are timeless, made with simple and perfect forms.



Left:

Contemporary

Mineira Coffee Table with grid top in oak by Ronald Sasson, designed 2020. Right: Contemporary Tiles Coffee Table with top in São Tomé Brazilian quartzite, by Arthur Casas.


Left: Folhas Stool in hand-felted sheep's wool by Inês Schertel. Right: Açude Chair by Inês Schertel.
Ines Schertel makes interesting work — unusual, different, can you tell us a little bit about her practice and process?
Inês Schertel's work is indeed full of personality! To create unique pieces, the designer mixes traditional techniques of working with sheep's wool, like felting and vegetable dyeing, with contemporary design ideas. The sustainable processes and research that goes into each piece, from obtaining materials to finishing, enshrines the importance of essential design concepts such as the reuse of materials, the appreciation of artisanal processes, and respect for history and tradition.