Highlights: Nancy Lancaster — English Country House Style
By Martin Wood, 200 pp.,
color illus., Frances Lincoln, $60
| | |
| --- | --- |
| | |
| | Bedroom at Avery Row. Deborah, Duchess of Devonshire, said of Nancy, "Whatever she touches has that hard-to-pin-down but instantly recognizable gift of style, arresting in its originality and satisfying to the spirit." The fauteuil en cabriolet in her bedroom was upholstered in "Berkeley Sprig," which became the Colefax and Fowler logo. |
Swagged curtains, a blazing fire, and the family dog lolling on an impeccably upholstered couch; the studied carelessness of what we know as "English country house style" was in fact the brainchild of the Virginia-born Nancy Lancaster (1898–1994), who recreated her fantasy of the antebellum South in several grand English houses she inhabited before marketing her style of comfort plus elegance to a larger audience through the legendary business of Colefax and Fowler.
In 1922, Nancy acquired Mirador, her grandfather's Virginia estate. She made sweeping changes to the house and the gardens, as described by Martin Wood in Nancy Lancaster: English Country House Style, his meticulously detailed homage to one of the great interior decorators of the twentieth century. After she and her husband Ronnie Tree moved to England in 1928, they leased for a time Kelmarsh Hall, a Palladian mansion owned by Colonel "Jubie" Lancaster, where Nancy attacked with relish the challenge of converting its intimidating proportions into something more domestic. Divorced from Tree she was to briefly marry Lancaster and return to live at Kelmarsh, admitting afterward that she was more in love with the house than him.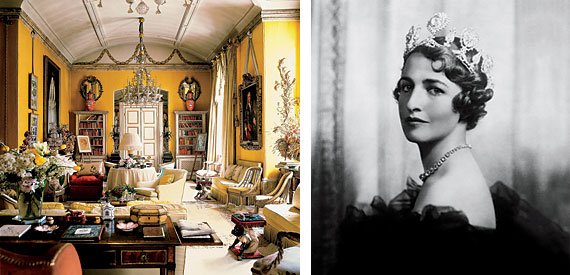 LEFT:
The famous yellow room. In 1957, to shore up her rickety finances, Nancy went to live above the Colefax and Fowler shop on Avery Row, London. Together with John Fowler she transformed her living quarters into a state set for their designs. The drawing room, painted a rich buttercup yellow, acquired a reputation as one of the most "extraordinary" rooms in London. RIGHT: Portrait of Nancy Lancaster dressed for the 1935 Silver Jubilee Ball at Buckingham Palace. She is wearing the Astor tiara borrowed from her Aunt Nancy, Lady Astor, with its famous Sanci diamond worn by Charles the Bold at the Siege of Nancy in 1476.

| | |
| --- | --- |
| | |
| | Gothic bedroom at Haseley Court. To play up the "gothic" feel of this room in the old medieval part of the house, Nancy added a gothic pendant cornice and asked John Fowler to paint trompe l'oeil stucco details on the walls and ceiling. The result was so successful that when she first saw it, a furious Nancy cried, "Damn, John, its stucco and not trompe l'oeil. |
In 1944, when she bought Sybil Colefax's decorating business she acquired as business partner John Fowler, the "prince of decorators." The pair, described by Nancy's aunt Lady Astor as "the most unhappy unmarried couple in England," thrived on the inventiveness necessitated by postwar shortages.
Nancy purchased Haseley Court in Oxfordshire, the house of her dreams, when she was fifty-seven. It was here that her style of relaxed luxury found its greatest play. In 1970, when diminished finances forced her to sell the house and move into the nearby Coach House, her friends expressed sadness. But Lancaster merely set to it again, transforming her surroundings. As her son Michael Tree once explained, she was never happier than when arranging furniture.
— Lauren Byrne