How Jonathan Field Creates Meaningful Handmade Wood Furniture
Based in East London, Jonathan Field's unique and limited edition furniture balances elegance and functionality, exalting the natural beauty of carefully hand-selected, old-growth timbers. His award-winning work has been exhibited throughout the UK and abroad, including such prestigious shows as TEFAF and the British Art Fair.




| | |
| --- | --- |
| | |
| | |

W
ith each piece of furniture, British maker Jonathan Field tells the story behind his materials. In his hands, historic local timber is transformed — steam bent, carved, and hand-rubbed with oil — into elegant limited-edition designs that express the inherent beauty of the trees they came from.
An illustrator for 15 years, Field transitioned into furniture design in 1994, and is now just as inspired by wood grain and natural texture as he once was by line work. He scours timber yards around the United Kingdom for felled trees with compelling grain patterns that will bring personality to his pieces. Much of the salvaged timber he selects is hundreds of years old; one recent dining table was crafted from a cedar tree that the Duke of Northumberland planted in the 1760s. Contemplating his timeless designs in their homes, clients connect with the history of a particular tree, and through the presence of the past in each object, his work brings meaning and depth to the designs of their living spaces.
On Incollect, Field reveals how he uses craftsmanship to give natural materials new life.



How would you describe the thread throughout your work? What are you trying to achieve with each piece?
Throughout my work, functionality and form consistently combine with a tactile and visible history of the materials.

I like to think that my pieces have a quiet presence: the beauty of the natural materials and the maker's hand are a constant in everything I build.

In my practice, I question the confines of the domestic and practical demands of furniture and interpret the human longing for a deeper connection to traditional crafts, contemporary aesthetics, and natural materials. The story of the materials is made visible through my time and hand. While primarily focusing on the design's functionality, I choose timeless materials that will, through use, be complemented with a patina of age.



Top: The lyrical grace of a steam-bent

Walnut Console Table. Bottom, left: This console table is made from bleached ash and debuted at Clerkenwell Design Week in 2017. Bottom, right: A detail of the highly figured wood grain in the Bleached Ash Console Table.


Let's talk about your inspirations. For example, what inspired the delicate shape of the Walnut Console Table?

The shape came about by experimenting with steam bending. I noticed that each bent piece of walnut had a different degree of spring back when released from the steam bending clamp, and I felt this result was something I could use in the console table I was working on. In this piece, I wanted to create the charm of animal portraiture, where the artist paints a horse or prize pig with a profile that's near perfect, but not quite.



The appearance of your furniture is often natural and slightly glossed. What are your favorite ways to finish wood?
Definitely oil, as oil brings out the color and grain of the timber. However, there are some interesting products on the market that have an almost invisible finish, giving the timber a very natural look.



Top: Field works closely with team member Andy Gravelius to craft his furniture. Often, the pair prefers to work with salvaged wood. Bottom, left: A log of Scottish burr elm from English Woodlands Timber in Cocking, England. Bottom, right: Burr oak for a dining table that he recently built.
Which kinds of wood do you like to work with?

I like to use UK-grown timbers. There are a few specialist timber merchants that cater to artisan furniture makers. Visiting the timber yards is always an enjoyable part of what I do. British timbers tend to come from older trees with history and a visible narrative. The tree, having reached the end of its life, can live again through the furniture makers hand. I have also used concrete and metal in my designs with different finishes, such as a set of steel table legs that were finished with a coating of aged bronze.



My Inspiration often comes from my materials. Right now, I have been working on a new oval table inspired by a large slab of English burr oak that I found in one of the timber yards I frequently visit. Discovering a piece like this is always a "boy in a sweetshop moment" for me. Unusually, the live edge of this burr oak slab will run completely around the edge of a three by one-meter oval dining table. The top will be placed on a curved leg structure that references to the interior oak ceilings of English village churches. Another recent project was for a six-and-a-half long table made from a single solid slab of Cedar of Lebanon. The tree it came from was originally planted in the 1760s by the Duke of Northumberland. It was felled shortly after being struck by lightning, and was then seasoned for a year or so before being kiln-dried. The table now stands in the dining room of an early 18th-century country house that was lived in by former British prime minister Anthony Eden.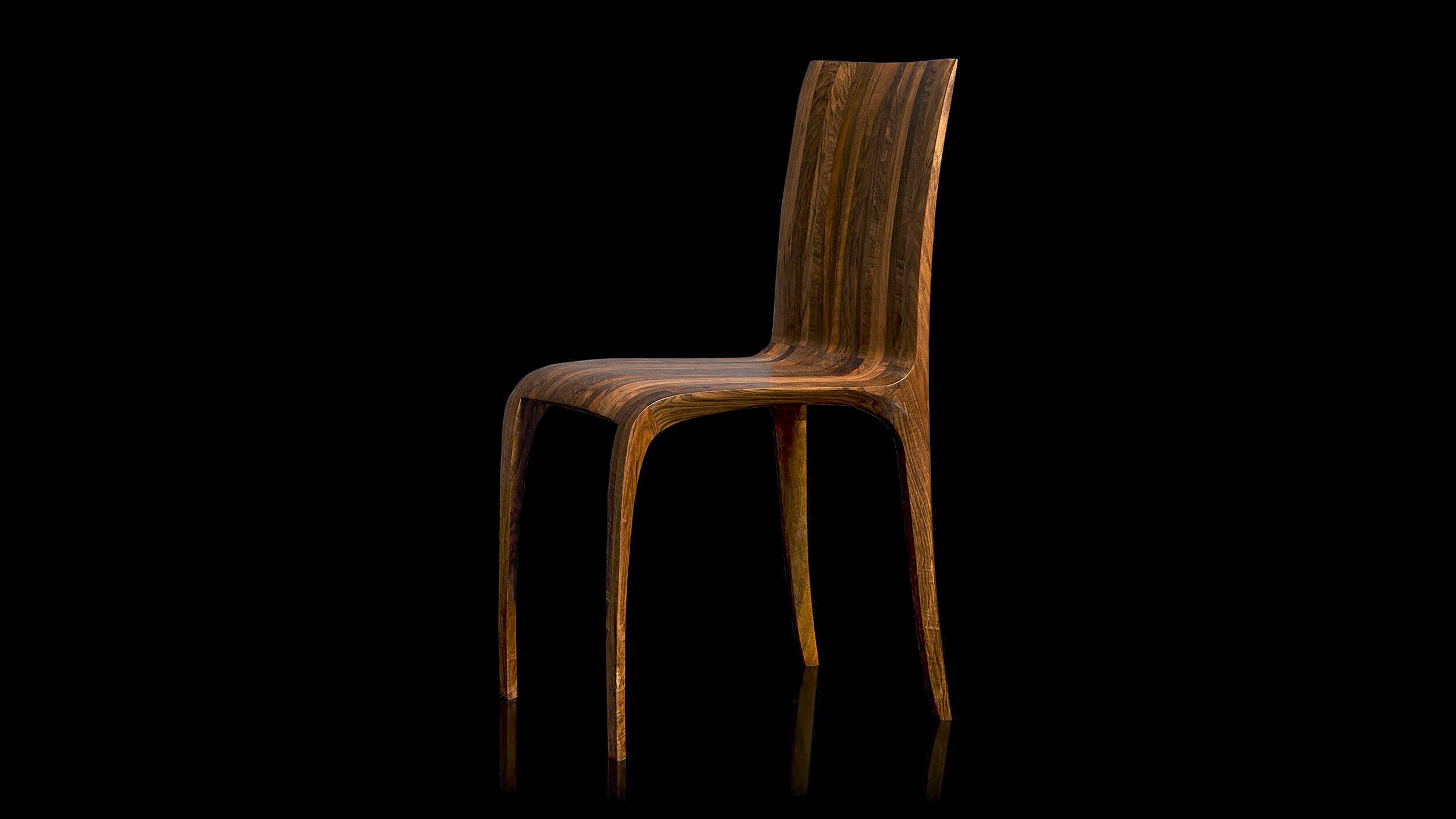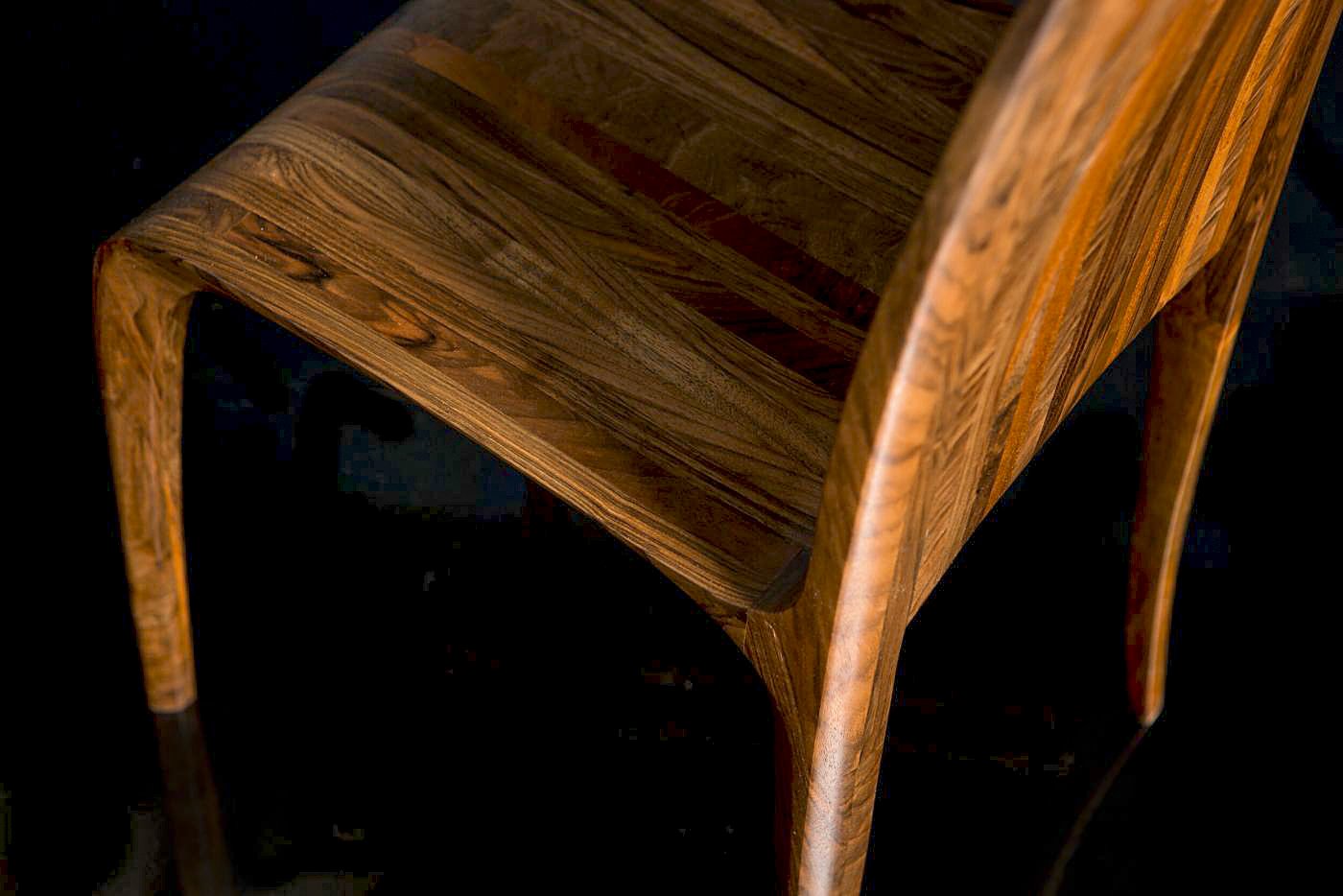 This
dining chair
was awarded a Bespoke Guild Mark from the the Furniture Maker's Company
In your award-winning dining chairs, ho

w do you maximize both form and function?

The English Walnut Chair is the fourth in a series of designs. Each chair features a lighter structure than the one before it. The structural joints had to be positioned to take into account the final shaping, which is done by sight to remove proportions of the timber, approximating as closely as possible the final shape, before we sand to finish it.

I am currently working on a new dining chair that will be the fifth in the series. With this chair, I am taking a break from the previous chairs that evolved with each iteration. The final design was awarded a Bespoke Guild Mark from the Furniture Makers' Company here in London, a prestigious award that recognizes unmatched quality in single or limited-edition pieces. The new chair will have a more relaxed look, but the design will retain the simplicity of the previous series.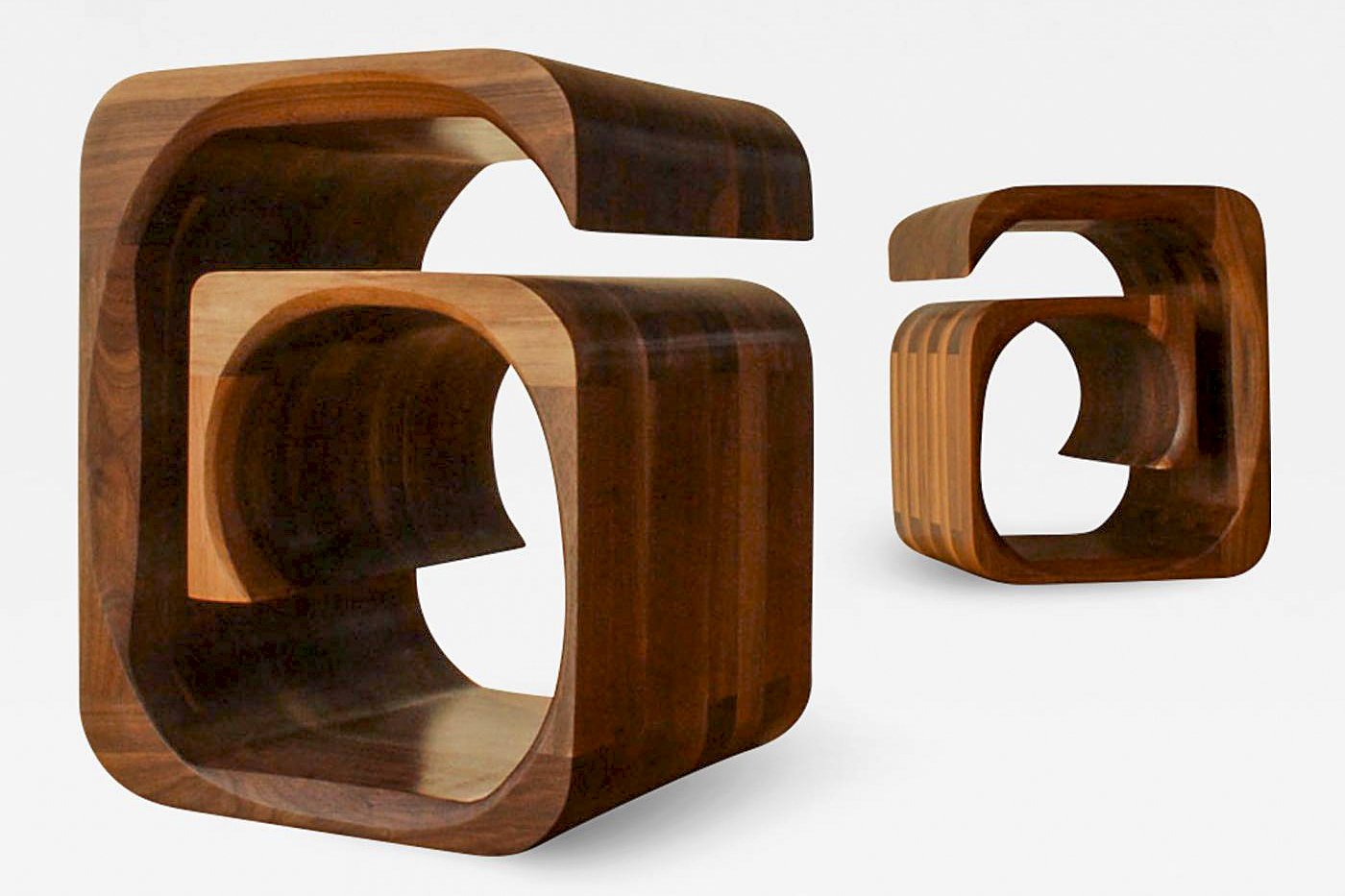 Bedside tables
, constructed from solid American black walnut with an oil finish .
What inspired the curved silhouette of the bedside tables?
Having worked in graphic design, I have always loved typefaces. I wanted to create a shape that references letters and numbers, but that would also serve as a practical piece of furniture to put a book or place a drink upon.
Certain pieces rely on a contrast between grain patterns. What do you like about contrasting grain?

I like the random patterns of grain set wi

thin the framed structure. A prime example of this juxtaposition is the

ash chair with ebony grain

. In the production

process, I first lay out the strips of timber to get a sense of the overall balance of the piece. Once glued, the lamination join lines have an equal ordered spacing that frames the random patterns of grain. This process gives a quietness to the surface and an organized, engaging visual interest.



This

unique cabinet is crafted from solid oak and has been ebonized on the front and sides. The top has been finished with a white oil. The doors open on concealed barrel hinges, with flush-fit earth magnets holding the doors closed. Internally, the shelves and drawers are built with American cherry. Soft close runners enhance functionality.



What motivated your choice of materials in this Ebonized Cabinet?

Oak is the perfect timber for ebonizing, This cabinet was made as a promotional piece and was shown by my gallery. The idea of adding light-catching clear resin next to dark ebonized oak developed from my ash laminations in one of my dining chairs (discussed above).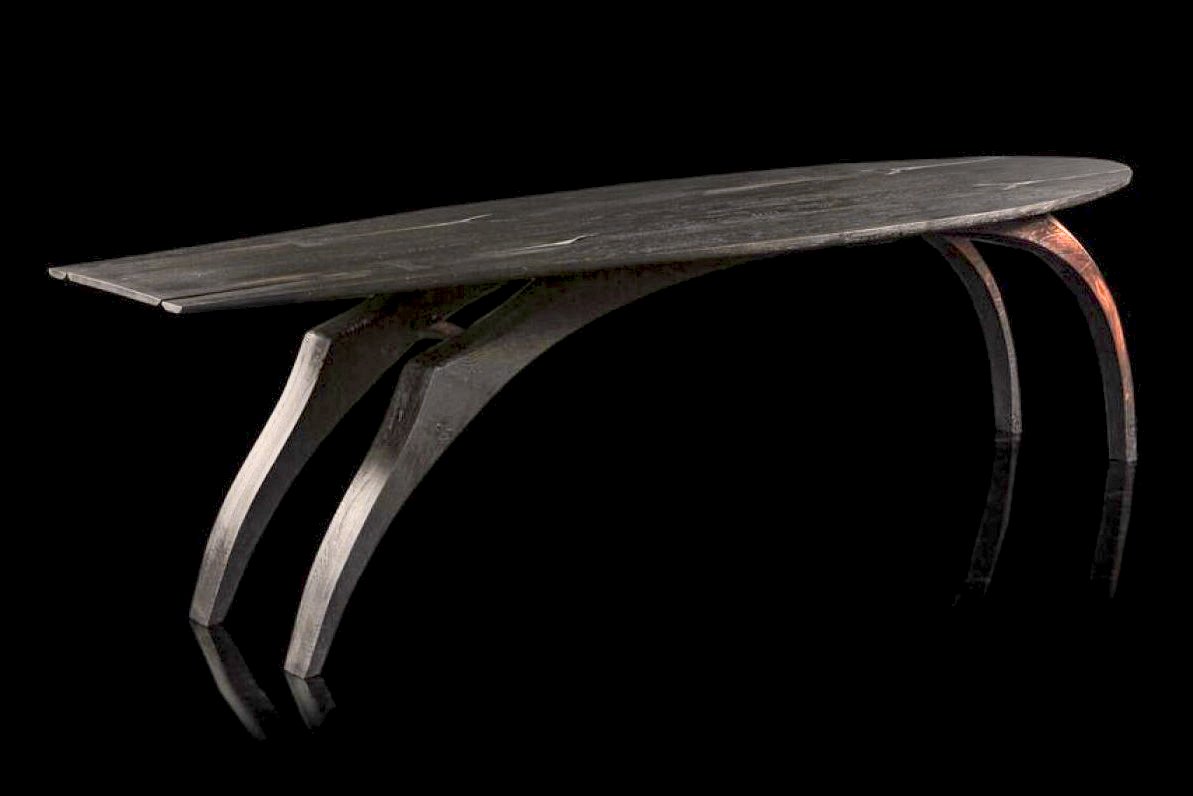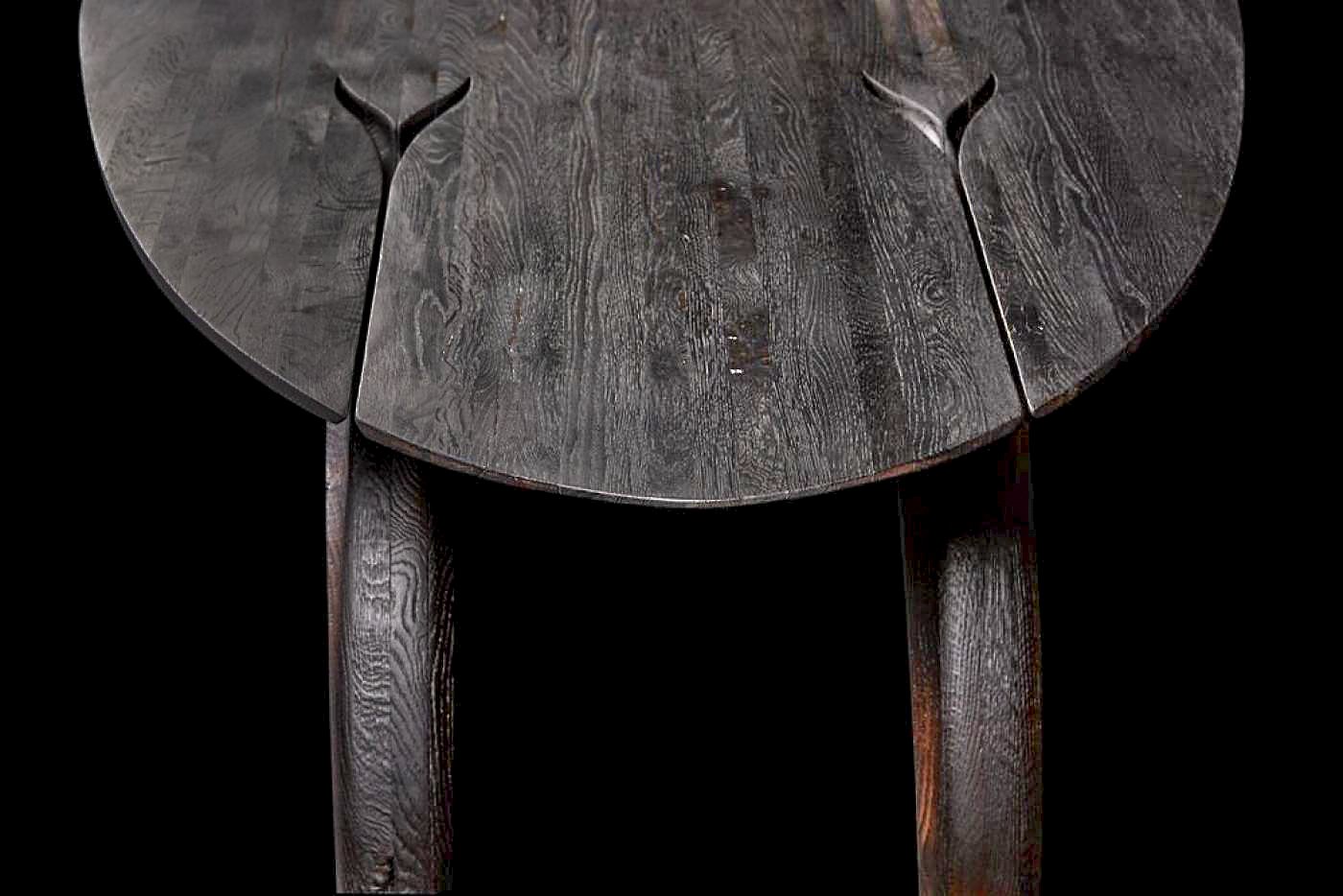 The
Leap Dining Table
is made from ebonized English oak. The legs are brushed to enhance the grain and flame-scorching.


The Leap Dining Table was inspired by how animals move. Can you tell us more about how that influence shows up in the table?

I wanted to create a table that had a profile of an animal in a full-body stretch, leaping across an imaginary space. The top also has a directional shape with a clear head and tail. It is made from oak laminations, similar to the ash chair.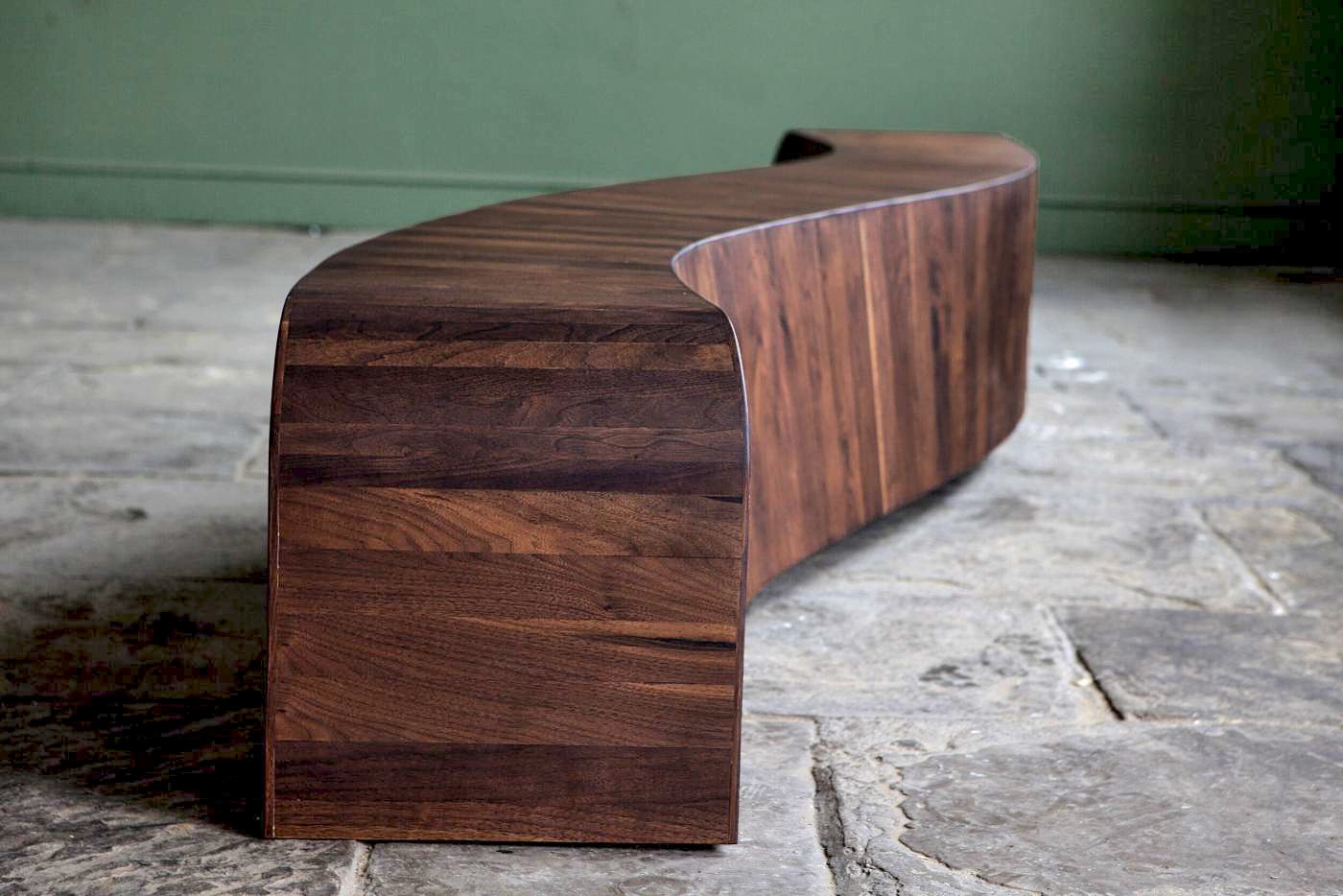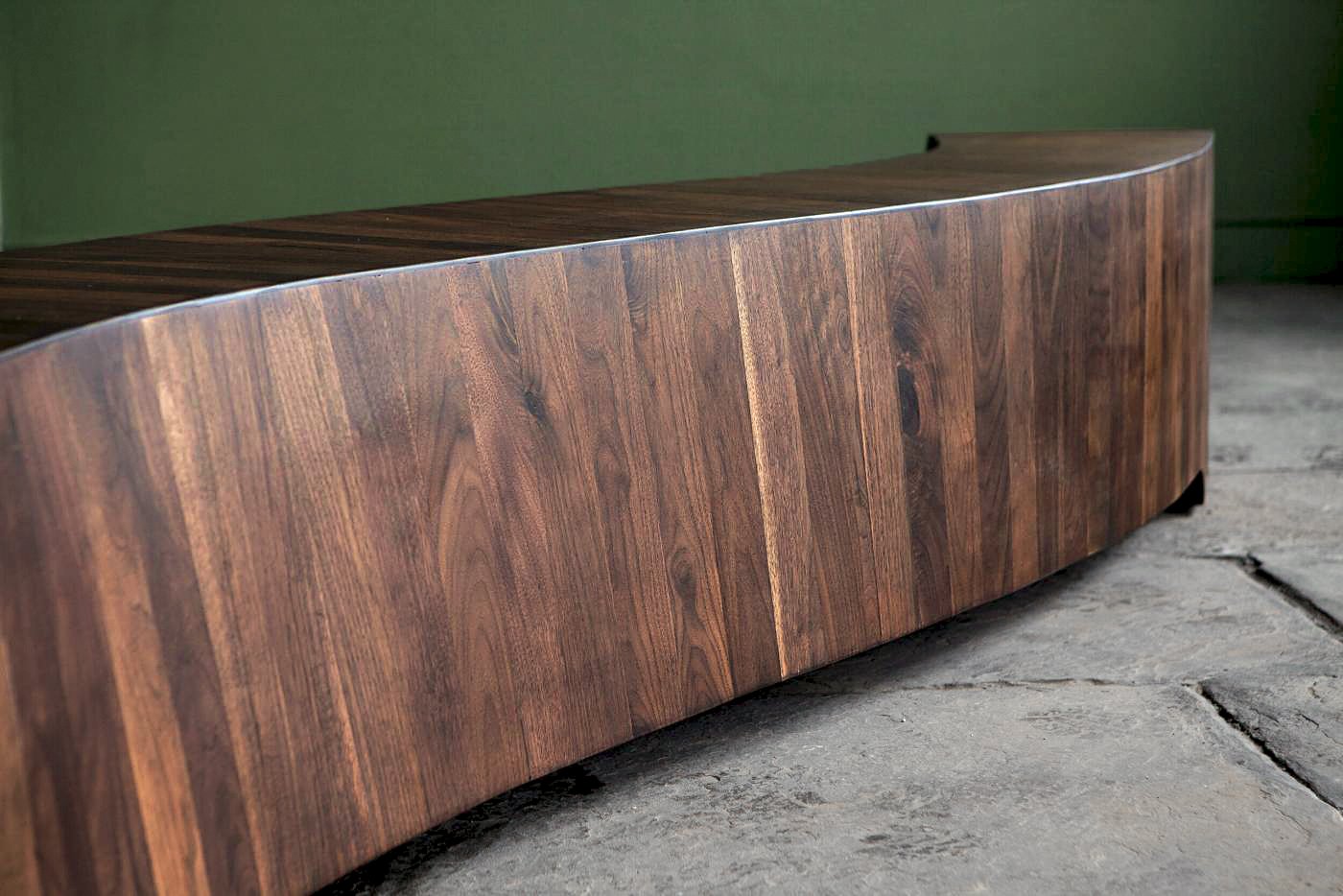 The
Gallery Bench
, shown above, is built from solid laminated strips of American black walnut on a structural ply base.



What's your process for building pieces with a plywood frame, such as the Gallery Bench?

It is the same as engineered floor timber, where a ply base is laminated to the top layer of solid timber to provide stability. It also allows us to use less material, giving the final object a lighter structure for ease of moving.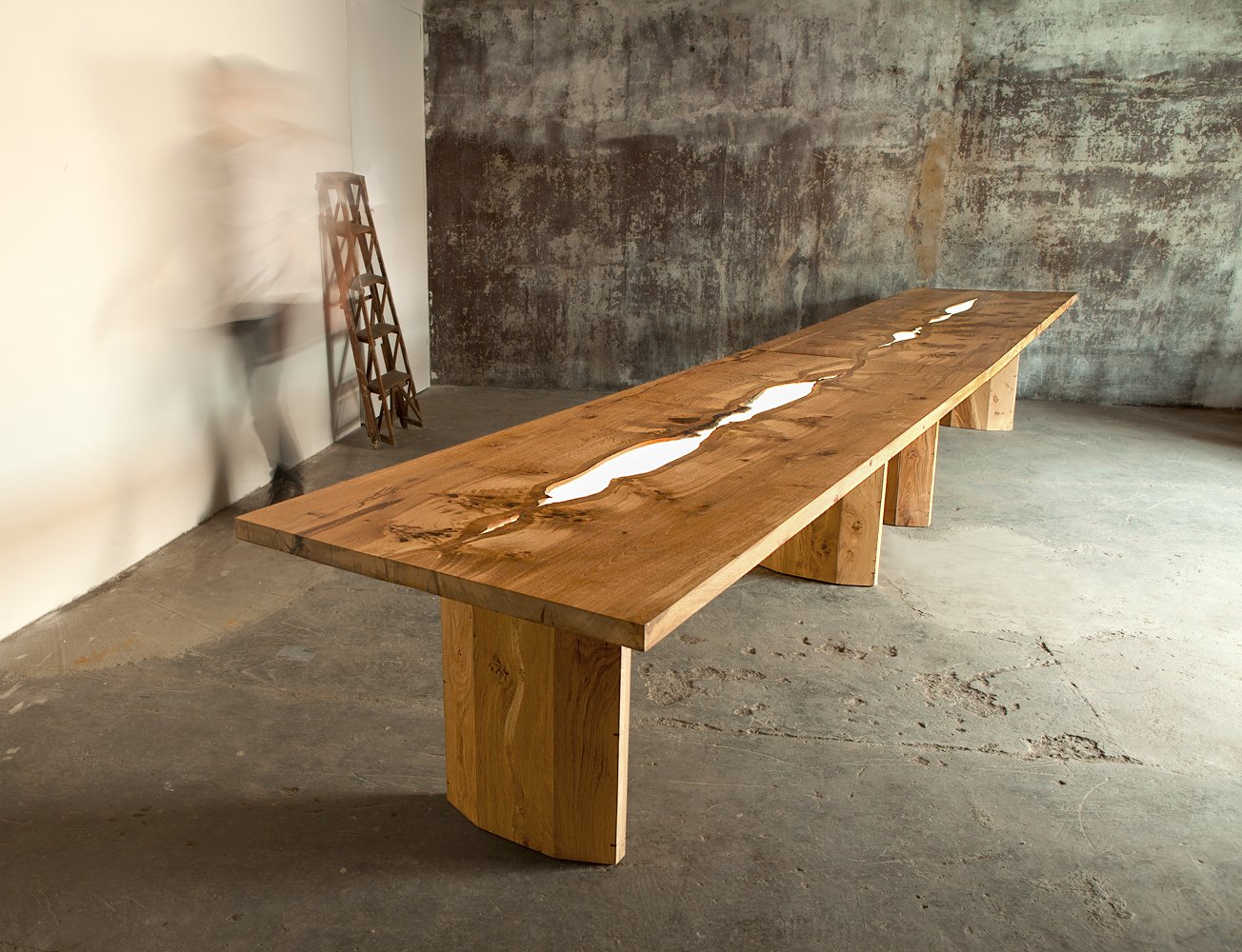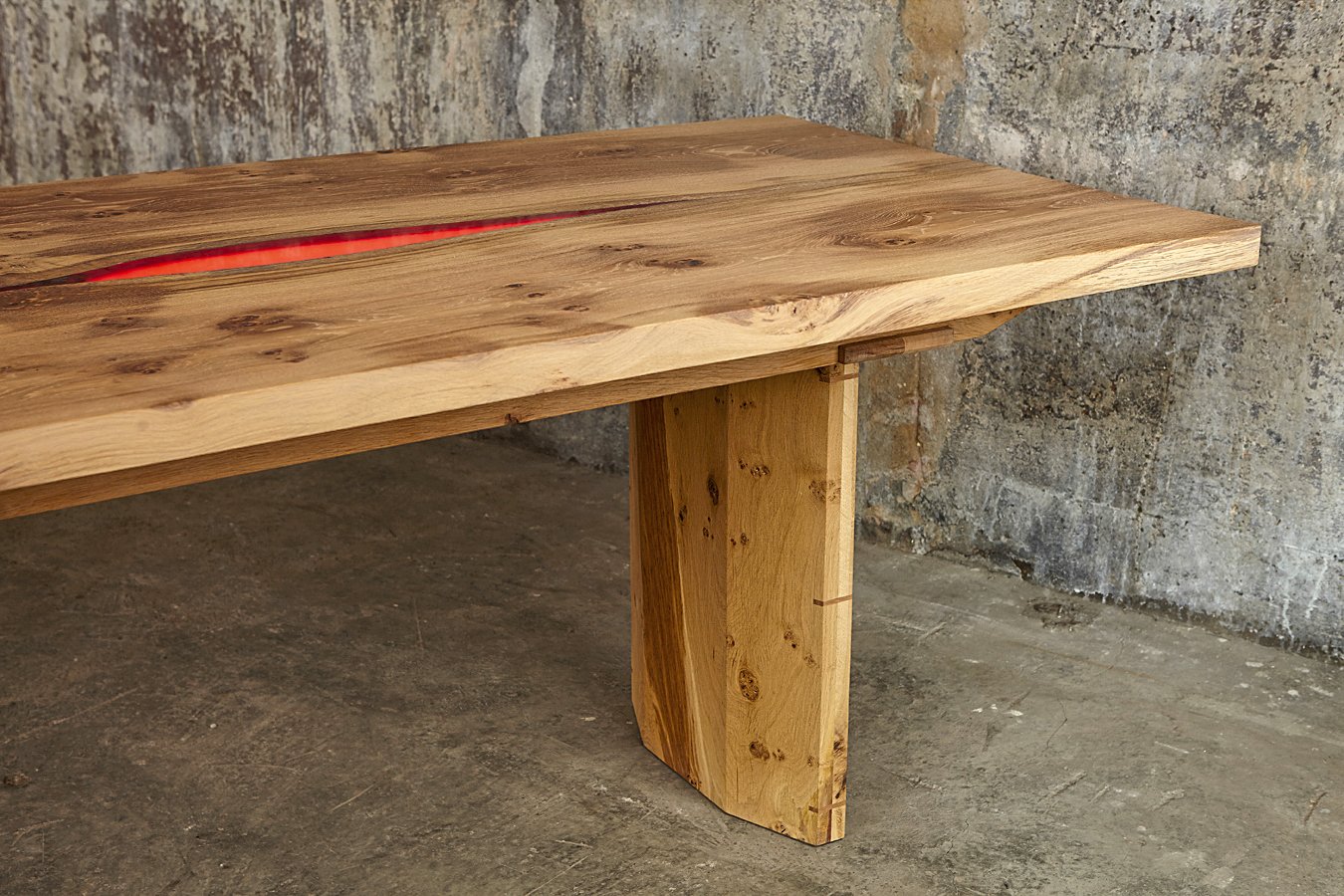 Complete with inset LED lighting, the
Manor House Dining Table
was conceptualized in collaboration with Lighting By Design in North London.



How much of your work is custom, and how do you decide which custom projects to take on? What's an example of your custom work that you now offer to other clients?

About 90% of my work is for commissions for private clients or interior designers, engineers, and architects.

It pleases me that a large proportion of commissions are for tables that stand in the center of homes or businesses, symbolizing a place for coming together. For commissioned pieces, each project starts with a discussion with the client about what the client has in mind, which often leads in interesting directions that I have not explored before. On the Manor House Dining Table, for example, which features an inlaid LED strip, I collaborated with

a lighting engineer at Lighting By Design in North London. He approached me to work on a large dining table for a client that loves to entertain. The light can be controlled to show a single color, or it can change colors.




The rest of my work is promotional, meaning I design it for my collection without a specific client in mind. Some of the pieces are made speculatively to show a direction I am interested in exploring. The inspiration and ideas for these pieces often come from observations of what is possible in terms of construction, and they develop through discussions in the workshop and sketching. Time is given to let the design settle before we start to build it.



The Ash Desk has a secret compartment. Are there any other hidden details that you like to include in your work?

Yes, I have also put secret compartments in cabinets, dressing tables, and wardrobes. Hidden details always help to tell a story.