Portuguese Atelier Mytto Delivers Sumptuous Curved Sofas, Armchairs & More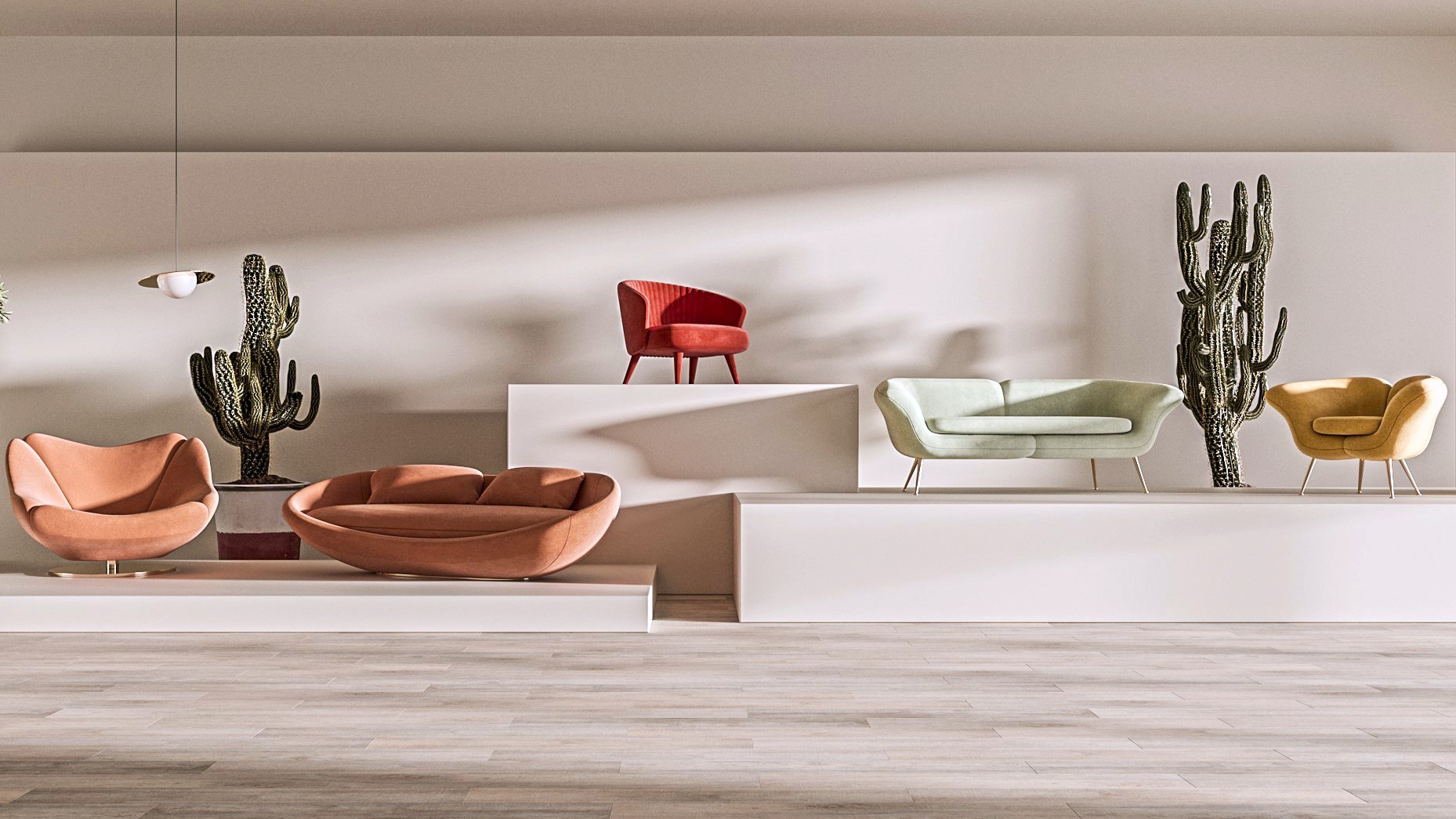 Specializing in luxury midcentury-inspired furniture, Mytto was founded in 2009 in Porto, Portugal.
M
ytto respects and re-interprets the rich artisan heritage of its home base in Porto, Portugal. "We combine the old crafts with new design in unique ways, all within a short radius, and all in Portugal," says Nuno Freitas, a furniture consultant with Mytto. The atelier's talented creative team approaches classic midcentury silhouettes from a contemporary perspective, and whether a sofa, armchair, or chaise, each contemporary Mytto piece is made to order by local makers deeply devoted to their craft. Long-established European handicraft techniques guide the meticulous production process. Clients can personalize many elements of the furniture, from finish to upholstery, and though sustainably handcrafted, most pieces are delivered within four to six weeks.
Sustainability means more than responsibly sourcing raw materials and minimizing industrial waste, Freitas explains. It involves a commitment to quality and artistic vision. "We don't create by hand only for our clients, but also for the inherent quality and distinctiveness of handmade pieces, as opposed to machine-made," he says. "The luxury and originality of our designs are two of the best vehicles to achieve sustainability." Freitas sees enduring designs that can be passed on to future generations as the raison d'etre behind the high-end furniture business. "For some crafts to stand the test of time, they need to be dignified and rewarded accordingly," he says.
Mytto's furniture is designed by two upcoming figures in contemporary Portuguese art direction, architecture, and interiors — Nelson de Araújo and Pedro Ferreira. Below, De Araújo and Ferreira talk about the sofas and chairs they designed for Mytto, and the remarkable details of each piece.
Nelson de Araújo
De Araújo is influenced by the motto of German industrial designer Dieter Rams, "less, but better." He interprets this phrase through the functionality and vibrant forms of his furniture. His inspiration is nature — "its landscapes, mesmerizing colors, shapes, smells, and the emotions it awakens," he says. His work includes the Pebble sofa, Métis armchair, Rose Gold armchair, Single Matilda armchair, and Couples Matilda loveseat, among other pieces for Mytto.
The Pebble sofa reflects the smooth, water-polished texture and oval shape of stones along the ocean shore. The metal base can be thermo-lacquered in any color.
How do you imagine people styling the Pebble sofa?
The Pebble is a minimalist lounge sofa. It's also a decorative piece, with an impressive luxurious presence and a romantic feel. This sofa, where people can sit and relax, would be perfect for a hotel or home to bring the interior space to life.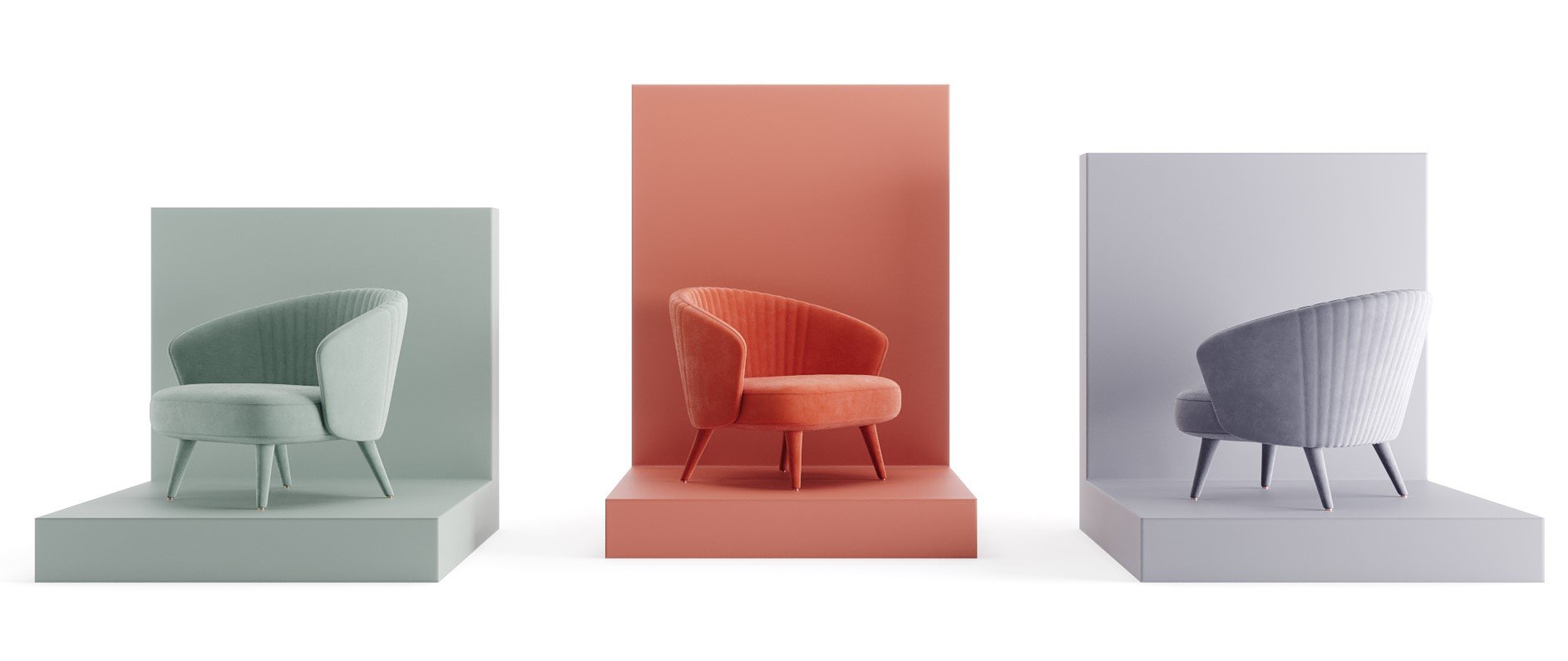 The
Métis
armchair can be upholstered in a range of fabrics, including the plush velvet pictured above.
What is your favorite detail in the Métis armchair?
My favorite detail in the Métis armchair is its rounded lines. The chair was inspired by the elegance and extravagance of the ancient Greek gods.
How did you come up with the shape of the Rose Gold armchair?
The inspiration for the Rose Gold came from flower petals and the way flowers blossom in spring.
The
Matilda armchair
and
loveseat
were designed based on the "Cupid's bow" lip shape., with a double curve on both the seat and seat back.
Mytto recently introduced a loveseat version of the Matilda armchair. How did the idea for the loveseat come about?
Matilda was originally designed as an armchair. When Mytto needed a new design for a sofa, we thought Matilda could be the solution. It worked very well. This piece has a dynamic shape, which can be easily adapted.
Pedro Ferreira
Ferreira studied interior design at the Escola Superior de Artes e Design in Porto. History and tactility guide his practice as a furniture designer. "Through my craft, I develop authentic, delicate, and sensuous designs that faithfully represent the timeless past and living present," he says. At Mytto, his work represents a collaboration with Portuguese-based company Larforma, and includes the Kawi sofa, Eva chaise, Moon sofa, Maxime dining chair, and Madman sofa.



The back and arms of the Kawi sofa are plush and curved.
What are your favorite elements of the Kawi sofa?

I love the rounded back that graciously extends along the arms and suspended seat. It strikes a pleasing balance between modernity and tradition, and it's light and large in appearance. I have a Kawi at my house. I am tremendously gratified to see my friends using it naturally during late dinners as a midpoint between living and dining room conversations.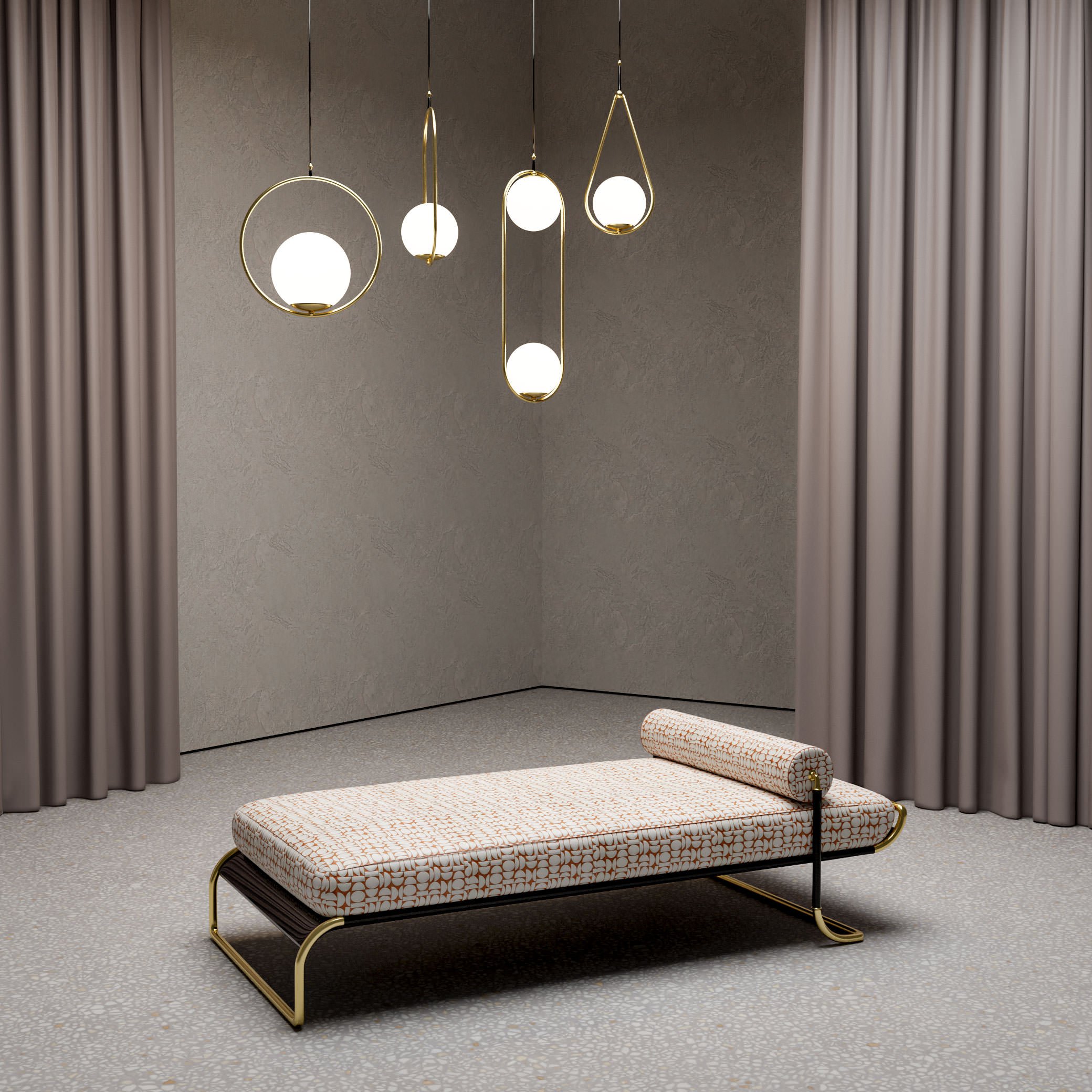 The
Eva
day bed is crafted from bent brass, lacquered steel, and beechwood. The headrest is woven by hand.
If clients want to set the Eva chaise outdoors, which fabrics and finishes do you recommend?
For an outdoor version, I would choose a black nickel finish for the frame. In terms of upholstery, there are so many great fabrics out there that are perfect for any project. Personally, I would go with fabrics from Missoni, Pierre Frey, or Dedar.
The design of the Moon sofa is influenced by both Streamline Moderne and Vladimir Kagan. Although Ferreira first created the base of the
Moon sofa in acrylic, it can be customized in a variety of metals and veneers.
Why did you choose a design a Lucite base for the Moon sofa?

When you have just beautiful, undulating lines like the ones on the Moon Sofa, it's necessary to avoid harming those. Instead, I tried to elevate them, give them focus. Influenced by the romantic look of the Moon, a transparent footer in acrylic adequately provides an aesthetic sense of float and freedom to the sofa.



Customizable, the

Maxime dining chair is featured here in mahogany with a gloss varnish.
How does the exposed wingback frame elevate the overall design of the Maxime chair?
The pleasant wingback frame is a strong statement. It narrows the chair and discloses its lines from top to bottom. The "v" shape also defines the padded back with a subtle touch on the seat, while simultaneously creating the timeless impression of the Streamline Moderne style.





The

Madman sofa here features an aged brass base and soft bouclé upholstery.
Which materials do you prefer for the Madman sofa?

We originally upholstered the sofa in bouclé. It also looks astonishing in velvet.