In the Studio: Watch the Blooming of Valerie Wade's Exquisite Lotus Lights
For over thirty years, Valerie Wade has been supplying interior designers, architects and collectors with her supremely stylish and impeccably curated mix of furniture, lighting and objects. Shaped by her early days as a fashion and design editor for the London Sunday Times Magazine, and travel all over the world, Valerie's design aesthetic combines eclectic global influences, old-school glamour and edgy contemporary appeal. In addition to the vintage pieces she offers, she designs and commissions lighting and mirrors from Murano glass artisans, elegant mirrored chests and cabinets, and traditionally crafted mother-of-pearl inlaid furnishings from Syria. Among her most coveted pieces are her Lotus Lights, which began their journey from imagination to creation with Valerie's own journey to India.


A four-light Lotus Light, and close-up details.

| | |
| --- | --- |
| | |
| | |
"The inspiration for my Lotus Lights began on a houseboat in Kashmir in 1984. It was August, and in front of me in the water was a carpet of the most exquisite giant pink lotuses, with leaves so wide that birds walked on them as though on land. How could something so beautiful magically grow from thick roots immersed in mud? It explained the ancient Buddhist symbol of the Lotus representing our potential to transform ourselves from darkness to light. Since then, I've incorporated lotuses within my design collection in a multitude of ways, from lampshades, to embroidered fabric and finally to the Lotus Light Collection.
The Lotus Light Collection took shape in my mind when I found a 1950s magnolia wall light in a villa in the South of France. This became my inspiration to transform a magnolia into a lotus and recreate that vision from my Kashmiri houseboat. To echo nature's variety, I designed lights of one, two, three and four flowers to decorate either the wall or the ceiling."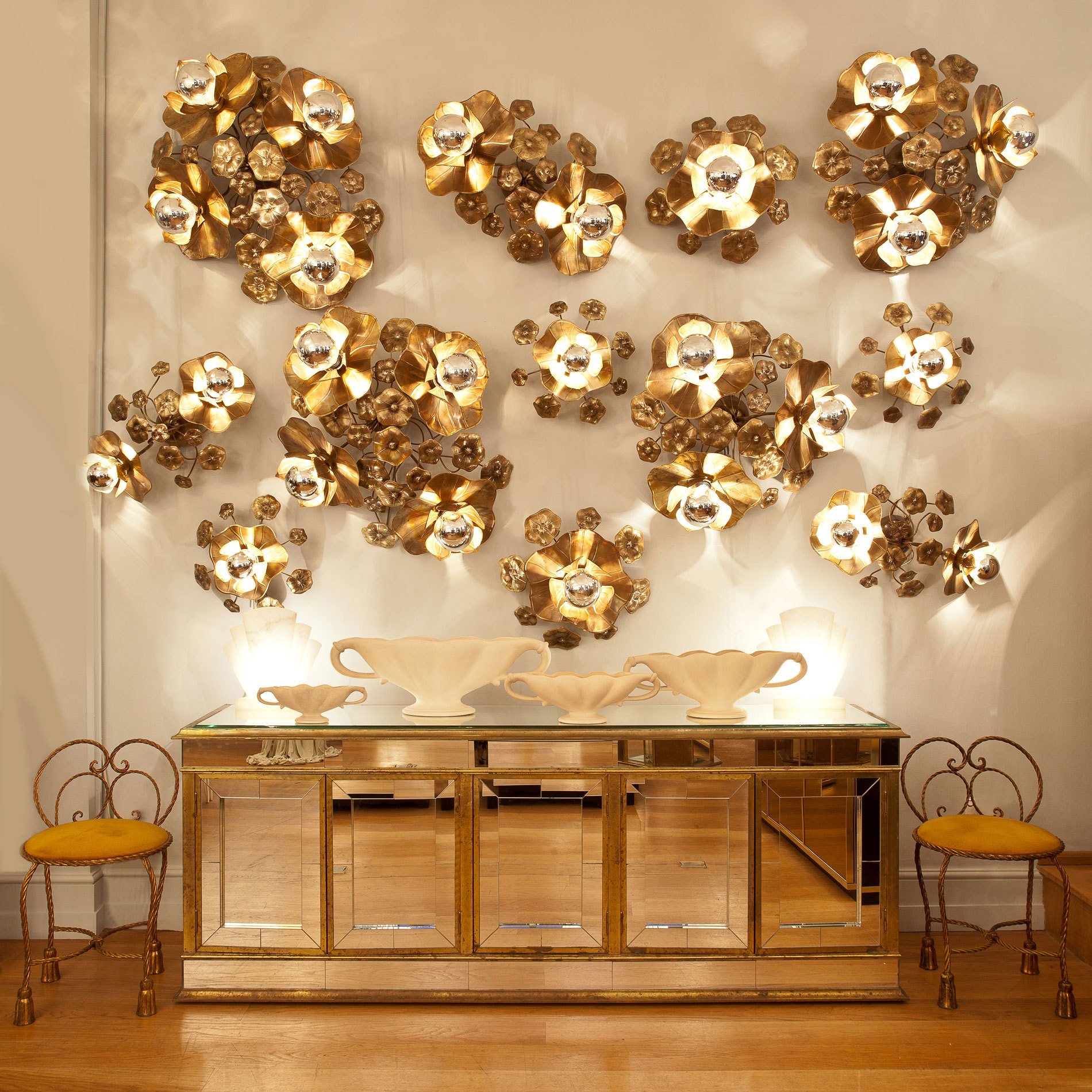 A wall adorned with clusters of Lotus Lights creates a magical play of light and shadow.

Valerie wanted to use British artisans to craft her design, and after an intensive search, found the perfect solution at a studio in the British countryside. Their successful working relationship spans 15 years, and during that time, the collection has grown to encompass single and double lights in large and small sizes, and three or four-light configurations. Each piece is individually handcrafted of solid brass soldered with silver, and just as in nature, no two are exactly alike.
Lotus Lights have been placed by decorators, architects and collectors in locations around the world; from private members' clubs and spas, to hotel lobbies, to Dubai ballrooms, to private residences. Valerie was especially delighted with a recent large-scale installation because it recalled the memory of her original inspiration - the carpet of lotuses in Kashmir. Upon seeing that glowing wall of Lotus Lights she said, "It's a showstopper."