Indianapolis Museum of Art's Design Gallery Gets a Facelift
T he Indianapolis Museum of Art at Newfields has the largest permanent collection gallery devoted to modern and contemporary design of any art museum in the United States. My predecessor, R. Craig Miller, largely cultivated this collection of furniture, domestic products, and industrial design objects in the five years he spent at the museum before retiring in 2013. I had admired the contemporary design gallery since first visiting the IMA and, after joining the museum in 2016, I met with the interpretation, media, evaluation, and design departments to discuss its strengths, weaknesses, and potential. The reinstalled Design Gallery (Fig. 1), which debuted on July 27, offers refreshed, interactive, and at times, immersive perspectives.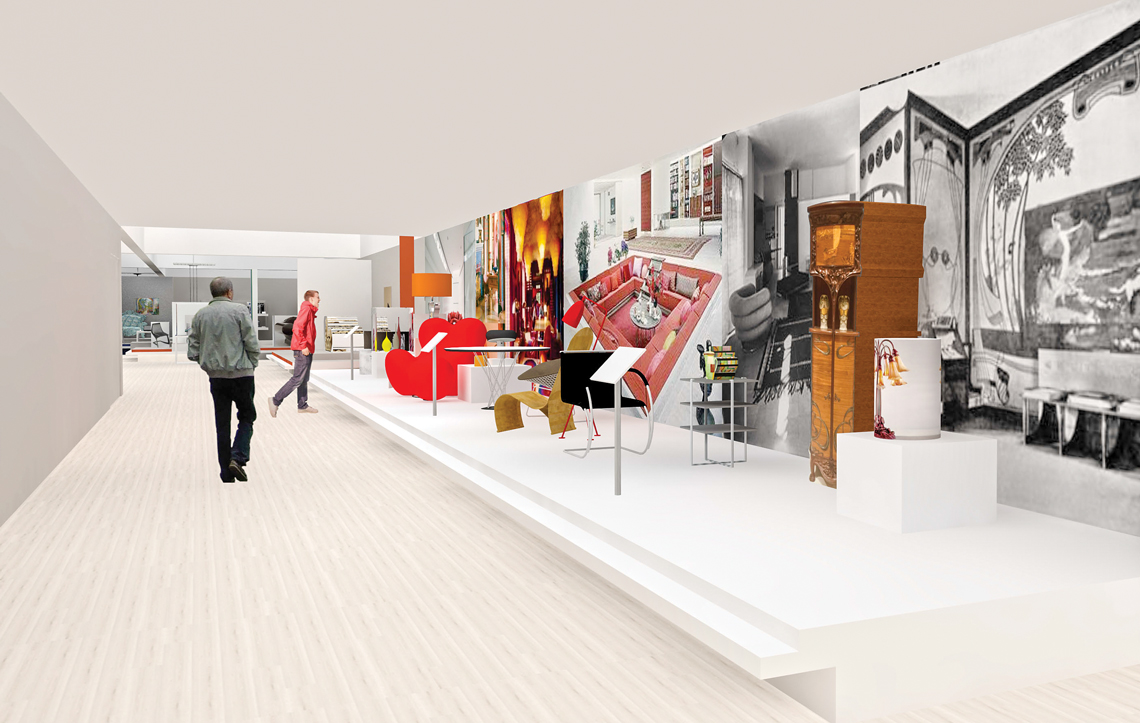 Fig. 1: The long entryway to the Design Gallery has been converted into a timeline with blow-up images of period interiors and featuring objects representing design movements from 1900 to today. Rendering by Lara Huchteman © Indianapolis Museum of Art at Newfields.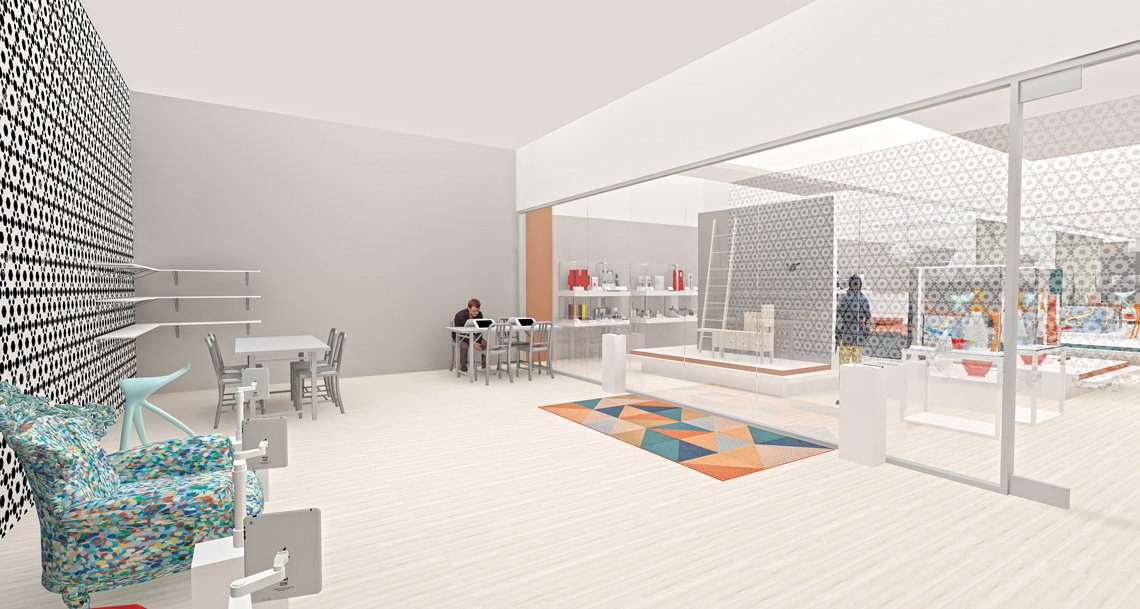 Fig. 2: The Design Lab presents the design process with activities exploring brainstorming, rendering, prototyping, and user testing. Rendering by Lara Huchteman © Indianapolis Museum of Art at Newfields.
One of Newfields' greatest strengths is its commitment to listening to its guests. A report outlining six months of surveys, observations, and interviews with visitors to the contemporary design gallery revealed that they often felt overwhelmed by the sheer number of objects—shocking news to an impassioned design junkie such as myself. But often the responses made a lot of sense. People struggled to understand the gallery's organization into the aesthetic movements of Postmodernism, Expressionism, and Modernism. They wanted more interpretive materials and everyone, from families to design professionals, expressed an interest in having more hands-on experiences to enhance their appreciation of the design process.
When the IMA received a grant from the Institute of Museum and Library Services in 2014, it provided us with financial support to create more interpretive and interactive elements. Undoubtedly the biggest transformation in the renovated gallery is the addition of the 800-square-foot Design Lab (Fig. 2), converted from an adjacent storage area, and now a hands-on activity space where guests can learn more about the design process through both digital and analog activities. Visitors can build their own prototypes; design a chair, a lamp, or a teapot on a Newfields Labs modeling app; and even test out and evaluate some of the chairs we have on display. Guests can sign up for classes to design prototypes on more sophisticated software and have them produced by 3-D printers in the lab.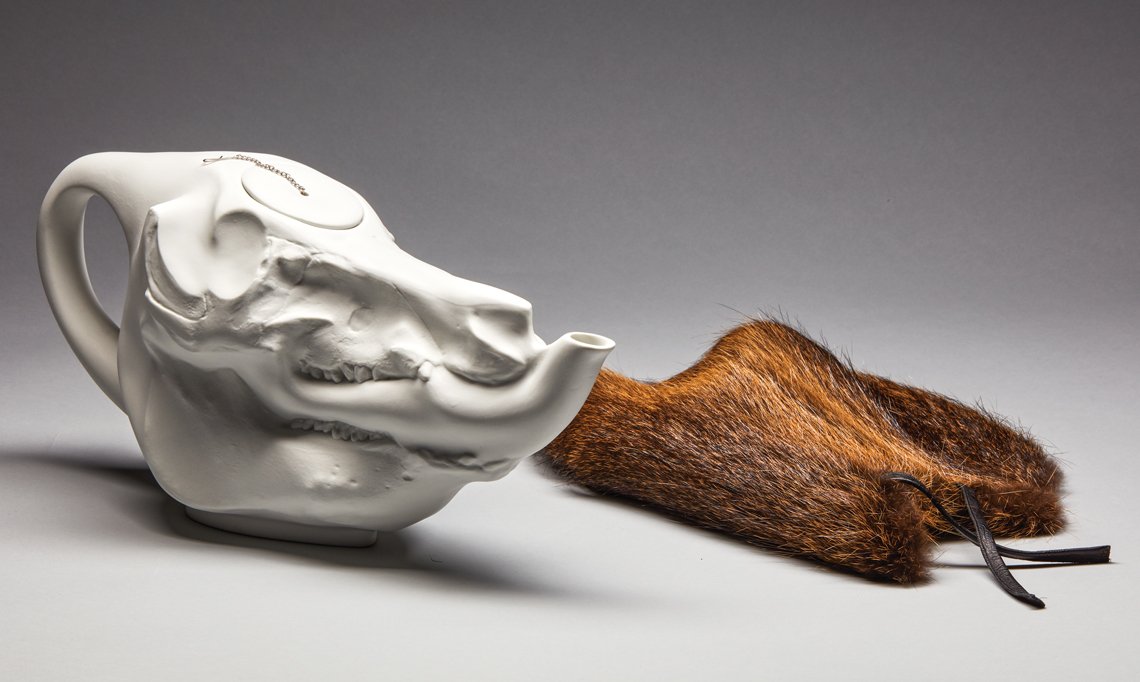 Fig. 3: Wieki Somers (Dutch, b. 1976), High Tea Pot with Cover, 2003. Porcelain, fur, steel, leather. H. 9⅞, W. 7⅞, D. 18½ in. Indianapolis Museum of Art at Newfields, Jane Weldon Myers Acquisition Fund (2009.462A-C), © Wieki Somers.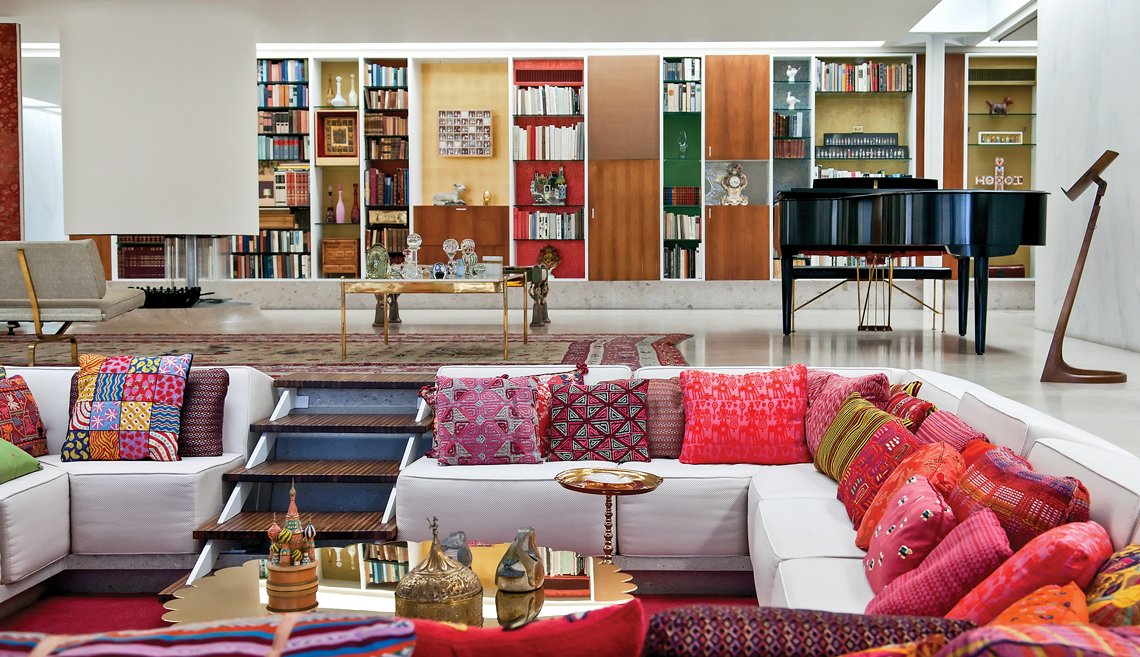 Fig. 4: Miller House and Garden, Columbus, Indiana. Courtesy of Newfields.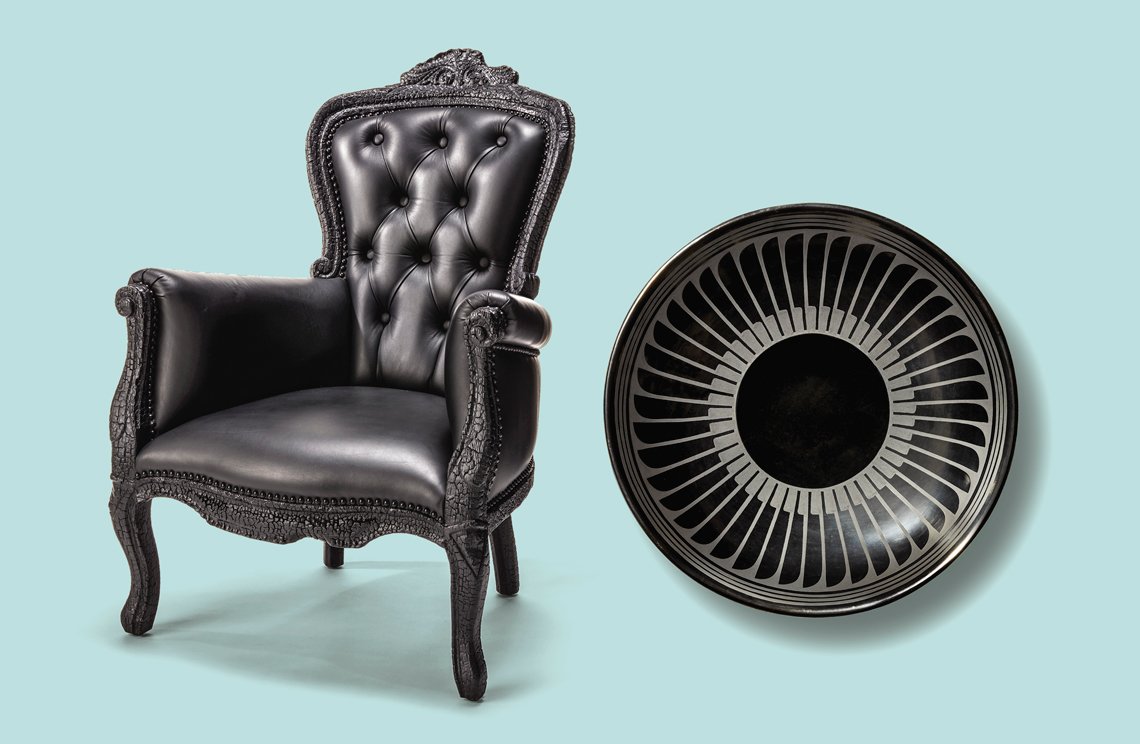 Figs 5-6: Maarten Baas (German, b. 1978), Smoke Lounge Chair, 2002, wood, leather, and epoxy resin, 41⅜ × 28 × 28 in. Indianapolis Museum of Art at Newfields; Gift of IMA Design Center (2010.66) © Moooi | © Maarten Baas. Maria Martinez (San Ildefonso Pueblo, 1887–1980), Plate, 1950–1970, earthenware, 2⅜ × 11⅜ × 11⅜ in. Indianapolis Museum of Art at Newfields; Bequest of Clarence O. Hamilton (82.88) © Maria Martinez.
Maarten Baas and Maria Martinez are from different generations and worked in different mediums on separate continents, yet they are united by their use of smoke to achieve a desired appearance in their work.
In the gallery itself, we've rotated in more than 150 new objects, many of which are recent acquisitions that have never been displayed here before. We've removed a number of the standing object cases to allow for improved sightlines and more breathing room, and we've cut pathways between some of the platforms and the walls to create better flow. Instead of being organized by art movements, the gallery is now laid out thematically. This decision reflects a broader trend in museums and academia to step away from pigeonholing art into "isms" and instead find new approaches for contextualizing art and artifacts. The gallery's thematic sections relate largely to the design process—inspiration, production, technique, materials, form, or function. While the themes are shaped by our post-1980 design collection, I felt they would be more vividly illustrated by incorporating older objects as well, so the gallery name has changed from "contemporary design" to simply "design."
One of the themes is materials, and how designers use them in new and innovative ways for their products. One of my favorite works in our collection is Dutch designer Wieki Somers's High Tea Pot with Cover (2003) (Fig. 3). While its form may seem grotesque—it was modeled from the skull of a wild boar—the materials used to create it add another layer of intrigue. Somers was commissioned to design the piece for an exhibition about abundance in contemporary dining culture. She chose to make the teapot from bone china—a type of porcelain containing bone ash that was first used in eighteenth-century fine dining—to call out its historic ties to opulence and make a wry reference to the teapot's skeletal form. The accompanying cozy appears to be made of mink fur, another material associated with luxury and expense, but is actually created from the pelt of a muskrat, an animal considered an invasive pest in Somers's native Netherlands. Opposite is a touch wall, where guests can touch some of the materials represented in the gallery.


Left: Jeanne Selmersheim-Desgrange (French, 1877–1958), Garden at La Hune, Saint-Tropez, 1909, oil on canvas, 25½ x 315⁄16 in. Indianapolis Museum of Art at Newfields, The Holliday Collection, 79.290 © Jeanne Selmersheim-Desgrange.
Right: Alessandro Mendini, designer (Italian, b. 1931), Atelier Mendini, manufacturer, Poltrona di Proust Lounge Chair, 1978, painted wood and fabric, 42⅝ x 41⅜ x 30 in. Indianapolis Museum of Art at Newfields, Robertine Daniels Art Fund in Memory of Her Late Husband, Richard Monroe Fairbanks, Sr., and Her Late Son, Michael Fairbanks, 2013.15 © Alessandro Mendini.
The Indianapolis Museum of Art has one of the best collections of Pointilism and Neo-Impressionism in the country. It was only natural to pair Mendini's Poltrona di Proust—which takes its surface decoration directly from a Paul Signac painting—with a painting by Jeanne Selmersheim-Desgrange, Signac's longtime companion.
Another thematic grouping focuses on color. There are few designers who have harnessed color as ingeniously as Alexander Girard, so in this section it was natural to focus on the Miller House and Garden—the Columbus, Indiana, home he designed with Eero Saarinen and Dan Kiley between 1953 and 1957 (Fig. 4). The Miller family donated the home to the IMA in 2009, and as one of the country's greatest examples of domestic modern architecture, I wanted its presence felt more in our galleries. To achieve this, the museum has embarked on its first venture into virtual reality (VR), with an immersive, interactive tour inside the Miller House. Donning the VR headset transports visitors into the home, where they can explore Girard's brilliant use of color in the interior of this midcentury masterpiece.
Paintings from our European and contemporary art departments, as well as Native American, African, and Japanese pottery, basketry, and other functional objects, are interspersed with our design collection to amplify the gallery's themes. I've experimented with interdisciplinary displays in the past, and found that viewers love the surprising dialogues created between seemingly disparate objects (Figs. 5-6).


Other themes addressed in the gallery include nature, form archetypes, memory, technique and making, form versus function, and irony and humor, the first of our rotating "spotlight" themes. Located on the gallery's central platform, the spotlight section will change annually, allowing the space to continually refresh and provide guests with ever-evolving perspectives on design's past, present, and future.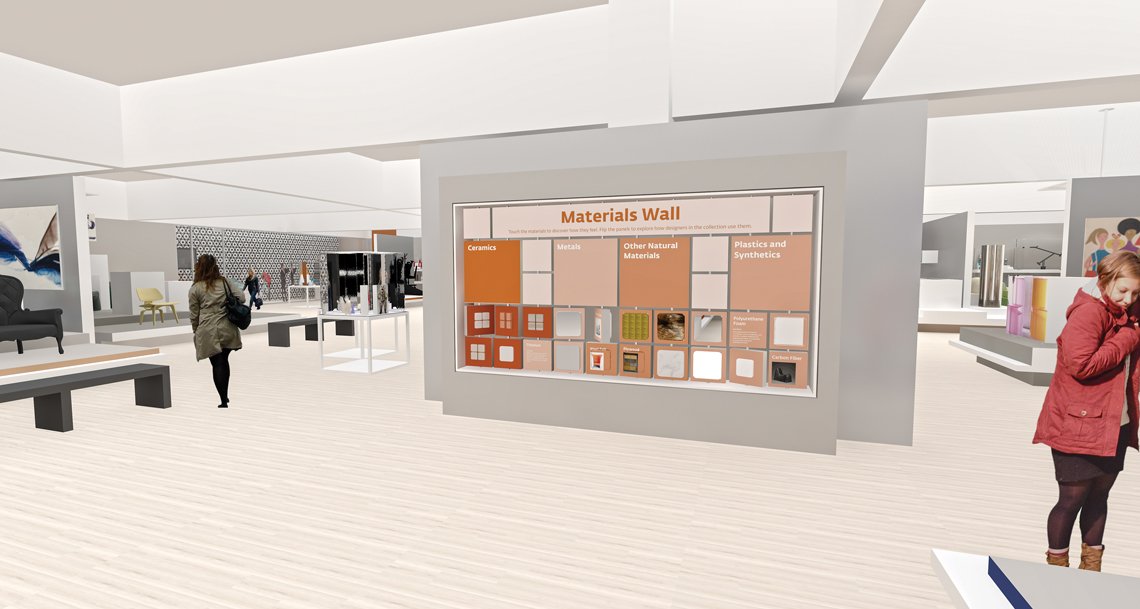 The new Design Gallery features a Materials Wall where visitors can touch materials represented in the gallery and learn more about them. Rendering by Lara Huchteman © Indianapolis Museum of Art at Newfields.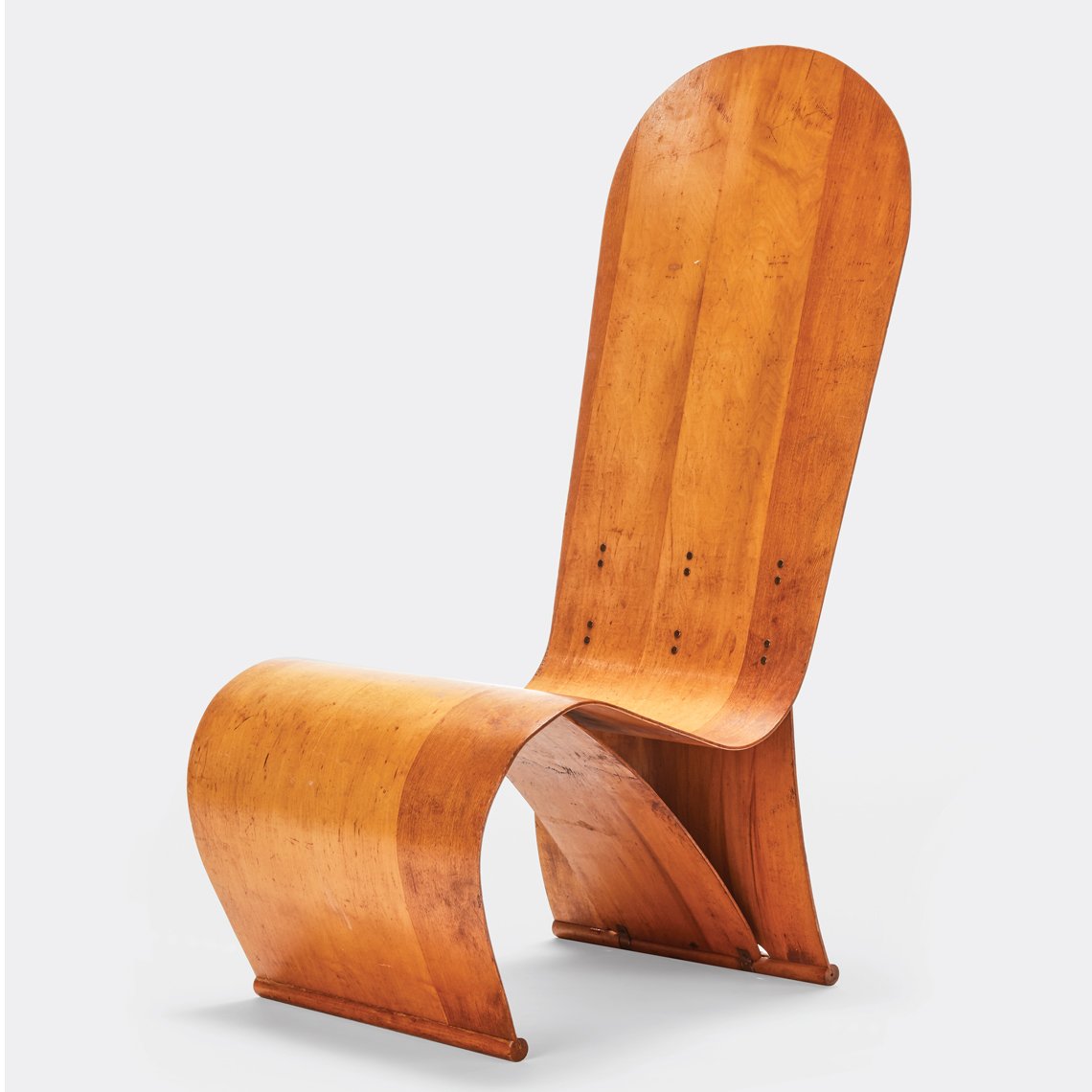 Herbert von Thaden, designer (American, 1898–1969), Thaden-Jordan Furniture Company, manufacturer (American, 1946–1952), Lounge Chair, 1947, plywood, birch, brass, 42½ x 19¾ x 23½ in. Indianapolis Museum of Art at Newfields, Design Arts Society Fund, 2017.68 © Herbert von Thaden.
Shelley Selim is the associate curator of design and decorative arts at the Indianapolis Museum of Art at Newfields and a former curatorial assistant at the Museum of Arts and Design in New York.
This article was originally published in the Autumn 2018 issue of Antiques & Fine Art magazine, a fully digitized edition of which is available at www.afamag.com. AFA is affiliated with Incollect.