Interior Designer Robert Passal's Glamorous Manhattan Apartment
Top Interior Design Project of the Week
For most interior designers, there are easy clients, difficult clients, and then there is the hardest client of all: themselves. "When you work with clients, you have lots of parameters," says Robert Passal, a New York designer known for his traditional-meets-glam style and roster of high-profile clients including former Yankees' All-Star Alex Rodriguez and trendsetting hair stylist Guido Palau. "When you do your own work, the options are unlimited. It can be much more difficult to design for yourself." But one look at Passal's own apartment and it's clear that he was more than up for the challenge.
| | |
| --- | --- |
| | |
| | |
The home, located in a 1927 building in Manhattan's Murray Hill neighborhood, was far from move-in ready, but Passal saw plenty of potential. "It was dilapidated," he says. "But it has incredible pre-war bones and the public and private spaces are truly divided. That's what attracted me to it." The designer brought the interiors back to their former glory with a gut renovation, from replacing architectural details to completely overhauling the kitchen and bathroom. "I wanted it to feel authentic to the period of the building, but in an updated way," he says.
When it came to creating the color palette, Passal's extensive art collection was a major consideration. "I rotate art quite a bit, so I wanted to keep the backgrounds pretty neutral." A soft cream sets the stage for a dazzling mix of photography, paintings, and sculpture in the living room, while a deep gray creates an exquisite setting for a collection of nudes in the dining room/study.
Passal chose an eclectic assortment of furnishings, using a mix of styles ranging from classical to '70s fashion. Flea market finds mingle with pieces by Maison Jansen, James Mont, and T.H. Robsjohn-Gibbings, as well as Passal's custom furnishings. The designer's favorite room is the cozy multi-purpose dining room, study, and guest room. "Living in Manhattan, it's essential to have these multi-functional spaces," he says. The custom banquette helps seat a crowd during dinner parties and even folds out into a queen-sized bed, while the dining table does double duty as a desk. But functionality aside, it's the room's sophisticated yet cozy atmosphere that makes it such a stand-out space. It's Passal's aesthetic mission to create spaces that express personal style — whether for private clients or for his own home.

The entry's egg-yolk yellow Venetian plaster creates a bold backdrop for a wall sculpture by Brett Murray and a photomosaic of Jacqueline Kennedy Onassis by Robert Silvers. Passal used a pair of 18th-century blackamoor figures found at the Brimfield Antique Show to create the custom console table, which displays a work by Hunt Slonem.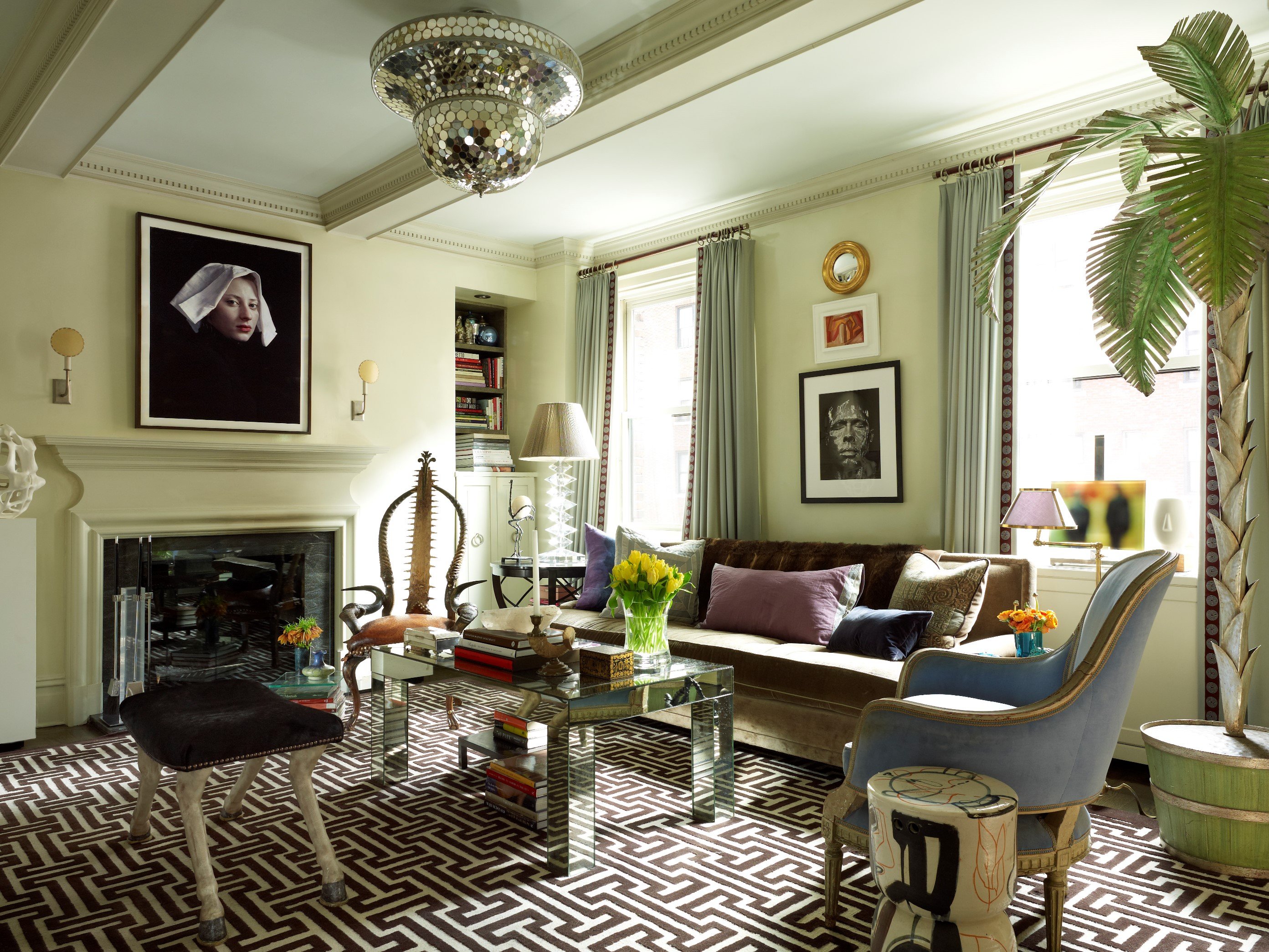 The living room mixes luxe textures, sparkling surfaces, and bold patterns. The mirrored light fixture is originally from Manhattan's Rainbow Room and a Steven Klein photograph of Brad Pitt hangs above the sofa. A striking chair embellished with Victorian horns sits next to a 1950s side table topped with a '70s lucite lamp. Dutch photographer Hendrick Kerstens's Napkin, 2009 hangs above the fireplace. One of a series of portraits of his daughter Paula, the image is inspired by the work of Dutch master painters.



Left: The living room's French bergère and metal palm tree are from the estate of famed interior designer David Barrett. Passal purchased the side table's vintage horn base at a flea market and added the wood top. "I've got a thing for horns," he admits. Passal designed the sofa and mirrored cocktail table. Right: An array of art is displayed on the other side of the living room, including a painting by Hunt Slonem, a 1960s abstract tablescape, and a crown sculpture by ceramist Reinaldo Sanguino. Passal found the 1950s French cabinet in Atlanta. "It definitely has a Deco feel to it without being blatantly Deco," he says.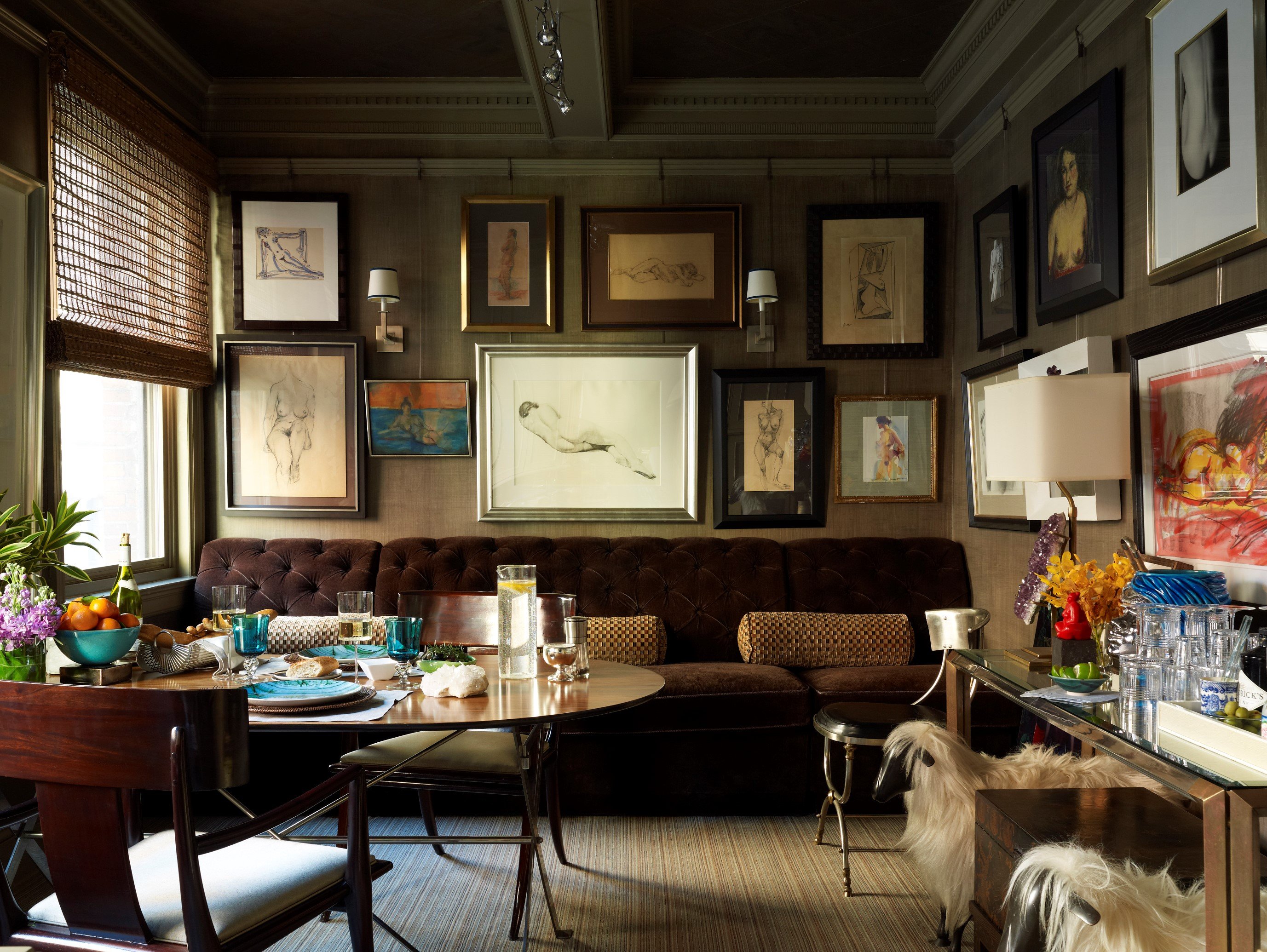 Passal created an eye-catching salon-style display to showcase his collection of nudes in the study/dining room. "I think salon-style hangings really add interest to a space," he says. "It becomes very personal." A pair of T.H. Robsjohn-Gibbings Klismos chairs accompany the dining table, which also serves as a partner's desk. Passal feels that the dark color scheme creates a warm and embracing space.



Left: A pair of Maison Jansen chairs flank an acrylic, bronze, and glass console table that is set up as a bar in the dining room/study. Two François-Xavier Lalanne sheep and a chinoiserie chest reside beneath. The room's dark gray walls were hand-painted with a cross-hatch finish to resemble linen. Right: Passal wanted a kitchen that was separate from the rest of the apartment. "I'm not a big fan of the open kitchen, or as I call it, the open mess," he says. He installed Shaker-style cabinets and a reverse-painted backsplash in the renovated space. A painting purchased at a flea market is displayed above the stove.



Left: The walls of the master bedroom are upholstered in a cotton velvet to add warmth and reduce the noise from nearby Lexington Avenue. The custom snakeskin-wrapped nightstand is topped with a vintage lamp by James Mont, and a brass garden stool serves as a side table. Right: Passal's collection of cufflinks is kept in a silver dish on the nightstand.
CLICK HERE TO VIEW THIS ENTIRE PROJECT
CLICK TO VIEW MORE PROJECTS BY ROBERT PASSAL INTERIOR & ARCHITECTURAL DESIGN