Interlude Home Opens LA Showroom
Design News
| | |
| --- | --- |
| | |
| | |
L ocated on Beverly Boulevard in LA's design district, Interlude Home's new California showroom quietly opened to the public in mid-September. For Interlude Home, a storefront offers a presence on the "best coast." It also allows designers exploring other nearby furniture shops to come in and experience firsthand how Interlude Home products can complement their projects.
The new shop launches at a time when a physical storefront is expected to enhance brand experience and awareness rather than in-person sales. In an article for Forbes, Karl Haller of the Consumer Center of Competency argues that physical stores are becoming a site to generate excitement around a brand rather than a key point of sale. Referring to home retail giants IKEA and Restoration Hardware, Haller says, "Their stores, whether it's the meatballs at Ikea or $17 cocktails at RH, drive interest, buzz, and excitement that pays dividends to the store."
At Interlude Home Los Angeles, the focus on fashion and texture creates an elevated shopping experience that enhances the value of the brand. Beautiful vignettes anchored in neutral colors and compelling textures that help designers imagine their furniture in a client's home, no matter the explicit style of the client, and shopping in-person, designers can immerse themselves in the emotional environment of an Interlude Home space. Like fashion brands the Row and Bottega Veneta, who serve as inspiration, the leadership at Interlude Home hopes to create classic, contemporary pieces that feel glamorous without seeming glamorized. "Fashion really is our language," says Wendy King Philips, creative director of Interlude Home and a former fashion executive at W and Women's Wear Daily. "We wanted to project a showroom that felt fashion-forward and yet approachable."
Interlude Home's new Los Angeles showroom. Through the showrooms, the brand hopes to cater to the design community while also offering retail to the public.
Within the vignettes, customizable luxury pieces that can be ordered on site are styled alongside case goods that can be bought off the floor. Because most of their furniture is built in Trumbull, Connecticut, rather than overseas, Interlude Home hasn't faced significant delays in order fulfillment from foreign suppliers, a common problem that has impacted luxury brands. "We maintained inventory levels throughout the pandemic," says Sean McFadden, VP Sales at Interlude Home. "There were some container delays, but our inventory level has been consistently high." Even before the pandemic, Interlude Home had been expanding its Quick Ship programs and working to relay items to clients as fast as possible, allowing them to benefit from an uptick in interest from consumers during periods of quarantine. "The people who didn't place the same amount of importance on their home are doing it now," Philips says, explaining the expansion of online sales across the home retail industry.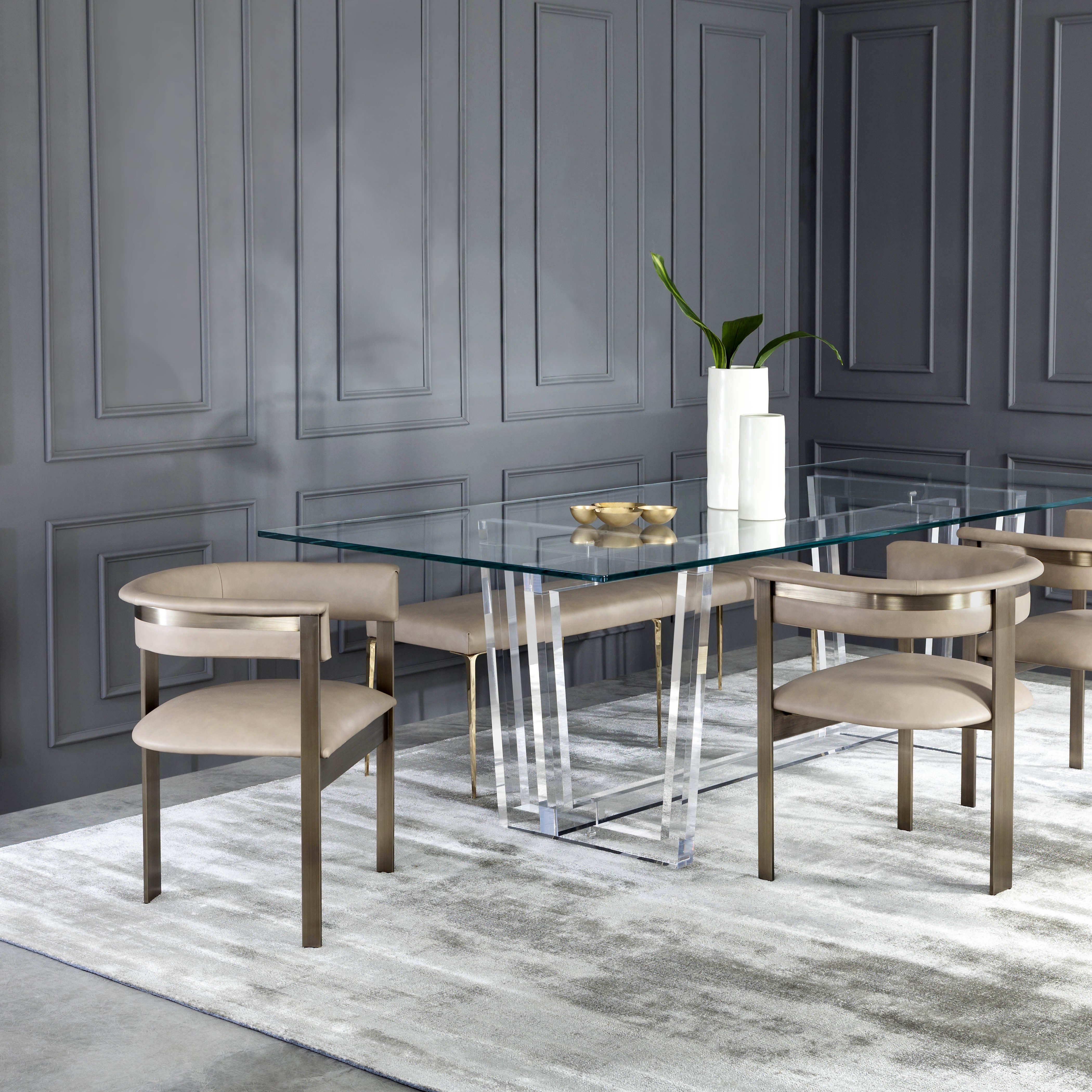 The Darcy chairs, available on Incollect.
Philips and her team have been dreaming of opening their own space in Los Angeles since 2017, when they launched a boutique showroom at H.D Buttercup in Culver City. The success of the space inspired the Interlude Home team to begin to plan a dedicated shop that would establish the brand as a permanent fixture of the West Coast market. Location, Philips believed, would determine whether or not the showroom was profitable, so when a building opened up in West Hollywood near Roche Bobois, Manotti, and Hastings, she and her husband/business partner, Carl Philips, immediately made a deposit to secure their dream. Thus far, their prioritization of location has paid off. "Almost all foot traffic has been designers," says Dennis Stovall, showroom manager in Los Angeles, who has been with the company for several years.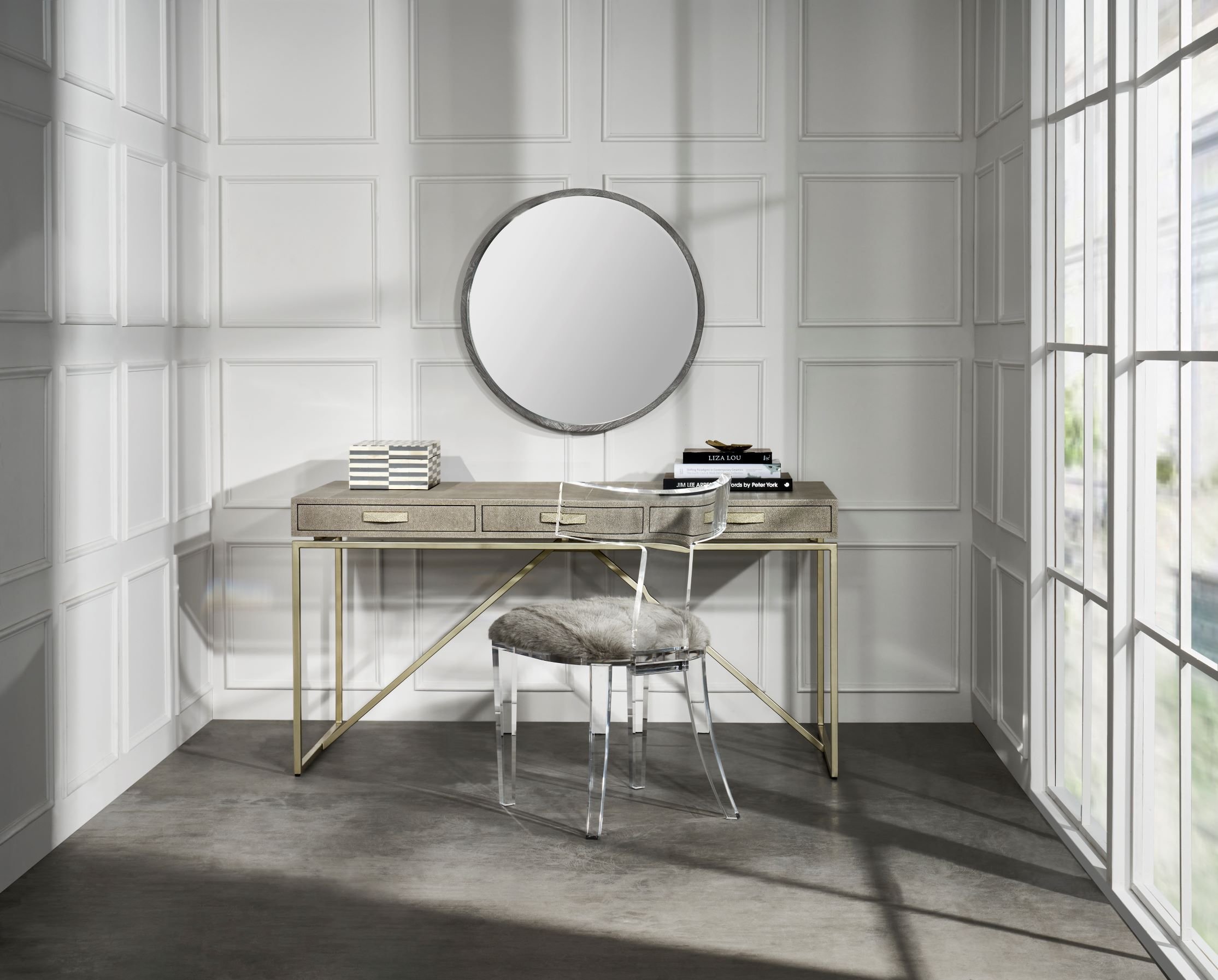 The Atherton Desk from Interlude Home. The brand's acrylic products are manufactured in Asia with a high attention to detail. If the acrylic shows even the smallest of inconsistencies, the manufacturer scraps it and starts over.
The 2,500-square foot space already showcases the pieces that have cemented Interlude Home's name in the word of high design, like their acrylic collection and sculptural sheep stools, as well as a variety of exclusive, new furniture and accessories. Many pieces from Interlude juxtapose sleek, synthetic materials with rich textures and glossy metals. For example, the new Tamara cocktail table features an acrylic and brass curved base; available in a variety of finishes, the stainless steel Darcy Chair is covered in sumptuous gray hide. In the Honor Bench, the walnut stained wood and distressed woven leather of the base and legs contrast with a plush cushion. Ninety percent of Interlude's merchandise is ready to ship from the warehouse in Trumbull.


Once a furniture piece is selected, numerous fabric customization options allow interior designers and clients to choose the exact upholstery to suit their space. Several frames are available through Quick Ship, including 12 fabrics that ship in two to three weeks. Seven of those fabrics were newly released for fall 2020. Recently, the company introduced a new luxury line of 48 highly textured upholstery to their collection. Texture is essential to Philips. "While something might appear to be taupe," she says, "there's always going to be a certain weave in the fabric that makes you want to reach out and touch it."
An image from Interlude Home's marketing materials for the LA showroom.
To create the brand's lush materiality, Philips falls back on her former career, translating timeless yet contemporary clothing from the runway into fashion for the home. An intriguing interpretation of color from Bottega Veneta may influence a new fabric swatch. When she notices a style that inspires her, Philips thinks, "how can I translate that into specific pieces?" She continues, "Maybe it's a color, maybe a woven, textured light gray that has bits of taupe in it." Fashion has found a home in her marketing materials, too, from Philip's lifestyle and inspiration blog called "Wendy's Style File" to brochures featuring female models in extraordinary outfits, who evoke recognition in a clientele that follows trends in both the home market and womenswear. By linking fashion and home goods, Interlude communicates that they know what clients care about, and that their products fit well in a cohesive, stylish life.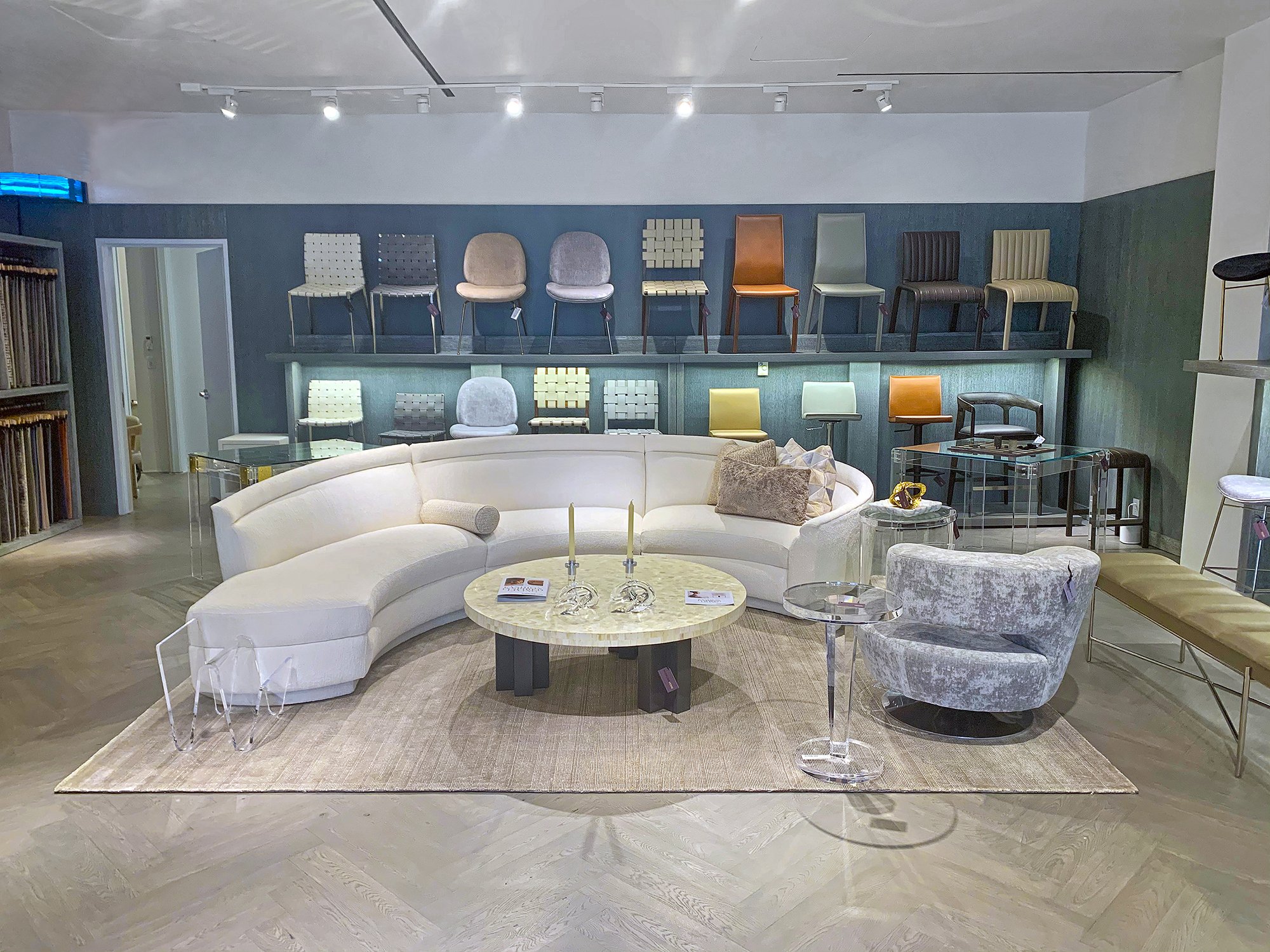 Chairs on offer at the new showroom. The space is open Monday through Saturday from 10am to 6pm and Sunday by appointment.
That cohesion shines through in their showroom — notably featuring a quote from fashion icon Diana Vreeland — as well as their Instagram, which boasts over 14,000 followers. Philips takes the same fresh approach to the Instagram as she does with her furniture, drawing from a variety of genres including travel, fashion, and interior design to compile a highly curated feed offering heterogenous ideas for how to style a home. "With both [the New York and LA] showrooms, we provide the shapes and organic designs," says Philips. "They can choose how they want to live."
SHOP INTERLUDE HOME ON INCOLLECT
FOLLOW INTERLUDE HOME ON INSTAGRAM