Inventing Vermont: Art & the New Deal in the Green Mountain State
During the Great Depression, frugal Vermonters—already used to pinching pennies—were said to have asked, "What Depression?" Vermont, often called the Green Mountain State, had been in a slow economic decline since the mid-nineteenth century, as people left for the fertile farmlands of the West or life in the city. But Vermont's already shaky economy was cut in half during the first three years of the Depression, which commenced with the Stock Market Crash of 1929. It was a period of desperation in Vermont—industrial production fell and farm prices plummeted—and yet, curiously, also one of enormous creativity. Much of that creativity was due to Federal New Deal programs, which provided work and financial assistance to laborers and creative professionals between 1933 and 1943. The art created is often called "WPA art," referring to the Works Progress Administration, the agency that employed artists to carry out art-related works programs. Over 40,000 artists and other talented workers were employed for art, music, theatre, and literature projects, and over 100,000 paintings, 200,000 prints (from 11,000 original designs), and 18,000 sculptures were funded and created between 1935 and 1943, with the goal of creating art for and accessible to the American people. The New Deal also funded the creation of a vast network of state parks and the most comprehensive archives of documentary photographs and oral histories in our nation's history. These federal programs helped create the popular image of Vermont as a tourist destination of idyllic towns, untouched farmland, and skiing resorts.
| | | |
| --- | --- | --- |
| | | |
left
Francis Colburn (1909–1984), Charley Smith and His Barn, ca. 1939. Oil on canvas, 34 x 29 inches. Collection of Bennington Museum.
right
Ronald Slayton (1910–1992), Unemployed, ca. 1936. Oil on homasote, 46½ x 30 inches. Collection of Robert Hull Fleming Museum; Gift of Gary Michael.
Francis Colburn and Ronald Slayton were two of the most significant native Vermont artists to participate in the Federal Art Project (FAP), directed in the Green Mountain State by Pierre Zwick, with the goal of "placing New England artists at work on creative projects closely allied to community interests." 1 Artists participating in the Easel Paintings Division of the FAP were paid small stipends to produce a certain number of works in an allotted time. Slayton and Colburn met through their participation in the FAP and became close friends. Both produced bodies of work notable for their powerful sense of place and willingness to address social issues. Much of their work featured Regionalist subject matter: typical rural people and landscapes. A desire for better working and living conditions for their fellow Vermonters is an overriding theme of their work. Both artists depicted hard-working Vermont farmers, laborers, and their families, with dignity and respect.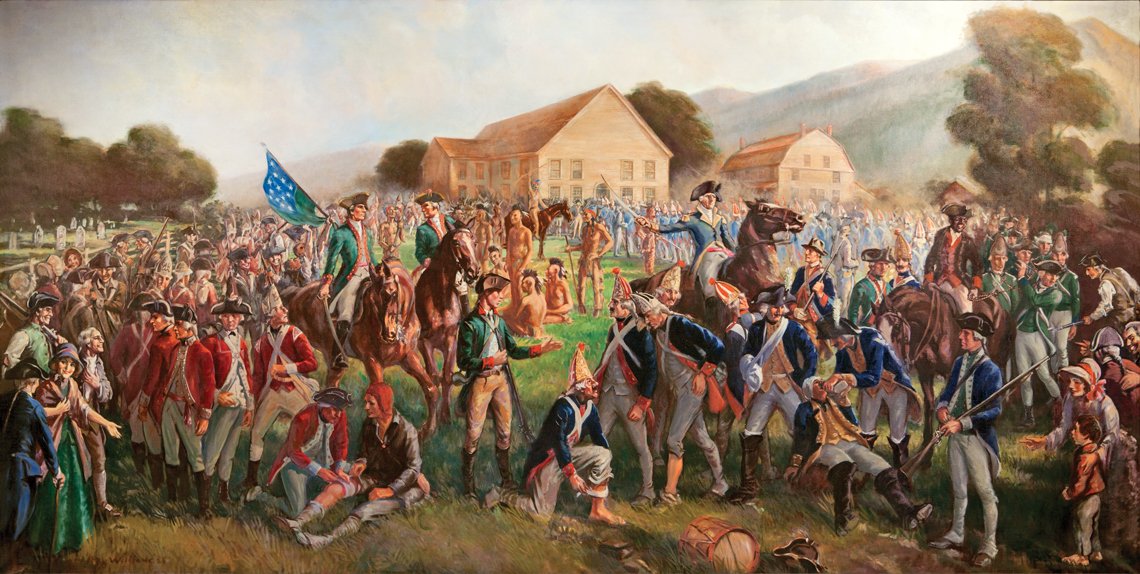 Leroy Williams (1878–1965), Prisoners Taken at Bennington Battle, August 16, 1777, 1938. Oil on canvas, 72 x 144 inches. Bennington Museum Collection; Courtesy of the Works Progress Administration (WPA), Vermont Federal Art Project (FAP).
Bennington Museum and Vermont's Federal Art Project collaborated with artists to create large murals and smaller easel paintings documenting local history. The enormous mural depicting the aftermath of the Battle of Bennington in the Revolutionary War was one result of this collaboration. The subjects of the paintings were researched in great depth by both the artists and museum staff to ensure historical accuracy; this work was created in parallel with a Historical Records Survey project to create a comprehensive archive documenting every participant in the Battle of Bennington.
Despite efforts to ensure their accuracy, these paintings created a picture of Vermont's past skewed by popular prejudices and the state's conservative leanings. In a letter to artist Leroy Williams, Bennington Museum director John Spargo wrote, "We want something that is much more in the tradition of [John] Trumbull's work than in the tradition of the Mexican (whose name escapes me) who did the Rockefeller Center things." 2 The "Mexican" whose name escaped Spargo was Diego Rivera, whose surreptitious inclusion of Lenin's portrait in the Rockefeller Center mural created a national controversy in 1933. On the other hand, the eighteenth-century American painter John Trumbull was best known for his history paintings personifying America's Yankee heritage. Spargo wanted a painting that carefully avoided any suggestion of Communist or liberal sympathies.
Wallace Weir Fahnestock (1877–1962), Vermont Idyll, ca. 1938. Oil on canvas, 20 x 24 inches. Collection of Bennington Museum; Courtesy of the Works Progress Administration (WPA), Vermont Federal Art Project (FAP).
Close your eyes and imagine Vermont … There's a good chance the picture in your mind's eye looks a lot like the agrarian landscape in Vermont Idyll. The painting is typical of the artworks created in Vermont as part of the Federal Art Project (FAP), which promoted local subject matter ranging from distinctive landscapes to regionally specific industries or agricultural practices. The creative output of the New Deal in Vermont helped to solidify the traditional marketing image of Vermont as picturesque "old time" New England. The subjects most often depicted by New Deal artists working in Vermont range from local history to haying, dairy farming, maple sugaring, quarrying, and the budding recreation industry. Working for the federal government and creating art "for the people," FAP artists helped invent and then spread an idealized image of Vermont, which has been successfully utilized by the state's tourist industry up to the present day.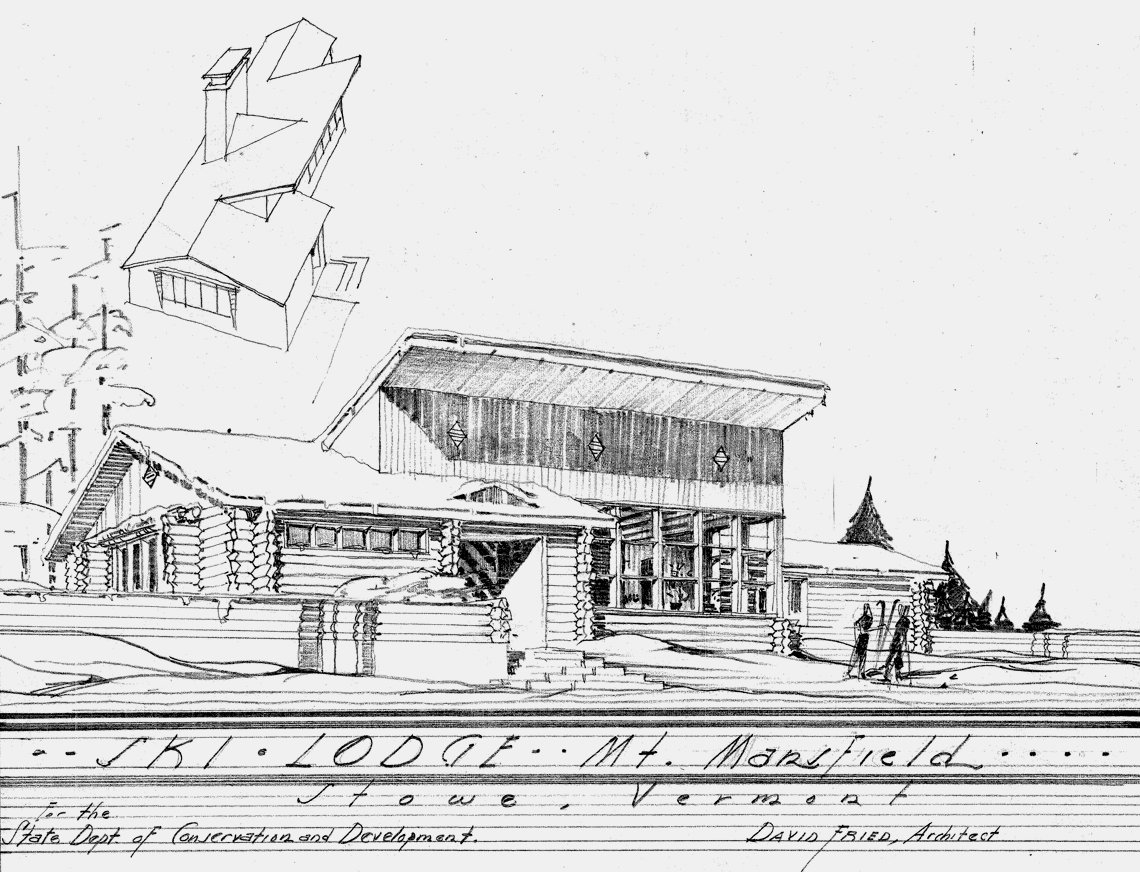 David Fried (1911–1990), Ski Lodge, Mt. Mansfield, Stowe, Vermont, ca. 1938. Graphite on onion skin paper, 10⅝ x 14¼ inches (sight). Collection of Mark Fried.
The Civilian Conservation Corps played a significant role in the early development of Vermont's ski industry. Perry Merrill, State CCC Director and Commissioner of the Vermont Forestry Service, saw the potential for winter recreation in the state forests if a network of ski trails could be built. The present resort in Stowe was one of his successes. In a few years, CCC workers constructed ski trails, a base lodge, ski dorm, access road, parking lot, and warming huts on Mt. Mansfield—everything but the lift, which was built later by the Mt. Mansfield Company. The CCC was also involved in creating the ski facilities now operating on Bromley, Okemo, and Burke Mountains, as well as defunct areas in St. Albans and Shrewsbury.
Most of the buildings constructed by the CCC for Vermont's state park system were simple rustic structures made of accessible local materials, including rough-hewn logs and stone. David Fried, who graduated from Cornell University's School of Architecture in 1933, spent his first few years out of school designing rustic buildings in Vermont and New Hampshire for the National Park Service. He was one of the few known architects of these buildings who injected a modernist sensibility into his work. The lodge at Mount Mansfield is one of his distinctive buildings that blend rustic and modern design.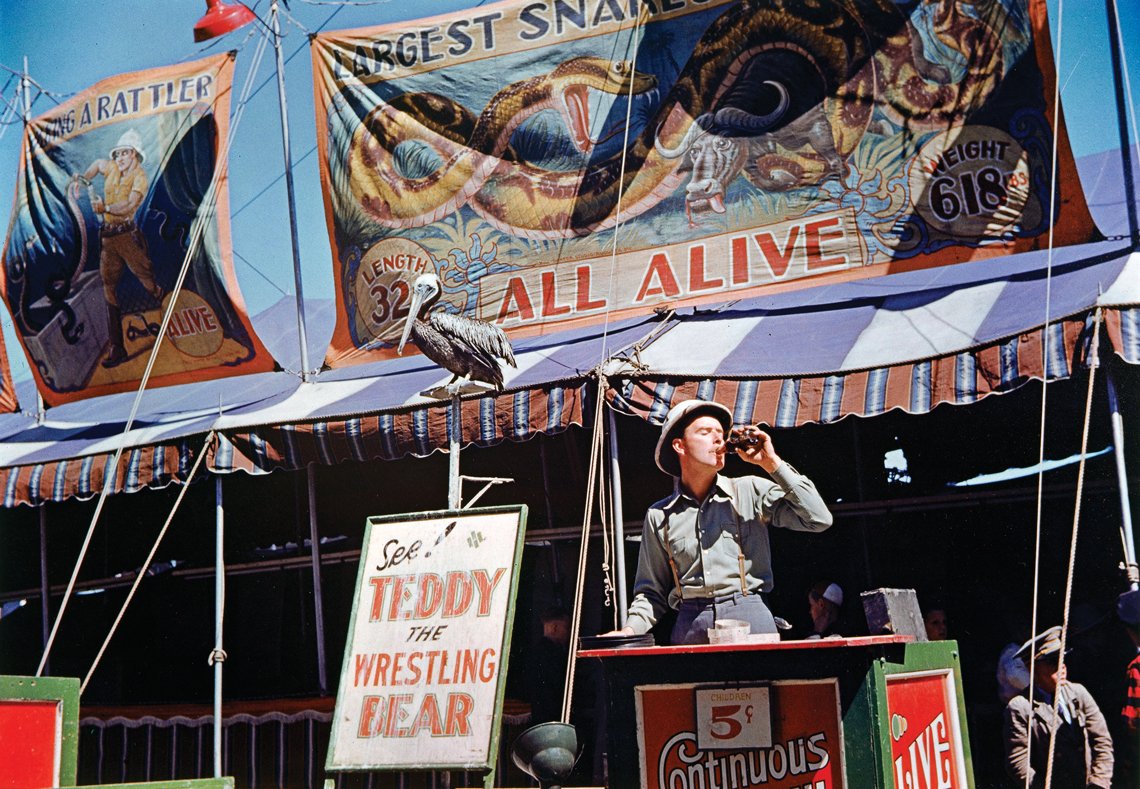 Jack Delano (1914–1997), Barker at the Fairgrounds at Rutland Fair, Vermont, September 1941. Dye transfer print, 7 x 101⁄16 inches. Collection of Williams College Museum of Art; Gift of Richard Jeffrey, Class of 1952.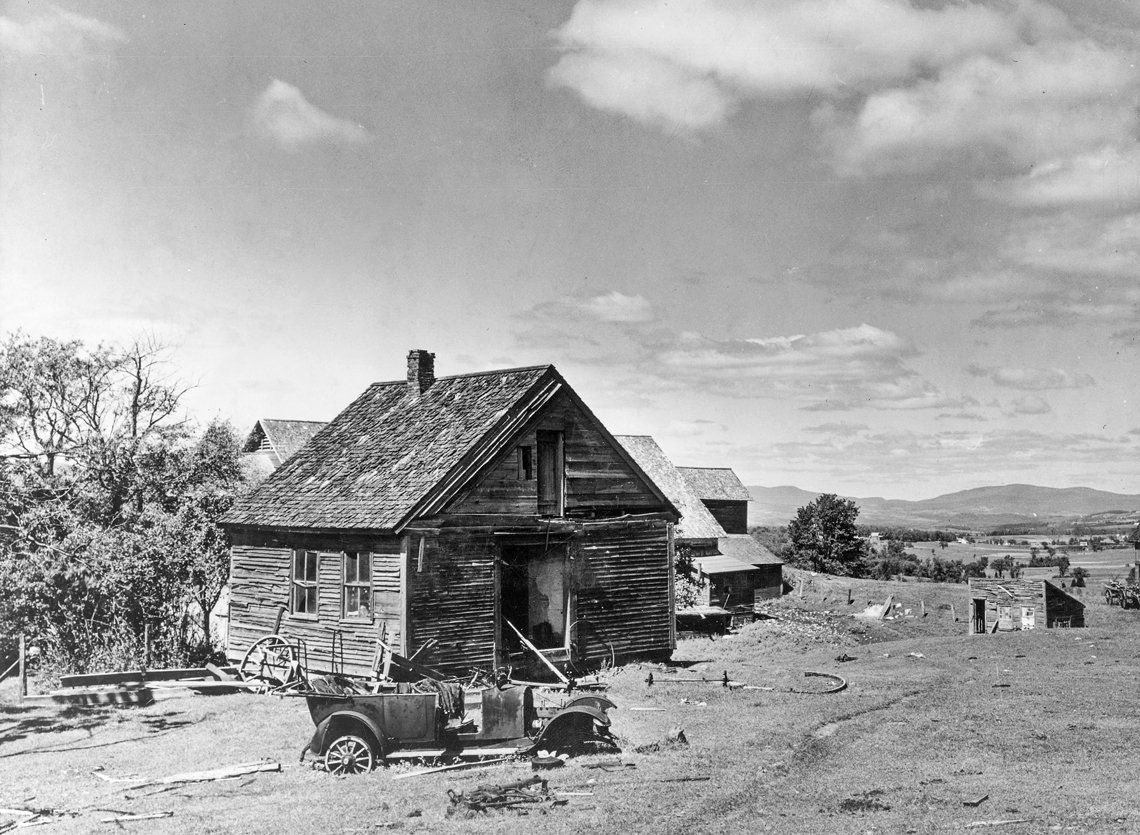 Carl Mydans (1907–2004), Old Abandoned Farmhouse near Newport, Vermont, August 1936. Modern digital print from scan of original nitrate negative, 6⅞ x 9¼ inches. Courtesy of the Library of Congress.
The Farm Security Administration (FSA) is best known for its Photography Division, which captured the lives of rural communities in distress during the Depression. Directed by Roy E. Stryker, it was active from 1935 to 1944, and operated under the goal of "introducing America to Americans." Its purpose was to document the plight of the rural poor and the efforts of government agencies designed to alleviate their distress. It aimed to evoke visceral sympathy for the Americans who needed help the most, and played a large part in creating the image of the Depression in the popular imagination.
FSA photographers were required to discuss their shooting script with Stryker before they hit the road. Indeed, they were constantly under instruction from Washington as to what impression they were to portray. Ironically, the photographs were used by both political parties to represent their own interests: Democrats used them to advertise the benefits of government programs, while Republicans adopted images of fortitude as evidence that government intervention was unnecessary.
Stryker had a great affection for Vermont. He had a summer cottage on Lake Eden and often lent it to FSA photographers such as Mydans and Delano during their assignments in Vermont. Furthermore, the state was a great location to document the effects of the Depression on farmers and the increase of emigration to the West Coast. The FSA photographs captured diverse sides of Vermont, from images of upright farmers and snowy landscapes to a desolate agrarian society, and rural towns with budding businesses.
Francis Colburn (1909–1984), Social Security, 1947. Oil on canvas, 34 x 28 inches.
Collection of Vermont Historical Society; Gift of Ruth P. Bogorad, Shelburne, Vt.
Poverty among the elderly grew dramatically during the Great Depression. The best estimates are that in 1934 over half of the elderly in America lacked sufficient income to be self-supporting. On August 14, 1935, the Social Security Act established a system of benefits for retired workers and victims of industrial accidents, unemployment insurance, and aid for dependent mothers and children, the blind, and the physically handicapped.


Social Security by Francis Colburn depicts an old woman surrounded by outdated Victorian furniture. The embodiment of a Vermont Social Security recipient, this image represents one of the New Deal's most powerful legacies. Vermont Senator Bernie Sanders has recently noted, "It is hard for us to imagine what life was like for seniors and the disabled before Social Security." 3


Ida May Fuller of Ludlow, Vermont, was the first beneficiary in the nation of recurring monthly Social Security payments. Fuller lived alone most of her life. She filed her retirement claim on November 4, 1939, having worked under Social Security for a little short of three years. She received the first Social Security check, check number 00-000-001, dated January 31, 1940, in the amount of $22.54. By the time she died in 1975, at age 100, she had received a total of $22,888.92 in benefits. Near the end of her life, when she was living with a niece, she told a reporter that the payments, "come pretty near paying for my expenses." 4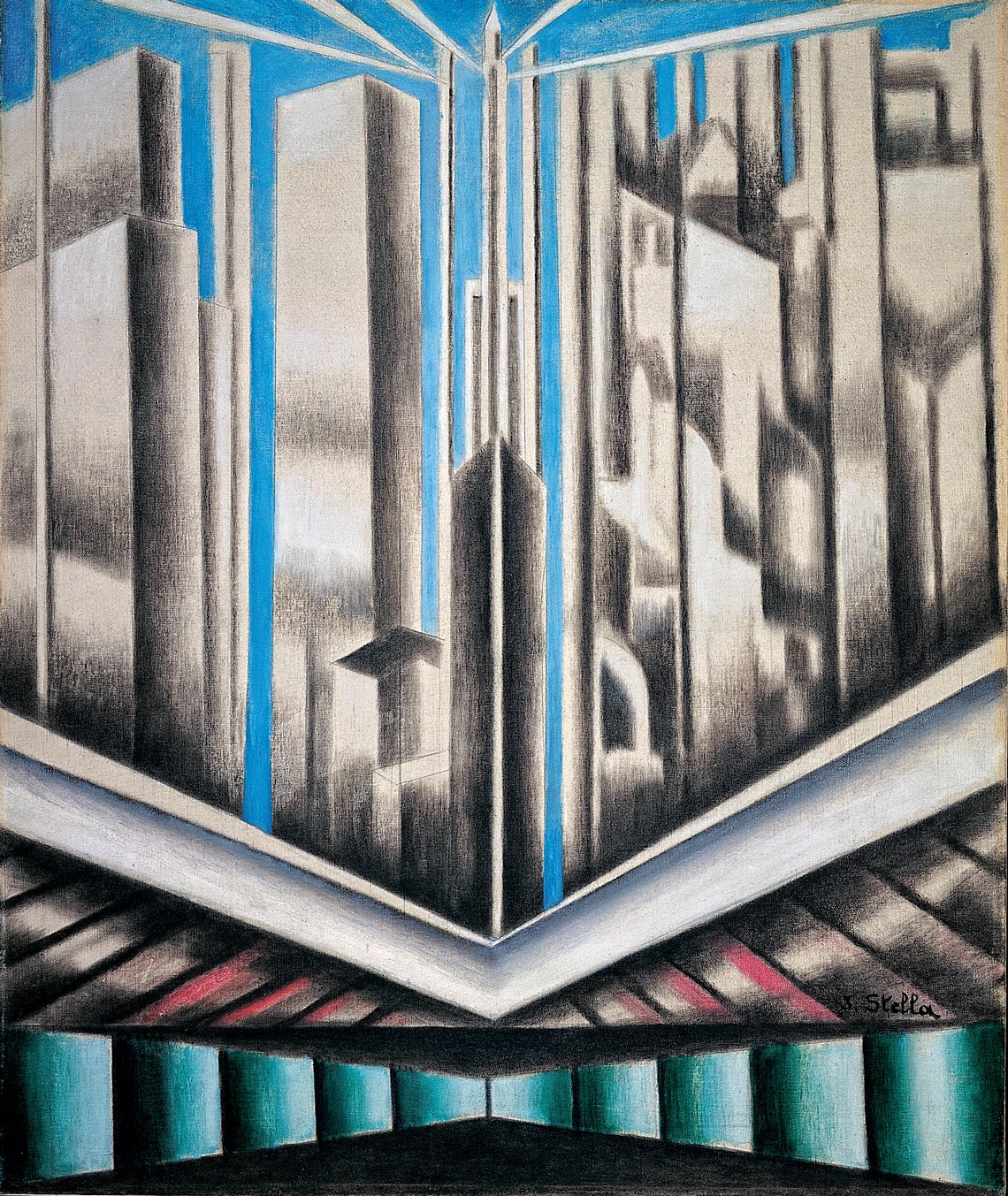 Joseph Stella (1877–1946), Skyscrapers, 1937. Oil on canvas, 36 x 30 inches. Collection of T. W. Wood Gallery, Montpelier, Vt.
With its goal through the Works Progress Administration (WPA) of creating art that was for and accessible to the American people, the federal government distributed many of these works to public collections throughout the country. The T. W. Wood Gallery in Montpelier is Vermont's official repository for federal New Deal art. The gallery received more than ninety WPA works of art on permanent loan in the late 1930s and 1940s. This collection includes an eclectic mix of works, ranging from masterpieces by Joseph Stella and Reginald Marsh, featuring classic New York City imagery, and Social Realist prints by Raphael Soyer and Will Barnet, to classic Vermont landscapes by Luigi Lucioni and Henry Schnakenberg. Unfortunately, the reasons behind why specific works were selected to come to the Wood Gallery are unknown, but the collection remains to this day one of the important cultural legacies of the New Deal in Vermont.
Crash to Creativity: The New Deal in Vermont, on view at the Bennington Museum, Bennington, Vermont (benningtonmuseum.org), through November 4, 2018, provides a window onto what it was like to live in Vermont during the Great Depression, and the role the New Deal had in shaping Vermont and helping to build the infrastructure that continues to benefit the state today.
Jamie Franklin is curator at the Bennington Museum, Bennington, VT.
This article was originally published in the Autumn 2018 issue of Antiques & Fine Art magazine, a fully digitized version of which is available at www.afamag.com. AFA is affiliated with Incollect.
1. Richard C. Morrsion, "History of the Federal Art Projects in New England," Federal Art in New England, 1933–1937 (Federal Art Project, 1937): 7.

2. John Spargo to Leroy Williams, 7 January 1938, Leroy Williams Papers (1968.237), Bennington Museum, Bennington, VT.

3. Wilson Ring, "Social Security rooted in Vermont history," Burlington Free Press, originally published 30 Jan. 2015.

4. "The First Social Security Beneficiary," Social Security History, https://www.ssa.gov/history/imf.html accessed 20 June 2018.