Joseph Pell Lombardi: Collector of Houses
"Some people collect salt and pepper shakers. Joseph Pell Lombardi collects houses."
— The New York Times, July 5, 1990
Joseph Pell Lombardi has always been obsessed by houses—old houses in particular—and cannot remember a time when he wanted to do anything other than care for them. A restoration architect, for the past fifty years Lombardi has specialized in converting commercial buildings to residential lofts, and focusing on the conservation of historic houses and the creation of contextual residential buildings; his firm has been involved with more than 1,000 structures throughout the world. His libraries are filled with books about houses and he serves on numerous historic house boards. Few things make him happier than restoring a missing feature or finding an appropriate furnishing for his five homes; auction alerts from around the world regularly inform him of possible additions.
| | |
| --- | --- |
| | |
| | Fig. 1: Liberty Tower, designed by Henry Ives Cobb and built in 1909, had the distinction of being the "World's Tallest Building on so Small a Plot" and was one of the earliest of the romantic skyscrapers that changed the skyline of Manhattan in the early 1900s. Lombardi purchased the Gothic-style tower in the 1970s and converted it to residential use, living on the twenty-ninth floor. |
Lombardi's passion for architecture is grounded in his childhood, where he compared the Romanesque, Italianate, Moorish and Renaissance Revival style houses in his Harlem neighborhood to original examples in his copy of Sir Banister Fletcher's A History of Architecture. He learned early on that the fabric of a house could be read like a detective, thus gaining an understanding of its history. As an architectural student during the heyday of modernism in the 1960s, he was considered a heretic for expressing interest in old buildings rather than creating new structures. Lombardi notes that in that era, historic preservation in America was more an act of love than a profession. When the Columbia University Graduate School of Architecture began a program in Historic Preservation, he enrolled and obtained a Master's degree under the great preservationist James Marston Fitch.

In 1969, Lombardi established an architectural firm specializing in the conservation and restoration of deteriorating Manhattan townhouses, and pioneering in the conversion of loft and office buildings to residences. In the next decade he purchased his first historic home, an 1850s parsonage in rural Vermont, which he still owns. Also during the 1970s he acquired Liberty Tower (Fig. 1), a thirty-three-story 1909 Gothic-style skyscraper located in the Financial District of Manhattan; Lombardi was the first person to convert a skyscraper into residential spaces. On the 29th floor, he transformed the former boardrooms of Sinclair Oil into an apartment for his family.

Lombardi continued to build his personal architectural collection, adding in 1978 an extraordinary residence known as the Armour-Stiner (Octagon) House in Westchester County, New York (Fig. 2); in the 1980s, he acquired Erdödy-Choron Kastély, a moated Renaissance castle in Central Europe; and in the 1990s, he returned Erdödy-Choron Kastély to the Hungarian government and acquired 9th to 19th century Château du Sailhant (Fig. 3). In the 21st century, he returned to the location of his first love affair with houses, his family's summer lodge at Valhalla Highlands, north of Manhattan. Here, he reconstructed Alfheim Lodge (Fig. 4), which had not been completed in its intended Rustic Storybook Style because of the interruption of World War II. Each of Lombardi's homes presents different purposes, functions, and contents. The homes continue to be subject to further investigation and conservation efforts, and additions continue to be made to their individual collections. Lombardi's homes are works in progress that will never be complete.
---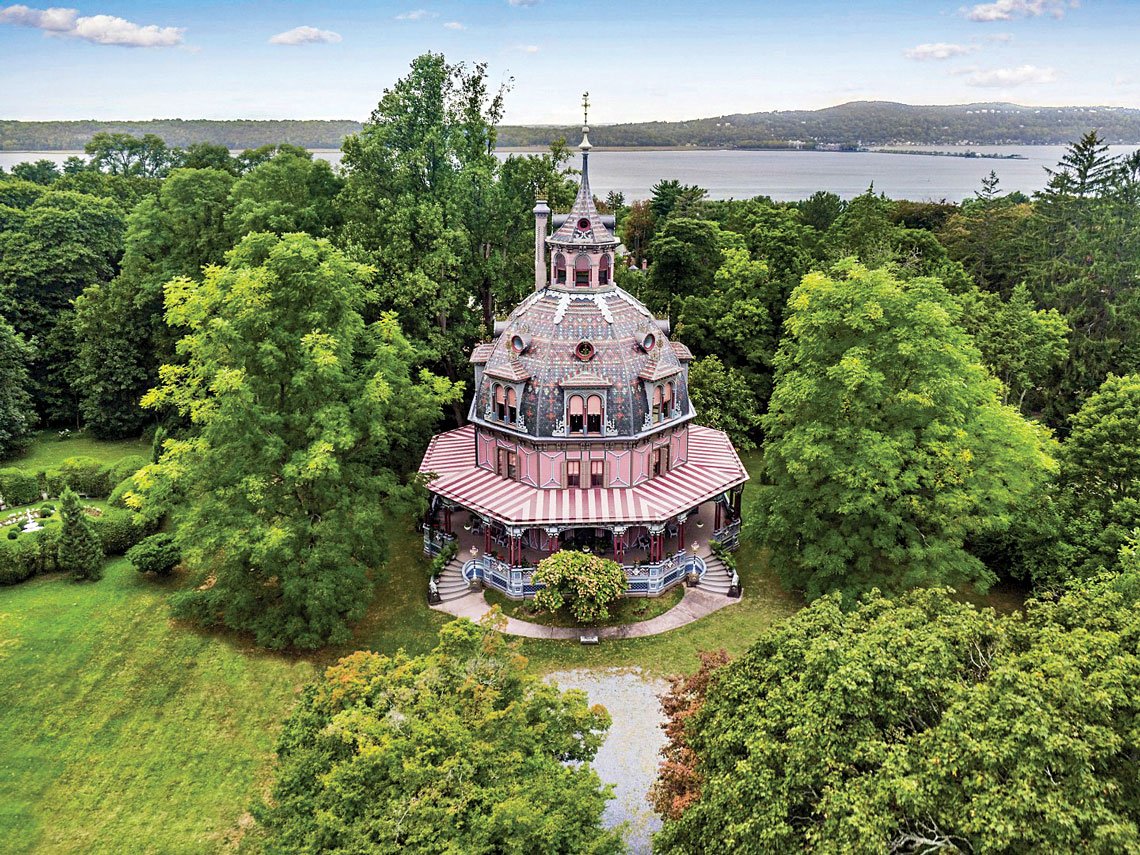 Fig. 2: The 1872 Octagon House exterior, interiors and furnishings are among the best displays of the neo-Roman style, popular for a brief period in the third quarter of nineteenth-century America, and include the only surviving Egyptian Revival domestic room. Throughout the house are fine examples of American Renaissance Revival and Egyptian Revival style furnishings including Pottier & Stymus, George Hunzinger and John Jelliff. The Octagon House is available for rent, location shoots, and can be toured by groups by appointment.
The Armour-Stiner (Octagon) House, Irvington-on-Hudson, NY

"Owner Finds Many Sides to Restoring Victorian Jewel"
— Preservation News, June 1990
The only known residence constructed in the eight-sided, domed colonnaded shape of a classical Roman Temple, the Armour-Stiner (Octagon) House is one of the most visually unique homes in the world. Built as a lyrical summer retreat in 1872 by Hungarian-born Joseph Stiner, a prominent New York City tea merchant, and his West Indian wife Hannah, the design was inspired by The Octagon House, a Home for All (1853), whose author advocated that eight-sided houses receive twice as much sunlight as four-sided homes, have views into the grounds from eight directions, and contain rooms with greater accessibility to each other.

The National Trust for Historic Preservation acquired the Octagon House in 1978 but, preferring to have an experienced professional owner tackle a serious structural issue, they sold it to Lombardi; it was the first Trust house resold to a private individual. Lombardi focused on the extensive structural problems associated with the dome, conserved the house, the grounds, and the outbuildings, and furnished it with original and contemporaneous furnishings.
---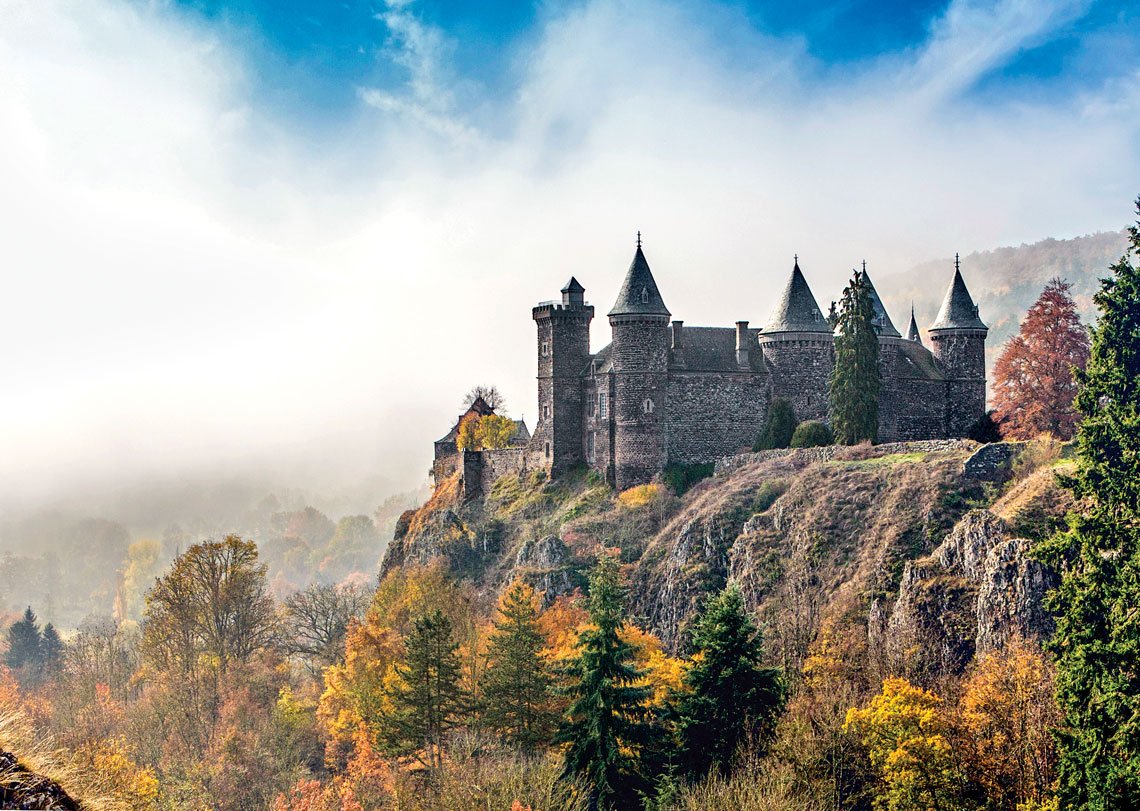 Fig. 3: The Château is open as a museum seven months of the year and is available for events. The 18th & 19th century farmhouses in Le Sailhant, the small village at the base of the Château, can be rented with individual tours of the Château, along with swimming in the Cascade Lake, fishing in nearby streams, hiking on the renowned tall volcanic mountains, nearby skiing, touring of 12th century Romanesque chapels and surrounding châteaux, and wild boar hunting in the forest.
Château du Sailhant, Le Sailhant, France

"It is to a New York architect that Château du Sailhant owes its survival and rebirth."
— L'Union du Cantal, June 8, 2016
Château du Sailhant is a thousand year old château-fort located in the wild, isolated, mountainous Auvergne region of central France. Surrounded on three sides by hundred-foot perpendicular cliffs, the site overlooks a sixty-foot waterfall that drops into a volcanic lake below; the property is accessible only from one moated side.

The château evolved under the ownership of prominent French families. During the Hundred Years' War, it was in a continuous tug-of-war between the French and the English resulting in numerous sieges and increased fortifications. During the Renaissance, the château was enhanced with classical details while made even more defensible. It then had a history as a bishop's residence, a farmhouse, and most recently as a summer residence for a Parisian family who fortunately left the interiors, which had evolved over the centuries, essentially intact. The furnishings consists of Romanesque, Gothic and Renaissance pieces from the 12th to the 16th centuries in the primary rooms with a neo-Gothic library and 19th century regional pieces and objects in the secondary rooms. The paintings span the late 19th century to early 20th century and include landscapes and genre scenes showing specific locations in the Auvergne. The collections continue to be added to through auctions and local dealers.
---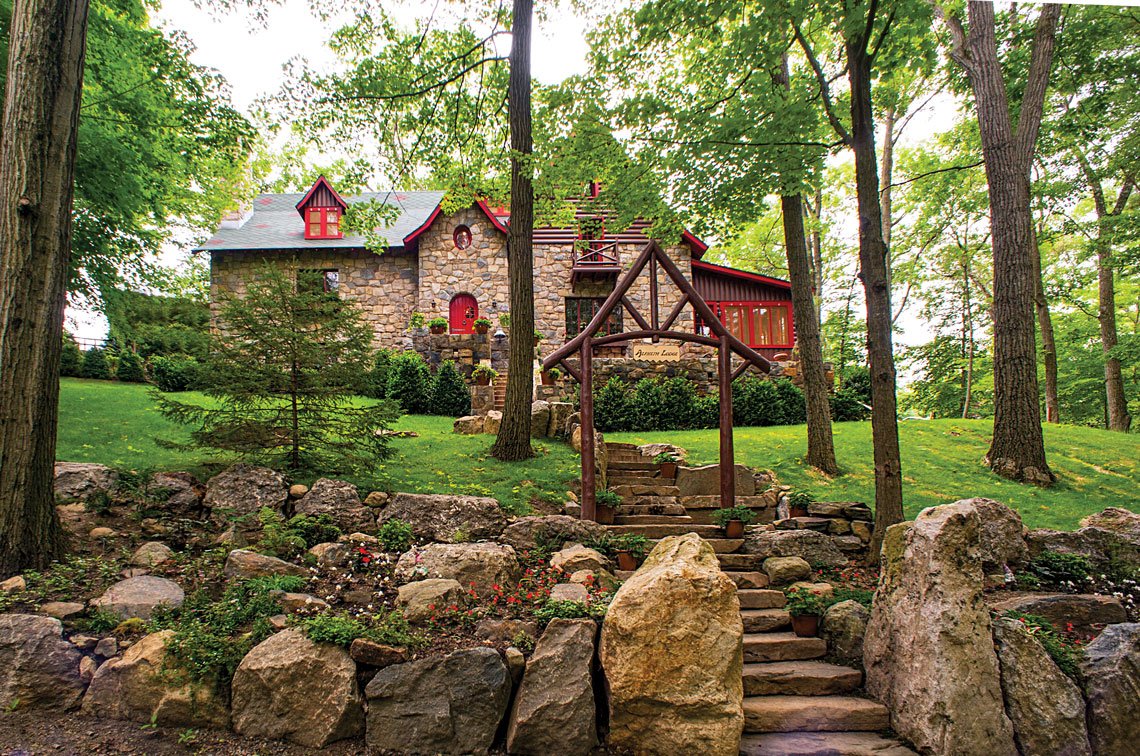 Fig. 4: The lodge contains the work of current-day American craftsman in its tile work, fabrics, rugs and finishes. Similar restored 1930s Rustic Storybook Style lodges in the community, owned by Lombardi, are available for rent. In a remote setting, they provide swimming, boating, fishing, tennis, skating and hiking in the forest.
Alfheim Lodge

Alfheim "Home of the Elves" in old Norse mythology
Alfheim Lodge is the reconstruction of a Rustic Storybook Style lodge in Valhalla Highlands, an isolated, 1930s, stylistically cohesive, lakeside summer community in Putnam County near Cold Spring, New York. The lodge is part of a district of 55 lodges and 10 community buildings set on a lake in an untouched 1,100-acre forest; all are on the State & National Registers of Historic Places.

Valhalla Highlands is the only known, planned community comprised entirely of "Rustic Storybook" architecture. The Storybook Style was popular in America between World War I and World War II for retreats in the rural areas of United States. Like the Adirondack Style, Rustic Storybook lodges are distinguished by the use of log construction and fieldstone walls and chimneys, but they differ by having asymmetrical peaked, swooping, multi-color roofs, cantilevered entry canopies, free-standing peeled log arches at the entrances, window awnings, half-log flower boxes, small-paned steel and wood windows, fieldstone paths and steps, boulder borders, rock gardens with elf figurines and knotty pine interiors with oversize fieldstone fireplaces.

Multiple years went into the planning, decorating, furnishings and assembling of the parts for Alfheim Lodge. It's finished and furnished in context with the community, including neo-Medieval lighting, 1930s Rittenhouse and Gnomeman furniture (each piece has a small carved gnome—the spirit of the wood), and 1940s kitchen appliances and bathroom fixtures. Lombardi continues to search for 1930s-50s canoeing, fishing, and other lake related items as well as Rittenhouse furniture.
---
This article is excerpted from the book, Homes. More images can be seen at: www.josephpelllombardi.com
This article was originally published in the Winter 2017 issue of Antiques & Fine Art magazine, a fully digitized version of which is available at afamag.com. AFA is affiliated with Incollect.