Karl Geckler Searches for Balance and Harmony in Art and Design
Karl Geckler Searches for Balance and Harmony in Art and Design
Incollect sat down with sculptor, architect and designer Karl Geckler to ask him about his sculptures and furniture and what he is searching for through the creative process.
by Benjamin Genocchio





Karl Geckler with maquette and the finished piece,

Melodrama

coffee table in white lacquer.

Photo courtesy of Karl Geckler.



How would you define your creative approach to art and design?
Karl Geckler: I don't really have an intellectual description of my process and what it represents and means — I am more intuitive and so to me what makes my art and design interesting is an internal dialogue between a kind of rigid geometry, a harmonious set of rules or guidelines that create structure but at the same time have an emotional and organic feeling — strict rules create the structure but within that structure things are allowed to flow and change: it's biomorphic meets engineering. I want the act of creating a thing to be a real discovery, to propel me to another level. There is risk. I don't know what it is going to be.
How does that manifest itself in terms of the final shapes and forms?
Karl Geckler: I am most inspired by Baroque Architecture and stone. The tension and release — the acknowledgment of life's vicissitudes — yet ultimate harmony and balance.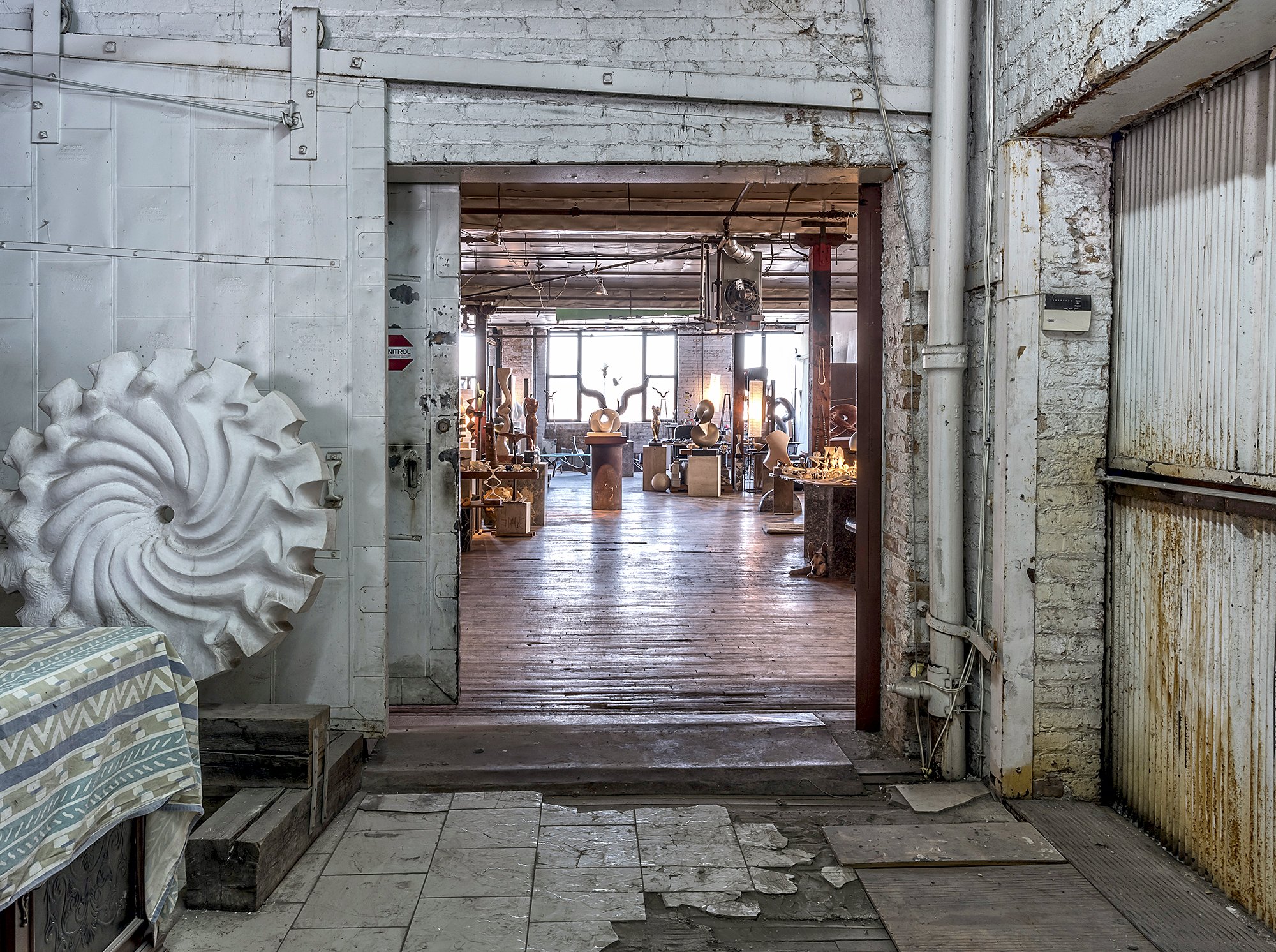 A look inside Karl's studio. Photo courtesy of Karl Geckler.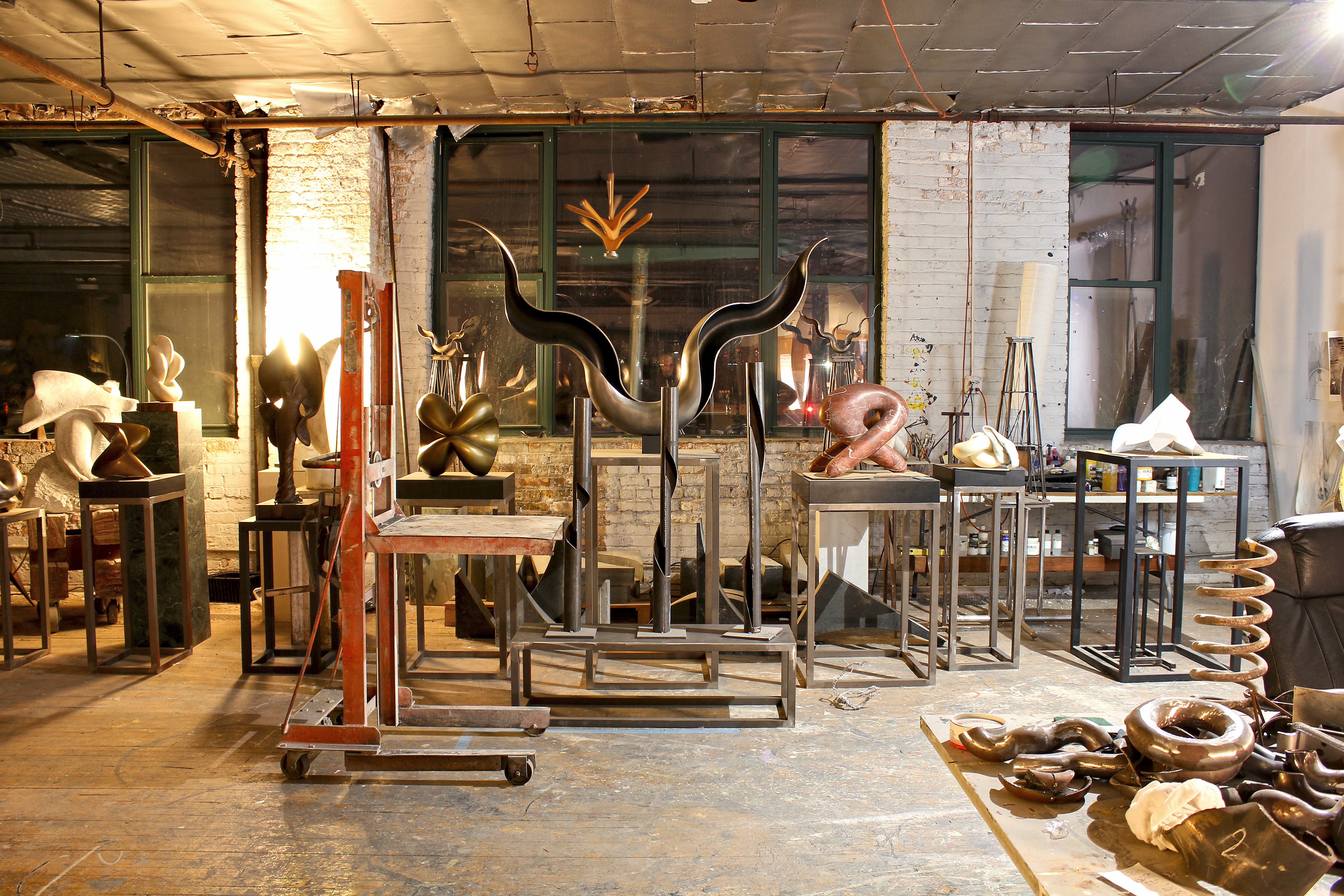 Works in progress. Photo courtesy of Karl Geckler.

| | |
| --- | --- |
| | |
| | Working with stone. Photo courtesy of Karl Geckler. |
You work primarily in stone carving, a difficult medium, how did that come about?
Karl Geckler: I was enrolled in pre-Med at college and then went to architecture school and I am a licensed architect. I spent two years studying physics and astronomy at one point as well. I thought I would have a career in the sciences, but I was drawn to art. I was always on the art side of architecture and decided I wanted to focus on stone sculpture. I studied stone carving in Pietrasanta, in Italy, and then taught there for 7 or 8 years, living in Italy for 4 months or more every year and realized this was what I really wanted to do…in addition to architecture.
What is it like to carve something from stone?
Karl Geckler: Stone is the ultimate medium, for me, in terms of durability, permanence, and history. But it is dangerous! You have to concentrate on what you are doing. Hand carving a piece of stone is labor intensive — it is very physical and even violent with all of the cutting and banging away but also it's incredibly delicate. Every decision is the last — you can't undo something you've chosen to carve away, like with clay where you can add it back and redo a section. You can be working on a $10,000 block of stone and one hit can ruin it.



Left:

Zora

side table in cast bronze. Right:

Mirror Mantis

coffee table in solid walnut. Photos courtesy of Karl Geckler.
You have started designing furniture. What materials do you use and why?
Karl Geckler: I began to focus seriously on utilitarian sculpture — furniture and lighting for now — in earnest about 2016. The furniture and sculpture are often cast in bronze. I have worked in aluminum and stainless steel. I also work in wood but it is a bit too temperamental for me, it lives and breathes, and it changes over time. Stone and metal on the other hand are more durable. I am drawn to the permanence of it.
Tell us a little bit about your creative process, how you begin?
Karl Geckler: It depends on what I am making. Different processes and materials are needed for different outcomes. Generally, I begin with an idea. It could be geometry, or a biological form, like a helix shape — that is one of my favorite forms which I return to as it is so elemental, a part of all of us as DNA. everything on earth.
If I am making an artwork in stone I sit down and I start dissecting platonic shapes, shapes in nature or medical diagrams in my head, I try to see what happens by combining the lines and shapes. Then I make a little hand sketch to connect my brain with the real world or go find a block of stone and then begin drawing on the stone directly to find the shape and let it reveal itself. On occasion, I will work on 3-D modeling a design on a computer or work in clay if I am intending to cast in bronze. But I like to go immediately to the material when I can.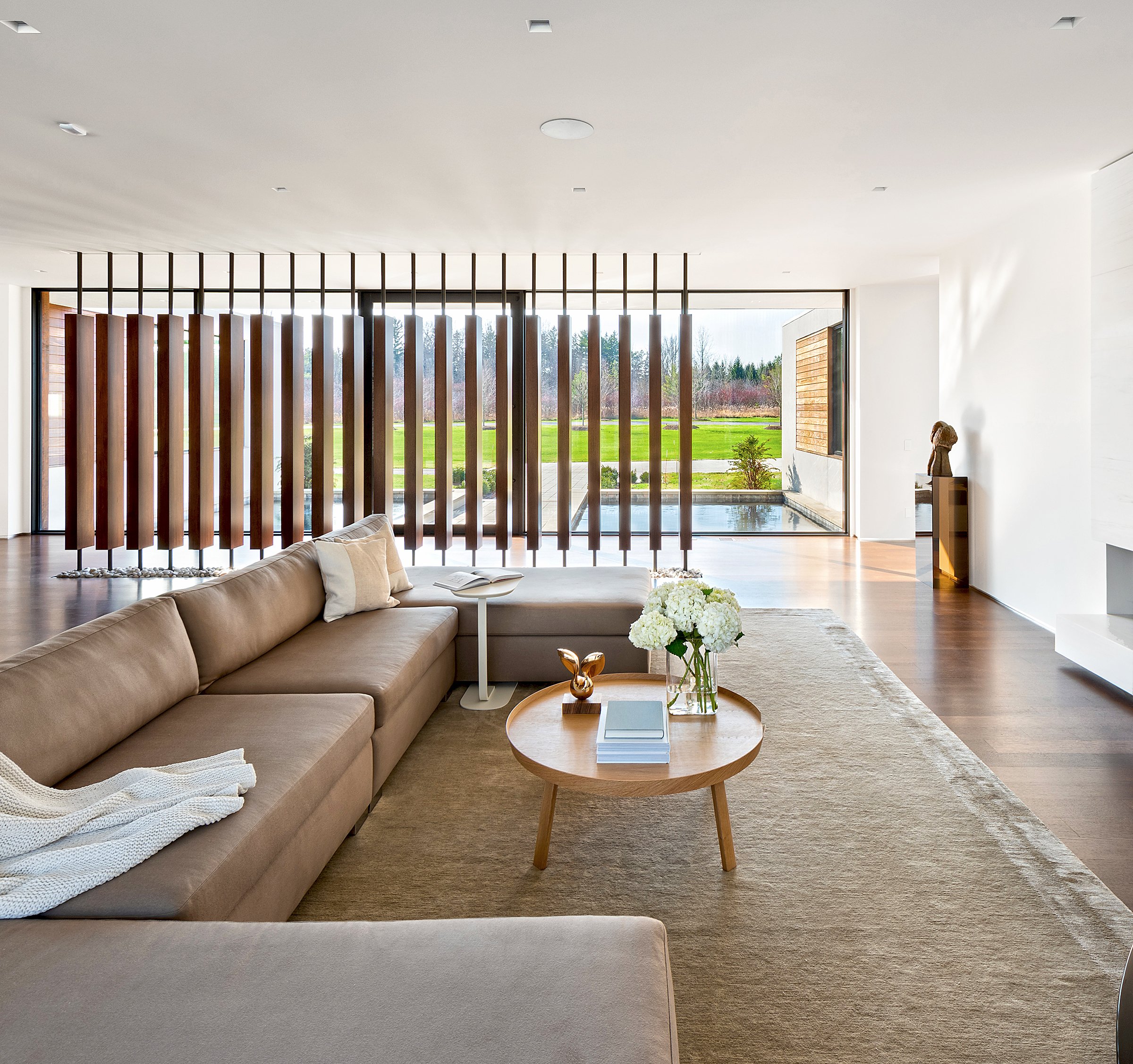 Farfalle Sphere
in cast bronze on the coffee table. Photo courtesy of Interior Design magazine and Karl Geckler.

Egg Columns
in Giallo Sienna marble at the Embassy Suites Chicago.

Photos courtesy of Karl Geckler.
How is designing furniture different to making art?
Karl Geckler: To me, making furniture has more limitations than art, as it needs to serve a utilitarian function, either way, my designs seem to push the limits of the techniques and materials. This is not because I need to challenge technology or be foolhardy, as I collaborate with others to fabricate my ideas. There is a constant dialogue between the fabrication, design, material, finishes, client, budget and schedule. I am working with 9 foundries and other fabricators at the same time, working on prototypes for designs, seeing what is possible. For example, the Pandora Drink Table, one of my more popular designs, took the best foundry in Illinois 14 months and five attempts to make this shape. Pretty amazing, right, that such an elemental shape, so simple, should be so difficult with casting. Now we have learned a lot and revised this fabrication technique.
What is the distinctive appeal of your designs, especially your tables?
Karl Geckler: The quality of materials, finishes, quality of workmanship, purity of lines, edges, profiles, and intent, these are things that inform and distinguish my design. I think also the fact that I want to challenge and learn how to make an object in collaboration with others makes the outcome special and unique and I think that is why also a lot of fabricators like to work with me. Often we initiate projects to learn more about design, fabrication techniques and art!
If you weren't a sculptor and designer what can you imagine yourself as doing?
Karl Geckler: I think I'd be a Buddhist monk. I felt bad for many people during the Covid-19 lockdown, but I could do 16 months alone no problem — it didn't faze me. It's about finding balance and harmony.



Left:

Cylinder Number 1 in cast bronze at GREC Architects in Chicago. Right: Double Discus

in cast bronze on display at Purdue University. Photos courtesy of Karl Geckler.