Leading the Revival of Realism Rehs Contemporary presents Insight in Partnership with the Art Renewal Center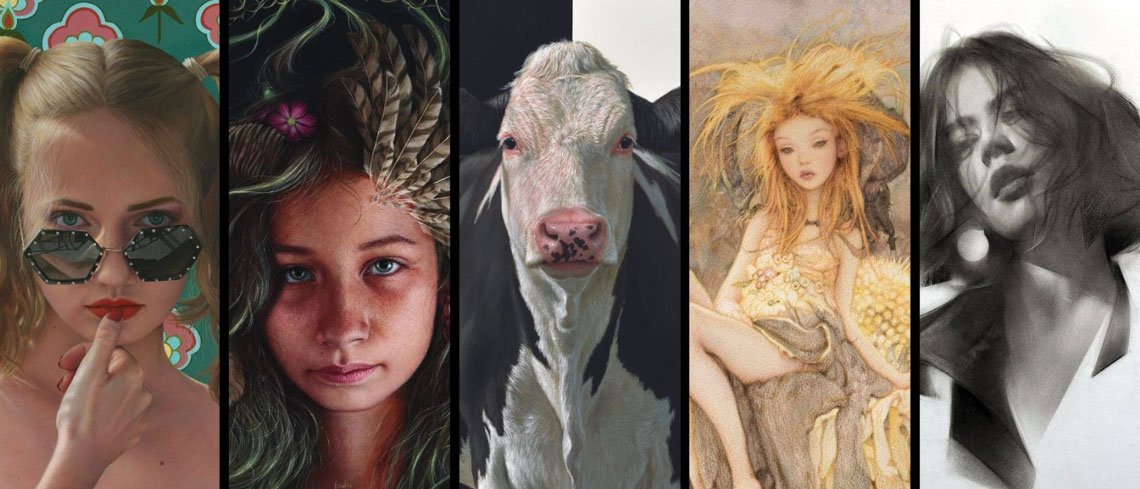 The intimate connection between artist and muse, subject and viewer is eloquently expressed in the work of five international artists working in five very different styles within the context of realism, in a new exhibition at Rehs Contemporary in partnership with the Art Renewal Center.
INSIGHT: 5 Top International Artists
Make Intimate Eye Contact
at Rehs Contemporary
By Benjamin Genocchio
At Rehs Contemporary Galleries through June 24th
For seven years now Rehs Contemporary in New York has partnered with the Art Renewal Center to present an exhibition of the best of the best of over 1,000 artists from a traveling juried salon exhibition. The applications are whittled down to 15 who submit a portfolio and then 4–6 are selected annually to make new work for display in the New York gallery. Every one of them is an excellent artist.
The selection is made based on the artist's previous work but occasionally themes do appear in the new bodies of work produced for the show. This year, eyes and eye contact are a discernible trait in the work of five artists — Jesús Inglés and Arantza Sestayo (Spanish), Alexandra Klimas (Dutch), Roman Pankov (Ukrainian), and Anne-Marie Zanetti (Australian). Nudity is prevalent as well.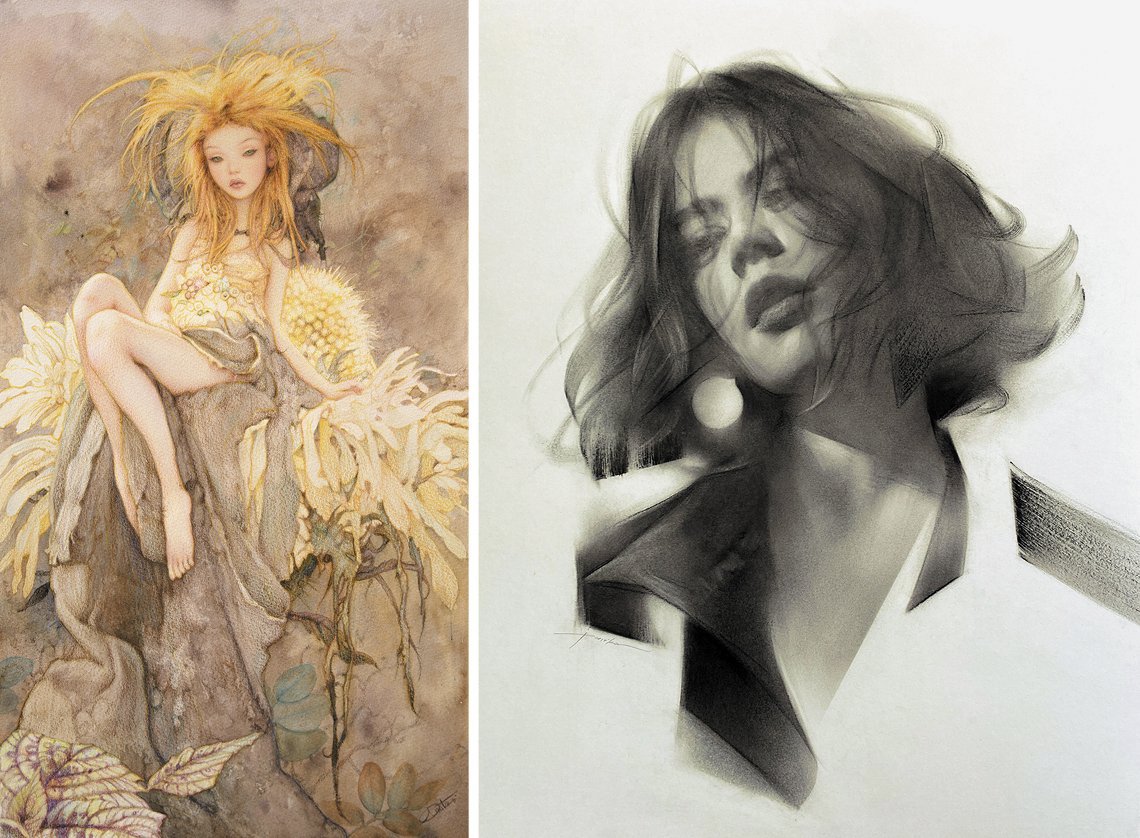 Left:
Arantza Sestayo, Flowers and Molasses. Watercolor on paper. Right: Roman Pankov, LiKimm. Drybrush on paper.
| | |
| --- | --- |
| | |
| | Jesus Inges, Fifth Element (Quinto elemento). Oil on canvas. |
The focus on eyes and eye contact immediately suggests artwork that intentionally is looking to engage and connect with the viewer. Sometimes the goal is intimacy, as in Pankov's marvelously elegantly drybrush drawings on paper of young women that are among the most compelling images in the exhibition in spite of the fact that they are black and white. The simplicity of his lines and the sensuality of shading are beguiling,
Perhaps the most impressive imagery here from a technical standpoint are the realist portraits of Inglés, an astonishingly talented painter whose handling of oil paint must be seen to be believed. He is more than a photorealist, even a hyper-realist as he is also flirting with Surrealism, but it is hard to quantify exactly what he does artistically, for he portrays each of his subjects with lifelike details such as freckles, facial hair and pimples that capture character and imbue his subjects with real emotion.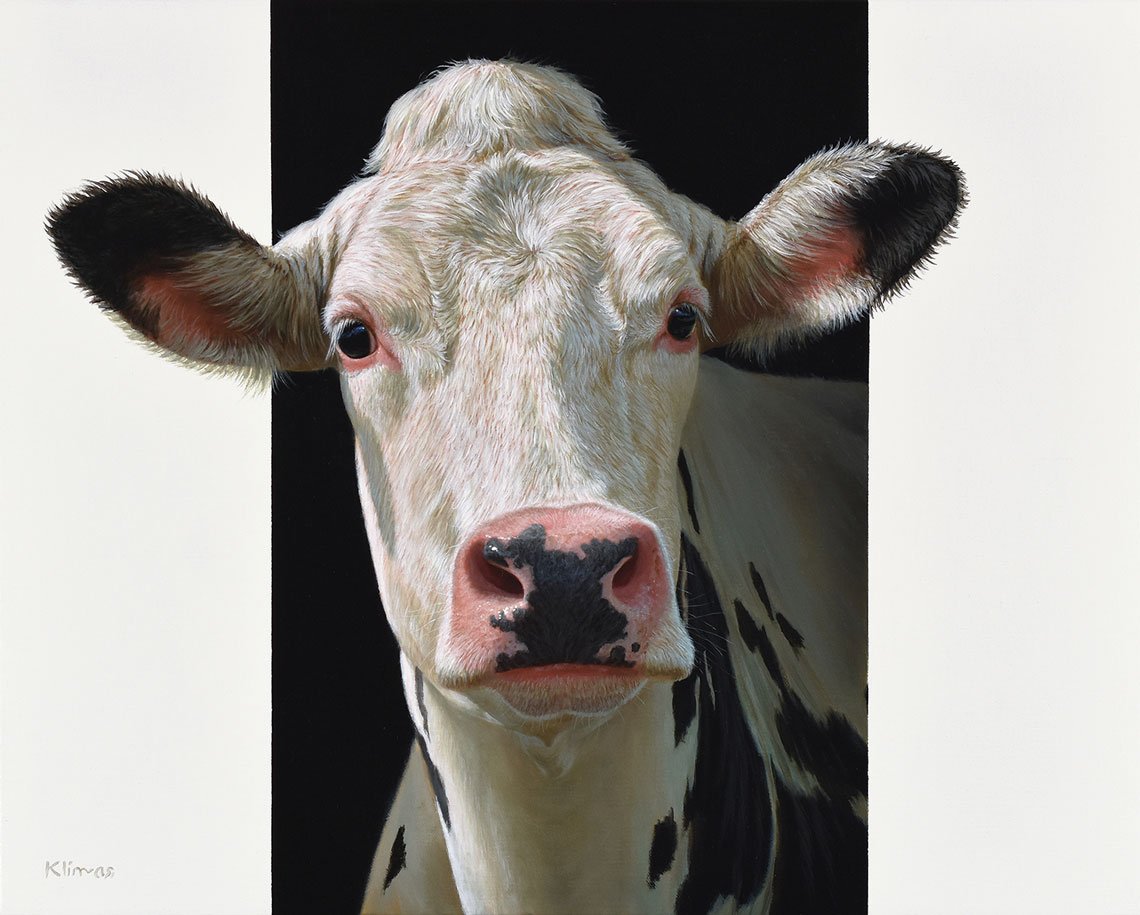 Alexandra Klimas, Nancy a yearling Calf. Oil on canvas.
Klimas is also interested in eye contact, although her models are 'Black Pied' cattle — yes, she is a painter of livestock in the manner of 18th- and 19th-century realists. The quality of her painting is exceptional, and the imagery is wistfully beautiful, for the cows are lifelike in every way, looking out at the viewer with kind, inquiring eyes that ask us to see them as living things with personalities and feelings and emotions and more than just domesticated beasts in the global food chain. They even have names.
| | |
| --- | --- |
| | |
| | Anne-Marie Zanetti, Saoirse. Oil on canvas. |
Zanetti paints a young woman owning her identity. The model is her daughter, but she is presented in adult, possibly even sultry poses that insinuate sexuality but could also be simply innocently flirtatious. This ambiguity makes them interesting to the viewer; the engaging, endearingly innocent nature of the girl's soft and girlish facial features not quite matching up to her hair styles, alluring eyes and provocative hand postures. These are oddly cerebral paintings that focus your attention.
Ambiguous sexuality wafts through the work of Inglés, Pankov and also Sestayo who paints in a Symbolist manner that simultaneously references the past and the future. Her paintings and watercolors are classical in orientation and subject matter and yet in the best cases also quite otherworldly. They stand apart from everything else in this show but exhibit the same level of exceptional draftsmanship.
VIEW WORKS FROM THE EXHIBITION
Rehs Contemporary Galleries
5 East 57th Street, 8th Floor, New York, NY 10022
212-355-5710