Lobel Modern Presents... Naomi Feinberg: A Woman Sculpting in a Man's World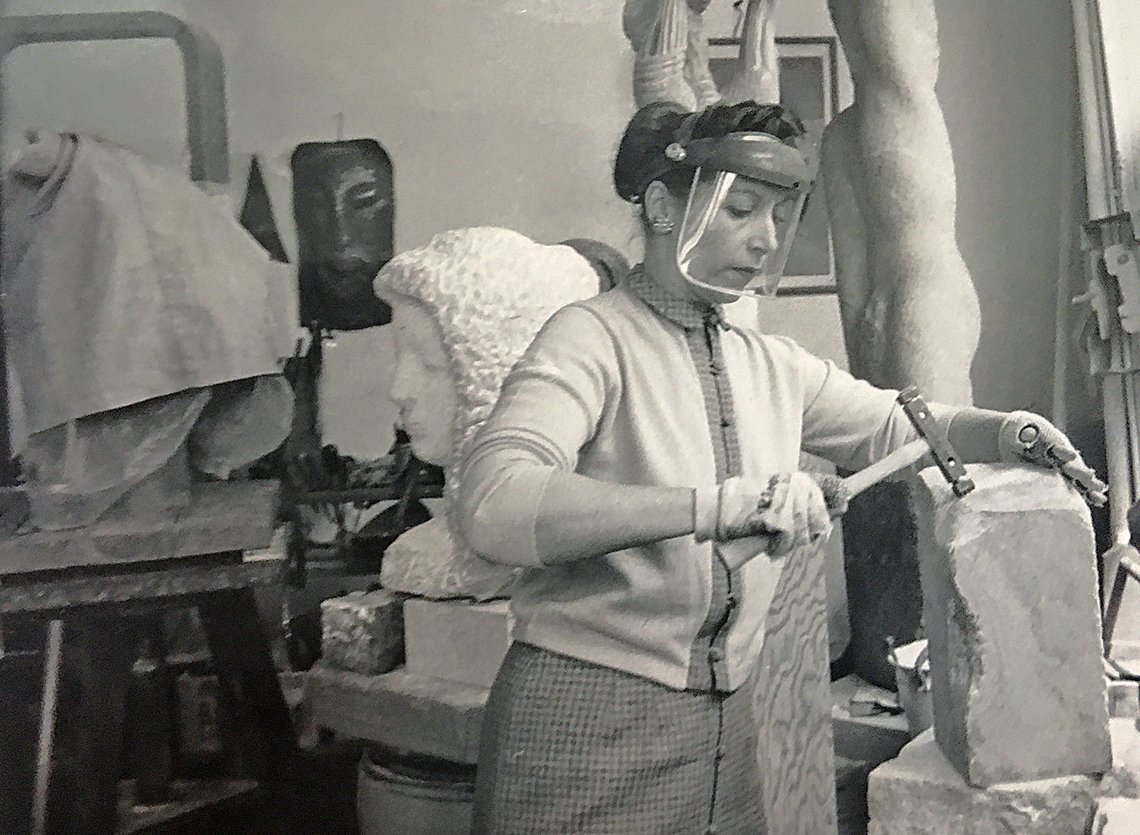 An elegantly attired Naomi Feinberg in the studio, scutch hammer in hand, circa 1960s.
Opening September 13, from 6-9 pm, and coinciding with design community's annual What's New, What's Next series of events, Lobel Modern presents an exhibition of the work of artist Naomi Feinberg, a female figure in the male-dominated field of sculpture. Evan Lobel met Naomi Feinberg in the early 2000s, when she visited his first gallery on 18th Street in Chelsea. She expressed admiration for the style of his showroom and his curation, and they spoke of their shared interest in art and design. The conversation then turned toward her work sculpting stone and being part of a woman's art studio, and, as Evan relates, "We hit it off. She brought photos of her work which I immediately fell in love with. Her work was primitive yet sophisticated. Great scale. I immediately wanted to represent her work. She was already retired but had a collection of her work from the 1950s through the 1980s." Naomi Feinberg died in 2009, and with this exhibition, Lobel Modern brings her work to the forefront. Evan says he will be focusing more on pioneering women artists of the 20th century in support of diversity and inclusion within the art and design world.
Left: Tenero, Naomi Feinberg, American. ca 1960s. Hand-carved Vermont marble sculpture mounted on ebonized wood pedestal, H. 21, W. 4½, D. 5 in. Right: Fractured Planet, Naomi Feinberg, American, ca 1960s. Hand-carved Italian red Levanto marble sculpture on ebonized wood base, H. 14, W. 13, D. 10 in.
Naomi Feinberg worked almost exclusively in stone, in the spontaneous and instinctual direct carving technique, which emphasizes the harmony between the material and the final sculpted form. "Truth of materials" is a core tenet of the direct carvers, many of whom felt the organic properties in the material they chose communicated particular forms and that through their hands, these forms were liberated, in an almost spiritual process. Her works reveal the influence of Cubism, pre-Columbian and African art, as well as Native American totemic references. The pieces range from wholly abstract works that are a celebration of form and surface, to compelling examples of anthropomorphic abstraction.
Left: Mask, Naomi Feinberg, American. ca 1970s. Hand-carved pink marble sculpture , H. 16, W. 4½, D. 5 in. Right: When Gentle Things Were Said, Naomi Feinberg, American, ca 1970s. Hand-carved Italian marble sculpture, H. 27, W. 10½, D. 8 in.

Born Naomi Levine in New York City in 1919, she grew up during the Great Depression, and was a young adult during World War II. At age 17 she met and married Sidney Feinberg, who was a writer, painter, photographer, calligrapher, and ultimately, became an award-winning book designer. As a couple, they shared a passionate love of the visual arts that profoundly shaped their lives and legacies.
Naomi Feinberg worked creatively in needlecraft and fashion as a young woman and later turned to ceramics and ceramic sculpture, which she studied with Geraldine Peterson, Katherine Salas, and Regis Brodie. She was for many years a member of her husband's graphic arts and design studio. She began sculpting in stone in the early 40s, and studied sculpture with Philip Darling, Jose De Creeft, and Lorrie Goulet at the New School, the Museum of Modern Art, the Art Students League, and the School of Visual Arts.
Left: Dream within a Dream, Naomi Feinberg, American. ca 1960s. Large hand-carved sculpture in Italian marble, H. 32, W. 10 , D. 8 in. Right: Totem, Naomi Feinberg, American, ca 1960s. Large hand-carved sculpture in Vermont marble, H. 29½, W. 5, D. 4 in.
Naomi was a member of Studio 725, a consortium of women visual artists and sculptors who maintained a communal studio at 41 Union Square in Manhattan. There she met and became a close friend of Dorothy Dehner, finding mentorship and support from the renowned Constructivist sculptor. Naomi and Dorothy greatly admired each other's artistic output, exchanging works, and a number of Dehner's pieces bear dedication inscriptions to Naomi Feinberg.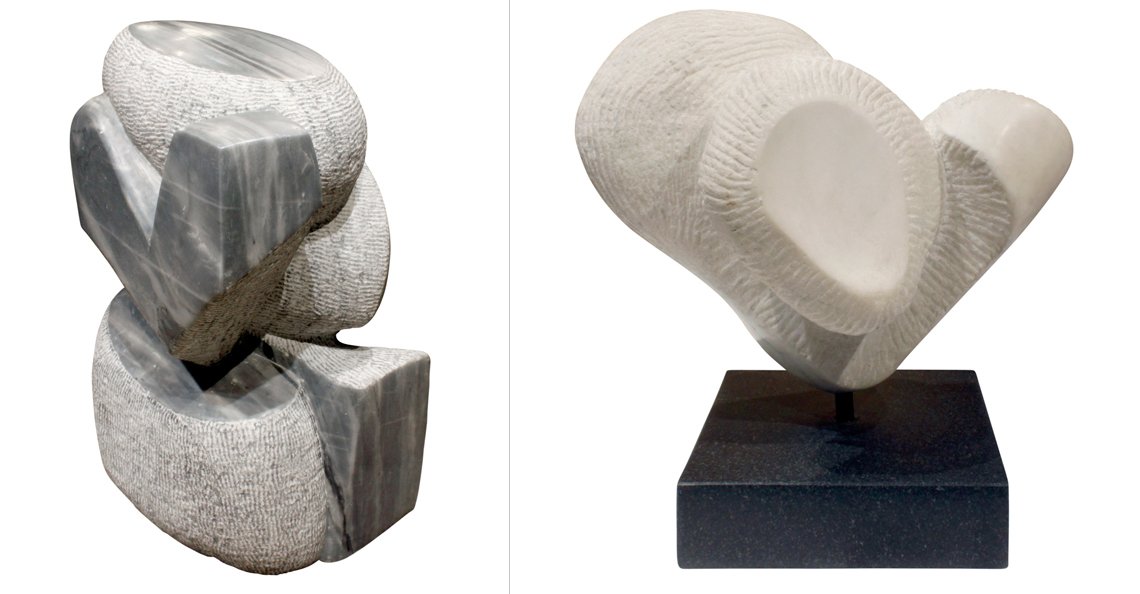 Left: Visitor, Naomi Feinberg, American. ca 1970s. Hand-carved sculpture in grey granite, H. 18, W. 12, D. 10 in. Right: Stretto, Naomi Feinberg, American, ca 1960s. Hand-carved sculpture in Vermont marble mounted on ebonized wood base, H. 12, W. 12, D. 8 in.

Naomi's works have been presented in group and solo shows, and were represented in numerous exhibitions held by the Federation of Modern Painters and Sculptors. She is included in the Archives of American Art at the Smithsonian Institute. A relative latecomer to the art world, Naomi Feinberg emerged as highly accomplished, multi-faceted artist who juggled architectural coherence with a preoccupation with the human form, to create works that are both experimental and primitive. The exhibition runs through November 14th, 2018.
View Naomi Feinberg sculpture from Lobel Modern
Lobel Modern NYC
NYDC
200 Lexington Avenue, Suite 915
New York City, NY 10016
212.242.9075