Worlds of Wonder: Madeline Stuart's "No Place Like Home"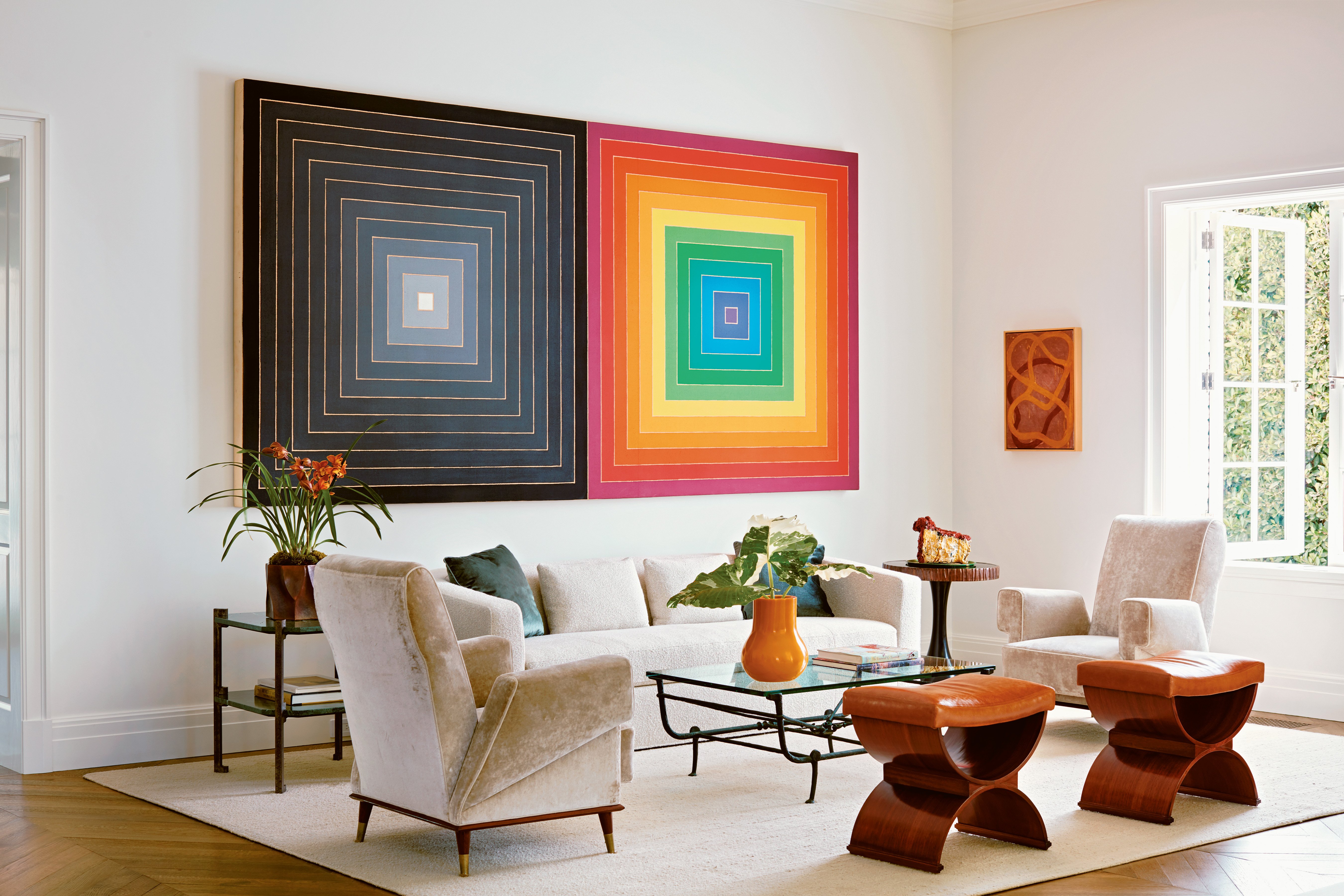 Something completely different for Madeline Stuart, who admits she "loves festooning fabric" and "tend(s) to issue very complicated paint schedules" — a house with interiors that are minimally embellished, in deference to the client's extraordinary art collection. Furniture profiles are kept low, with emphasis on textures and shapes. A high-impact geometric diptych by Frank Stella, a work by Brice Marden with serpentine forms, and Claes Oldenburg's Pop sculpture slice of pie are joined by the animated forms of 1940s Italian lounge chairs and a pair of muscular antique cerule-form stools.
| | |
| --- | --- |
| | |
| | |
Photographs by Trevor Tondo
| | |
| --- | --- |
| | |
uided and sustained by her passion for and formidable knowledge of design, art and architecture, Madeline Stuart creates interiors the defy categorization, unless breathtakingly beautiful can be considered a category. In her debut monograph, No Place Like Home, eight magnificent residences, ranging from a landmarked Streamline Moderne house with an old Hollywood pedigree, to a newly built modernist lodge in "Big Sky County" are presented in rapturous detail. Although each is unique, they are linked by her clarity of vision and seemingly magical ability to create atmosphere. Her prodigious talent for drawing from disparate design periods and styles to create a melange that is sublimely rich and compelling is one of her hallmarks, and as she writes, "I was born to shop." Madeline Stuart is a world-class treasure hunter, that much is clear, but her connoisseurship is the result of intensive study bolstered by her innate sense of style. In describing her process and approach, she leaves no doubt that her artistry goes far beyond simply placing rare and expensive pieces in rooms. The scope of her knowledge and level of detail in her projects is formidable.
| | |
| --- | --- |
| | |
In her book, she lovingly credits her Emmy award-winning Hollywood producer/director father Mel Stuart, and supremely stylish decorator mother Harriet with shaping her vision, and while that is most certainly the case, the self-taught designer is a stylistic omnivore who can speak eloquently in most any design language. But unlike an actress, this "showbiz kid," as she refers to herself, creates magical worlds that are, in the end, real homes for real people.
No Place Like Home, Interiors by Madeline Stuart, forward by Mayer Rus, can be purchased from publisher Rizzoli, through Amazon, or support your local bookseller.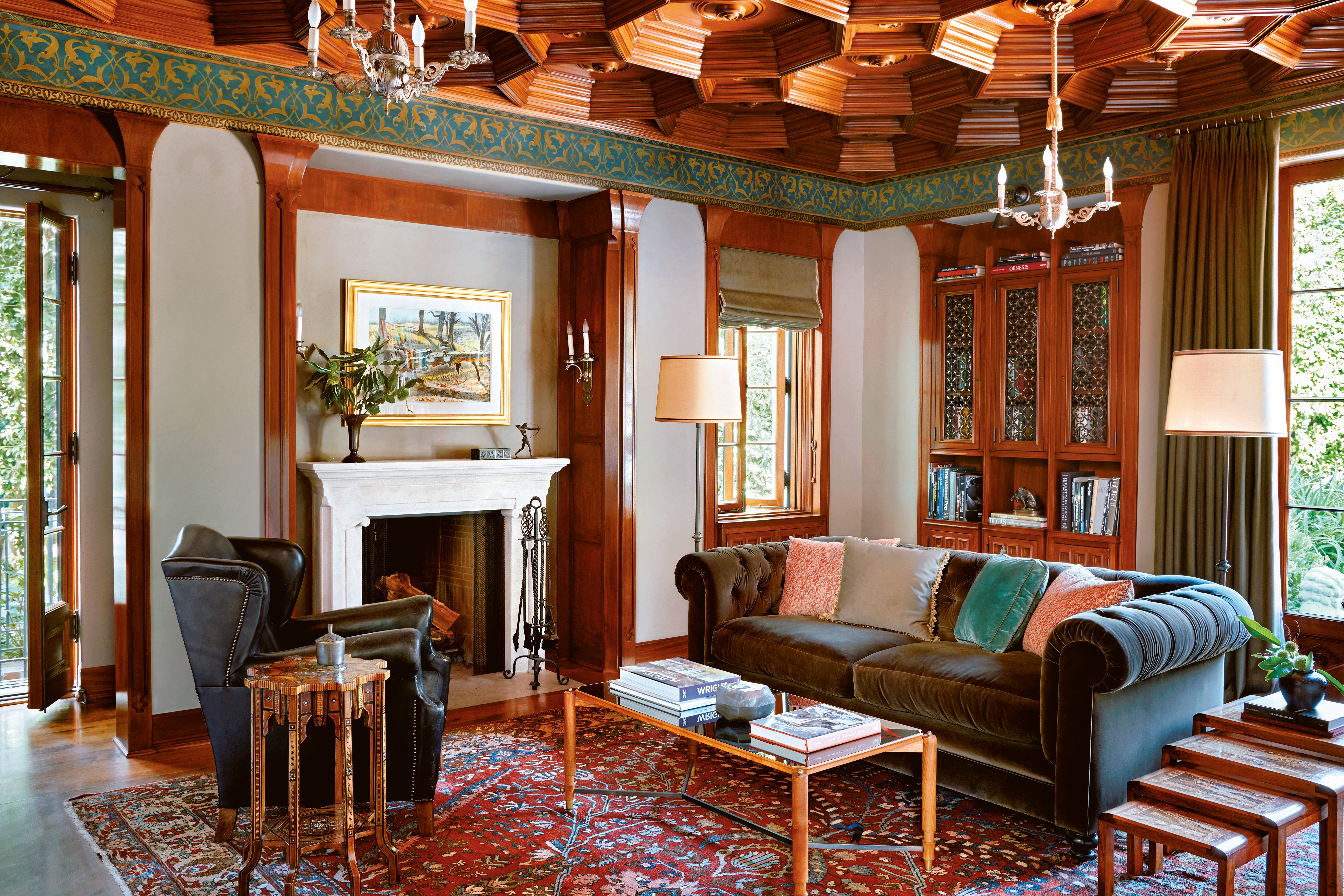 A newly built Spanish Revival house, named El Sueño, (The Dream) was constructed with authentic 1930s period materials and techniques, which proved so successful that a party guest "recalled" visiting the house as a child! Madeline's plan was to honor the past and establish authenticity with antiques and vintage pieces, and with this project her stamina for sourcing was put to the test — it required nearly four hundred vintage lighting fixtures alone! Here, in the library, a pair of nineteenth-century German silver chandeliers with their original passementerie tassels. A deeply coffered ceiling is bordered by a frieze painted by decorative artist Jean Horihata, whose artistry is in evidence throughout the house. She dedicated six months to painting trompe l'oeil Iznik tiles in the main powder room, which were faux-grouted and sporadically "chipped" to appear old, with results so convincing that the installer for the vanity mirror insisted that he needed a special ceramic drill bit, despite being assured that the wall was painted plaster and not tile. Furnishings in the library include vintage 1930s French pieces — a coffee table of wood, bronze and glass by French cabinetmaker Jules Leleu, and a set of four marquetry nesting tables with idyllic scenes of Polynesian life. A vintage Swedish leather chair in black leather with brass nailheads furthers the Hispano-Moresque flavor. The iron and brass geometric tracery pattern in a custom designed bookcase derived inspiration from the library at Hearst Castle.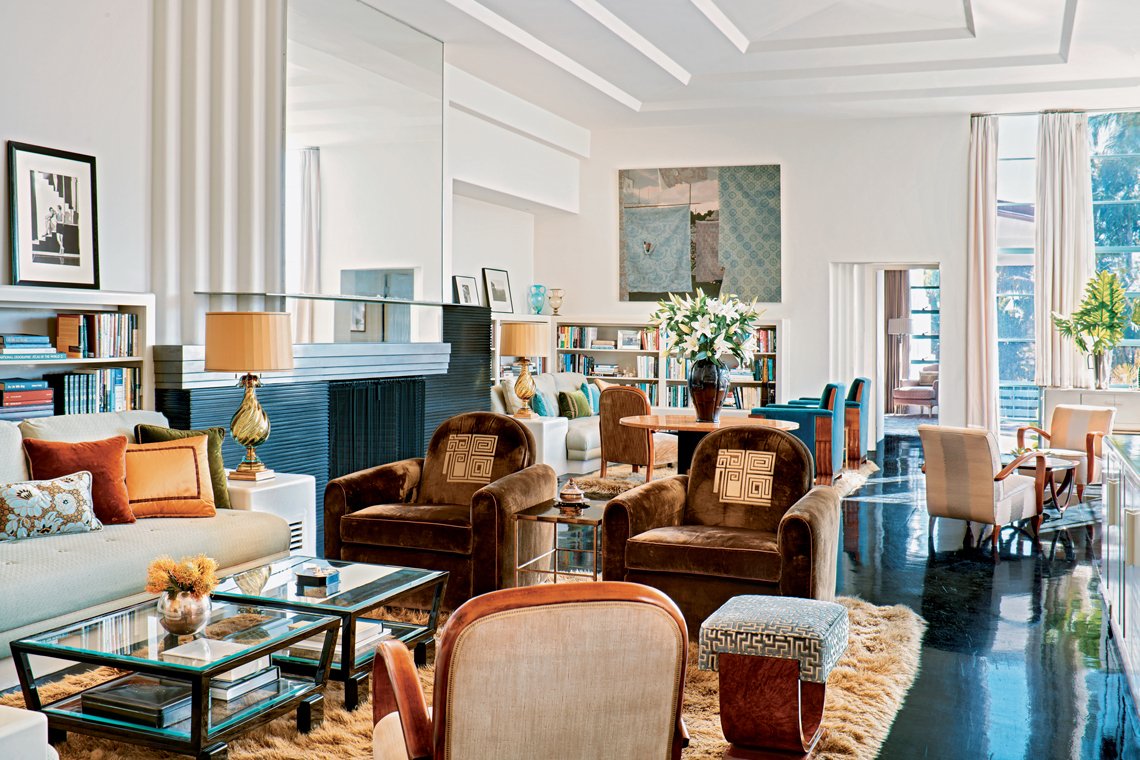 A Streamline Moderne masterpiece designed by MGM art director Cedric Gibbons, who was inspired by the 1925 Paris Exposition des Arts Decoratifs, from which came the term Art Deco. Gibbons and his wife, the stunning Mexican-born actress Dolores del Rio, lived a glamorous Hollywood life and this house was made for lavish entertaining. The new owners, committed preservationists, gave Madeline the exciting task of restoring and redecorating the house, keeping period-authentic details such as the glossy black linoleum floors (which were replaced with the same material.) Madeline and her team began, as is her custom, with a deep dive into the architectural and decorative styles of the period. The house would not be a recreation of the Jazz Age aesthetic, but a nuanced mix suggesting the flavor of the time. Pictured above, the second story salon with original stepped and fluted architectural details. Modern mohair rugs are fluffy clouds in the expanse of snappy contrasting floors, the room is further softened by a mix of voluptuous seating in lush fabrics and generously curved profiles. At right, 1940s French lounge chairs face across a vintage table by Guglielmo Ulrich. At rear, original built-in bookcases and original banquette, with 1930s Danish lounge chairs in blue silk velvet. A round sycamore and ebony table is by the Paris firm Dominique, one of the most recognized names in French Art Deco, and dates to 1932. Its ebony top mirrors the great, dark reflective pool effect of the floors, and Madeline recounts that she was especially thrilled to locate this piece. In the foreground, another seating area clusters around a second banquette. Geometric detail on a pair of brown velvet club chairs evokes the Art Deco era, as does the pattern covering the U-shaped stool. A pair of midcentury swirled Murano glass lamps bracket the fireplace.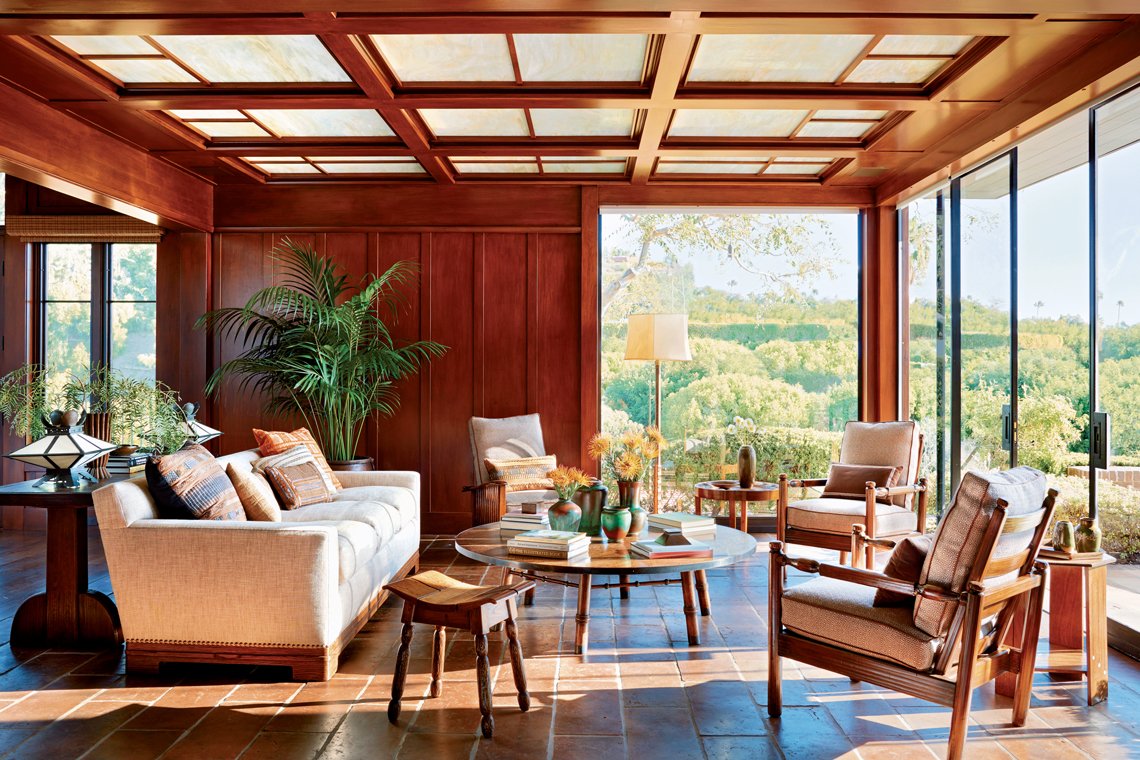 "Referential, not reverential" was Madeline's mantra in creating interiors for an Arts and Crafts house built in homage to the work of Pasadena architects Greene and Greene, whose landmark Gamble House was an inspiration. At the start, she decided to avoid the cliché of Stickley furniture, but used his trademark rift-oak in custom pieces that she designed to be more comfortable and less clunky. The American Arts and Crafts movement eschewed mass-produced materials for the hand-crafted, and to honor that spirit, hand-blown milk glass panels were used in the design of the skylight. Furnishings and accessories gathered from makers all over the world, featuring hand-carved wood, hand-thrown pottery, and hand-hammered metals weave an authentic narrative throughout the decor. A pair of 1920s hand-carved Swedish chairs are by Axel Einar Hjorth, and the round coffee table is a custom piece in bronze and rift oak with faux-bamboo legs, a particularly apt feature since Japanese motifs were prevalent in Arts and Crafts design. The Morris chair is French; a more delicate example than the heftier Stickley version. The console table behind the custom sofa is again by Axel Einar Hjorth; on top are Japanese bronze and paper lanterns. Madeline writes, "I loved shopping for Arts and Crafts accessories for this house," and a substantial collection of American Art Pottery she assembled adorns surfaces throughout the house.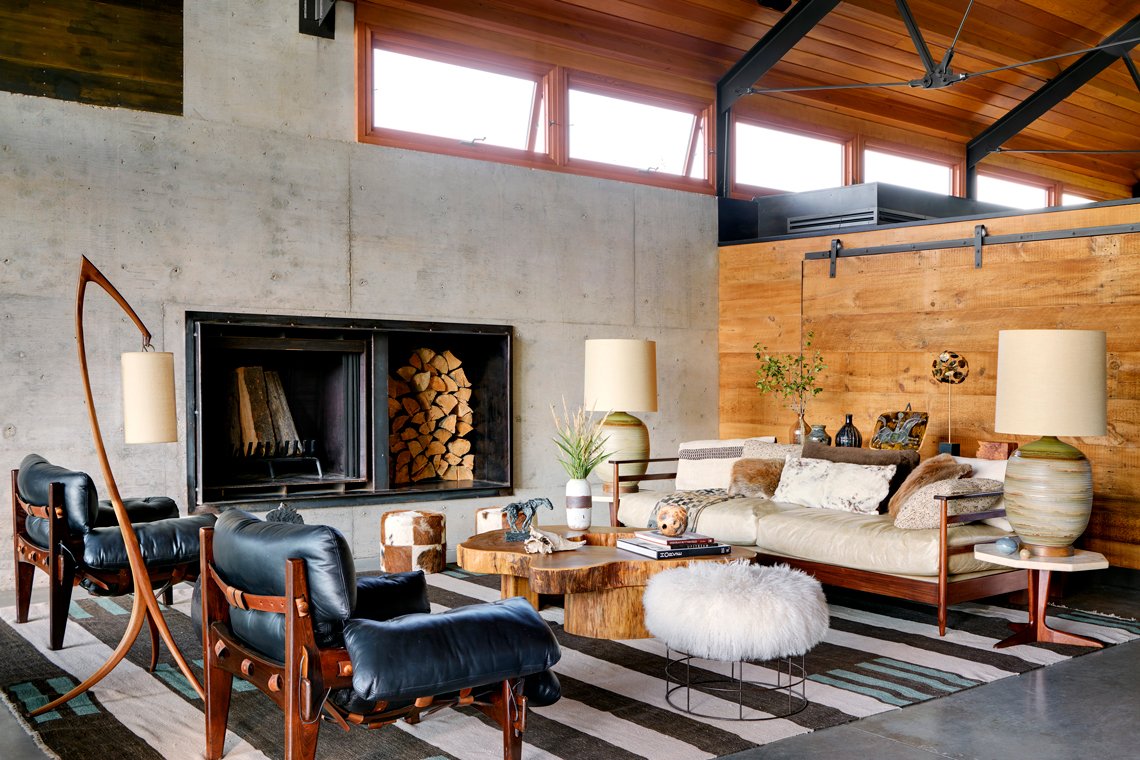 Nestled into a hillside, and sited to hear the sound of a nearby creek, a Montana lodge balances rustic and refined, minimalist and comfortable, to create a modernist style family retreat in Big Sky Country. Walls of board-form concrete panels, with knots, seams and flaws intact; polished concrete floors; ceilings of stained Douglas fir; and walls of reclaimed wood were chosen for their rustic modern vibe, along with the ability to stand up to muddy boots and small armies of kids and dogs. The kick-off pieces for the furniture plan were a pair of slouchy black leather lounge chairs by Brazilian architect and furniture designer Sergio Rodrigues. At first, these chairs may seem an odd choice for a retreat in cowboy country, but Madeline's instinct was spot on – Rodrigues said the design pays homage to southern Brazil gaucho culture, with the straps and arm flaps modeled after saddles. The Kyoto floor lamp is by Michael Wilson; both the lamp and the chairs were sourced from Los Angeles gallery JF Chen. The rosewood sofa is also by Rodrigues, and a flatweave rug was designed by Stuart based on traditional Navajo patterns. The impressively massive tree trunk coffee table is by Brazilian designer Christiano do Valle.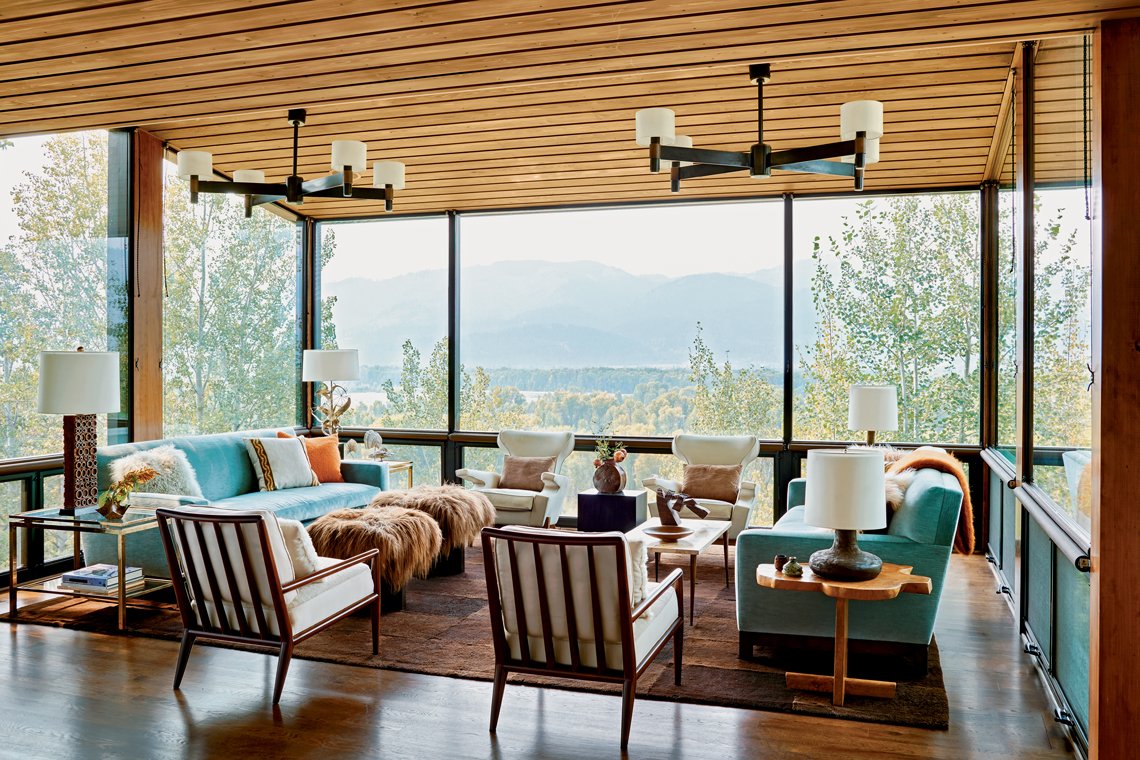 A modernist treehouse living room, cantilevered over the existing structure, with double-height window walls on three sides to capture views of the Tetons and Snake River was one facet of Madeline's twelve-year project to revamp what she was warned "was possibly the ugliest house in Jackson, Wyoming." She chose a fresh approach for the interiors, avoiding the location-specific Ralph Lauren-inspired style so prevalent in that area, for the clean lines of vintage midcentury pieces. Vintage wood-framed armchairs by T.H. Robsjohn-Gibbings square off across a pair of Italian midcentury-style lounge chairs. Stained wood ceilings and a sheared fur area rug add warmth to the expanse of steel and glass.