Maeve D'Arcy "Off the Record" and Monica Banks "All You Can Eat"
Maeve D'Arcy "Off the Record" and Monica Banks
"All You Can Eat"
Kathryn Markel Fine Arts
2418 Montauk Highway, Bridgehampton
Through August 30
by Benjamin Genocchio



Now at Kathryn Markel Fine Arts, Bridgehampton, New York, "Off the Record,' an exhibition of recent works by Maeve D'Arcy; shown at left: Absolutely, 2022. oil and acrylic on canvas, 48 x 36 in., and at right, a tableau of pieces in glazed English porcelain from ceramicist Monica Banks's 'All You Can Eat.'
Obsessive, compulsive and meditative seems the most appropriate phrase to describe the work of Maeve D'Arcy, a brilliant, imaginative, provocative painter whose singular vision of the world is on display at Kathryn Markel Fine Arts in Bridgehampton. The artist lives in New York but studied in London. Her grandmother lives out in the Springs area of East Hampton and as a result, she has long been a part of the popular East End art community. It is terrific to see her showing here, and even more, to be showing 6 of her latest paintings, produced over the past six months.
D'Arcy's work cannot be categorized. It is abstract, but at the same time it is imbued with so much energy and diversity of mark-making that it is hard not to be convinced that her paintings represent something, even if it is the landscape of her mind. Some paintings have more visual ingredients than others but in every instance, the dot patterns, grid-like lines, and blocks of color coalesce to create a composition that is as beguiling as it is confronting. Her titles offer us little in the way of guidance, with one work named "Bite Marks," another, more humorously, "Hungry Ghost Coffee."



Left: Maeve D'Arcy, Off The Record, 2022. Oil on canvas, 24 x 20 in. Right: Bite Marks, 2022. Acrylic on canvas, 24 x 20 in.
D'Arcy is a maverick, a painter who in one sense can be described as a formalist, for the form the painting takes is ultimately the subject matter—the work is all about time, with the imagery appearing out of the mark-making in due process. Predetermination is of no interest to the artist who works intuitively, allowing chance and a fear of blank canvas (it seems to me), to compel her into covering almost every inch of the canvas with paint. Here she shares an affinity with artists that are associated with Outsider Art, many of whom also possess a horror vacui.
"Absolutely" (2022) is the largest work in the show and the one with the most visual elements. It resembles a still life painting, even an interior scene — I am reminded of the interior of a doll's house, given the scale of the objects and figures, if that is what they are — although that is most likely a subjective projection. The painting has the added attraction of combining oil and acrylic paint, which gives it a varied surface texture and is twice as large as the rest of her recent works here. I prefer this scale given that there is more room for the eye to wander across and into the landscape.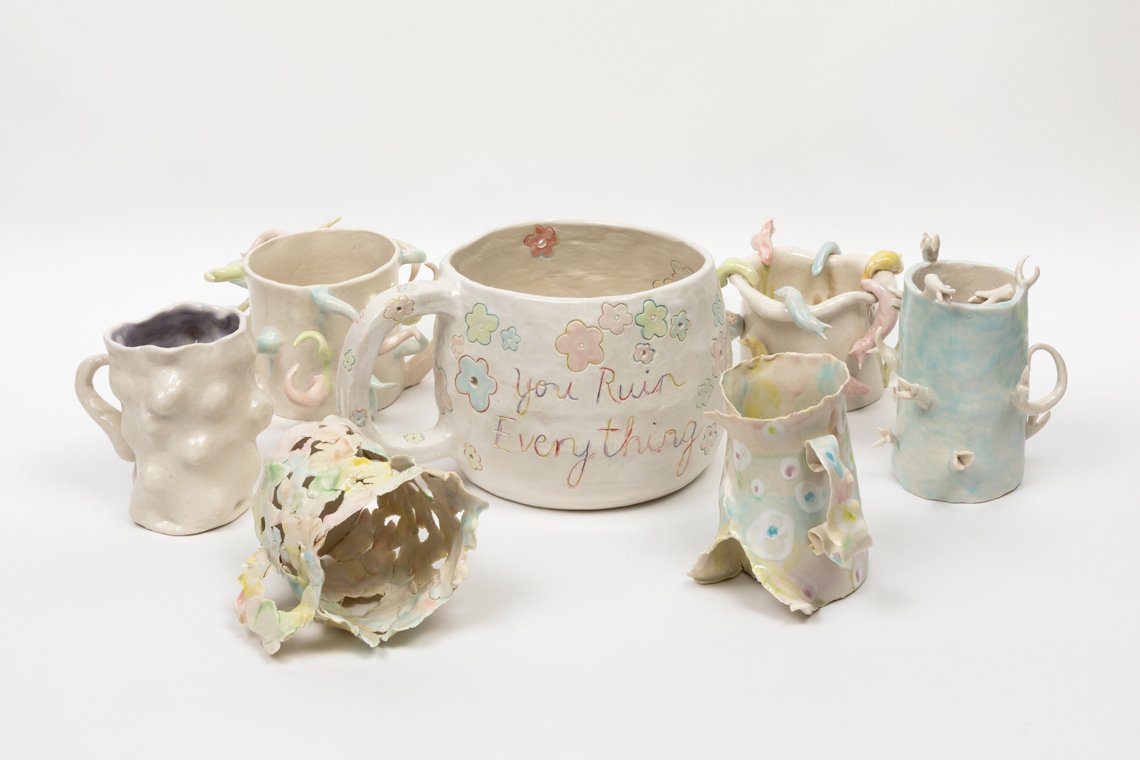 Incongruous motifs and slogans adorn pretty pastel glazed mugs by Monica Banks. The artist elucidates, "My new porcelain pieces focus on tableware--mugs, plates, forks, and coffee pots, etc.–-that explore the often dark and unspoken things we think about ourselves and others during everyday life."
There is ambiguity in the work of D'Arcy that invites deep reflection. Color creates a sense of pleasure as well and these works are pleasing and confounding at the same time. The same quality is evident in the work of Monica Banks, whose ceramics are on display in a pair of upstairs galleries. Here an undertone of surrealism that is sharp, brittle, sad, and sometimes confrontational, renders functional porcelain homeware dysfunctional — a coffee cup cinched at the top to prevent usage or a water jug encircled with barbed wire, for example. Casts of the artist's children's lost teeth encircle the top of another cup.
Nothing here can be used and therefore everything is for our contemplation. Words are sometimes incorporated into the glaze designs to insinuate meaning: "you ruin everything" is scribbled across a bulbous mug, referencing a teenage complaint at parental supervision. These are wonderful conversation pieces for the home, best assembled in small groups so they can play off of each other. High and low, beauty and ugliness exist in the same space, which seems to be a hallmark of both of the shows currently at the gallery. Imagination rules, but always in service of pleasure.
DISCOVER KATHRYN MARKEL FINE ARTS ON INCOLLECT