Marcin Rusak: Flora Contemporaria at Twenty First Gallery
Marcin Rusak:
Flora Contemporaria
At Twenty First Gallery, 76 Franklin Street, New York
By Benjamin Genocchio
| | |
| --- | --- |
| | |
| | Marcin Rusak, photo by Kasia Bielska |
Marcin Rusak is one of the most exciting contemporary makers of furniture at work today. His process is extraordinary, not to mention his material explorations which have come to define and distinguish his work internationally. Incollect.com editor-in-chief Benjamin Genochio sat down with Rusak to discuss his work, which is showing right now at Twenty First Gallery in New York City.
Do you envision your objects in interiors when you design and make them with a place or space in mind, or do you think of them as stand-alone works of art?
Working with concepts, narratives, and experimental materials requires concentration on many levels. I think we've passed the point where the word 'designer' means only one thing — sometimes I am working as a sculptor, while on other occasions, I am managing the design process. Design is an incredibly broad field, and the most exciting thing about it is that we can delve into so many other interconnected worlds, including the world of fine arts. I am not a fan of separating design from art. Just like in the Art Nouveau period, I believe every branch of the creative industry should be treated with equal respect.




The Flora Cabinet 90 Clear, in transparent/translucent amber resin with polished stainless steel frame. The clarity of the amber resin allows the flora to be seen in greater dimensional detail, bringing to mind ancient amber fossils. Limited edition of 3, exclusively for Twenty First Gallery.

Do you keep track of where your objects go and who buys them — does that interest you?
Many of my works, initially emerging from self-initiated quests into new forms, techniques and materials, later develop into a more regular range of customized objects available on a commission basis. I often develop new pieces with a specific interior, collector or gallery in my mind, and it is always interesting to know where my objects end up and how they are exposed in the final location. I also value a close relationship with individual gallerists and collectors. By participating in the design process, they learn about the objects' prerogatives and the fact that pieces are prone to transformation. We treat our collectors as custodians of the pieces and let them develop a unique relationship with the object. While some prefer to observe the process of change and get excited by the transformation, others tend to cherish preservation and keep pieces in museum-like conditions.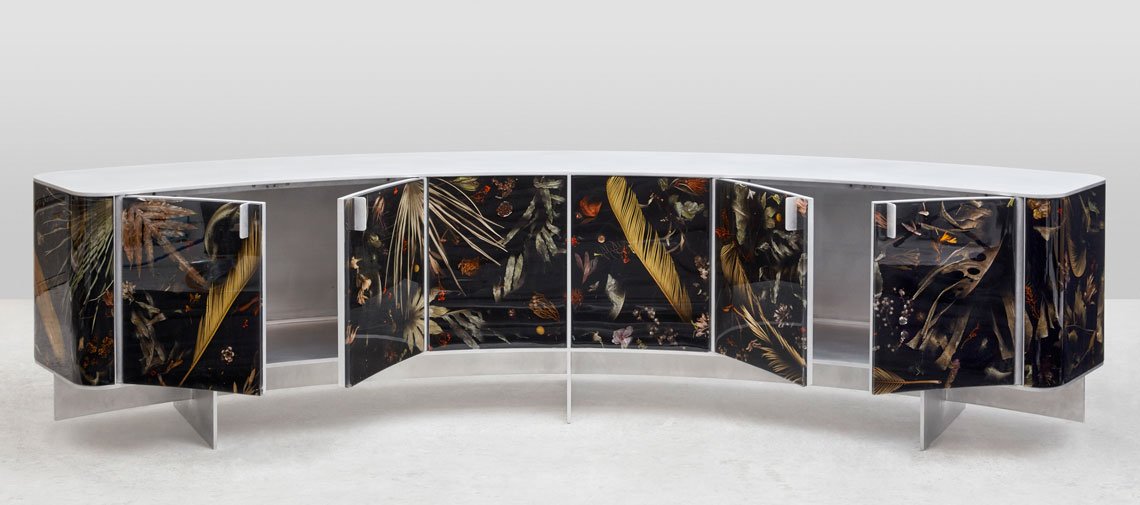 A custom commission for Dallas-based interior designer Joshua Rice, the Flora Curved Credenza contrasts angular form — the doors and planes of the base, with the gentle, sweeping curves of the back and front edges, as well as contrasting light and dark surfaces.

Are there any designers who have consistently bought or displayed your work that seem best to understand what you are doing?
As mentioned, I feel blessed with the relationships I have built with my gallerists and returning clients — both individual collectors and large interior design firms such as Joshua Rice Design, whom we had the pleasure to work with in collaboration with Twenty-First Gallery. We are always eager to develop bespoke solutions for specific projects, and this is how we came up with the Flora Curved Credenza and Flora Table 120 made in cast aluminum, which were designed together with Joshua.



Left:

Detail of a Flora Table top, created with discarded plant material from the florist trade encased in black resin. Right: Flora Table 120, with a sand cast aluminum frame, a custom commission with Joshua Rice Design.

What is going on in your head when you begin a design?
That depends on the project. With new commissions, the process is almost streamlined — I have a team of experienced specialists who help me with each phase, from initial renderings to final photoshoots. With new, self-initiated endeavors, the process is more complex and time-consuming, with a lot of back-and-forths, interdisciplinary research, reading and brainstorming.
How do your ideas change through the process of creation?
I believe that open-mindedness is a crucial element here. At the studio, I take the final artistic decisions, but the development process can bring about a lot of twists and turns that can add to the meaning and creative expression of the outcome. For example, with the Tephra series, we collaborated with a landscape architect and botanist to develop a new object that would be entirely grown over by real, living plants. We even built a custom greenhouse (grow tent) in the studio and experimented with growing different plant species that would overgrow, in a semi-controlled environment, the sculptural form.


Flora Cabinet 176 Black, with steel powder-coated, textured conical legs. Created for the Flora Temporaria series, this dramatic black version has become a sensation, calling to mind the opulent floral paintings to the Dutch Golden Age. Photos by Mathijs Labadie.

Where do you get your materials, and how do you store and preserve them?
We collect discarded, unused flowers from flower markets and florists we have good relations with. We also get loads of them from friends and family members who think of us and send them over to us once they die or are being cut in the garden. We have created a material library at the studio where we currently have a vast collection of different flower species ready to be used in our projects. The flower material is stored in separate labeled containers devoted to specific projects. We also developed around seven different ways of processing and preserving the flower species, for different purposes.
Is there a material you haven't worked with yet but would like to work with?
I believe there are still many source materials we, as humans, haven't developed from what nature provides us with. Nature is an endless source of inspiring new achievements — think about Marlene Huissoud or Neri Oxman, for example, who explore biomaterials in an outstanding way.


The Flora Perma Series is yet another exploration of material and process, created with cut cross-sections of the plant material-embedded resin. The effect is a glimpse into the anatomy of the buds, blooms and leaves, creating an abstracted pattern with veining much like stone.

Photos by Mathijs Labadie.



Can you describe the process of the evolution/transformation from the early beautiful dark cabinets and tables to white ones and now the clear series?
The ideas of evolution and transformation are, in fact, key to the understanding of my practice. With the Flora Temporaria material, the black version has proven to be the most popular among the range of colors and finishes we propose within the Flora collection. It was one of the first iterations I have developed, and it has been in production continuously since ca. 2017. With Flora's first iteration, the premise was to create a material that would age gracefully, pointing towards the change that happens within the material. I experimented with implementing a set of bacteria that would consume the flowers, leaving hollow, ghostly traces of their existence. Also, if the flower-infused resin is not completely sealed from the back and the flowers have access to fresh air, they shrink over time, creating silvery voids around them. By cutting slabs of the Flora material, I came up with the second variety — the Flora Perma. Here, the buds and blooms are seen in cross-sections, revealing their anatomical structure. The material resembles real stone, with its veins, cavities and fossils. For the Flora Contemporaria collection, made for the Twenty First gallery, we wanted to present an array of possibilities offered by not only the Flora material but also other techniques we use at the studio. The effect feels much more sophisticated — and this is the direction we want to pursue in the future.


Flora Cabinet 152 Misty White, 2021, with waxed aluminum details. Unique piece signed and dated.

How much do ideas of permanence and impermanence play into your thinking?
These ideas form the axis of my studio's philosophy. We are truly fascinated by these transformations. Scrutinizing the passage of time, we learn to appreciate the changes occurring in the materials we create. While thinking of the perishability and durability of the materials and objects, I like to shed light on the value we bestow unique man-made objects with — and, as mentioned, I treat the owners of my pieces as custodians, who take control over my pieces and look after them, maintaining their form or observing their slow deterioration.
What role does storytelling play for you in your artwork, and how is it achieved?
Storytelling is a tool that helps us share our values and emotions with the audience. It also helps us reveal the various aspects and individual stories of each piece's creation.



Left:

Process photo of the Protoplasting Nature Cabinet, showing the steel structure covered in Thaumatococcus daniellii leaves, an African tropical rainforest plant. The leaves are in varying stages of desiccation, coated in resin, and will be encased in bronze. Right: The final piece, a moment in the life of the plant material preserved, and a reminder of the temporal nature of existence. This technique was developed as a further exploration of the Protoplasting Nature series. The cabinet is a limited edition of three for the Flora Contemporaria collection created exclusively for Twenty First Gallery.

Recently you have developed a new production process titled Protoplasting Nature. Can you explain this process and what it entails?
Protoplasting Nature is a process that started while I researched the possibilities of building objects and surfaces entirely out of leaves. This is rooted in the vernacular traditions of various tropical cultures, for example in Africa. Initially, we sealed fresh foliage only with resin, for protection. This, implemented in Protoplasting Nature 05 (Wardrobe) and 05 (Chair), revealed a beautiful passage of shades and colors that reflected the natural phenomenons that come with the changes of seasons. The second step was to cover the leaves with resin and then metallize them using a different process of preservation, including a more industrial, hi-tech technique.
For the Protoplasting Nature Cabinet 114, presented at the Twenty First Gallery, we built a hand-weld steel structure that was later covered with Thaumatococcus daniellii leaves, extensively used in Africa as a roof-covering but also in cooking. The structure was then covered in bronze. The end result appears as a precious treasure chest. The experience with Protoplasting Nature has led us to the Tephra technique, which we are now developing at the studio, merging artisanal, simple materials such as jute with discarded flowers and precious metals.
What for you is the value of good design in today's world?
I am always interested in pushing the boundaries and exchanging knowledge with experts from various disciplines.
Where did the idea of using flowers in your work originally come from?
It's a long story that became the foundation for my studio… My maternal grandfather was a flower grower, as were his ancestors. He was a great experimenter, keen to develop new varieties of orchids, carnations, roses, etc. When I was a kid in the 1990s, he decided to close the vast greenhouses surrounding my family home in Warsaw. So I grew up in this void, derelict, post-industrial landscape, smelling of rust, dry air, and decay. This memory came back to me while studying in London at the RCA. There, I embraced my family history and started to experiment with flowers as a material.
What role does the studio play for you in the design process — I assume you collaborate with many other craftspeople to realize your ideas
At the moment, my studio consists of 14 people, including long-term collaborators and craftsmen from all around the world, whom we select specifically for certain projects. Developing new works is very labor-intensive and time-consuming, and I couldn't have done it without my specialized team of experts.
Finally, is there anything specifically Polish about your work or that you identify with?
I believe the context of where I come from, my family history, and the geopolitical implications of the times I was raised in affected who I am and what I do. Were it not for my observation of my grandfather's experiments, the perishing of one world and the emergence of another at the turn of the capitalist era in Poland, all inspired me to look into and devise new processes, envisioning the life and death of the objects I bring to existence.