Metier LA Channels West Coast Cool into Fresh and Daring Design
Precise attention to detail and richly patinated finishes are hallmarks of the Metier LA line of bespoke furnishings. From left: The Nestor nightstand/side table, Collins Sofa and Curie Dining Armchair, all available through Incollect.
Metier LA Channels West Coast Cool into Fresh and Daring Design
By Benjamin Genocchio
A chat with Creative Director Chuck Comeau about the firm's handcrafted, customizable, bench-made-in-LA furniture and lighting.
What does Metier LA specialize in?
We specialize in furniture and lighting design for the discerning interior design trade.
Classic modern style and lightness are qualities which you seem to strive for in your brand line. What is the most critical part of achieving these qualities in a design?
Exactness of construction details and proprietary finishes really do make the largest impact when it comes to achieving these qualities.





A trio of side tables, each with a unique and distinctive allure: the Jean-Luc Side Table, with a faux tortoiseshell painted finish, the New Wave Side Table, featuring an undulating hand-forged iron base with a lightly distressed antique finish and solid iron top, and the Trousdle Side Table with Nappa burl veneer and solid American Walnut. All benchmade in Los Angeles.
How would you define your aesthetic, and what are some of your inspirations as a designer?
I would define the aesthetic of the line as classic modern, but in terms of my personal aesthetic it can vary from American traditional to 20th century depending on the application. In terms of design inspirations it would be many of the great 20th-century furniture designers throughout Europe.
Is there a specific piece in your collection that you especially admire?
One of the most admired pieces within the line so far would have to be the Josephine Side Table. The table combines quite a few varied details in such a small piece but the table still remains light and effortless.
The Josephine Occasional Table is replete with rich and subtle details, and is a favorite of Creative Director Charles Comeau. It's a contemporary take on the archetypical gueridon, combining classic design elements — an antiqued leather top with hand-applied gold tooling — with a lighter, more contemporary profile. This version sports a distressed bronze finish on a hand-forged iron base, a polished, unlacquered solid brass edge, and a scalloped antiqued brass trim detail around the top perimeter.
Tell us a little about the history of your brand, how has it evolved?
The brand was developed in 2020 after I was involved in the Los Angeles interior design industry for 4 years, and having a life change that gave me the opportunity to develop a line of my own. I want to develop Metier LA into more than just a company that produces great design but also one that has a great company culture, preserves the trade art forms of our industry, and grows with our fast-paced society in a mindful way.
Is there anything distinctive about West Coast design today?
I think of West Coast design as the kind of epicenter of furniture design within the United States and I feel that Los Angeles leads the way in what is happening within the market.





The Colonne Tall Floor Lamp with solid hardwood frame in a matte parchment veneer finish, the Globe Lantern with hand-blown glass globe and antiqued brass frame, and the Hamilton Floor Lamp in distressed charcoal hand-forged iron.
Tell us about the process of making an object? How do you begin the design? Any sketches?
We normally start out with an inspiration and then we work through drawings until we get what we think will be a great piece. From there we move to physical prototyping which is really where the piece comes alive and you get a sense of scale, how it will look from every angle, and also how it may feel or function. The prototyping process for us can be quite extensive until we get every detail to where we want it to be exactly. Once we settle on a final prototype we move to a final model production which normally completes the piece unless we go through a longer process with achieving a finish.
Is there a material you have not worked in that you would like to try using and why?
Straw marquetry would have to be my first choice. It is such a simple material that when cut and placed with precision it creates the most mesmerizing of surfaces.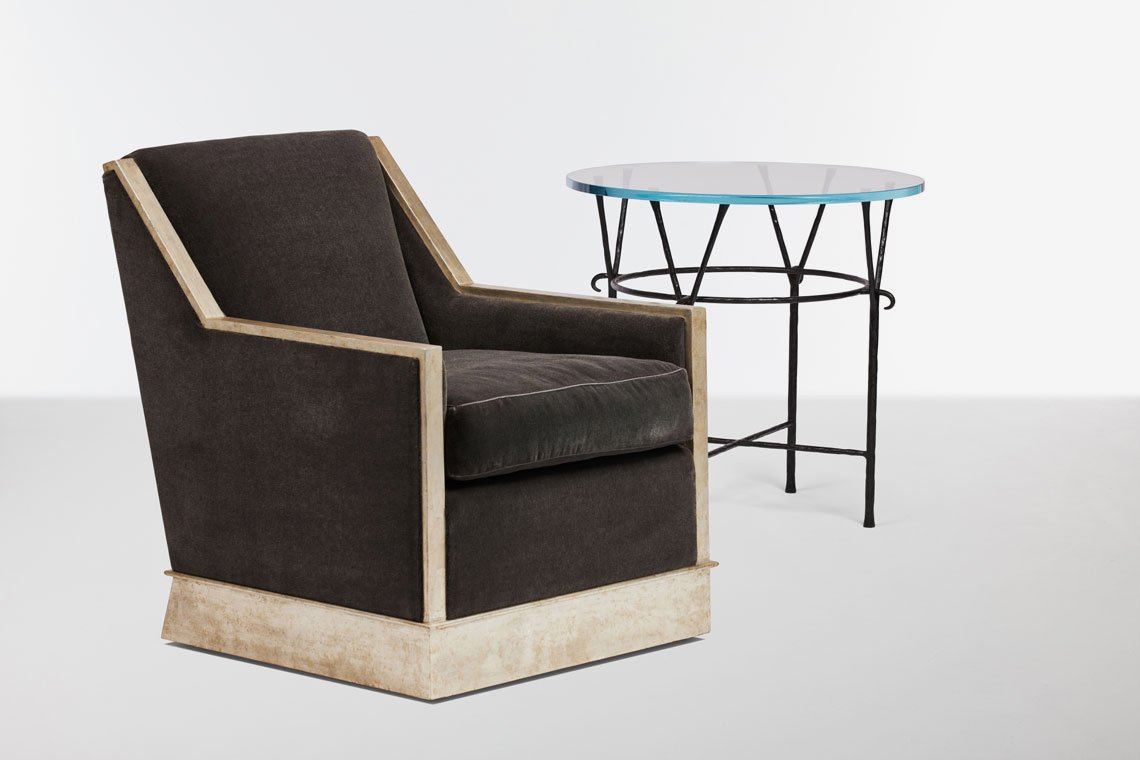 The Jemison Bergère has more than a hint of Art Deco style, refreshed to adapt to a wider range of interiors, but it retains Deco's emphasis on luxury with its softly glowing antiqued silver leaf frame and lush foam/feather-down seat cushion. Shown paired with the Michaud Occasional Table.

What is selling from your collections in the broader market at the moment and how do you see that as a reflection of a sense of taste now?
We have sold more items that have specialized details that come at a cost increase. I see this as a reflection in the market of clients wanting more details and sophistication in modern design. The shape and color isn't enough anymore. People want texture, color that has depth and variance, and materials or finishes that are not seen within mass-market lines.
If you weren't involved in design what can you imagine yourself as doing?
Probably a hotel or luxury gym owner/operator. I think great design is a huge part of creating a great experience. Both a hotel and gym are places I use often and I constantly think about the experience and interactions I have and I think I would enjoy creating and maintaining the experiences in those environments.
Discover Fine Handcrafted Furniture from Metier LA on Incollect