Mid Century Modern Design Masters: Edward Wormley
W
hen discussing Edward Wormley, a master of mid century modern design, the words timeless, elegant, and refined often come into play. Rooted in tradition, his decidedly modern designs boast an understated aesthetic, seamless integration of classic elements, and singular twists, which give each piece a unique identity. According to Fred Shaw of Assemblage Ltd. in Chicago, Illinois, "His pieces have a certain je ne sais quoi that I've come to call 'Country Club Modern.' By that I mean it was built for affluent mid-century people who had rejected traditional furniture designs as boring but were not yet ready for the spare modernity of Eames et al. It was unimpeachable good taste."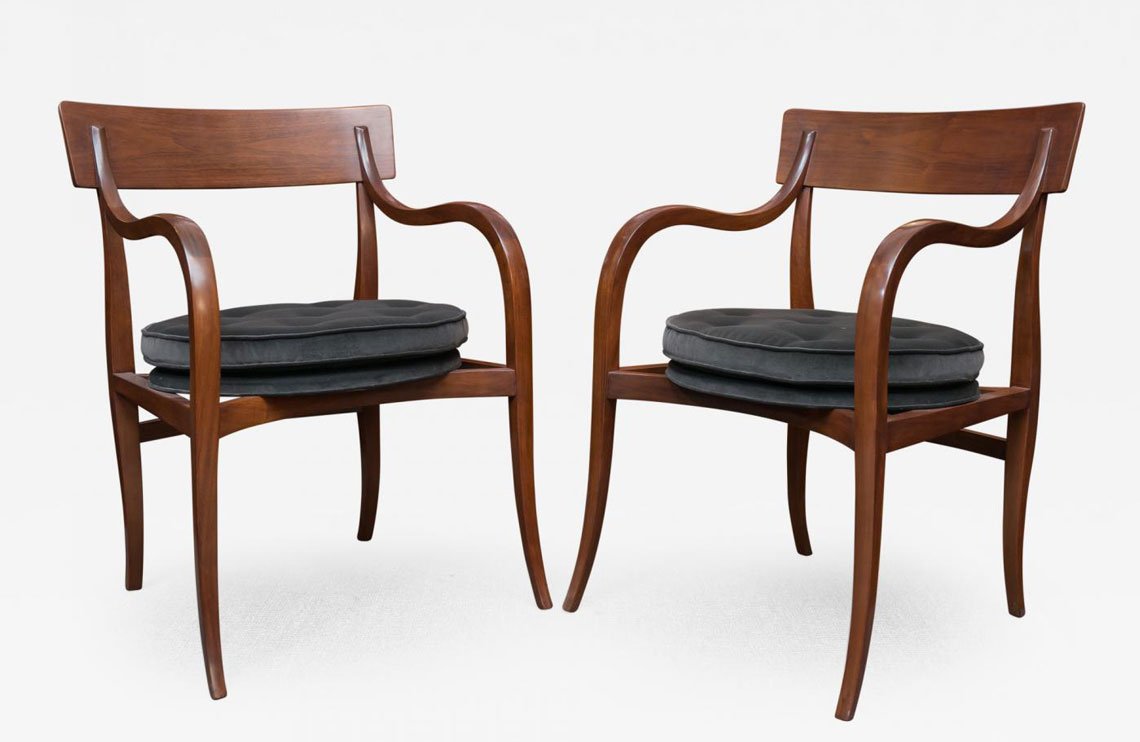 Edward Wormley for Dunbar Mahogany Alexandria Chairs, c. 1950s. Courtesy of De Angelis.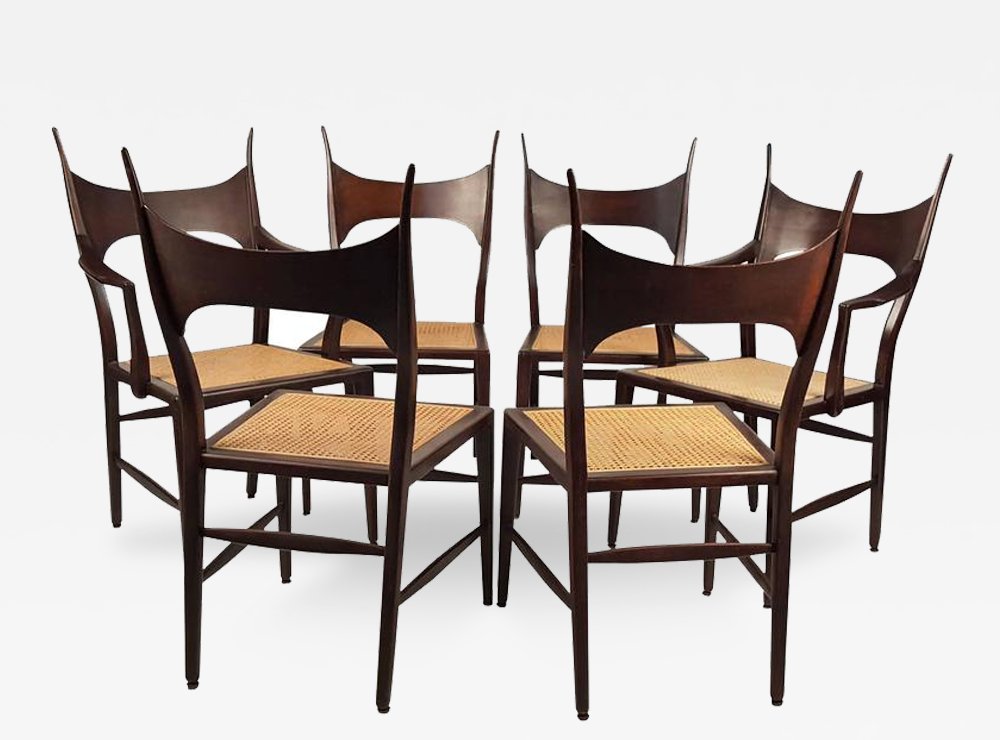 Rare Set of Six Edward Wormley 5580 Dining Chairs for Dunbar, c. 1950s. Courtesy of 20cdesign.
| | | |
| --- | --- | --- |
| | | |
| Rare Inlaid Constellation Table by Edward Wormley for Dunbar, c. 1950s. Courtesy of TFTM. | | Rare Leather-Embossed Ash Lounge Chair by Edward Wormley for Dunbar, c. 1968. Courtesy of Machine Age. |
Born outside of Chicago in 1907, Wormley spent a couple of years studying at the School of the Art Institute of Chicago before a lack of funds forced him to abandon his collegiate career. In 1928, he took a job in the interior design studio at the Marshall Field & Company department store. Wormley's design sensibility was largely shaped by his life experiences, including his modest upbringing as well as his frequent travels. But it was a 1930 trip to Paris, where he met the pioneering modernist architect Le Corbusier and the Art Deco furniture Émile-Jacques Ruhlmann, that was to be one of the most profound. When he returned to the States, bursting with inspiration, Wormley began creating pieces with clean silhouettes and unadorned surfaces. In 1931, at the age of 23, he was recruited by the Indiana-based Dunbar Furniture Corporation — a collaboration that spanned over three decades and would ultimately make Wormley a household name.
Wormley quickly became the company's Director of Design and produced his first Dunbar chairs, reproductions of antique designs, in 1932. When demand for the chairs increased, he added new pieces to form a full line of furniture. Dunbar never automated their production process, choosing instead to craft each piece by hand. Shaw says, "We will probably never again see the quality of woods that Dunbar used, and the craftsmanship of Dunbar's Swiss-heritage workforce in Berne, Indiana, is likely to remain unmatched. Each piece was a work of art." Ultimately, Wormley was tasked with creating two lines of furniture — one traditional and one modern — for Dunbar each year. By 1944, the unparalleled popularity of Wormley's modern line led Dunbar to drop the traditional series. Michael DeAngelis, of his eponymous San Francisco Mission District gallery De Angelis, has this to say about Wormley, "The Dunbar pieces were not sold in retail stores; they were available through decorators only. The furniture was custom produced to order, and many retain the original brass tag listing the specifications: collection name and name of the piece, wood, finish and upholstery. The quality has endured for generations and they were typically the heirloom pieces in every family."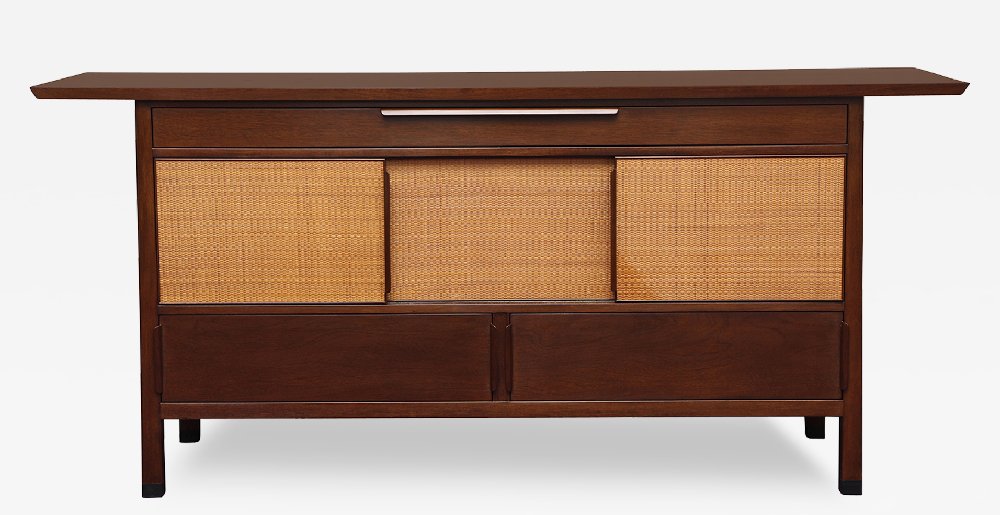 Rare Sideboard with Walnut Slab Top, Mahogany Case and Rattan Door Fronts by Edward Wormley for Dunbar, c. 1950s. Courtesy of Donzella.

Edward Wormley for Dunbar Open Arm Sofa, c. 1950s. Courtesy of The Exchange Int.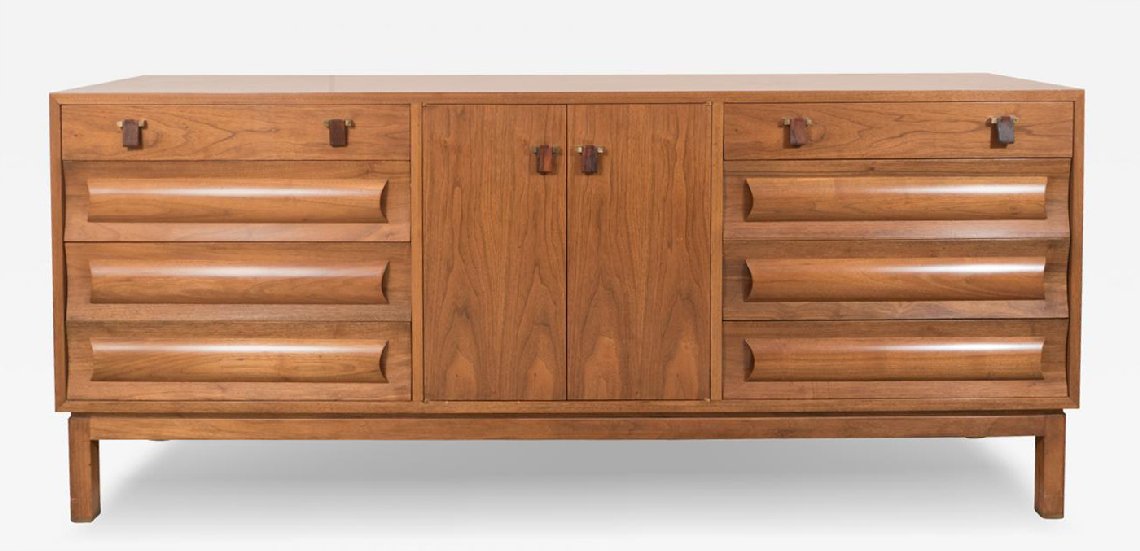 Edward Wormley Dunbar Sideboard, Drawers and Doors with Shelves, c. 1958. Courtesy of Eric Appel LLC.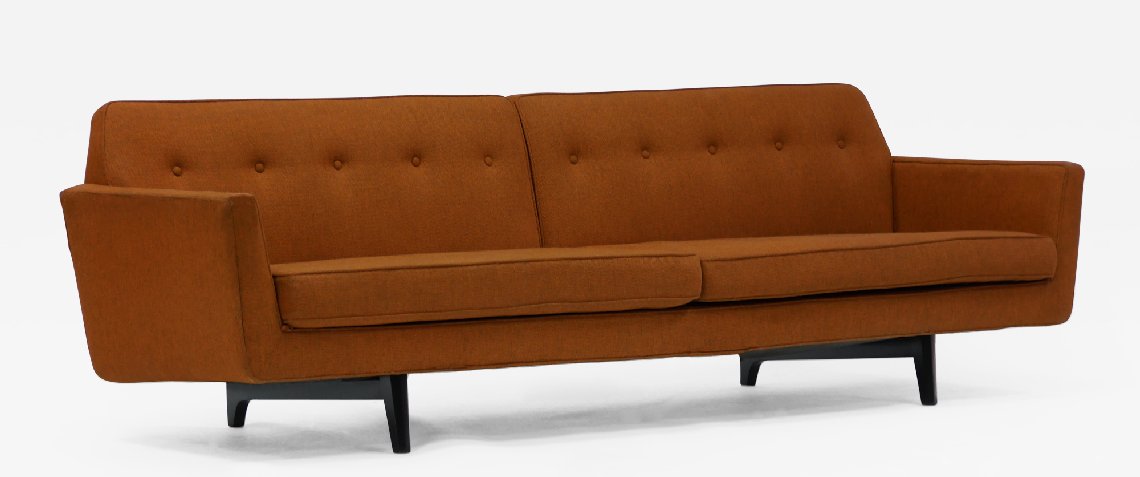 Pair of Bracket Back Sofas by Edward Wormley for Dunbar, c. 1960s. Courtesy of Continuum 20th Century Design.
In 1945, Wormley established an independent design studio in New York, but stayed on as a consultant to Dunbar. After creating the "Precedent" collection for Dunbar's rival, Drexel Furniture Company, in 1947, Wormley maintained a low profile and worked quietly designing showrooms, textiles, and smaller objects. In 1957, Wormley renewed his commitment to Dunbar and launched the Janus Collection. Inspired by the Arts and Crafts period, including the seminal California architects Greene and Greene, the series was an enormous success.
Many of Wormley's pieces remained in Dunbar's collection for years, including the Long John coffee table, the Listen to Me chaise, and the Téte-â-Téte sofa. His works were included in a number of the Good Design shows organized by the Museum of Modern Art in New York in the early 1950s. The event was established to commend selected home furnishings for their "excellent appearance and progressive performance" and over a three year period, thirty of Wormley's creations for Dunbar earned Good Design designations. In 1961, Wormley was featured in an article in Playboy magazine highlighting the giants of Modernism. The article was accompanied by a now-iconic image of such design pioneers as Harry Bertoia, Eero Saarinen, and Charles Eames, each sitting in a chair of their own creation. Wormley reclined in an elegant cane back chair.
| | | |
| --- | --- | --- |
| | | |
| Pair of Edward Wormley for Dunbar Nightstands, c. 1950s. Courtesy of Stamford Modern. | | Rare Bentwood Barrel Back Chair by Edward Wormley for Dunbar, c. 1950s. Courtesy of Eric Appel LLC. |
Long John Bench or Coffee Table by Edward Wormley for Dunbar, c. 1950s. Courtesy of Belvair for Modern Living.
| | | |
| --- | --- | --- |
| | | |
| Rare Edward Wormley Hexagonal Ebonized Mahogany and Tawi Dining Table with 3 extension leaves, c. 1950s. Courtesy of Assemblage. | | Edward Wormley for Dunbar Janus Collection Angled Sofa, c. 1950s. Courtesy of 20cdesign. |
| | |
| --- | --- |
| | |
| | Edward Wormley Sheaf of Wheat Coffee Table, c. 1950s. Courtesy of objects20c. |
Wormley's designs have been featured in exhibitions at a swathe of fine arts institutions, including the Baltimore Museum of Art (1951), the Nelson-Atkins Museum of Art (1956), the Brooklyn Museum (1958), the San Francisco Museum of Art (1960), and the Philadelphia Museum of Art (1983). He received numerous awards for his work, including the Elsie de Wolfe award from the American Institute of Decorators (1962), the Total Design and Designer of Distinction awards from the American Society of Interior Designers (1978 and 1982, respectively), and the Distinguished Designer award from the American Society of Furniture Designers (1986). Today, examples of Wormley's furniture reside in the collections of such institutions as the Museum of Fine Arts in Boston and the Museum of Decorative Arts in Montreal.
Thanks to their elegant lines, enduring forms, and superior quality, Wormley's designs were an instant success when they were first released, and are still highly sought after. In addition to collectors, Wormley remains a favorite among dealers and interior designers alike. Shaw says, "Even today, the understated elegance of Wormley's designs whisper 'style' instead of shouting 'fad.'" Dunbar continues to offer some of Wormley's most iconic pieces — a testament to the indelible mark that Edward Wormley made on the history of American design.