Handcrafted Contemporary Mosaic Furniture From Ercole Home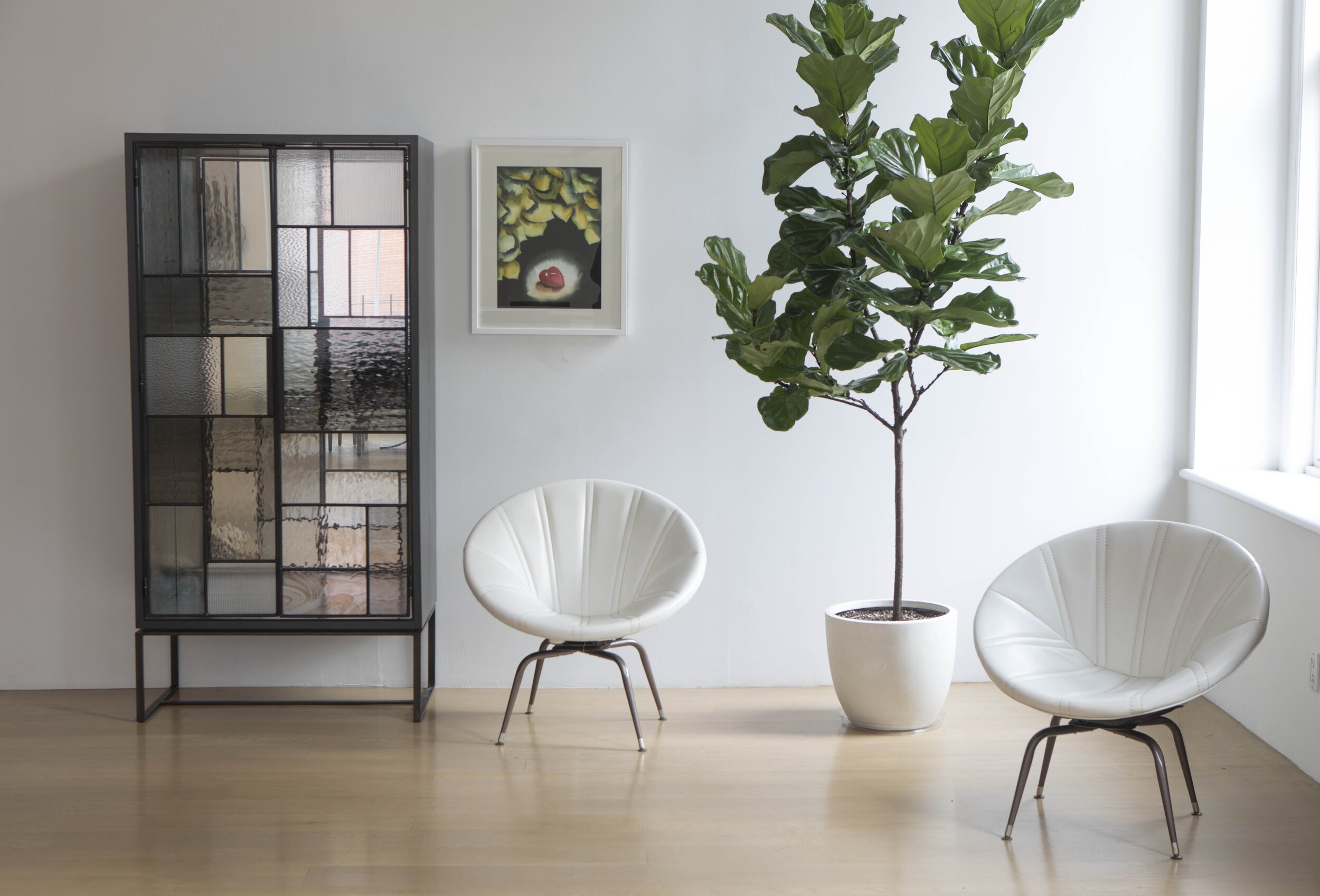 A
glass vitrine
from Ercole Home with a Mondrian-inspired pattern and a mix of glass textures.
| | |
| --- | --- |
| | |
| | Ornella Pisano |
I
n the 1980s, Ornella Pisano moved from her native Italy to New York City's East Village, where she began working as a fashion designer. Color and texture were the foundation of her clothing designs, which she sold to local boutiques, and played a formative role in her early experimental furniture designs. Drawing on the Italian mosaic tradition, Pisano began to paint tiles by hand and apply them to home décor. In 1986, she launched her first furniture and accessories store, Ercole Home, on East 13th Street. Through friendships with influential art world icons including the late gallerist Pat Hearn, as well as the stylish exuberance of her work, Pisano was part of a community of artists, designers, and friends that supported her brand and encouraged her growth.
Since its inception more than three decades ago, Ercole Home has evolved exponentially, from a niche artistic shop in the pre-gentrified East Village to a global home goods brand rooted in mosaics, and expanding far beyond it. With mosaic designs as a starting point, her work now includes other luxury materials including shagreen, leather, terrazzo, and églomisé. In a recent interview, Pisano told us how she was inspired to bring the traditional art of mosaic-making into the context of modern furniture.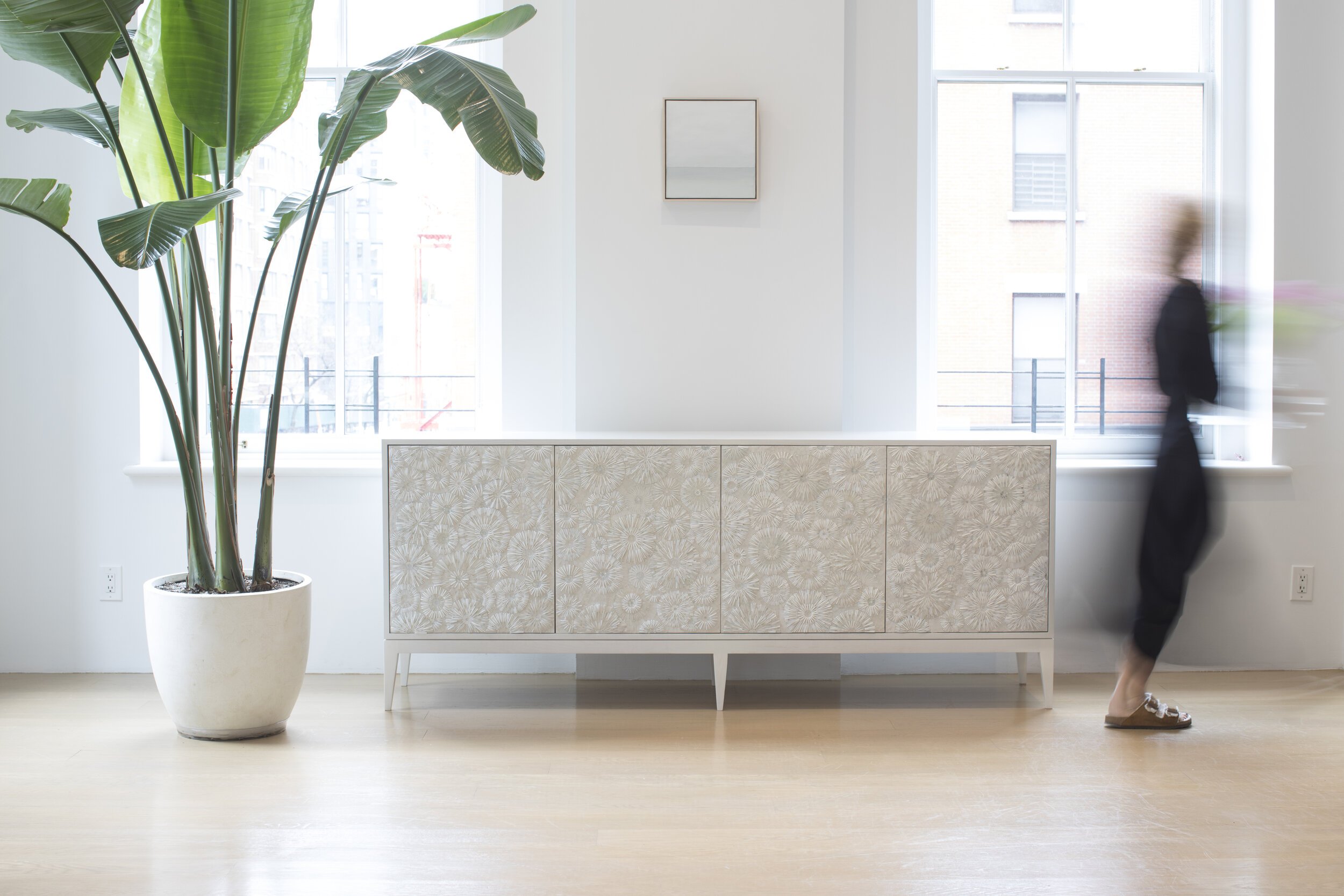 Featuring floral glass mosaics placed by hand, the
Blossom
collection is one of Pisano's favorite designs that she has created.
How did you start creating mosaics?
I was born and raised in Venice, so you can already imagine the exposure I had to mosaic art in my day-to-day life. Venice is a place filled with glass, mosaic, architecture, and colors, and so much more that can be inspirational. Those numerous trips on the vaporetto on my way to school, when I would see the colored plaster façade of the palaces that were my first color palette and their arches appeared constantly in my drawings. The shining gold Byzantine mosaics of Venice are forever imbedded in my mind. The floors of Saint Mark's Basilica influenced the pattern of my Sunburst Table collection. The terrazzo floors of my childhood house became the Vetrazzo collection. The Olivetti showroom in Venice, designed by Venice-born architect Carlo Scarpa, is the inspiration behind my Terrazzo collection.
When did you have the idea to apply your mosaics to furniture?
When I finished college in the '80s, I moved to New York City. Immediately, I immersed myself in the East Village artist community. It was one of the most influential and creative times to live in New York. There was Andy Warhol and Jean-Michel Basquiat, and so many other artists that we were interacting with daily. My friend Pat Hearn introduced me to so many artists who were, or became very famous. The studio visits, the gallery openings in Soho, the graffiti all over — it all opened my eyes to different shapes and colors. And this is when Ercole started, in a small storefront on East 13th Street, as a synergy of the old and new. Mosaic — such an old art — applied with new shapes and color combinations.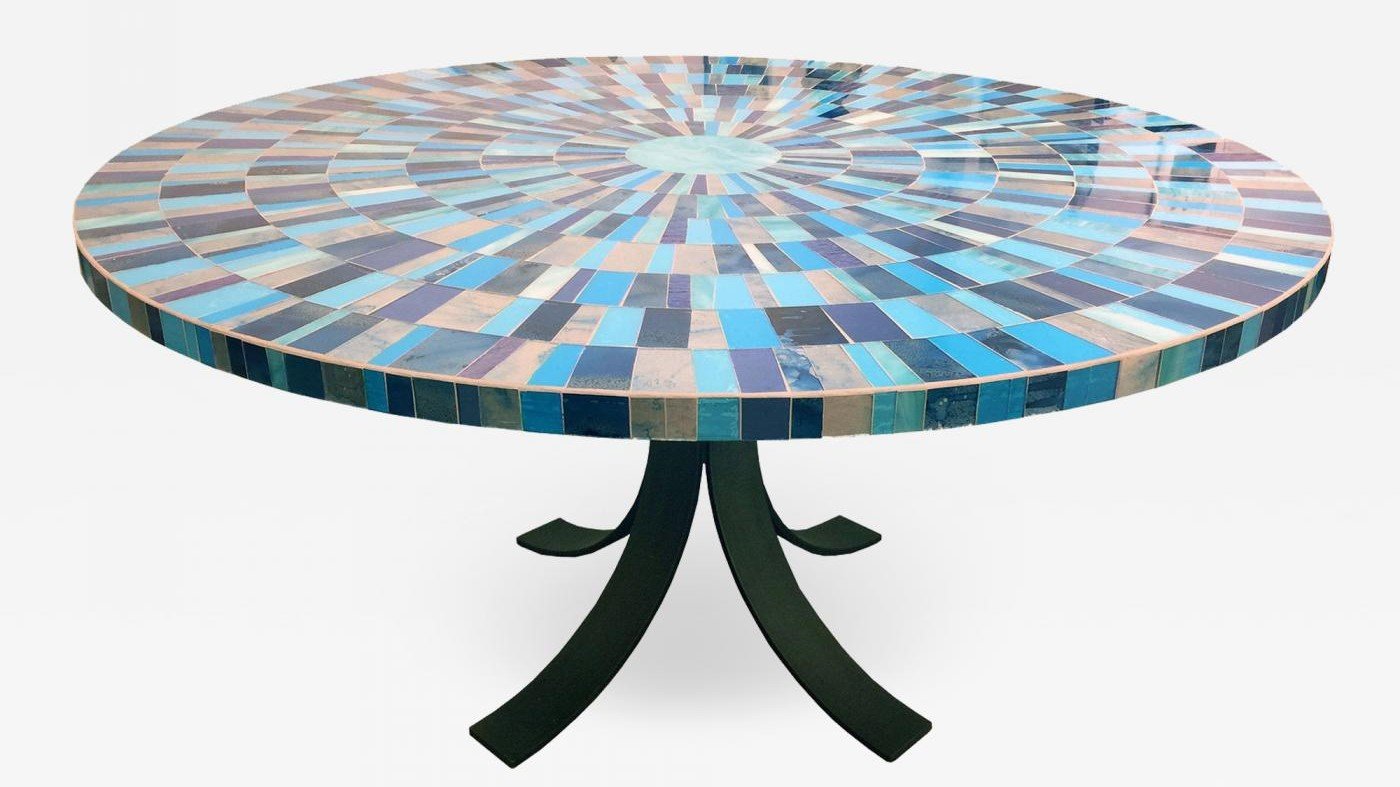 Top: In Pisano's work, mosaics take on various forms, from the colorful geometric patterns on of the dining table pictured here, to intricate dimensional floral patterns. Bottom, left: An artisan assembles the glass Blossom pattern. Bottom, right: A close-up of the completed Blossom mosaic on Ercole Home's Four-Door Buffet.
What's your process of assembling the mosaics? How long does it take?
The process all begins with an idea, and a design on paper. We then start picking the glass. We mix and play with the colors, and see how they will be placed to create a color story, pattern, and texture. The next step is, of course, to cut the glass — meaning cutting out the right shapes and sizes depending on the design. And finally, we assemble the glass. This part of the process usually takes the longest, with some of our designs being so intricate and labor intensive that they can take a whole day to finish only a few square feet.



Top: The

Milano Three-Drawer Desk

is crafted from oak and features a dark chocolate cerused finish. Desk drawers are upholstered in leather. Bottom, left: This version of the

Milano Nightstand from Ercole Home is covered with luxe textured shagreen. Bottom, right: Pewter finish hardware decorates the Milano Night Stand,
What's behind the name "Ercole Home"?
Ercole is the Italian name for Hercules, who tore open the isthmus separating Europe and Africa to create the strait of Gibraltar, signaling the western boundary of the known world. Demarcated by promontories along either side, the Pillars of Hercules informed ancient travelers like Ulysses that they could not go any further, because they would drop into the infinite space below the world. The ancient Greeks and Romans told this legend back before Galileo realized that the Earth was round and not flat. On a long night with friends around the dinner table, as we discussed the Pillars of Hercules, we came up with the name, Ercole, for my brand.
What are some of your newer pieces, and how did you approach making those?
Our Mystic collection is new, with entire panels of hand painted glass or églomisé mirror applied to the doors and drawers of the pieces. Because of the way the reflections change with the light, each product looks different from others in the line.
Which products have you been most excited about over the years?
Ercole's story is also the story of my life, a journey that is still unfolding. What Ercole was in the 80's is a very different business than it is right now. I still love the first hand-painted mosaic collection, from which I jealously kept a few pieces, but the glass tessera of the Terrazzo collection and the exuberance of the blossom styles are my favorites now. They honor my past and my present, as I keep an open door toward the future.
How has your approach to design changed since you launched your brand in 1986?
Italian modern design has influenced my later collections. The essential straight lines and contrast of material and color, and the courage of Italian designers to push the boundaries of traditional furniture are inspirational. In my work, as in theirs, the dynamic combination of the Old World and contemporary urban life is becoming stronger.