Neal Beckstedt's Creative Suite
A Warm and Eclectic Office Style Helps Channel Creativity At Neal Beckstedt Studio
| | |
| --- | --- |
| | |
| | Neal Beckstedt at his Chelsea studio, kicking off another workday. |
By Neal Beckstedt Studio
Photography by Eric Piasecki
While designing an efficient and aesthetically pleasing office space can be challenging, the task of designing an interior design studio office space is more complicated. Balanced between form and function, it must serve as a design lab without being too sterile or self-referential, and reflect the design sensibility of the company without being too precious. Located across the street from his original office, in a space that was previously a synagogue, Neal Beckstedt Studio's new office in a Chelsea, New York industrial building had interesting attributes: a wall of oversized windows, exposed pipes and large open expanses of space. It was, however, swathed in white paint and looked "too clean and new," Neal said, and had to be "dirtied up." A design plan came to mind organically; Neal's midwestern farmland roots, which have often served as a wellspring of inspiration, once again lent a hand. The forms and materials of the farm – raw beams and floors in barns, the weathered industrial patina of farming equipment, and simple form-follows-function lines – were employed to create a very warm and dynamic studio space, with a contemporary take on the building's industrial heritage.
| | | |
| --- | --- | --- |
| | | |
| The entryway is a serene portal into the light-filled office, where a minimal-style console grounds an eclectic display of artwork. The floors were an element that Neal felt had to be "dirtied up", taking the finish back to reveal their warm and authentic tone from decades of use. A variety of zones that flow through the space were mapped out; some for casual interaction, some for problem-solving. These shifts in environment can lead to a different creative headspace, a factor so important in the design process. | | The reception area could be a room in any of the firm's projects, with iconic forms, sophisticated art and comfortable seating. Pierre Jeanneret's Chandigahr Chair (hello, old friend!) a piece that checks all the boxes: simple, minimal, strong and sculptural; which, along with a comfortable sofa, compose a seating group. The marble, steel and glass pedestal table is by Italian architect Giotto Stoppino, part of his early 1980s Menhir Collection, a design based on ancient monolithic form. The 3-tier plaster table lamp is by French interior designer Jacques Grange for Sirmos, after an original design by Giacometti for Jean-Michel Frank. A large abstract expressionist work by Mark Saltz, a midcentury wrought iron floor lamp, a hide rug, and a Chinese earthenware martavan storage vessel complete the mix. |
| | | |
| --- | --- | --- |
| | | |
| Isamu Noguchi's Akari light sculpture, a modernist icon dating to 1951, balances the volume of the long rectangular space with its buoyant form. A 16-foot farmhouse table with vintage 1960s school classroom chairs is the heart of the office. This community table, which evokes a relaxed, congenial and collaborative environment, is just one of the design choices employed to facilitate interaction, which feeds the creative process. | | The design reference library fills one wall, with a row of framed architectural renderings spanning the length. A large ovoid vessel continues the organic feeling established by the worn wood floors. The inclusion of decorative objects create a sense of ease and personality often lacking in an office environment. |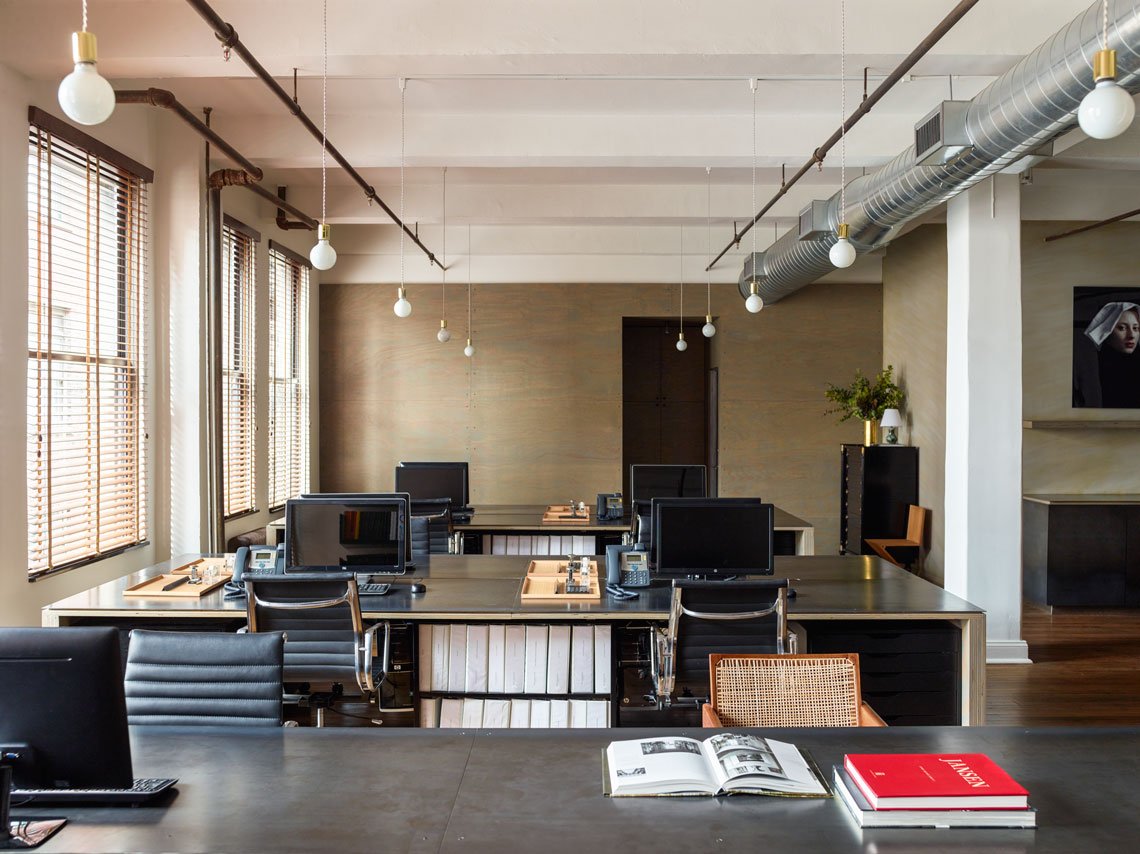 A mix of humble materials was used to fabricate the handsome workstations. The desks were constructed from sheets of laminated plywood which were stained gray, with desktops of hot rolled steel. Shelving and wheeled melamine storage units under the desks keep the surfaces clear of distracting clutter. The lighting system was fabricated in-house with individually sourced components: simple track lighting, silk cord and sockets, adding architectural interest to the upper level of the space. The pipes had previously been painted white, and they were stripped to reveal their original finish.
| | | |
| --- | --- | --- |
| | | |
| Neal's desk is positioned adjacent to those of his staff, making it easy to volley ideas back and forth. | | Neal frequently includes one classic antique piece in his interiors, as a touchstone to the past. This ebonized Empire chest of drawers stores finish samples. |
The kitchen area is at the rear, with steel-topped cabinets and a long open shelf. The Dutch photographer Hendrik Kerstens has photographed his daughter Paula over a lengthy span of time. This image, titled Napkin recalls the aesthetic of the Dutch masters. At right, vintage steel flat files are utilized for storage and also as a zone for reviewing plans or developing finish schemes.
To view the entire project click here
To view more projects by Neal Beckstedt Studio click here
---
Neal Beckstedt's Incollect Picks for the Ultimate Office
Neal browsed the offerings on Incollect and selected pieces for the ultimate office. Vintage industrial, sleek Scandinavian, a bar cart for celebratory moments, an umbrella rack by Jacques Adnet and more, here are Neal's picks:

Click on any image to view the complete collection