New York Design Center Throws a Klieg Light on Rare, Important English Furniture with Exhibition and Yale University Press Book
New York Design Center Throws a
Klieg Light on Rare, Important English Furniture with Exhibition and
Yale University Press Book Launch
By Benjamin Genocchio
The Gallery at 200 Lex, powered by Incollect celebrates the launch of the new two volume book set by Christian Jussel and William DeGregorio; English Furniture (1680–1760) and English Needlework (1600–1740), The Percival D. Griffiths Collection. In conjunction with the publication of such a remarkable catalog (10 years in the making) The Gallery has curated a special exhibition showcasing pieces from this historic period.
Percival D. Griffiths (1861–1937) formed one of the finest collections of early English furniture and needlework and the book, published by the Yale University Press, illustrates the nearly 700 pieces owned by Griffiths that were assembled with the noted authority Robert W. Symonds. This special exhibition includes some pieces featured in the book as well other notable pieces from five of the Gallery's fine traditional English dealers.
Curated by former Veranda, Elle Decor and House Beautiful editor Catherine Lee Davis, the beautiful vignettes were created to highlight the beauty and character of these museum quality pieces while also allowing the viewer to understand the relevance of these pieces today. The dealers who loaned furniture for the exhibition include Clinton Howell, Yew Tree House, Michael Pashby, O'Sullivan Antiques, Hyde Park Antiques Ltd, and Leftover Antiques, with Cora Ginsburg LLC providing English needleworks.
The elegant vignettes include one centered around an 18th-century George III mahogany serpentine chest of drawers from O'Sullivan, flanked with a pair of Queen Anne walnut and marquetry side chairs from Hyde Park Antiques in the manner of Gerrit Jensen, each with yoked top rail over a shaped backsplat inlaid with foliate sprays and dating to circa 1710. A marvelous dog painting from Leftover Antiques from a somewhat later period completes the arrangement.
Dealer Clinton Howell provided a magnificent walnut and parcel gilt mirror of unusual design and lovely color, the gilding dry stripped, with original mirror plate, from circa 1730 that Davis paired with a circa 1725 George I walnut bureau on stand, set upon cabriole legs headed by carved shells and suspending bellflowers, from Hyde Park Antiques, coupled with 2 dog paintings from Hyde Park. Nearby is a pair of George II-style mahogany armchairs of indeterminate date (these also from Hyde Park) with an 18th-century Georgian mahogany piecrust tilt top table from Ireland, circa 1770, drawn from O'Sullivan.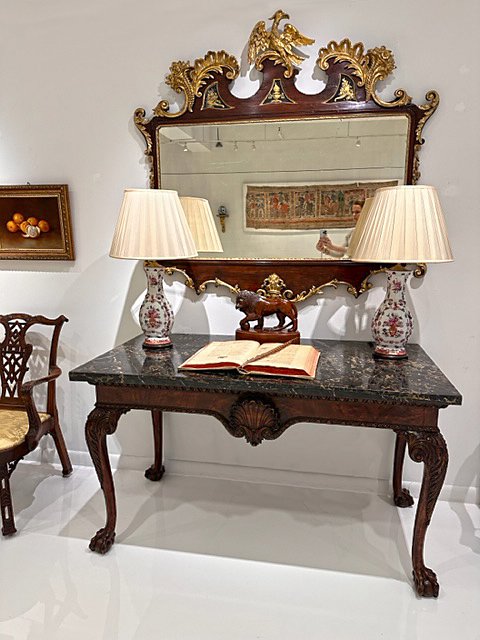 A walnut console (having a gold veined Portor marble top resting on a frame veneered in black walnut), circa 1745, from Clinton Howell, is beautiful paired with two lamps from Hyde Park and a late 18th-century mahogany and parcel-gilt overmantel mirror from O'Sullivan. Flanking the whole arrangement are an exceptional and rare pair of walnut Chinese Chippendale chair back settees from Michael Pashby dating to the mid-18th century that were recently rediscovered in an important private midwestern collection.
The complete exhibition features extraordinary pieces of great value that can only be found at The Gallery at 200 Lex. While these pieces are currently being showcased in the exhibition space through April 10, they can be seen along with other historic and significant pieces year-round at The Gallery, which houses the most complete collection of fine English antiques in the tri-state area, if not the country!
The Percival D. Griffiths Collection (Volumes I and II)
Volume I: English Furniture 1680–1760
Volume II: English Needlework 1600–1740
by Christian Jussel and William DeGregorio
Hardcover
Published: Tuesday, 28 Mar 2023
$300.00
Pre-order directly from Triliteral by calling 1-800-405-1619