Newel: The Evolution of an Antiques Empire
CEO Jake Baer at one of Newel's warehouses.
T
his past year has been challenging for many businesses. Newel, however, is forging ahead and looking toward the future. An 81-year-old antiques and props rental company based in New York City, Newel has bought out the full inventory of three antique dealerships, leased a new 10,000-foot warehouse space in Queens, and launched a staging business, all in the last year. At the helm of the changes, the 32-year-old CEO, Jake Baer, is unusually young for the industry. He was appointed head of the family business in 2015, as antique sales nationwide were slowing, and Baer faced the challenge of reinvigorating his great-grandfather's company. "I want to be the person who protects the industry," he says. "I love it, it's my passion."
Today, Newel has three separate divisions: antiques, prop rental, and staging. Their 30,000-item collection is spread out across a 60,000-foot warehouse in Long Island City, a 10,000-foot showroom on E 61st, and now, the additional 10,000-foot storage space. With an incredible capacity for storage, and Jake's knack for logistics, the company hopes to keep grow even further. "My goal is to double our 30,000-item collection within the next one, two years max," he says. Other plans in the works include an on-site, professional photo studio and a second location in Atlanta. Grounded in the values of their past, Newel tests the limitations of what a modern antiques dealership can be.



Left: An 18th-century Italian Rococo wall mirror featuring an Apollo mask crest. Right: A Hungarian Secessionist mahogany and maple cabinet with painted glass door panels.
The Newel Story
In media circles, Newel is known for renting out set decoration for some of the world's most famous movies and TV shows — like The Godfather, Sex and the City, and Succession — and even a recent ad campaign for Ralph Lauren. The brand's reputation in the entertainment industry goes back decades. In 1939, a Russian immigrant named Meyer Newman told the set director for a Broadway production of Pygmalion that he could furnish the show. To Newman's surprise, the set director hired him. He scrambled to find furnishings at local shops around New York City, and even presented items from his own home. Following the success of Pygmalion, Newman began to stockpile furniture and sell antiques from his own home, a hodgepodge business that eventually developed into one of the city's largest prop warehouses for theater, television, and movies.
When Newman first launched the props business, he acquired objects because he was interested in them, and because he thought they might decorate a production. They were not necessarily intended to furnish someone's home. "He just wanted to build an inventory of beautiful things that no one else had," says Baer. For Newman, the business was based on acquiring interesting objects without necessarily knowing how they would be used. "That's the mindset I have — this is cool, someone is going to want this," Baer says, adding that now Newel also buys based on selling trends.



Newel ads from the 1980s tended to emphasize luxury and tongue-in-cheek humor.
Soon, as trends evolved, clients wanted Newman's one-of-a-kind rental offerings in their homes, too. Newel experienced a kind of Golden Age in the mid-to-late 20th-century. Antiques were popular, and the company had a lot of them. Its clients included Jackie Kennedy, for whom Newman's son, Bruce, scoured dealerships and thrift stores to find a $90 American Empire chest of drawers for the Lincoln bedroom in the White House. The company's smart and stylish advertising campaigns won awards. Then, at the start of the 21st century, the antique market began to diminish, as sparse, modern styles replaced the historic collector aesthetic. The company, however, continued to buy more merchandise, and in 2015, they moved most of their stock to the warehouse in Long Island City. In 2016, Lewis Baer — nephew of Bruce Newman — passed the company on to his son, Jake Baer.
Still in his 20s, Jake Baer was now in charge of one of the country's largest antique dealerships. He understood the irony of a man his age leading an antiques business, an industry challenged by its reputation for disfavoring young people. When he was a teenager and early 20-something, Baer, the heir to an antiques empire, was often turned away at antique shops due to his age. "I look back at it now and I think, [dealers] didn't necessarily foster that whole generation," he says.





Left: An English Georgian mahogany armchair (1765). Right: A black lacquered, Anglo-Indian (19th-century) side table with elephant mask legs in the English Regency style.
Newel Props Breaks Away
With his experience in the company as a carpenter and bookkeeper, and everything in between, Baer brought passion and expertise to Newel's processes. He calls Newel a "logistics company," and efficient product organization is his specialty. When he took over the brand, almost immediately, he separated Newel Props into its own company. The antique market was struggling, and yet entertainment was not — so he channeled significant energy into marketing Newel Props to the television and film industries. Passed in 2014, a New York state tax credit to the movie industry ensured that companies would continue to film in the city, and the ubiquity of online streaming was creating consistent demand for new content. Furthermore, many new shows and movies were shot only a half mile away from the Long Island City warehouse at Silvercup and Kaufman Astoria Studios.
To take advantage of the booming market, Baer continued to build up relationships with set decorators, and invited some, including those at Saturday Night Live, into Newel's warehouse to work. He readjusted the rental pricing, which had previously remained at 10% of the item's list price, to increase demand for more expensive, elaborate objects. By 2019, the rental company was brining in more revenue than the selling side.



Left: A set of 10 Venetian painted side chairs with gilt trim from the 18th century. Right: A Continental Rococo gilt dresser from 1750 featuring parquetry and marquetry inlaid designs.
For Newel, More is More
Baer's plans for Newel extend far beyond the props arm. His model is simple: more inventory, and more revenue streams. Under his leadership, Newel's inventory has grown exponentially, with consignment making up about 15% of their total stock. Each day, the company receives about 10 calls offering up pieces from estate representatives and other dealers. "A lot of businesses want to be part of the Newel family," he says. Baer's inspiration for the growth model is his great-grandfather, who would bring back shipping containers from Europe in the 1940s and 50s. The size and range of Newel's inventory allows it to stay relevant in the midst of shifting, and occasionally debilitating, trends, like the takeover of "midcentury modern." Within the next couple months, they'll take on more than 10,000 new pieces.
Baer has also pushed the brand toward enhanced relationships with interior designers and key buyers, as his great-uncle accomplished with Jackie Kennedy. "To know that we're a little cog in what they're doing gives me a lot of satisfaction," he says. Newel's new staging business helps designers furnish for-sale homes and put its stockpile of antiques to use. The company is also in the process of building a professional-grade photo studio on the premises of the Long Island City warehouse to better accommodate brands that want to use Newel products in their shoots, and he's considering branching into a second location in Atlanta, where filmmakers are lured by lucrative tax incentives.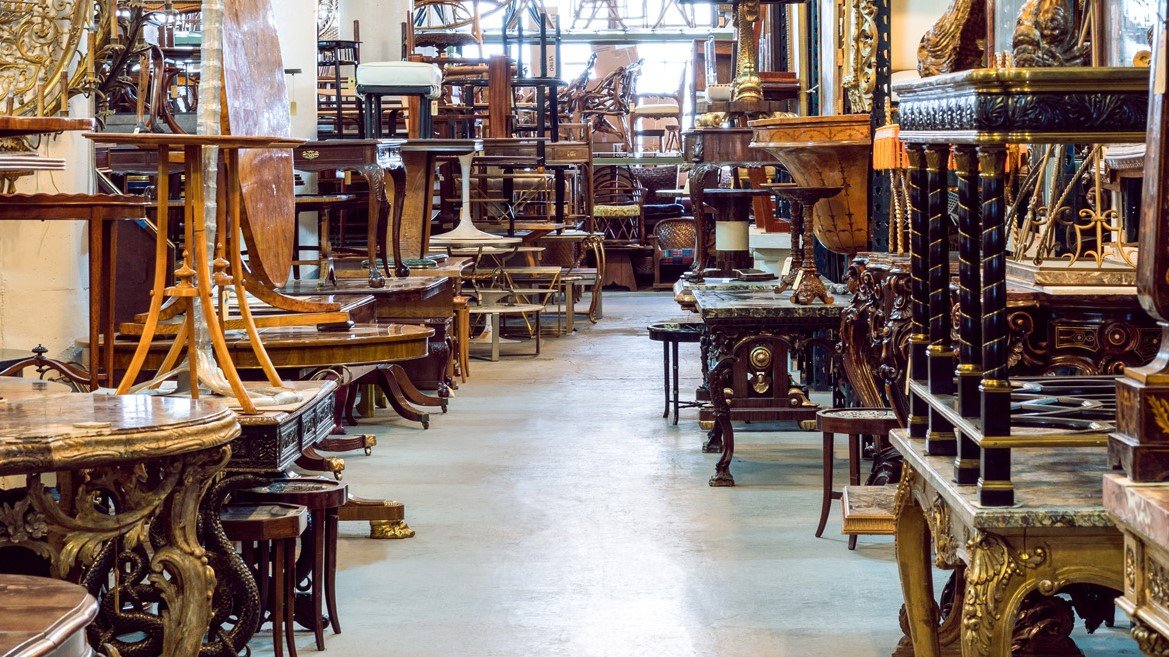 The Newel warehouse in Long Island City.
Increased Approachability
Now 32, Baer's age brings value to the company by providing a new perspective on the market. Young people sometimes feel unwelcome in antique stores, and they may also believe that antiques are decorative and not functional. Baer wants to dispel any outdated beliefs about his product. "Antiques have lasted a long time," he says. "They're meant to be touched and used." Appealing to the values of millennial buyers, the brand now discusses environmentalism — for example, every time someone subscribes to their email newsletter, Newel plants a tree — and the ethics of antiques, which are reused instead of discarded. To make antiques more approachable, they've invited classes from Parsons and other schools to the warehouse to view the inventory. Although previously, Newel's showroom was only available to the trade, both the showroom and Long Island City warehouse have opened to the public.
Lately, interest in antiques has been piqued once again, especially in the last year. Baer isn't sure if people are buying more antiques because of normal cultural shifts and supply side issues for new products, or if clients are abandoning cities for larger, countryside abodes. "People are rediscovering that antiques give a home personality, uniqueness, and most importantly, sophistication," he suggests. To draw consumers and would-be clients in, Newel has kept its warehouse and showroom open to the public throughout most of the past year. "Our number one selling tool is our warehouse," he says, noting that clients will spend the day wandering around, discovering unexpected finds. "It's socially distant — people can just walk around and feel safe."



Left: A pair of 20th-century Syrian walnut armchairs with mother of pearl and ebony inlay. Right: A French Art Nouveau (early 20th century) mahogany and walnut cupboard cabinet featuring floral inlay and carving by Louis Majorelle.
Although the rental business paused during the early months of New York's lockdown, it has returned in full once again. Baer knew the film industry was recovering when the SNL set decoration team began to meet weekly in Newel's warehouse once again. New safety precautions have caused minimal damage to staffing: half his employees now work in-person one day, and the other half works the next day. Overall, the pandemic has failed to slow down Newel's momentum. "I'm 32 years old," Baer says. "We're planning to keep this thing in motion for another 81 years as well. We have staying power, and we have growing power."