Kravet's Head of Furniture Talks 9 Top Pieces
An exceptional design from Kravet, the sensuously modern
Adams
Cocktail Table is paired here with more chic pieces, all designed by Michael Berman. Featuring clean lines and sporting brass feet, the
Balthazar
Sofa is set into a niche and partnered with the oak-topped
Clarence
Side Table. Plush dusty plum-upholstered
Ludlow
Stools complement the velvet sloped-arm
Garrett
Swivel Chair. The architectural
Frank
Drinks Table brings the warmth and natural texture of oak into the space.
L
ong celebrated as a historic fabric house, Kravet knows how to stay relevant to designers. From collaborations with top-tier tastemakers to numerous QuickShip frames, innovative sourcing platforms, and — of course — an unparalleled textiles collection, the brand is invested in helping designers to personalize products on a timeline. Kravet's diverse offerings come together in their furniture collection. Launched in the early 1990s, the line offers designer-driven pieces that are both quickly produced and bench-made in the United States. Each piece is often available with multiple wood and metal finishes, and upholstered furnishings can be customized in any of the brand's more than 50,000 fabrics. "We are a furniture company within a fabric company," says Sara Kravet, vice president of the furniture division and great-great-granddaughter of the founder, explaining the brand's ability to offer nearly endless customization options.
Because of its immense inventory and customization possibilities, Kravet's furniture suits a diversity of interior environments. Here, Sara Kravet talks with Incollect about nine of the standout pieces from Kravet's current collections that showcase the brand's stylistic range.



The

Adams Cocktail Table.
Known for his modern environments, Palms Springs-based designer Michael Berman collaborated with Kravet on a series influenced by both midcentury design and his hometown of Detroit. "His inspiration was Palm Desert meets the automotive industry," says Sara. A prominent piece in the collection, the Adams Cocktail Table also reflects the designs of the Atomic Age in its futuristic, biomorphic shapes in its asymmetrical wire-brushed oak top and brass ovals inlaid directly over the legs.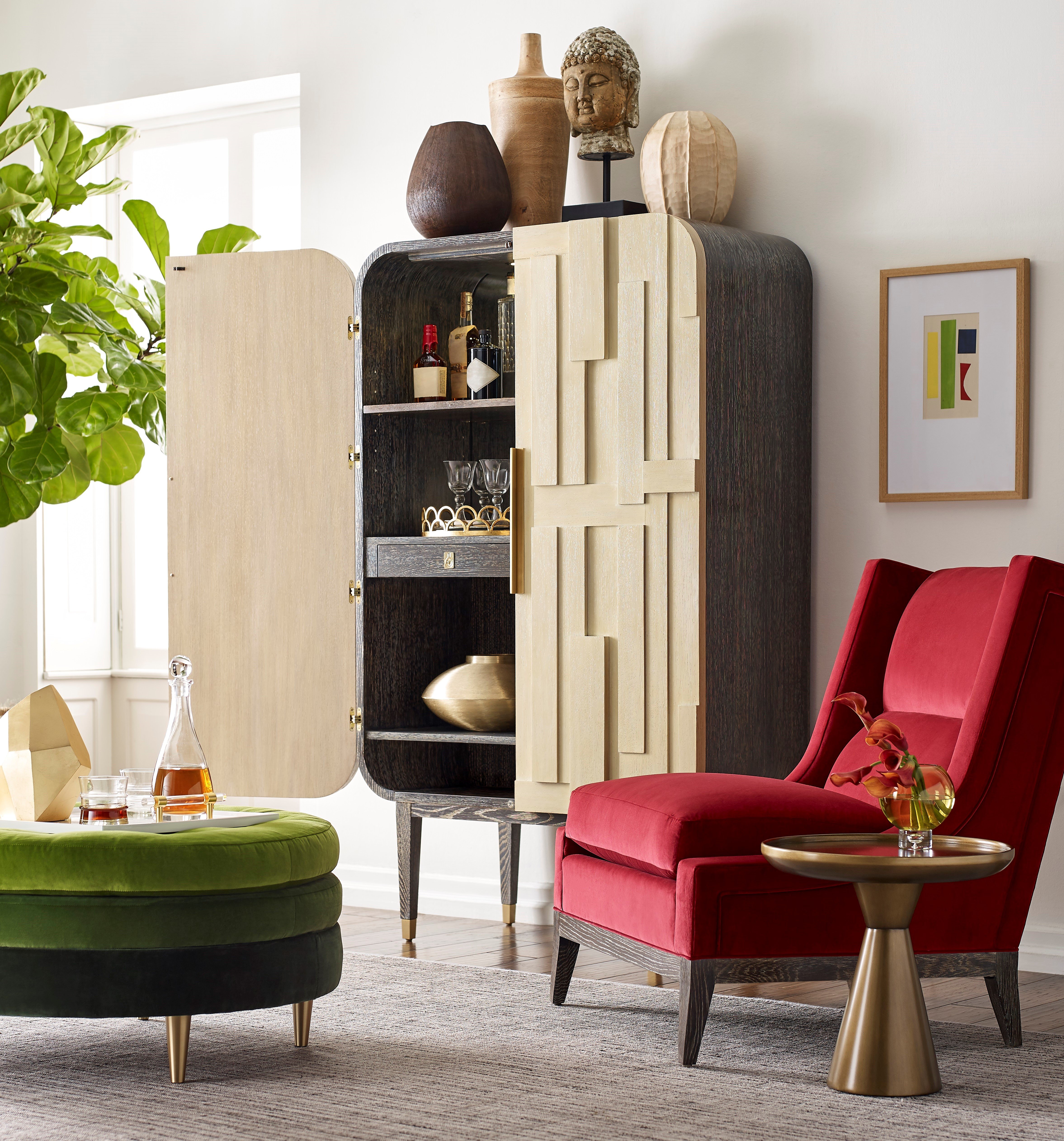 The fresh and modern Frank Cabinet was also designed by Berman. "The Frank is designed to anchor a room," Sara says. For this piece, Berman reinterpreted Brutalist forms in the architectural design of the doors, while imbuing the cabinet with warmth, beauty, and lightness. The wood layers add dimension and texture. Underneath the frame, brass boots at the tips of the feet mirror the brass door handles, which open onto a chic functional interior with two recessed LED lights glowing softly across the mirrored back. Although intended for glassware, the Frank can also be used as a linen cabinet.
Also in this image:
| | | | | |
| --- | --- | --- | --- | --- |
| | | | | |
| Mont Wing Chair | | Ondine Low Table | | Florence Cocktail Ottoman |
For a refined sofa that would be comfortable without being too serious, Kravet turned to celebrated designer Larry Laslo. Famous for redesigning Bergdorf Goodman in the 1980s, Laslo approaches traditional furniture designs with an eye for style and comfort. "Sometimes you will find a beautifully designed piece of furniture that isn't necessarily comfortable to sit in," says Sara. "Laslo masters both comfort and visual appeal." Influenced by Art Deco, the Boulevard Sofa seems to float above its sculptural feet, which clients can select in either maple or Lucite.
Also in this image:
| | | | | |
| --- | --- | --- | --- | --- |
| | | | | |
| Camelot Arm Chair | | Tea For Two Bunching Table | | Cuddle Up Ottoman |
The Vitra Chair belongs to a newly released European-inspired collection, in which each object is named after artists and design galleries — Vitra is a leading design museum in Weil am Rhein, Germany. Featuring an exposed maple frame, the chair follows the creative tradition of Charles and Ray Eames. "You could see it in a midcentury house or upholstered in leather in a study," Sara says. Conversely, the Cross Stool showcases the range of upholstery and finish options Kravet offers. Since the brand is known for its range of fabrics, the stool can be upholstered in various prints and textures to suit distinct environments. "You could cover it with a Kelly Wearstler embroidering on a diagonal or with a small-scale print for a bedroom," notes Sara. To further customize the Cross, the company also offers nine nailhead finishes.
Like the Boulevard Sofa, Larry Laslo's Cuddle Up Sofa maximizes both comfort and visual appeal. The scalloped maple base is an unusual detail that elevates the look of the sofa. For additional seating, Kravet recommends purchasing two Cuddle Up Sofas, which can be customized to fit together like a sectional. With a matching scalloped base, the versatile Cuddle Up Ottoman can be used as a stool, side table, or coffee table.
In this image:
| | | | | |
| --- | --- | --- | --- | --- |
| | | | | |
| Tea Cup Slipper Chair | | Cuddle Up Sofa | | Lounge Lizard Swivel Chair |
The Avenue Dining Table designed by Laslo is one of Sara's favorite Kravet pieces. Unique customizable details give the dining table a personalized, high-design appearance. Elegant metal footplates in nickel or brass ground the pedestal base — offered in oak and maple — and the cut outs can be painted for a touch of contrast. Based on client feedback, Kravet added an extension so that hosts can provide extra seating for large gatherings. "The extension creates so much more flexibility," she says.



Combining a modern look with upscale comfort, the East Side Sectional is one of the longest running pieces in Kravet's line. "It's difficult to make a tight-back sofa or sectional that's comfortable," says Sara, elaborating on why Kravet continues to produce the sectional. The East Side's wide arms create ample space for party guests to perch upon, or the arms can be used as a laptop desk for Netflix or at-home work. In the image above, the sofa is covered a muted linen-like fabric from Barbara Barry's Panorama collection for Kravet, inspired by the desert colors of California landscapes.
In this image:
| | | |
| --- | --- | --- |
| | | |
| | | |



Left: The

Edgemere Coffee Table. Right: Also from Mabley Handler's collection, the Bridge Lane Cocktail Table is pictured here in Midnight Cerused, Sara Kravet's favorite finish for the Edgemere Coffee Table.
Husband-wife duo Mabley Handler Interior Design is the creative force behind the Edgemere Coffee Table. Crafted from cerused oak, the table is casual and coastal, and comes in a unique range of soft oak finishes. Sara's favorite finish is Midnight Cerused. "I'm going to call it off-black, where black and blue meet each other," she says, describing the shade. With this finish selection, the beachy coffee table shifts lanes to take on a moody, elegant tone. "With the Edgemere, you can change the personality just by changing the finish," she says.
In the Edgemere, a simple adjustment in finish leaves clients with a uniquely personal, well-crafted object that flows harmoniously with its environment. The brand's sheer amount of inventory also opens up new avenues of exploration, as Kravet's range is as expansive as the imagination of designers. "With our furniture line being so broad, narrowing down the overall vision for the project is the first fundamental step," says Sara. "The interior designer can really lead the way and showcase their talent."