PAD Paris Celebrates the Intersection of Art, Design and Architecture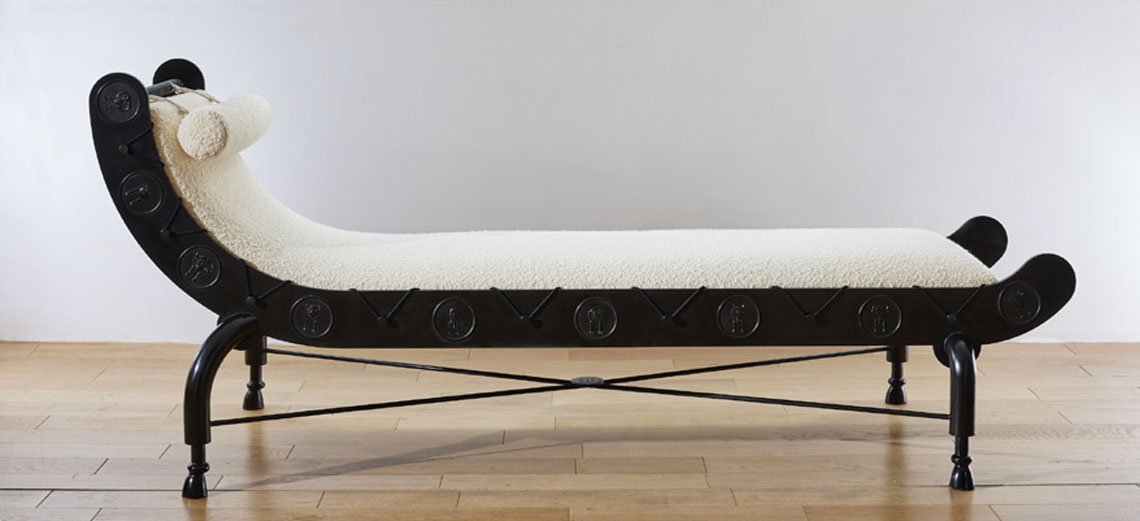 Jean-Marie Fiori, Resting bed, 2021, bronze and fabric, signed, Fonderie Deroyaume, limited edition of 8 copies, H93 x L217 x W85 in. Photo © Alexis Narodetzky. Image courtesy of Dumontiel.

PAD Paris Celebrates the Intersection of Art, Design and Architecture
by Benjamin Genocchio
The enchanting PAD (Paris + Art + Design) Paris returns for its 24th edition from April 5th to 10th at the Jardin des Tuileries, bringing together 69 international and French galleries with a strong focus on design from all periods as well as the decorative arts. There are some new exhibitors broadening out the displays, but as always, the accent is on French design dealers along with a smattering of Italian, Spanish and British galleries.
The unusual and refreshing thing about PAD has always been that, as an art fair, it displays an eclectic international program focused on the intersection of art, design and architecture. The fair also includes photography as well as jewelry — quite a lot of jewelry this year, actually, with some of the more notable dealers including Walid Akkad, Karry Berreby, Second Petale, and Bernard Bouisset Gallery.
Bernard Govin (b. 1940), Modular Sofa. Wood structure, foam and Sherpas Craie fabric by Lelievre. Modular sofa that can be placed in various configurations. Six chairs and three corner pieces. Model 'Octa', edited by Mobilier International. France, c. 1980. Height: 69 cm, Depth: 80 cm, Width: 76cm. Image courtesy of Portuondo.

Dealers say they are thrilled to be participating in PAD Paris again this year. For Hugo Portuondo of Portuondo, this is his first fair since 2019. "Interior designers, collectors and amateurs alike are delighted for this fair to be taking place again after a three-year hiatus due to the pandemic," he says. "We will be exhibiting an eclectic selection of furniture, lighting and art works ranging from the mid-1950s to early 1980s mixed with contemporary art and sculpture. Among the designers and pieces we will be featuring are an important steel desk and chair by Raymond Cohen, a sectional OCTA sofa by Bernard Govin, and a wonderful pair of wall wave sculptures by Spanish architect Barbara Perez."
Florence Guillier Bernard, Founder and CEO of Galerie Maison Parisienne, is also happy to be back. "On the occasion of this not-to-be-missed event celebrating art and design, the gallery will present a new collection of its artists' and craftspeople's latest unique pieces including a new masterful wall panel by Simone Pheulpin, 12 sculptural pieces of furniture by Pierre Renart, two new wall panels in feather by Julien Vermeulen, and a collection of white-gold art and design objects by coppersmith Hervé Wahlen, including lamps, wall sconces and light sculptures."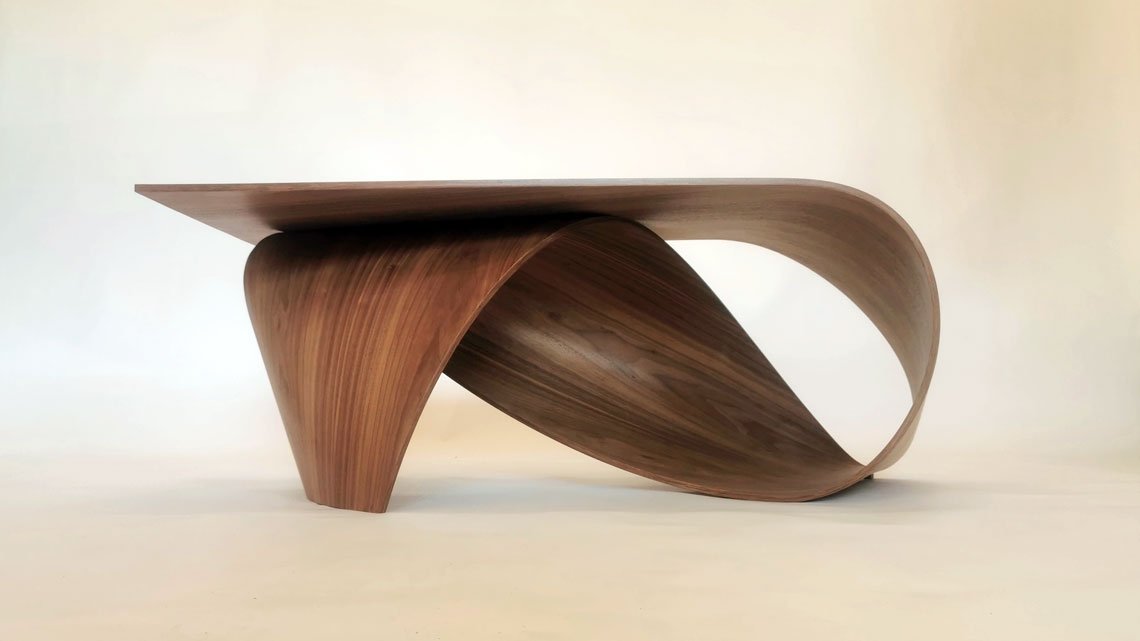 Pierre Renart (b. 1990), Wave Coffee Table, Ribbon Collection, 2022. American walnut, natural finish. W 110 x H 45 x D 60 cm. Image courtesy of Maison Parisienne.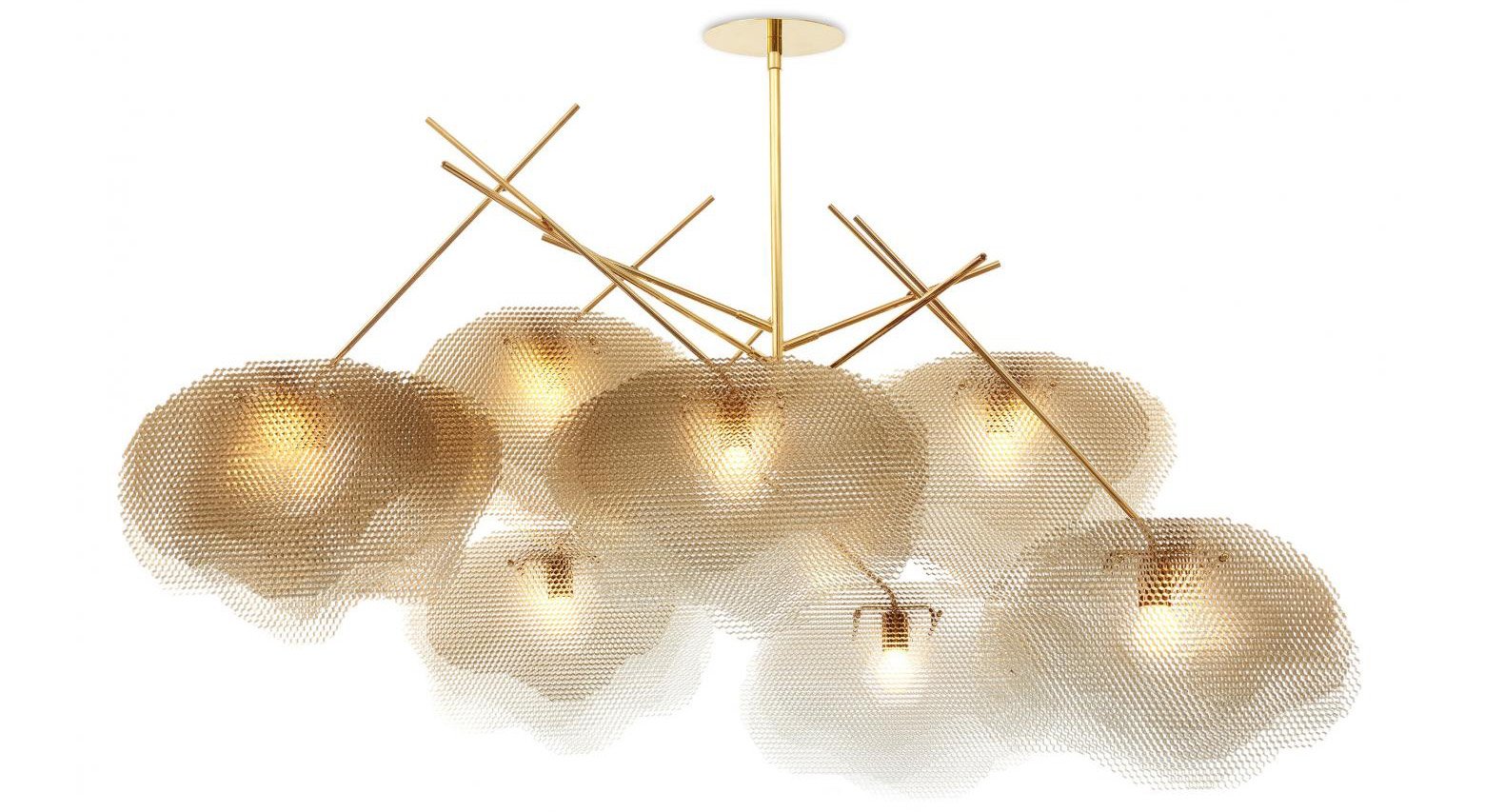 Vincent Poujardieu (French, b. 1963), Suspension Nida Aluminium a ronautique. Stainless steel and 24 carat gold, H39 x W67 x D39 in. Image courtesy of Galerie Gosserez.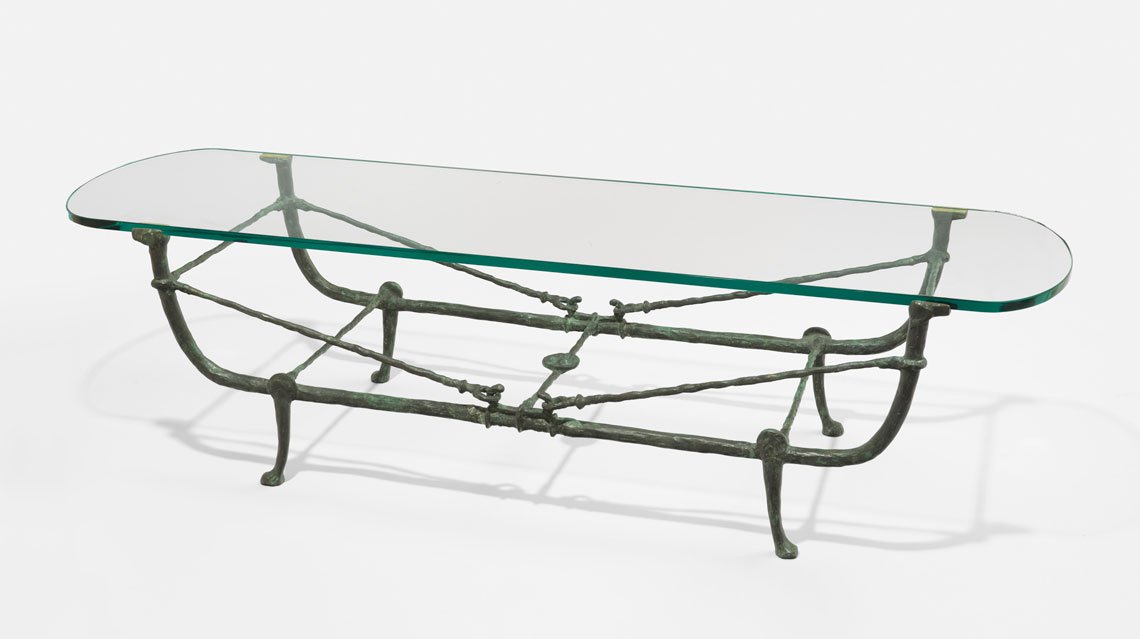 Diego Giacometti (1902-1985), low table, second version, in green and brown patinated bronze, monogrammed "DG" and signed, circa 1975. Image courtesy of Galerie Jacques Lacoste.
Galerie Jacques Lacoste will present "a set of creations revealing both the luxurious and modern spirit that characterizes French decorative arts of the twentieth century, succeeding in combining avant-garde visions and refinement," says Justine Forest. This includes several pieces by Jean Royère: a sofa (circa 1939), a pair of club armchairs, a set of "Tour Eiffel" fireplace doors (circa 1950-51), a gilded brass "Bouquet" chandelier with eight lights (circa 1955), as well as a cubic armchair and a pair of wooden and parchment side tables by Jean-Michel Frank (circa 1932). They are also presenting a related period oil on canvas by Jean Arp (circa 1928).
There is a lot of art on display as well. Opera Gallery will present a selection of works by the gallery's artists, including Golnaz Fathi, Anthony James, Manolo Valdés, Jae Ko and Fred Eerdekens. On display will be works by major international artists such as Alexander Calder, Turi Simeti and Victor Vasarely, art-design objects by Ron Arad, and a lamp by Niki de Saint Phalle dating from 1992. Carpenters Workshop is exhibiting again this year, with its sought-after creations by artisans that begin with a design process, but are more properly living or functional sculpture. Galerie Gosserez specializes in designers making objects and furniture as artwork, and will exhibit Valentin Loellmann's monumental Brass Sideboard and lyrical fiberglass art furniture by Lukas Cober.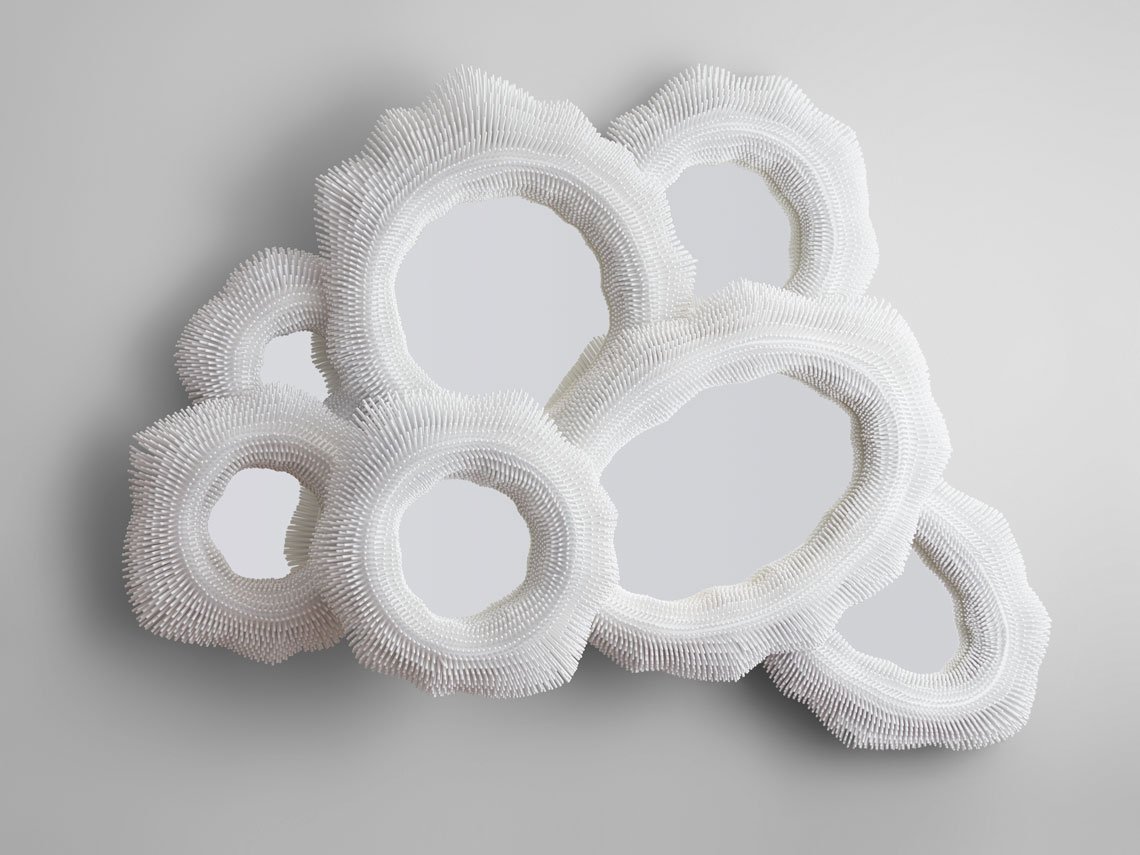 Pia Maria Raeder, Sea Anemone 10 Mirror, 2020. Wall mirror. 27,000 white lacquered beech rods, seven mirrors. H 130 x L 180 x W 30 cm. Image courtesy of Galerie BSL.
Galerie Dumonteil, with exhibition spaces based in Paris and Shanghai, has long promoted design alongside contemporary art, and returns to the fair with a selection of curated works by their represented artists, to include an elegant bronze daybed by Jean-Marie Fiori. Galerie BSL will present a set of works themed to evoke a "contemporary dreamlike landscape", says Béatrice Saint-Laurent, including Pia Maria Raeder's "Sea Anemone" mirror, a most astonishing, organic work composed of 27,000 beechwood rods installed one-by-one by hand to create biomorphic waves. Also of note, François Mascarello's silk tapestries, in which thin strips of silk are cut and sewn by hand to compose abstract landscapes.
Sophie Negropontes says Galerie Negropontes is bringing special things in order to mark the return of the fair. "The idea is to bring to PAD Paris for its return new, stunning artworks from the artists we represent and a new booth installation with precious materials and finishes. This includes furniture by Erwan Boulloud, Hervé Langlais, Etienne Moyat, Gianluca Pacchioni, sculptures and installations by Perrin & Perrin, Eric de Dormael, Ulrika Liljedahl, sculpted jewelry and vases by Jean-Christophe Malaval and works by Romanian photographer Dan Er. Grigorescu.
Finally, It is worth mentioning the strong emphasis this year on ceramics across all of the galleries. Ceramics Now is a dedicated project gallery that "aims to highlight the diversity and vivacity of a practice in full renaissance, the art of ceramics." Directed and curated by Raphaëlla Riboud-Seydoux and Florian Daguet-Bresson, the gallery will present what it believes are "the best of contemporary ceramic art, through the creations of artists who, through their strength, genius, freedom and sometimes humor, give rise to the perceptions and values of today." What could be better than that?
PAD PARIS 2022
5 - 10 APRIL 2022 - TUILERIES
PRESS VISIT TUESDAY 5 APRIL 2022 FROM 12 A.M. TO 5 P.M.
• ADDRESS
Tuileries
Facing rue de Castiglione 234, rue de Rivoli 75001 Paris
• OPENING HOURS
Wednesday 6 April
11:00 a.m. - 10:00 p.m. - VIP Opening
Thursday 7 April - Saturday 9 April 11:00 a.m. - 8:00 p.m. - Public Opening
Sunday 10 April 11:00 a.m. - 6:00 p.m.
• TICKETS
Adult: 25 €
Student: 10 €
Children: Free
Online ticketing available at: www.padesignart.seetickets.com