Part 2: 10 of the Best New Collectible Designs on Incollect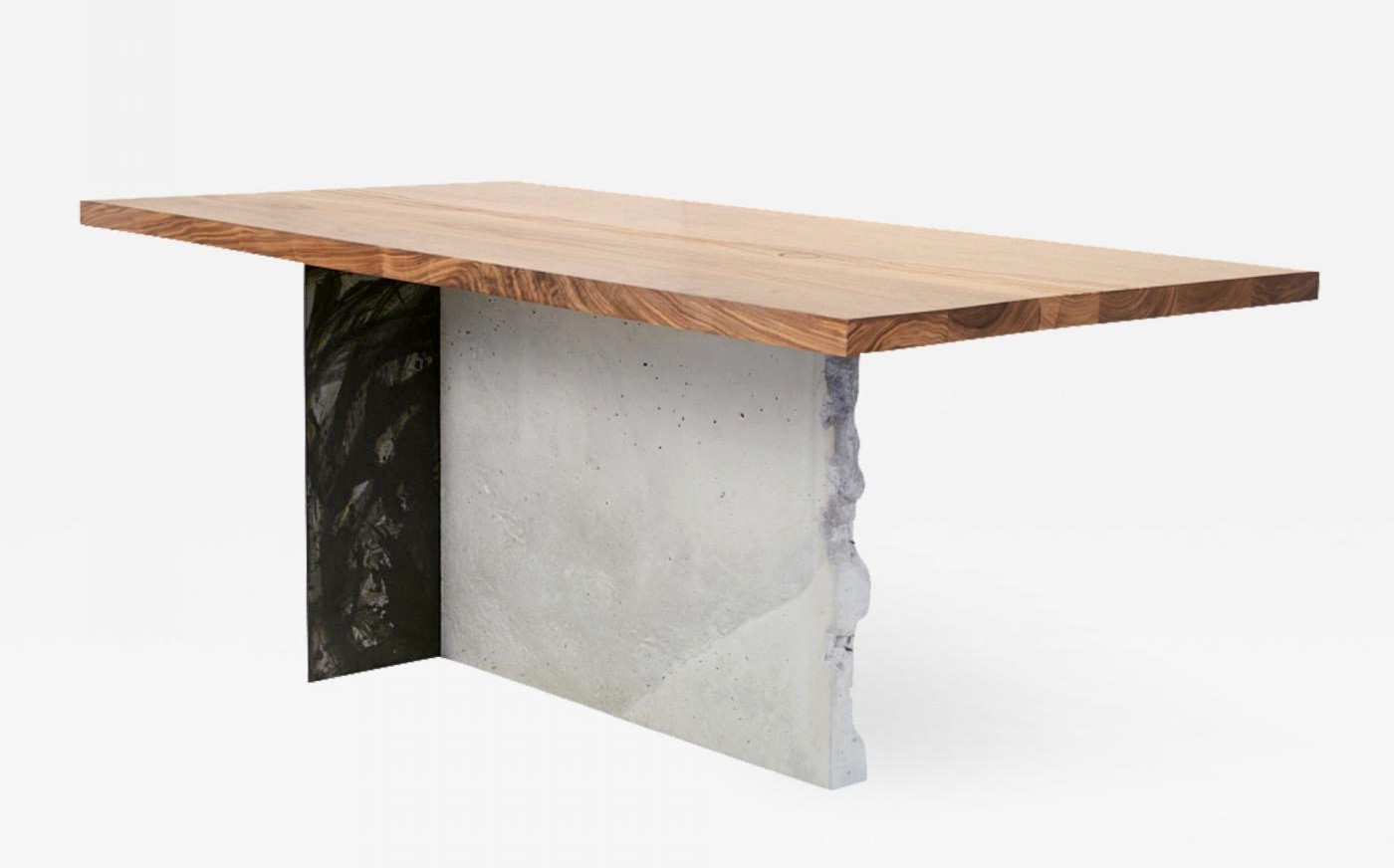 A dining table from Stefan Rurak juxtaposing walnut, concrete, and patinated metal.
T
his week, we've rounded up another list of new furniture, lighting, and accessories to admire and shop on Incollect. Featuring a breadth of beautiful finds, from a white oak buffet decorated with a hand-assembled glass mosaic to an artistic acrylic center table chiseled into the shape of melting ice, this curated collection highlights the diversity of ideas within contemporary design.
Cascade Side Table in Malachite Lightweight Terrazzo | Zachary A. Design



At Zachary A. Design, Zachary Bitner

combines the practices of fiberglass production with those of traditional terrazzo furniture to create lightweight, concrete-like pieces.
Zachary Bitner founded his brand, Zachary A. Design , to deliver concrete-like — and yet lightweight — contemporary furniture suitable for use both indoors and out. To create the decorated cast resin and fiberglass for the Cascade Side Table, Bitner relies on an innovative combination of terrazzo and fiberglass production techniques, resulting in what he calls "motherlode terrazzo." He and his team hand cast each table, first lining the molds with fragments of stained glass before spending days spreading the materials and moving the molds to maximize the object's visual appeal. The makers then pour a milky resin into the molds to freeze the glass in place and layer fiberglass sheets onto the terrazzo, and reassemble the molds to bring the final product to life. "Paired with our Malachite Terrazzo finish, the brutalism of our Cascade table is softened, becoming an unexpectedly playful piece of furniture," says Bitner. Durability and easy-to-clean surfaces are hallmarks of the company; based in Chicago, Bitner has had the opportunity to test how his products withstand heavy wind and snowfall.

Naples Mirror | Curated Kravet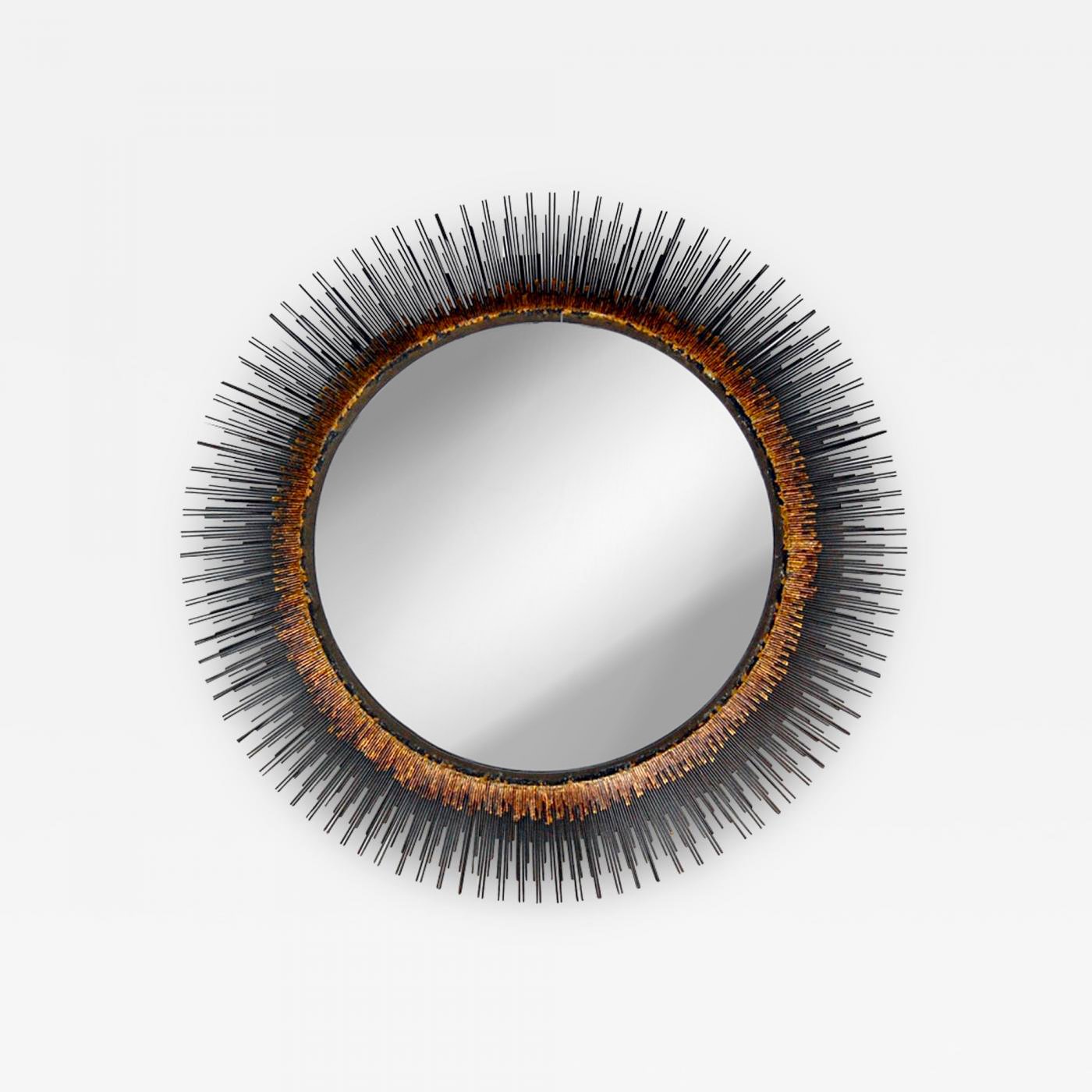 Iron spokes and an oxidized-like finish bring an edge to the Naples Mirror from
CuratedKravet
.
Established in 1918, Kravet has consistently supplied high-quality furniture, accessories, and textiles to the trade for more than a century. Within Kravet, CuratedKravet offers an edited selection of ready-to-ship objects, with a focus on meeting the needs of interior designers. The new iron sunburst Naples Mirror features iron spokes of varying lengths that complement the oxidized appearance of the mirror's inner frame. Will Hunt Lewis, senior vice president of merchandising at Kravet, describes the oxidized molten metal as "industrial organic." He adds, "Rife with character and personality, the Naples Mirror is a perfect sculptural conversation piece for a wall." The back includes keyhole hardware for convenient hanging.
T-1 Dining Table | Stefan Rurak Studio



Artist

Stefan Rurak

completes each T-1 Dining Table by carving abstract lines across the top.
Brooklyn artist Stefan Rurak creates the utilitarian look of the T-1 Dining Table by casting the base in concrete, and then hand cracking it open to reveal the rebar underneath. He then patinates the steel to achieve a worn, colored appearance — a characteristic of many of his pieces like the Concrete and Steel Unit for Living and a recent series of elaborate table lamps. As a final touch, he carves intuitive lines into the surface of the solid walnut top to blur the distinction between art and design. With a background in performance and studio art, he infuses each piece with a sense of movement, as if its details are unfolding in real time.
Blossom Four-Door Buffet | Ercole Home



Mosaic artist Ornella Pisano creates ornate designs for the brand that she founded more than 30 years ago,

Ercole Home

.
Furniture and decor brand Ercole Home specializes in mosaics. The company's founder — Venice-born designer Ornella Pisano — brings her knowledge of glass designs to contrast with other materials, including woods and metals. Before opening Ercole Home in 1986, Pisano had worked as a painter, sculptor, and fashion stylist. Shown above with a white oak frame, the Blossom Buffet features a glass mosaic of round florals hand-assembled from glass. The intricacy of the mosaic design brings originality and luxury to the piece.
Custom Modern Black and White Dining Table | Carrocel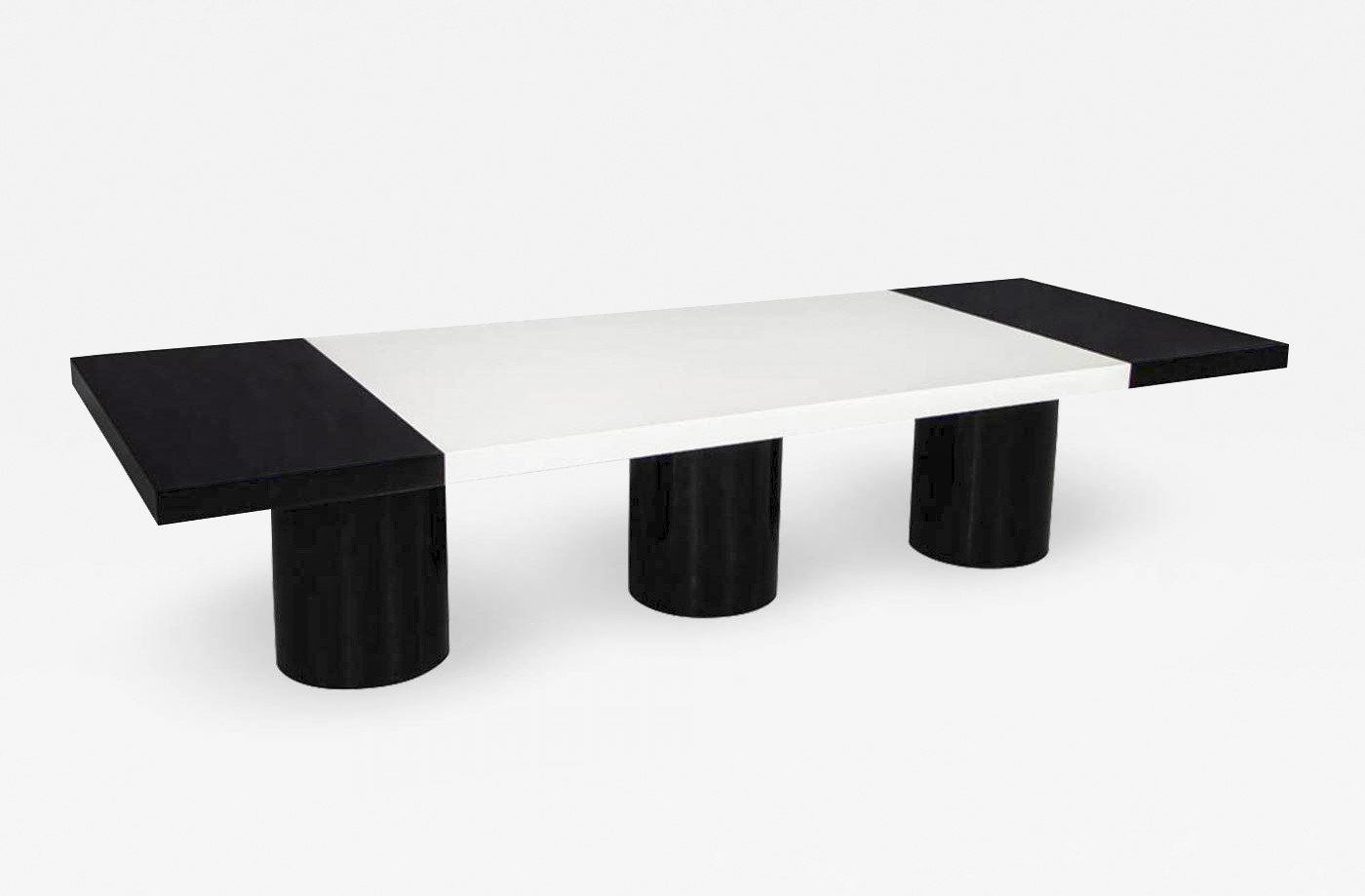 An elevated contemporary dining table from
Carrocel
.
Toronto-based furniture studio Carrocel offers a range of high-end antique furniture in their 20,000-foot showroom, along with their own modern line, which includes the chic black and white color-block dining table pictured above. Three solid black, hand-polished pedestal bases support the table's substantial length of 128 inches, with the option to extend or decrease its size via a leaf on each end. Contrasting with the black-painted ends, the center of the table is finished with a bright white lacquer.
Constellation Chandelier | Fisher Weisman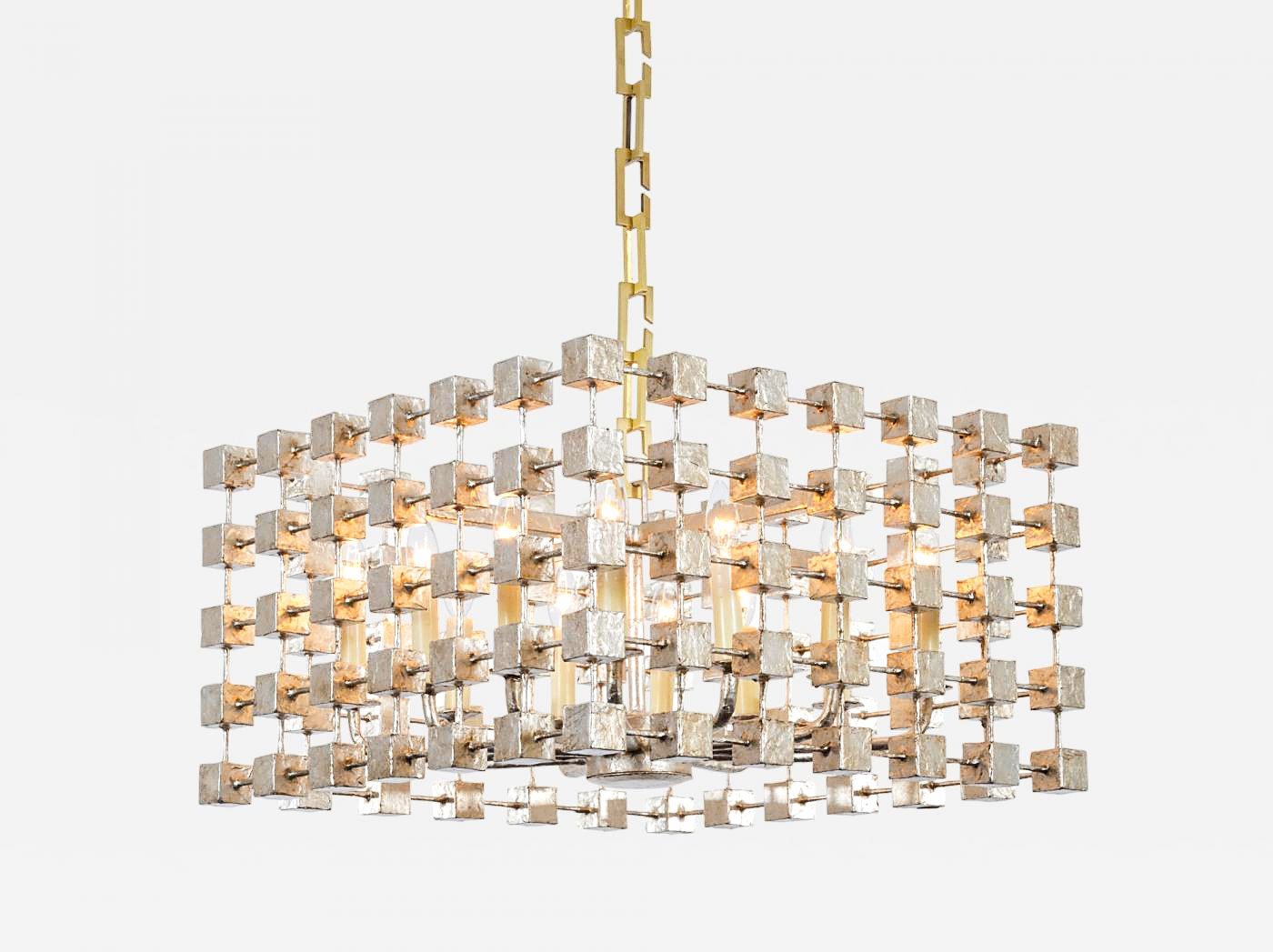 Glamour and restraint characterize much of
Fisher Weisman'
s designs. The Constellation Chandelier here is shown in argento finish.
Handcrafted from steel and papier-mâché, the Constellation Chandelier from Fisher Weisman takes its name from its core design element: a bright, star-like array of textured interlocking solid brass cubes that hang around a central orb. Twelve arms with candelabra lights reach out from the pivot, which is attached to a hand-cut chain that comes with the fixture. The chandelier is available in a range of custom and premium finishes, including gunmetal, gold leaf, and bronze. Each of the pieces in the brand's most recent collection, like the Constellation Chandelier, were made by hand near the home of top-tier designers and life partners Andrew Fisher and Jeffry Weisman in San Miguel de Allende, Mexico.
Quartz Amplifier Table | Jude Heslin Di Leo
Crafted by
Jude Heslin Di Leo
, the Quartz Amplifier Table blurs the lines between art, design, and spirituality.
Spatial and industrial designer Jude Heslin Di Leo has been recognized as a rising artisan for his collections of modern simplified furniture relying on wood, leather, and most recently, pure quartz crystal. Inspired by working with feng shui expert Colleen McCann, who explained to Heslin Di Leo that quartz intensifies energy, he designed the Quartz Amplifier Table as a meditation alter that can also be used as a coffee table. A shelf is concealed under the top of the table. Measuring 15 inches tall and 50 inches long, each table is crafted by hand at the artist's studio outside New York City. "The Amplifier Table's rounded design elements were intended to allow energy to move freely, while the hidden compartment was meant to hold private or cherished objects," says the designer.
Pleats Wallpaper | Brett Design



In the Pleats wallpapers from

Brett Design

, freely moving watercolor lines offer a fresh take on striped wallpaper.
This spring, Brett Design founder Brett Beldock is releasing a new collection of contemporary hand-painted wallpaper, including "Pleats," shown above. Available in three colors — lemon, coral, and blue — the Pleats design is digitally printed on sustainable paper. Brett Design is known for its modern, forward-thinking furniture, as well as its playful painted wallpaper designed by Beldock, who previously worked as a fashion designer. "'Pleats' is a mixture of appreciation for Issey Miyake and my process of throwing milky brights into neutrals," she says..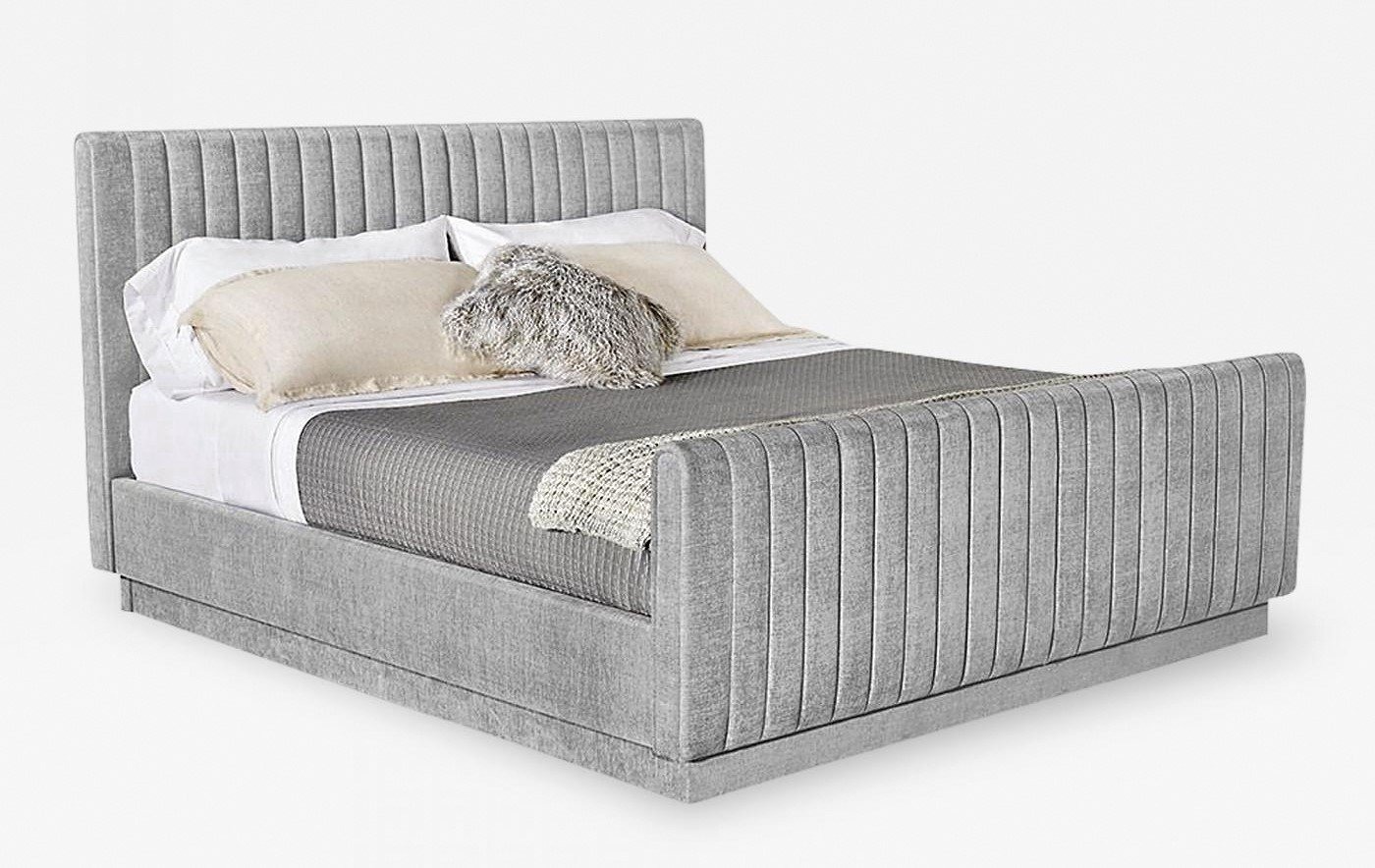 Interlude Home
prides itself on textured stylish pieces, like the Skylar Bed pictured above.
Vertical channeling along the head and footboards brings an extra dose of glamour to this textured chenille bed from Interlude Home. For Wendy King Philips, creative director at Interlude Home, tactile fabrics are a key element of the company's identity. "While something might appear to be [a solid] taupe," Philips says, "there's always going to be a certain weave in the fabric that makes you want to reach out and touch it." The brand released the new Skylar Bed in January in queen and king sizes, as well as four contemporary neutral colors and fabric options: smoke (shown above), sand, fog, and latte. "Smoke" — a rich light gray — and "sand" — a well-rounded taupe — are upholstered in chenille, while the pale gray "fog" and milky tan "latte" are offered in faux leather.
Acrylic Center Table Glacialis | Plexiglas Design



Creator of the Glacialis Table above for

Plexiglas Design

, Marco Pettinari is known for his innovative use of acrylic.
Collaborating with Plexiglas Design in Italy, artist Marco Pettinari used a hammer and chisel to sculpt the Glacialis center table from a solid block of cast acrylic. He then created alternating effects across the surface of the piece by both hand polishing and sandblasting the plastic, resulting in a unique table that resembles a melting glacier. "The reference to global warming is evident," says Pettinari of his design. "It also represents a clear intrinsic contrast as a luxury item realized in a synthetic material." Born in Rome, Pettinari relies on Lucite to achieve a number of different designs in his art practice, from rainbow-hued molded furniture to color-splattered sculptures and paintings in which pigment is spread across the interior of two Plexiglas sheets.