Paula Hayes and Randy Polumbo Cruise the Milky Way at Cristina Grajales's New Design Gallery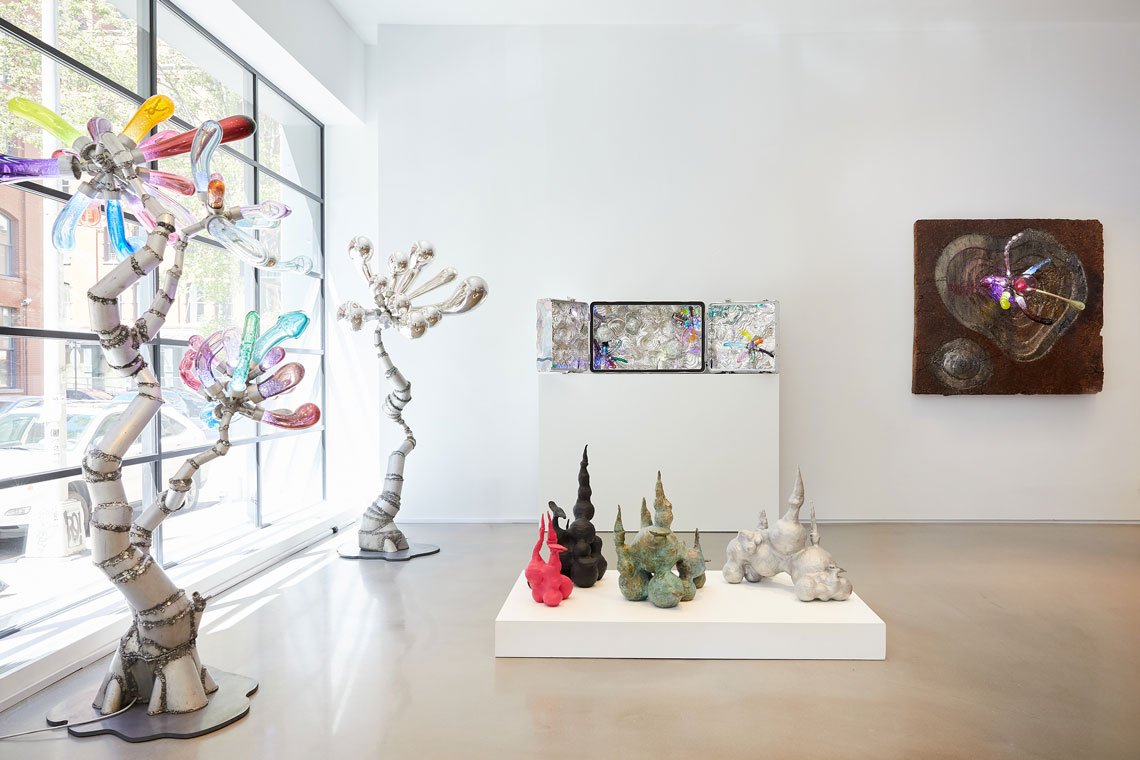 Cristina Grajales Gallery presents Via Lactea (Milky Way) open through September 9th at her eponymous Tribeca gallery. This special exhibition brings together Paula Hayes and Randy Polumbo. Via Lactea will present the work of these two artists, both of whose singular styles are rooted in the cosmic, the magical, and the supernatural. Photo by Jason Muhlberger.
Paula Hayes and Randy Polumbo
Cruise the Milky Way at
Cristina Grajales's New Design Gallery
Via Lactea (Milky Way) at Cristina Grajales Gallery
50 Vestry Street, New York, Through September 9
By Benjamin Genocchio
How wonderful it is to see Cristina Grajales at the top of her game with a marvelous new ground floor exhibition space on Vestry Street in Tribeca in lower New York. For over two decades now, Grajales has been a pioneer promoter of innovative contemporary design, and her current show, Via Lactea (Milky Way) is no exception — magical, trippy creations by Paula Hayes and Randy Polumbo that defy categorization, yet delight the eyes and mind with their inventiveness.
| | |
| --- | --- |
| | |
| Another view of Via Lactea (Milky Way) being held at the Cristina Grajales Gallery in New York. Photo by Jason Muhlberger. | |
Cosmic design isn't a historical design category that I know of, but it probably should be going forward given the influence of space and the supernatural on so many contemporary designers, chief among them Hayes whose cast acrylic and stainless steel 'trapeze' chandeliers resemble scientific models of celestial black holes or her hand-blown, glass 'comets' that are brilliantly if intriguingly beautiful and strange. Everything she makes has its own unique and asymmetrical shape, from silicone planters and resin bird baths to bizarre but adorable patinated gnomes.
Hayes is first and foremost an artist and is known for her earthworks and landscape design as well as unusual terrariums. For the present exhibition she has installed a table of giant terrariums filled with recycled industrial debris (glass, mica) as, the gallery says, "an homage to earth art". I must confess it looks and feels more like an homage to the ruins of earth art, or what passes for nature in a polluted and transformed natural environment. Either way, they are alluring.



Left:

Paula Hayes, Medium Classic Silicone Planter, "Ginko". Cast Silicone. Right: Paula Hayes, Svalbard Trapeze Chandelier, 2015. Cast acrylic and stainless steel. Photos by Jason Muhlberger.



Left:

Paula Hayes, Terraria Collection. Hand-blown glass, fluorite, jasper, sulfite, malachite, mica, ground compact discs, glass beads, earth pigments. Right: Randy Polumbo, Amorphophallus Titanium, 2019. Aluminum, hand-blown glass, steel, LEDs. Photos by Jason Muhlberger.
The world that Randy Polumbo inhabits, or reflects upon in his work, is equally celestial and a little dystopian — his mixed-media objects are so fabulously zany, fun, junky, and yet impossibly elegant that they resemble glistening jewels crossed with space debris — a series of sculptures actually resemble asteroids, another is named Nebula Lucidum while yet another is made from the aluminum interior of a rocket launcher case. He also makes chandeliers inspired by clouds.
Polumbo creates sculpture, sometimes assembled together as an installation but frequently with a lighting component integrated into the design as in his utterly marvelous Love Sac, 2008/22, cast and hand-blown glass objects spilling from a cast glass tote bag that contains a soft gentle light source. This is one of the most fabulous interior lighting objects I have seen in years and is surrounded by equally impressive free-standing aluminum and hand-blown-glass floor lamps with LEDs that resemble alien beings or indoor trees. References to male genitalia, or so it seems to me, lend the pieces a biomorphic quality but also bring us firmly back to earth.



Left:

Randy Polumbo, Antigenic Rift, 2020. Foam and steel virus envelope particles with hand-blown glass elements referencing COVID-19 glyco-protein spikes; mercury silvered glass plate; quartz crystals; reflective glass traffic beads; motors; LED light composition. Right: Randy Polumbo, Love Sac, 2008/22. Cast and hand-blown glass, LEDs. Photos by Jason Muhlberger.
Shrooms come to mind repeatedly when looking at the standing lighting but also in terms of the overall hallucinogenic quality of the designs — the colors, the organic shapes, not to mention a simple if dangerous allure. I can't think of a more innovative display in a design-oriented art gallery given the freedom of expression, focussed and sensual exploration of materials and a lush sense of joy. His work is the design equivalent of a signature cocktail — intoxicating.
Design as a category in this wildly impressive show is something that is entirely changeable and so it comes as no surprise that a small back room is devoted to an installation and sculpture by Robert Wilson, the artist, designer, musician, choreographer and dancer. Wilson has spent most of his career redefining categories in the arts and it is wonderful to see his creative spirit now at the center of the program of one of New York's most long-running, essential design galleries.