In Her Gatherings Series, Artist Jane Waterous Celebrates Our Connections
An Unconventional Perspective on Life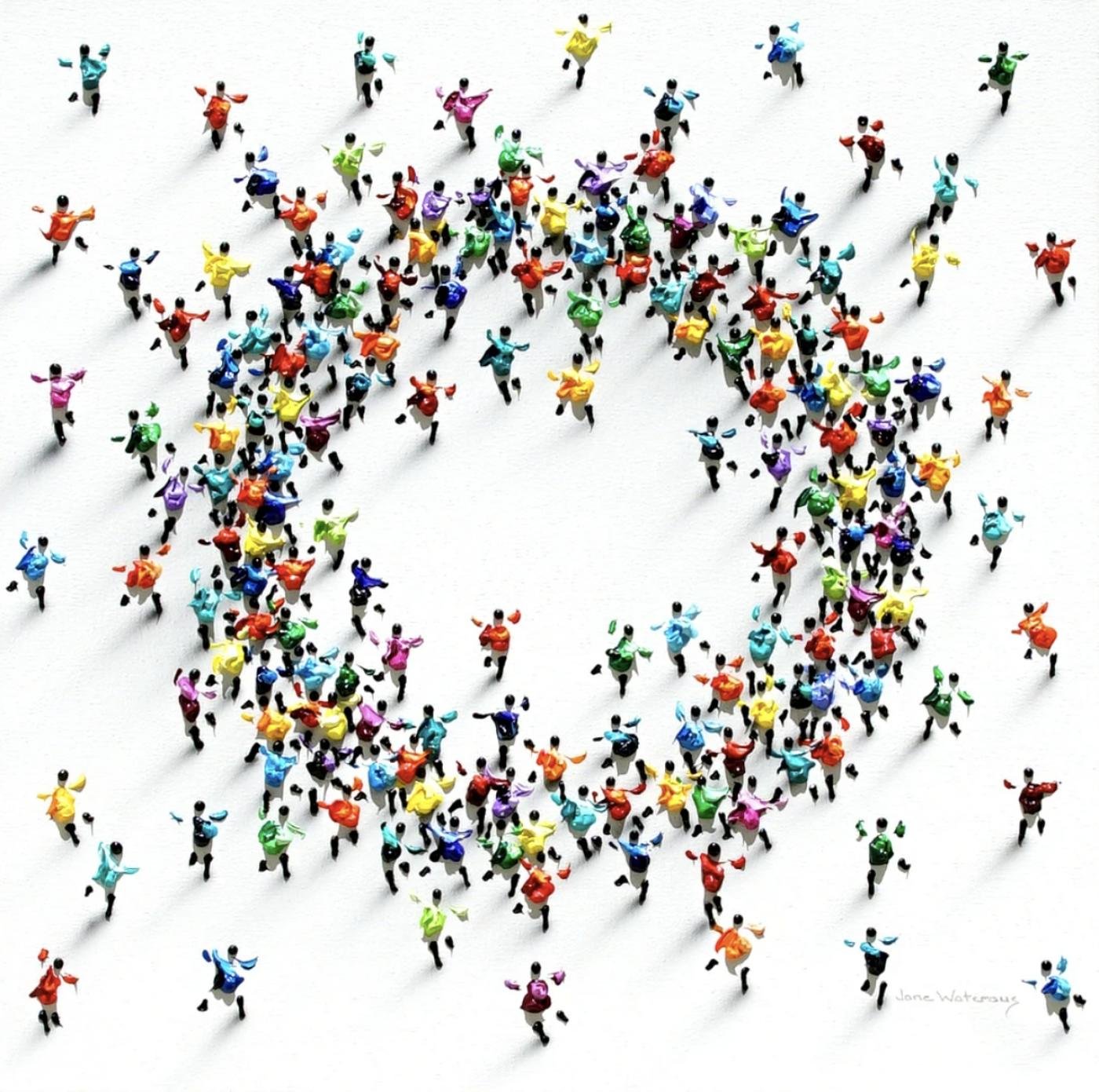 Circle of Trust 2 by Jane Waterous.
Whistler Contemporary Gallery describes her works in The Gatherings Series: "each [of the paintings] literally and figuratively jumps off the canvas, and dances in a synergistic halo of light, depth, color, and action."
| | |
| --- | --- |
| | |
| | |
I
n her most famous collection of paintings known as The Gatherings Series, Canadian artist Jane Waterous explores how our lives are shaped by the people who surround us. Each of her Gatherings artworks is composed of three-dimensional figures created with her uniquely sculptural impasto technique, multiplying across the canvas to create a central structure, such as a heart, circle, or text. Through intricate arrangements, she depicts the forms our relationships take, and in the blank outer expanse of canvas, she finds the limits of those relationships. The brilliant arrays of color and texture offer a representational perspective on her emotional life, as well as her decades-long career as a contemporary artist. "The work you see today is the product of a life lived," she says, explaining the inspirations behind her art. "It is those past and present experiences that motivate me to create."
Waterous is represented by Whistler Contemporary Gallery, located within the popular ski destination in British Columbia. The gallery has two locations: the Hilton Resort and Spa, and the Four Seasons Whistler Resort. One of her largest artworks, The Family Circle, is displayed outside the gallery within the Four Seasons Hotel. "It has captivated visitors at the Four Seasons," the gallery's art consultant Jenna Shamoon says of the painting, which is seven feet in length and height. "The piece brings you into it, making you feel that you are a part of the work, rather than a viewer."
The team at Whistler Contemporary finds the joy in her artworks uplifting. "Art makes people happy, and as a contemporary gallery that has been in business for over 27 years, our goal is to bring joy into the households not only locally, but also world-wide," says business manager Tara Wolters. "Jane fits the mold of what our brand and company encompass." Since Whistler began working with Waterous six years ago, her works have attracted a range of clients, from Fortune 500 executives to Hollywood icons and members of the British Royal Family. Discover key artworks from The Gatherings Series below.
"Everything that matters happens when people come together." — Jane Waterous



The artist plays with hue and the tonal values created by the density of her trademark figures to illustrate the seasons. Left: Four Seasons, depicts from top left, Summer (yellow), Autumn (red), Winter (blue) and Spring (green). Right: Seasons uses the same hierarchy, with a more structured composition.



In her work, relationships are mapped across various silhouettes, allowing viewers to imagine who is inside and outside of their social circles. Left: Ragged Heart 3160. Right: My Heart.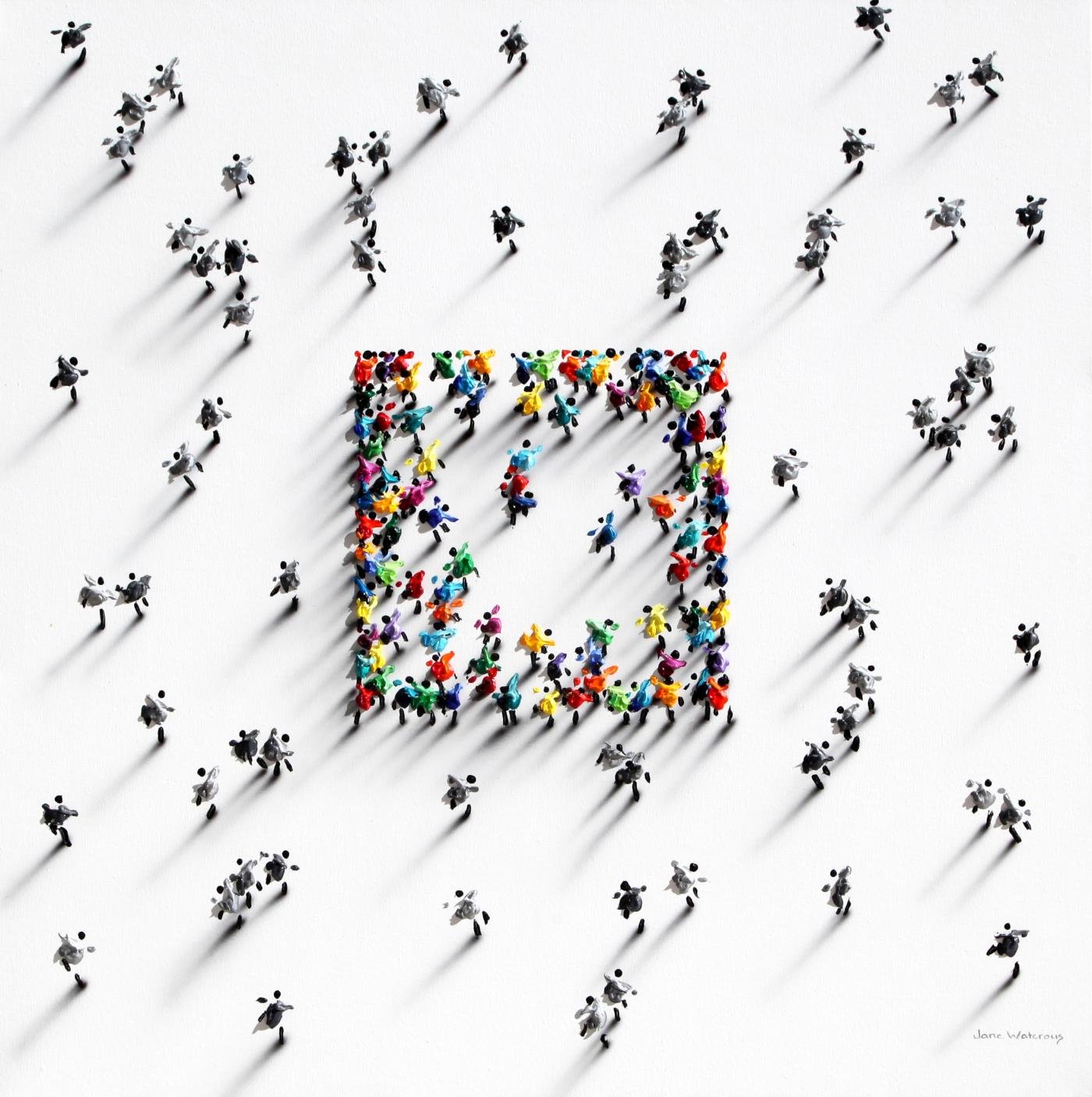 Although known for her expressions of joy, Waterous deftly depicts a complicated range of emotions.

In Boxed In, the colorful figures experience less spatial freedom than in her other artworks.



Left: Work by Waterous, including Life 3104 shown above, imagines how different people fulfill different roles in a community. Right: In Follow Me 3023, figures are grouped into a curving path.
Discover More Artists from WHISTLER CONTEMPORARY GALLERY