Maison Parisienne Unveils Rising Star Pierre Renart's New Collection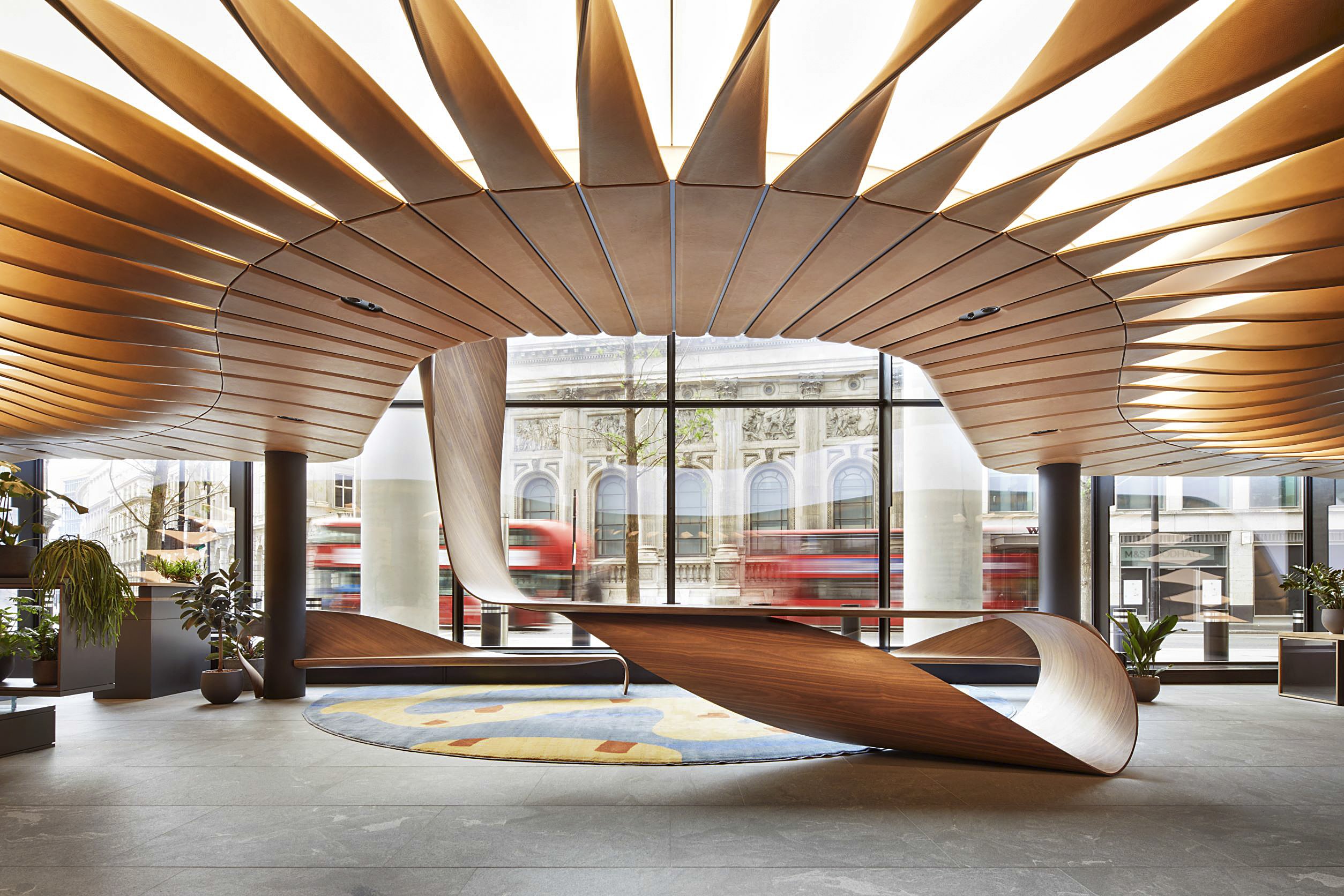 This week, Pierre Renart presents a new collection with Maison Parisienne. For this new line, he builds on themes from his previous work, including the Ribbon collection. A high table from a project inspired by Ribbon is shown above. Photo by Jack Hobhouse.

| | |
| --- | --- |
| | |
| | |
F
rench designer Pierre Renart is debuting his latest collection with Maison Parisienne as part of Paris Design Week, September 9 through 18th. Organized by Maison & Objet, the weeklong series of events brings together designers from around the world, emerging and established alike. Only 30 years old, Renart has already participated in multiple design fairs since he began collaborating with Maison Parisienne at age 21. His new series, Fusion, features six extraordinary pieces including several consoles, a standing shelf, and a bench. "We represent French artists and French craft," says Florence Guillier-Bernard of the gallery's decision to release Fusion during Paris Design Week. "The timing is right, too. Pierre is turning 31 this month, and it made perfect sense to celebrate many milestones at once — his birthday, his 10-year career, and our 10 years of partnership."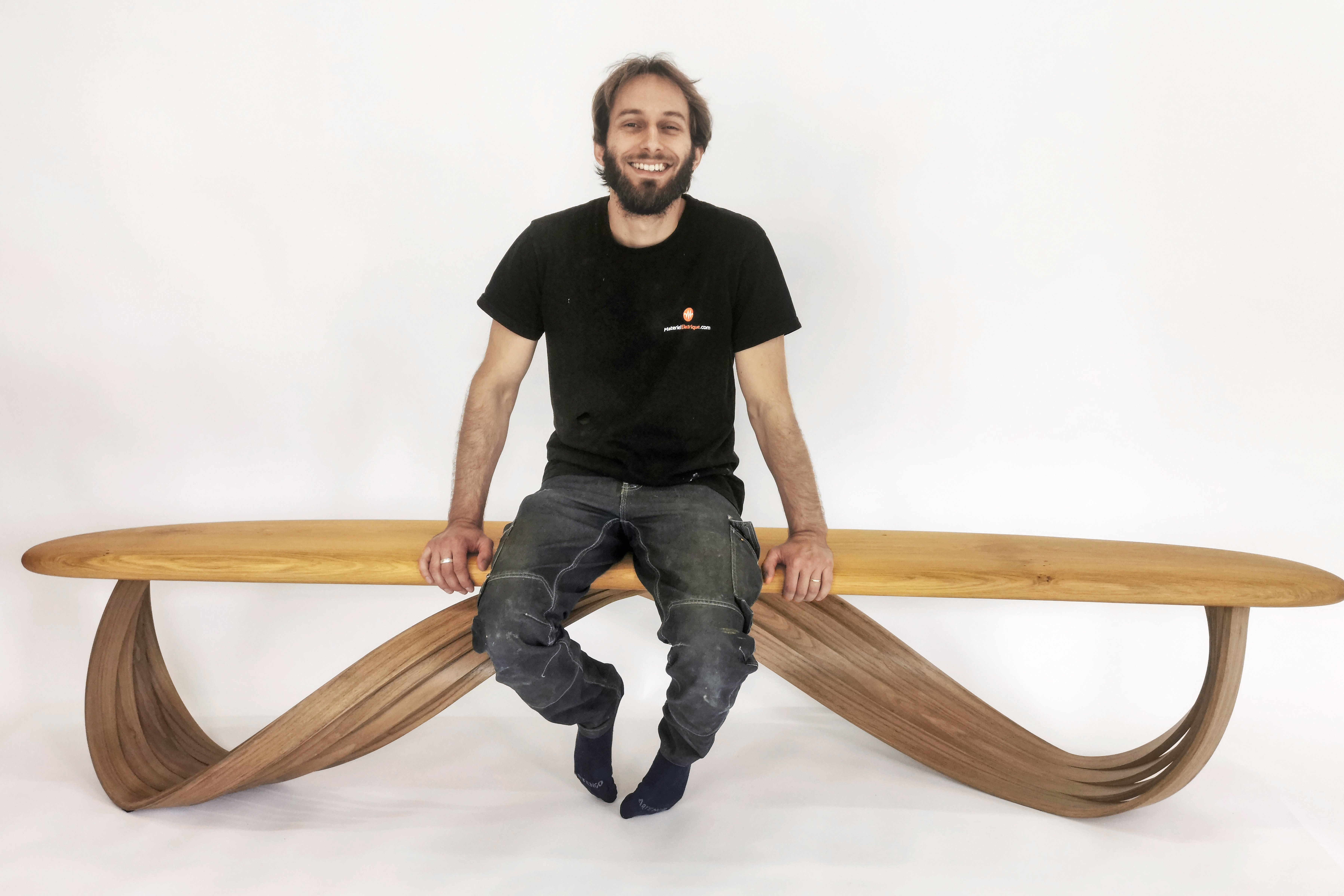 Top: Renart sits with one of his newest pieces, the

Ellipse Bench. He molds the laminated walnut ribbons simultaneously, shaping them in concert with one other. Bottom, left: An angled view of the Ellipse Console. In the console, he juxtaposes a solid oak top with laminated walnut strips throughout the base. "Almost inverting the rules of designing a console table, the base is lighter than the top," he says. Bottom, right: A detail of the Ellipse Console.




Top: A close-up of the horizontal surface hidden within the

Symbiose Shelf.

Bottom, left: The Symbiose Shelf. "I designed a spiral with soft curves, a wood spring that moved in a lively, ornamental way," he says. "Later, I incorporated the function: in the ribbon's curve you discover a shelf, upon which an object could be placed." Bottom, right: The shelf, from a new perspective.

Fusion evolved from two of Renart's previous collections, Genesis and Ribbon. In Ribbon, a single continuous line loops throughout the base of the pieces. In both Genesis and Fusion, a similar line splinters apart and reunites at other points within the curvature of the object, as if the original ribbon peeled open to reveal new possible paths through space. "I didn't intend Fusion to stand apart from my other collections or to be extremely different and completely unique," says Renart. "I designed it to complete my previous collections, to be in the same continuity." Fusion further explores the dualities in Ribbon and Genesis — such as unity and separation, motion and stillness. Whereas he designed Genesis and Ribbon as highly functional design objects, he approached Fusion as sculpture-making. "I focused first on aesthetics," he says. "The Symbiose Shelf, for instance, is more sculpture than shelf. Its spectacular curves are the first thing you notice, and its function is less prominent, almost hidden."

The video above presents some of Renart's earlier work, including the Genesis armchair.
Renart's career began ten years ago when he graduated first in his class at the École Boulle, a famous design school in Paris. For his thesis project, he reinterpreted a 1933 Art Deco chair featuring cutout detailing, replacing the cutouts with carbon fiber curves that meet at the arms and sweep apart across the back. Dubbed the Genesis Armchair, the piece attracted the attention of Florence Guillier-Bernard, founder of Maison Parisienne. "It was a true coup de coeur for me when I met him and discovered his work," she remembers. "His Genesis Armchair was sophisticated, elegant, new, and technically perfect. I knew I had to help him achieve the incredible potential I saw." Guillier-Bernard immediately offered to represent him. Renart accepted, and their fruitful decade-long collaboration began. One early table that Maison Parisienne helped to produce, the Éclosion Coffee Table, was acquired by the Mobilier National, a cultural organization that furnishes official French buildings from the Palais de l'Élysée to ministries, embassies, and more. The coffee table was featured in a televised address delivered by Emmanuel Macron on New Year's Eve, 2020.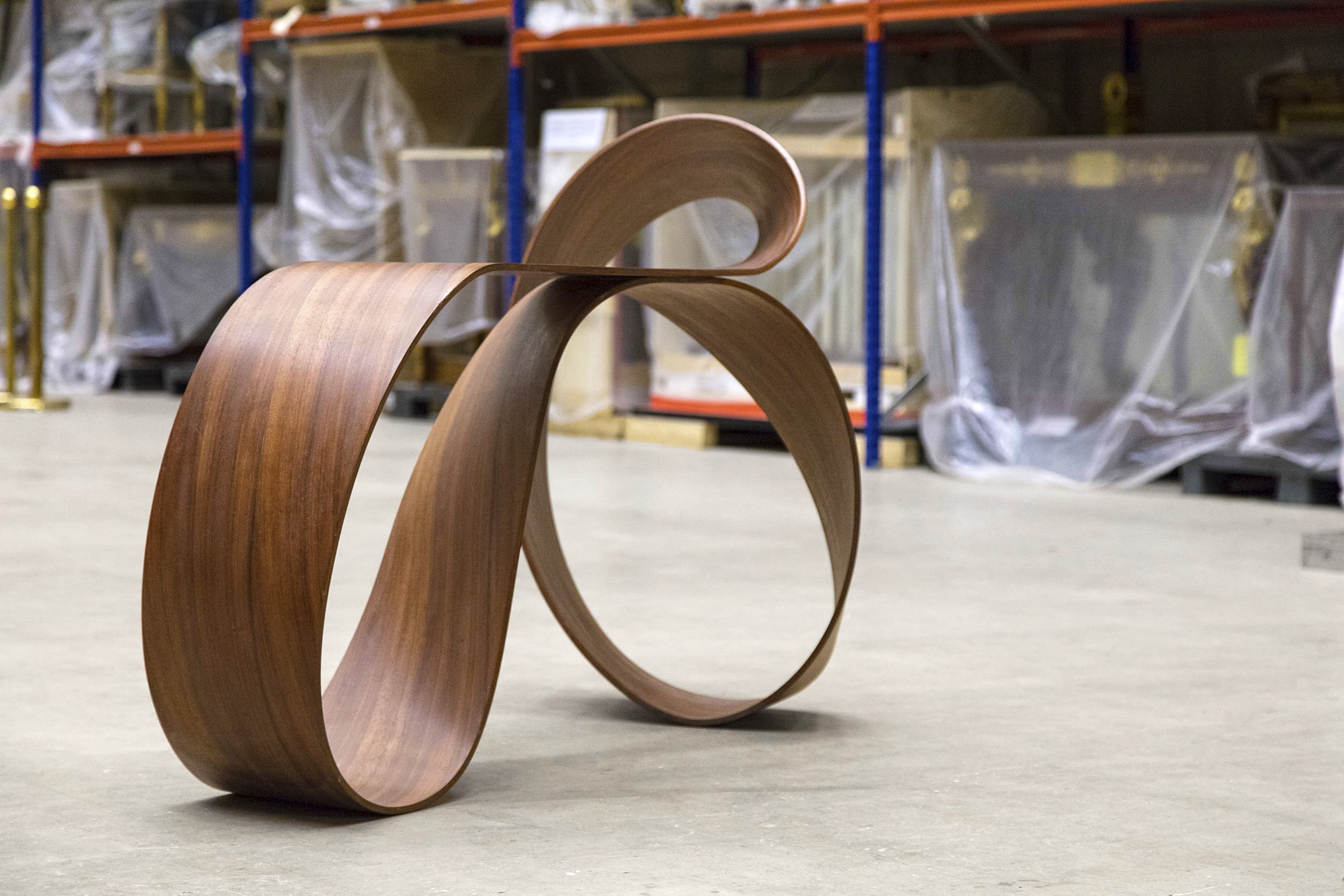 Top: The

Möbius Console was the first piece in the artist's Ribbon collection. Originally created with carbon fiber and wood veneer, he redeveloped the design to feature laminated wood. Photo by François Roélants. Bottom, left: The console pictured in American walnut. Bottom, right: In 2019, the console was acquired by the Musée des Arts Décoratifs in Paris.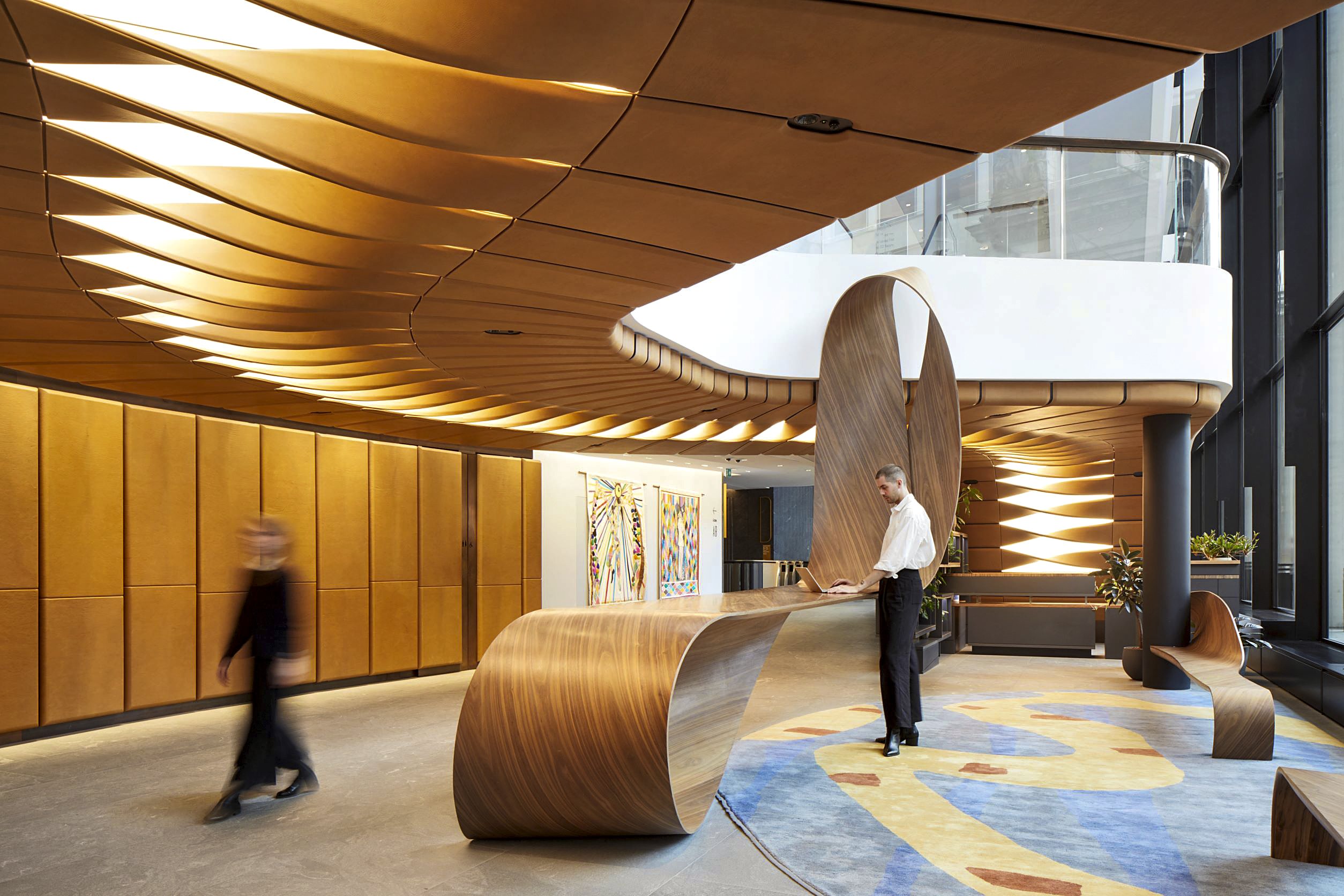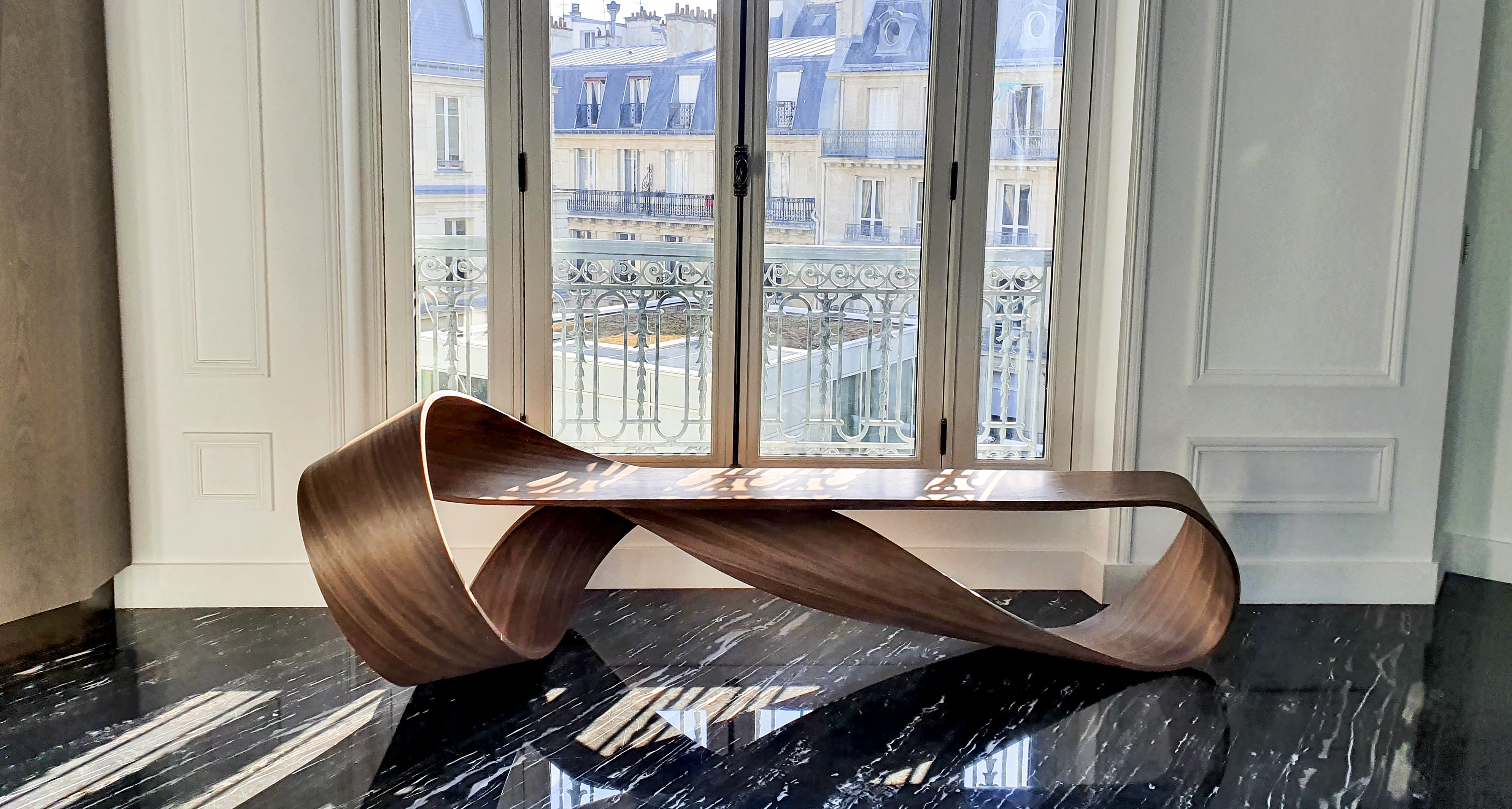 Top: The
Möbius Console
and the Ribbon collection influenced his custom designs for the lobby at 22 Bishopsgate in the City of London. In his work, he is often inspired by architects such as Zaha Hadid, Antoni Gaudi, and Frank Gehry, and he has previously designed a custom piece for a client living in a building designed by Hadid. Photo by Jack Hobhouse. Bottom: A
bench
version of the Möbius Console..

In 2013, he crafted the piece that would come to define much of his career — the Möbius Console. The Möbius is the foundation of Ribbon, and it influenced a consecutive bench and custom project for a reception area in London. The silhouette derives from a mathematical concept called the "Möbius strip," a one-sided band made up of half-twists. In his console, he translates the coiled shape into furniture. The bentwood line is straight across the surface and then descends fluidly into two ellipses serving as the base, before it draws up over the top. "I worked on it for so long," he says. "There were many attempts and many failures. And so, when I finally managed to execute the very first Möbius Console, I realized that I had developed a technique that would become the basis for all the following pieces I made afterward."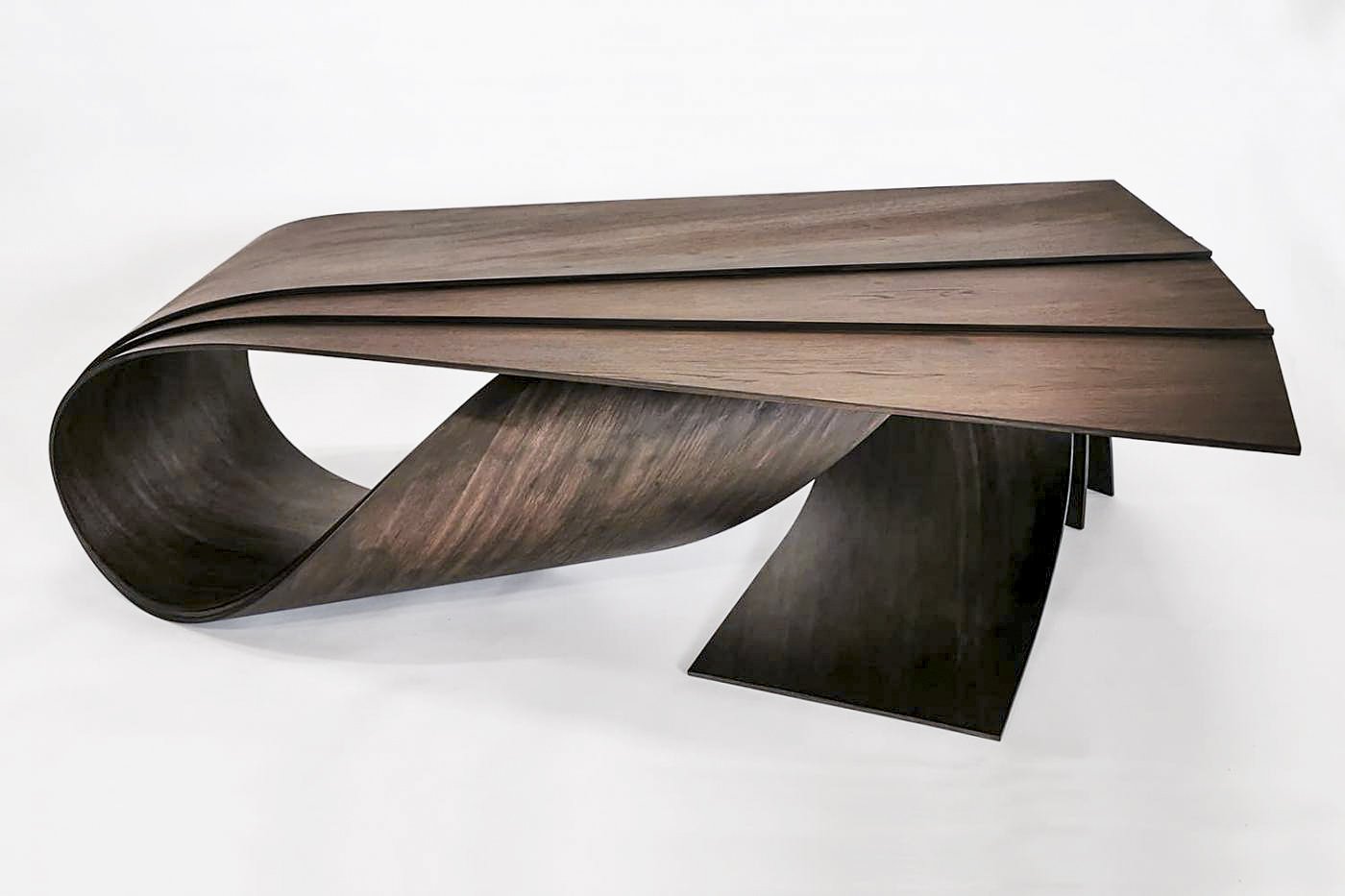 Top: Referencing Ribbon, the

Triple Wave Coffee Table was crafted for a private collector. The three folds of the table reference the kinetic back of the Genesis armchair. Bottom: The base of the table reflects the fluid lines of Ribbon.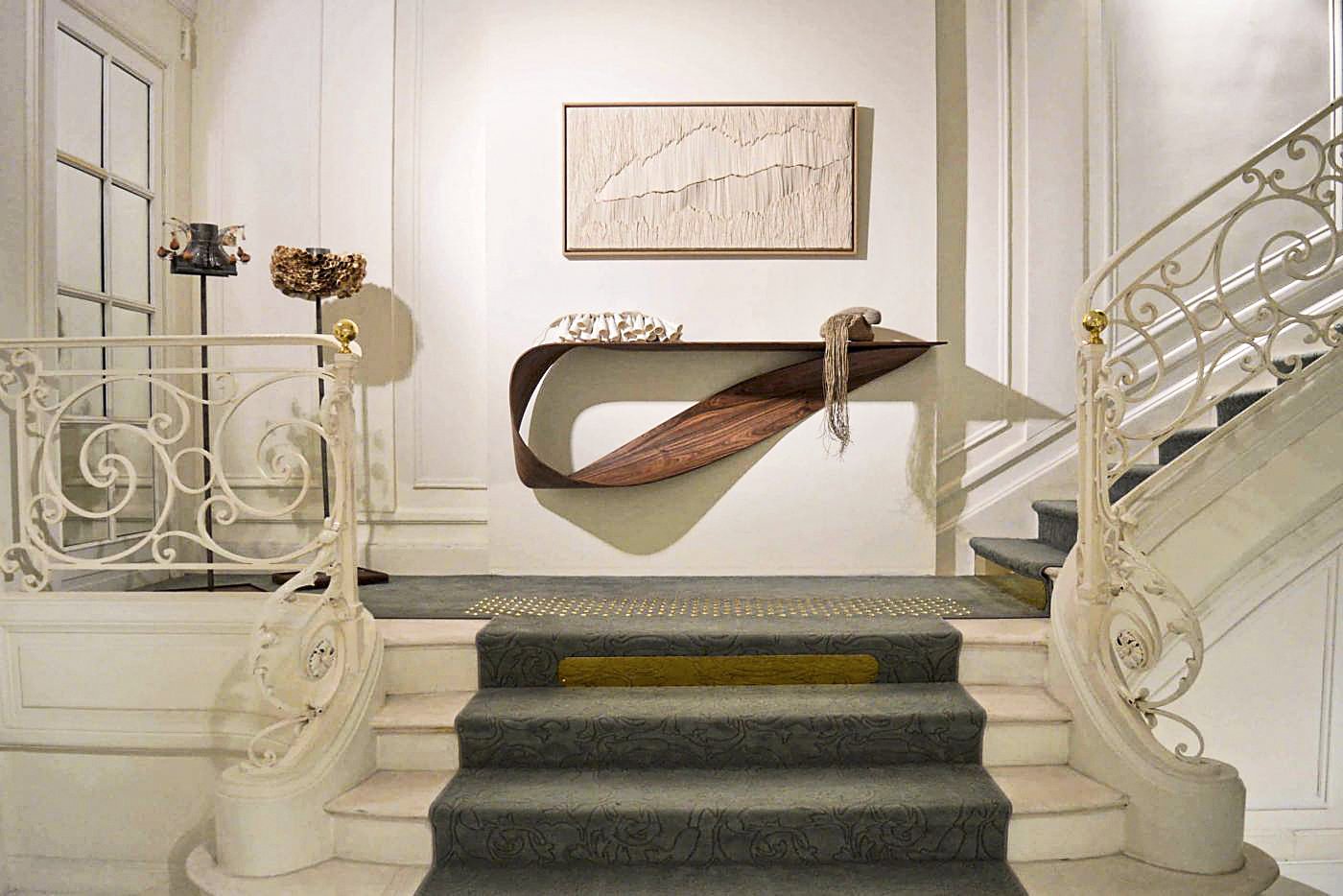 Top: The
Éclosion Coffee Table
, purchased by the Mobilier National, a French organization dedicated to furnishing municipal buildings. Bottom: Another earlier work from Ribbon, the
Console Wave
installed on a staircase landing.

After the Möbius Console, his reputation exploded. Clients clamored for their own versions of it. Dior requested a custom console in "Dior gray" for their Boston boutique. With the support of Maison Parisienne, he developed an entire collection based on the console's ribbon-like curves. Some pieces, such as the Möbius Bench, grew directly from the original console, while others in the line incorporate different inspirations. For example, Ribbon's Wave series references rolling and cresting ocean waves. In 2019, the Musée des Arts Décoratifs in Paris acquired a walnut Möbius console, where it is now permanently displayed in the Pavillon de Marsan as an example of contemporary French craftsmanship.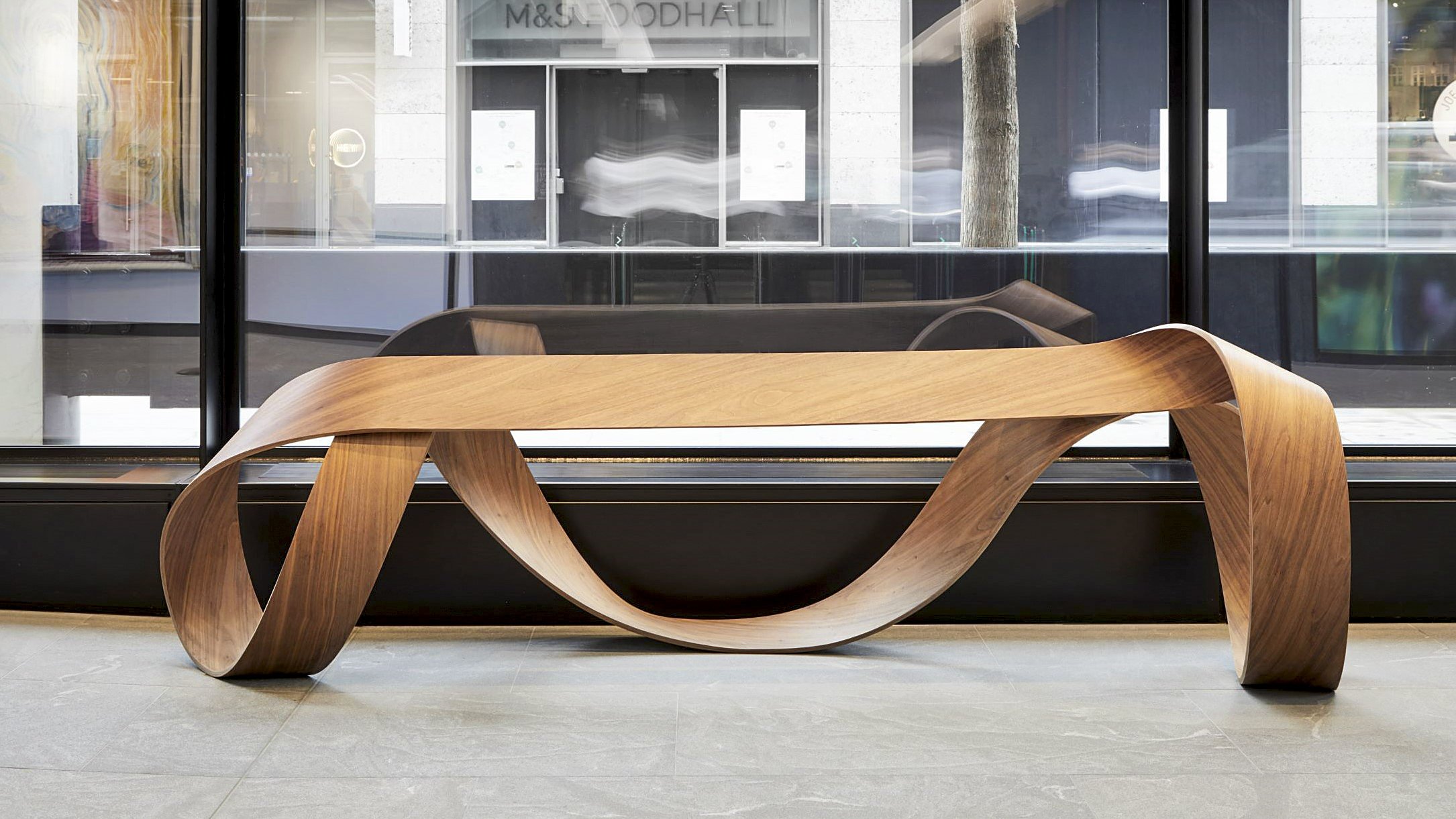 Renart hand-crafted seven monumental pieces that decorate the lobby of the 22 Bishopsgate commercial building in London. His creations complement the work of other artists and designers incluting Bill Amberg, who designed the upholstered leather ceilings. Photos by Jack Hobhouse.

Clients continued to approach the designer with unique commissions. In 2016, when prominent French photography firm Studio Harcourt moved into a mansion in Paris's affluent 16th arrondissement, they invited Renart to design a custom line of sleek tables, dining chairs, and armchairs for the in-house café. Recently, the console brought the designer one of his most important opportunities yet. London-based firm PLP Architecture commissioned him to furnish the lobby of their new commercial skyscraper, 22 Bishopsgate, in the City of London's financial district. PLP Architecture purchased seven figurative walnut pieces as part of its art-forward lobby design, intended to complement architectural elements and amenities that promote wellbeing for office occupants. His pieces range from decorative installations to an asymmetrical table with one edge rising 14 feet toward the ceiling and two benches that merge with structural columns. "I had to create enormous artworks that would blend into an existing building and play with its architecture, and each piece could not be independent," he says. "They were created for the building and they need it, they need its structure, its beams, its columns, to stand upright."
| | | |
| --- | --- | --- |
| | | |
Top: The
Wave Fusion Side Table
. With this piece, he reinvents his
Wave Side Table
with a lighter appearance and interconnected wood lines. Middle, left: In the floating
Symbiose Wall Console
from Fusion, "strips overlap and create a new entity that is at once plural and singular," says the designer. Middle, right: The
Fusion Wall Console
offers a spin on the Wave Console from Ribbon. The strands separate just before curling under the top, rejoining as they curve back to meet the underside of the console. Bottom: A close-up of the Symbiose Mural Console.

This week, Renart will present his newest creations at one of the apartments in the Résidences Harcourt, a sophisticated hotel on the Île Saint-Louis. Clients can contact Maison Parisienne to schedule a private viewing. For Guillier-Bernard, the exhibition is an opportunity to reflect on Renart's artistic evolution over the past 10 years. "Pierre was already very good when we started working together, and he just got better and better and better," she says. "I really think Pierre will go places."