Robert Marinelli on Making Quality Objects that Stand the Test of Time
Robert Marinelli on Making Quality Objects that Stand the Test of Time
by Benjamin Genocchio
Incollect sat down with the ever-creative designer who keeps coming up with brilliantly inventive and exquisitely produced objects and furniture.
Robert Marinelli pictured with the limited edition Tristan Cabinet. The cabinet has a sandblasted oak frame in a matte bark finish with a central polished cast bronze stretcher. Two felt-lined drawers with long polished cast bronze handles are finished in a dark green Beka lacquer. Image courtesy of Robert Marinelli.
What are your sources of inspiration?
Robert Marinelli: From a historic perspective, my sources of inspiration can range greatly, from early Oceanic ritual regalia to pre-war rationalist architecture.
How do you begin the process of designing an object or piece of furniture?
Robert Marinelli: First, I begin by finding a balance between form and function, while at the same time considering the space and light that an object will occupy.
Do you make sketches or drawings of ideas? Do you make a prototype?
Robert Marinelli: I begin with dozens of rough sketches, considering proportion and how the design components/parts will interact. From there, I'll generate old-school, technical drawings by hand. My drawings are then used to generate 3D renderings from which my team of artisans will make a prototype. While this may seem like a rigid process, I always allow myself space for reinterpretation and welcome serendipity as an integral part of the creative process.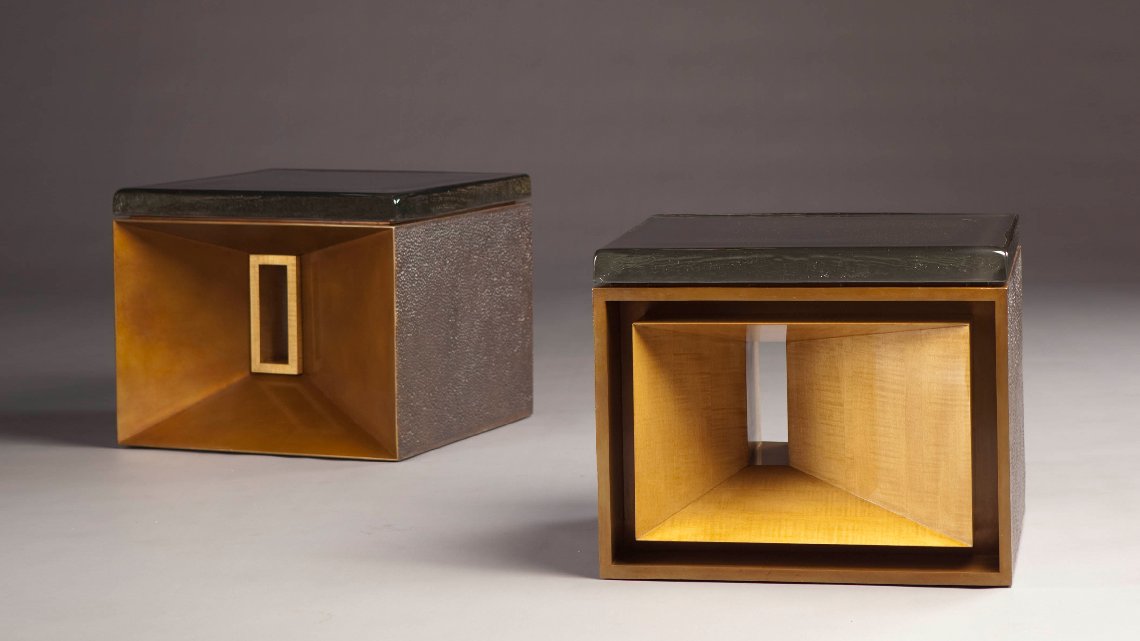 Set of two cast bronze Aspectual Cocktail Tables in a hammered texture with a polished inset sycamore box and thick black cast glass top. Image courtesy of Robert Marinelli.
The quality of craftsmanship in everything you make is exceptional. Where are your designs manufactured? Who makes them?
Robert Marinelli: Thank you. I strive to make quality objects that will stand the test of time. Collaborating with artisans, based on their specific skill set, allows an openness to exploring new techniques and aptitudes when resolving production issues. While most of my pieces are currently manufactured and assembled in the United States, I would love to foster connections between different people, cultures, and places.
Your designs seem to connect to nature but also appear luxurious, not rustic — how do you achieve that delicate balance?
Robert Marinelli: In French, "Jolie Laide" is an expression for a woman whose face is attractive, despite having unattractive features. I strive to create a similar connection by layering disparate materials, textures, and cultural references.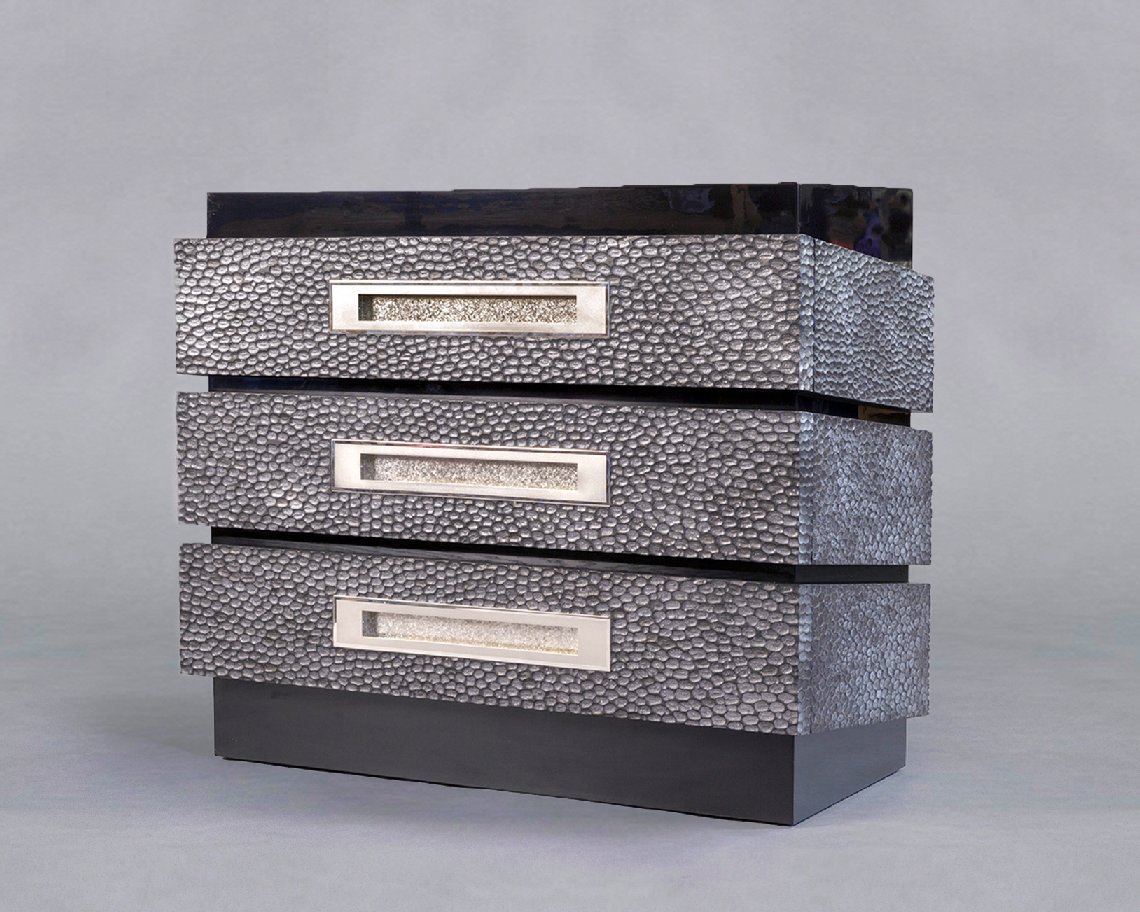 Limited edition Chaneau Dresser in black piano lacquer body with three carved oak drawer bands in a matte bark finish with silver dust and silvered cast bronze handles.

Image courtesy of Robert Marinelli.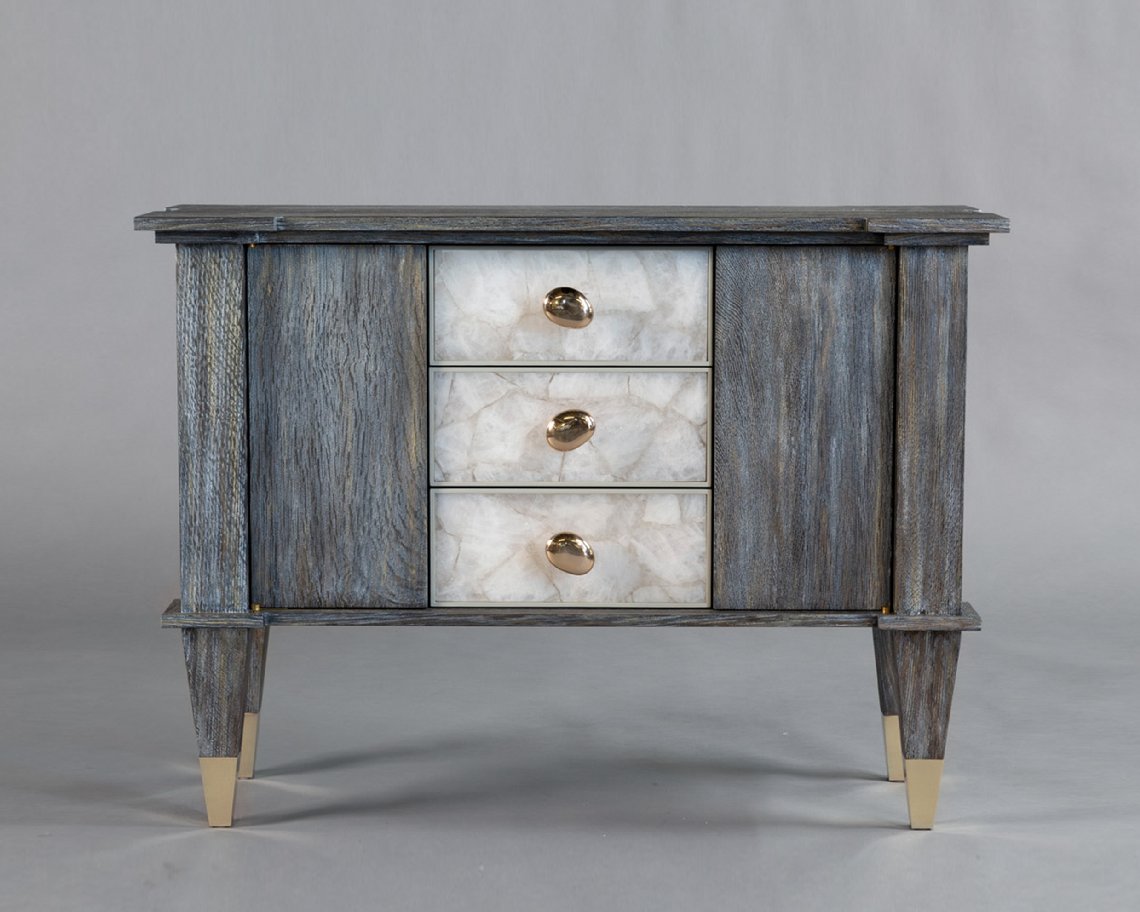 The Blythe Cabinet has a sandblasted oak body in a silver-gold finish. Two doors flank three drawers clad in quartz rock crystal with polished cast bronze pebble knobs. Limited edition.

Image courtesy of Robert Marinelli.
What materials do you like to work with and is there a material you haven't worked with that you would like to try?
Robert Marinelli: I love wood, bronze, and glass but I'm in the process of creating a new collection that's much more sculptural, so I've started working with more malleable materials like ceramic, concrete and resin. Also, LED lighting has greatly improved so I'm excited to incorporate new technology into my work.
You have spoken in interviews about design promoting a sense of well-being — I like that idea. Can you elaborate on it? How do you achieve it?
Robert Marinelli: Order is important to me, but not to the extent of restricting a free flow of thought. When designing an object or a space, I consider how it will be used and the physical context, rather than making it a vehicle for a rigid aesthetic or signature style.
You also work as an interior designer — how does that mesh or sometimes even clash with your role as a creator?
Robert Marinelli: One hand can feed the other, but it's a fine line to walk.
As an interior designer, you're required to work within very defined spaces. Finding solutions to structural and architectural issues and managing your clients' expectations takes priority. In a perfect world, you can wear the hat of an interior designer and a creator. However, often function takes precedence over form, which then clashes with the "creator" label.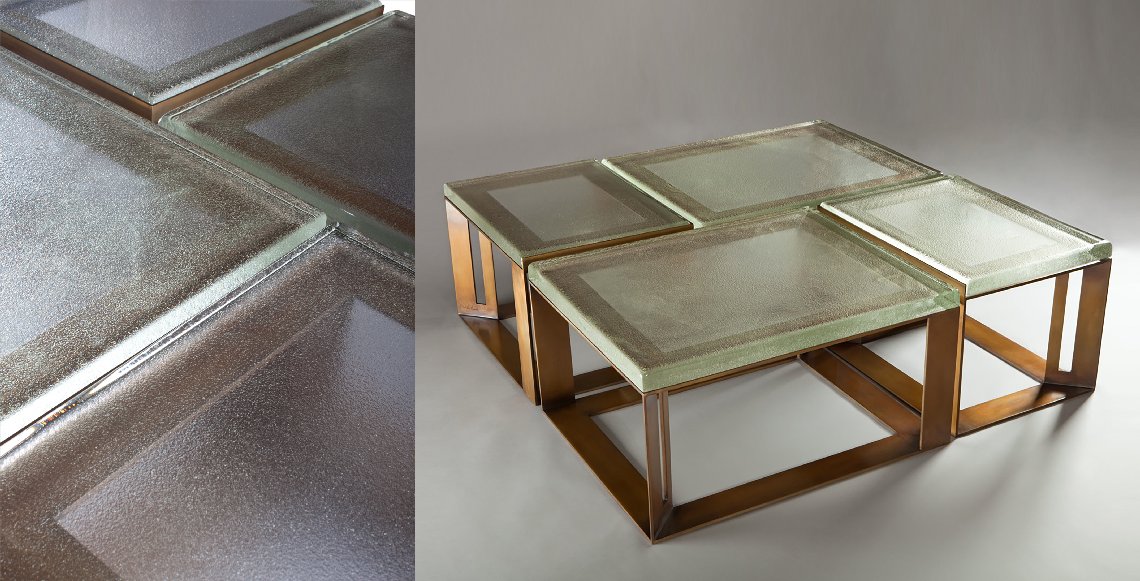 Set of four
Bienalle Tables
shown with steel bases finished in golden-brown lacquer (above) and gunmetal lacquer (below) both with thick cast glass tops in a graphite texture.

Images courtesy of Robert Marinelli.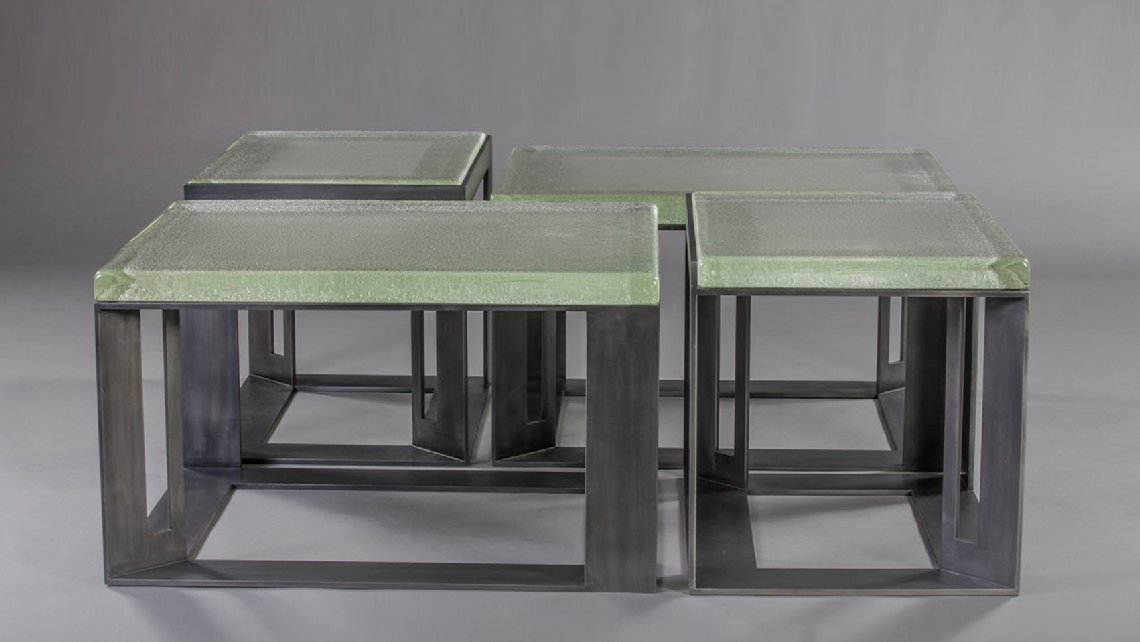 You had a very successful Limited Edition collaboration with Bernd Goeckler where most of the pieces sold, including the case goods. How did this collaboration come about?
Robert Marinelli: Yes, most of the Limited Edition case goods and upholstery that were made exclusively for Bernd Goeckler were sold, as were private commissions for new custom pieces. Bernd Goeckler has been one of my favorite go-to sources for fine antiques and vintage furniture for years. Katja Hirche, the Director, was familiar with my work and wanted to expand her representation of design artists, so our collaboration happened very organically.
You have a new Limited Edition Collection coming out for Summer/Fall 2023. Is it urban but organic and sensual with a warm earthy palette — tell us about it, please.
Robert Marinelli: I'm very excited about the new Limited Edition collection because it marks a departure from my previous work, which is more architectural in form. This new collection utilizes new materials and is a distinct evolution and expression toward more organic, sculptural forms. My passion for exploration and refusal to be categorized in any one way or with one movement keeps me constantly challenging myself.
I've read that you have over 100 designs now, congratulations. Do you have a favorite piece or pieces you've made?
Robert Marinelli: I love the set of 4 Biennale Low Tables and can't wait to see my new Bembe series, which is currently in production.
As a designer, you have clients: what is popular in the market right now, what is selling?
Robert Marinelli: Anything beige LOL.