Serge Mouille Originals Show Opens at Dobrinka Salzman Gallery
| | |
| --- | --- |
| | |
| | Dobrinka Salzman |
To celebrate the opening of Dobrinka Salzman Gallery, located in Chelsea, the city's most vibrant art district, owner Dobrinka Salzman is excited to present Serge Mouille Originals, a show dedicated to the iconic lighting forms of the French master metalcrafter. On offer will be a curated selection of vintage pieces with over 20 rare, historic designs, handmade in the 1950s at Ateliers Serge Mouilles. With their strong silhouettes and bold monochromatic palette, they serve as both sculpture and lighting, conveying modern minimalism, while their insect-like armatures, sensual, curved shades, and low-tech handcrafting speak to organic form. Dobrinka had this to say about Serge Mouille: "His innovative and, I might say, revolutionary ideas and exquisite craftsmanship are what I admire and would like to celebrate in this age of advanced technology. I strongly believe that his lights have become classics in modernist design and possess everlasting power."
Dobrinka Salzman Gallery
532 W 25th Street
NYC 10001
917.572.9476
Please join us for the opening reception on Thursday, May 31st, 6–8pm. The show will run from May 31st through June 30th.


Serge Mouille's Simple floor lamp "Lampadaire"


A set of four Serge Mouille library lights illuminates an adjustable piano bench by

Wendell Castle

, a rare round coffee table by

George Nakashima

, a pair of I

b Kofod-Larsen

Elizabeth chairs, and

Wharton Esherick

's Hammer Handle Chair. The Antony wall cabinet is by

Charlotte Perriand

and

Jean Prouvé

, designed for the student housing complex at the Cité Universitaire d'Antony, and to the right is Jean Prouvé's classic Standard Chair.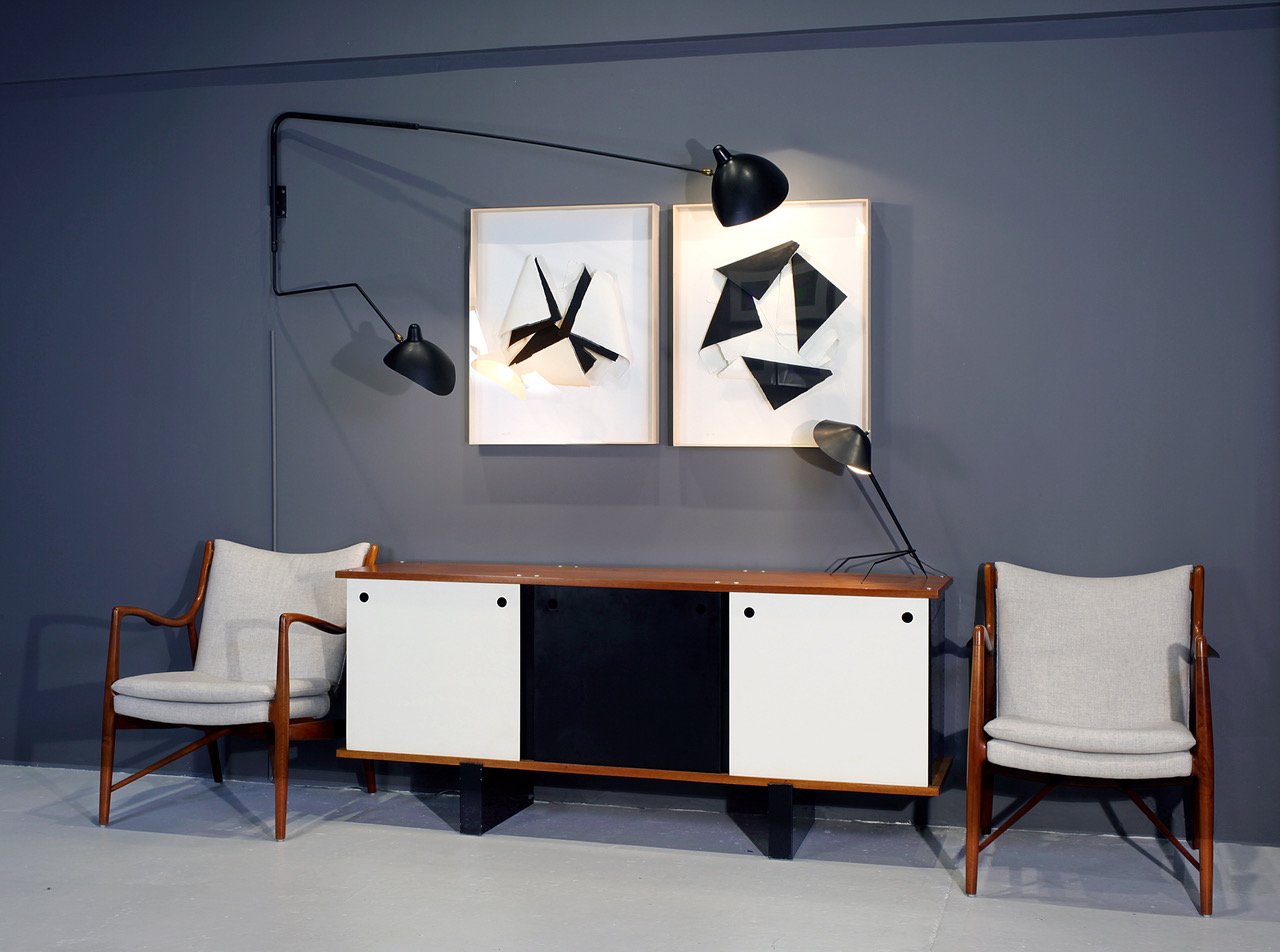 Serge Mouille's Asymmetric wall lamp and Trepied desk lamp are composed with a Bloc cabinet by Charlotte Perriand for Cité Cansado, a housing complex for the French mining company ATEA-SETAP in Mauritania. Flanking the cabinet, a pair of

Finn Juhl

NV45 lounge chairs, designed by Finn Juhl with

Niels Vodder

as cabinetmaker.
| | | |
| --- | --- | --- |
| | | |
| Pivoting two-armed wall light with Lampadaire and Casquette shades | | Three-armed ceiling light with Casquette shades |
| | | | | | | |
| --- | --- | --- | --- | --- | --- | --- |
| | | | | | | |
| Noguchi/Mouille desk lamp | | Trepied desk lamp | | Coquette desk lamp | | Antony desk lamp, designed for the student housing complex at the Cité Universitaire d'Antony. |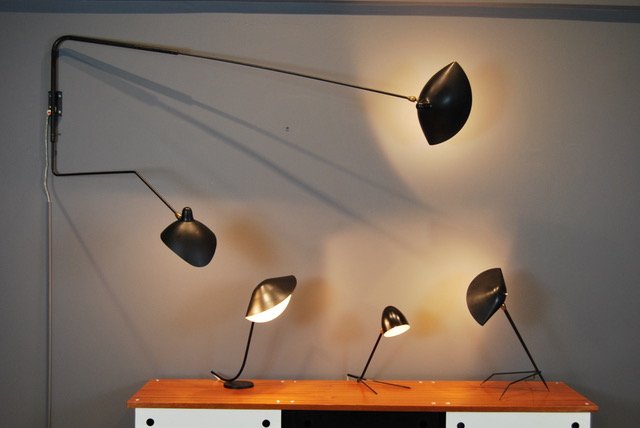 Task and accent lighting by modernist master Serge Mouille
| | | | | | | |
| --- | --- | --- | --- | --- | --- | --- |
| | | | | | | |
| Extremely rare Dior model two-arm adjustable ceiling light with Casquette shades, a bespoke design that was commissioned for the Atelier Christian Dior employee health clinic. | | A classic Simple floor lamp | | A pair of Petite Saturne sconces | | A set of three library lights |