Shelf Life: The Art of Laurene Krasny Brown at Olde Hope New York April 14-July2
Shelf Life: The Art of Laurene Krasny Brown Debuts at Olde Hope
by Benjamin Genocchio
Folk art is such a misleading nomenclature, especially today when there is so little defining genres not only within the visual arts but across disciplines such as art, design, and architecture. But that's what makes the art world today so interesting and exciting.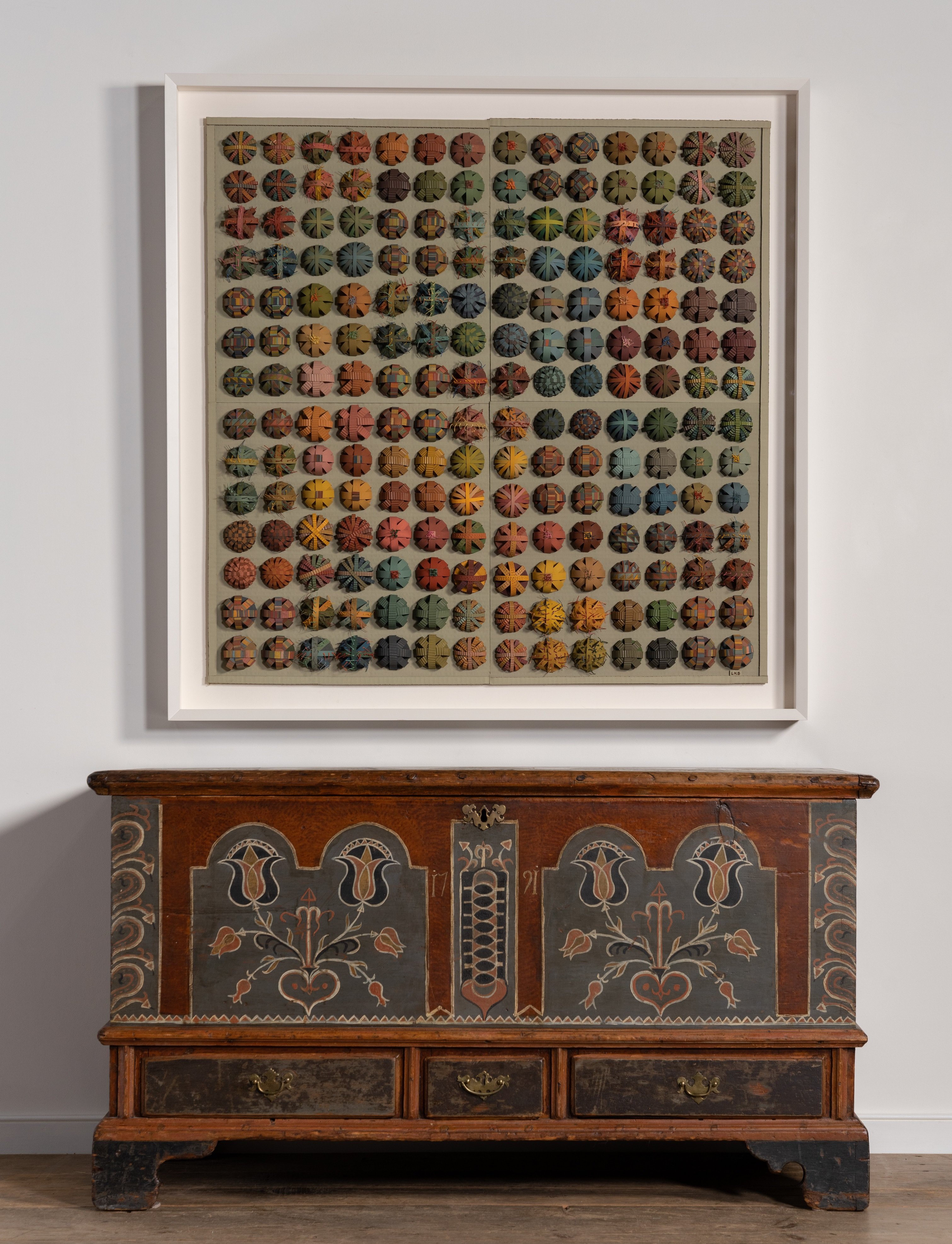 Laurene Krasny Brown, A Democracy of Domes, 2020. Gouache, thread on paper, 40 x 40 x 1.5 in. © Laurene Krasny Brown. Above an 18th century Pennsylvania dower chest in original paint. Image courtesy of Olde Hope.
A perfect example of this mixing and blurring is Shelf Life: The Art of Laurene Krasny Brown at Olde Hope Antiques, running April 14–July 2 and featuring 37 of the artist's works hung alongside complimentary pieces of American painted furniture, folk art, and decorative arts. Its an exciting, educational display in which themes and ideas bounce around the room, from object or image to another. For added edification a catalogue was printed and includes an essay by Stacy C. Hollander, long-time former curator at the American Folk Art Museum, who says of the artist, rather succinctly, "Brown's art is intimate and labor intensive, the result unexpectedly healing."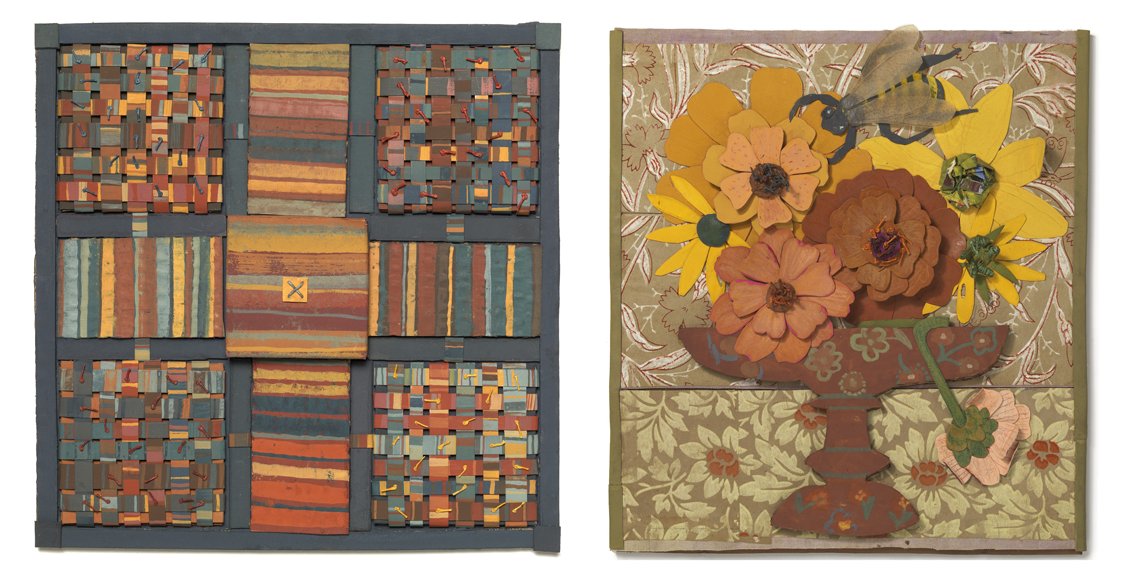 Left: Laurene Krasny Brown, Parcheesi, I , 2020. Gouache on cut paper, 11 x 11 x .5 in. © Laurene Krasny Brown. Right: Laurene Krasny Brown, Summer Bouquet, 2017. Gouache, colored pencil, thread on plain and printed paper, 10.5 x 9.5 x .5 in. © Laurene Krasny Brown. Images courtesy of Olde Hope.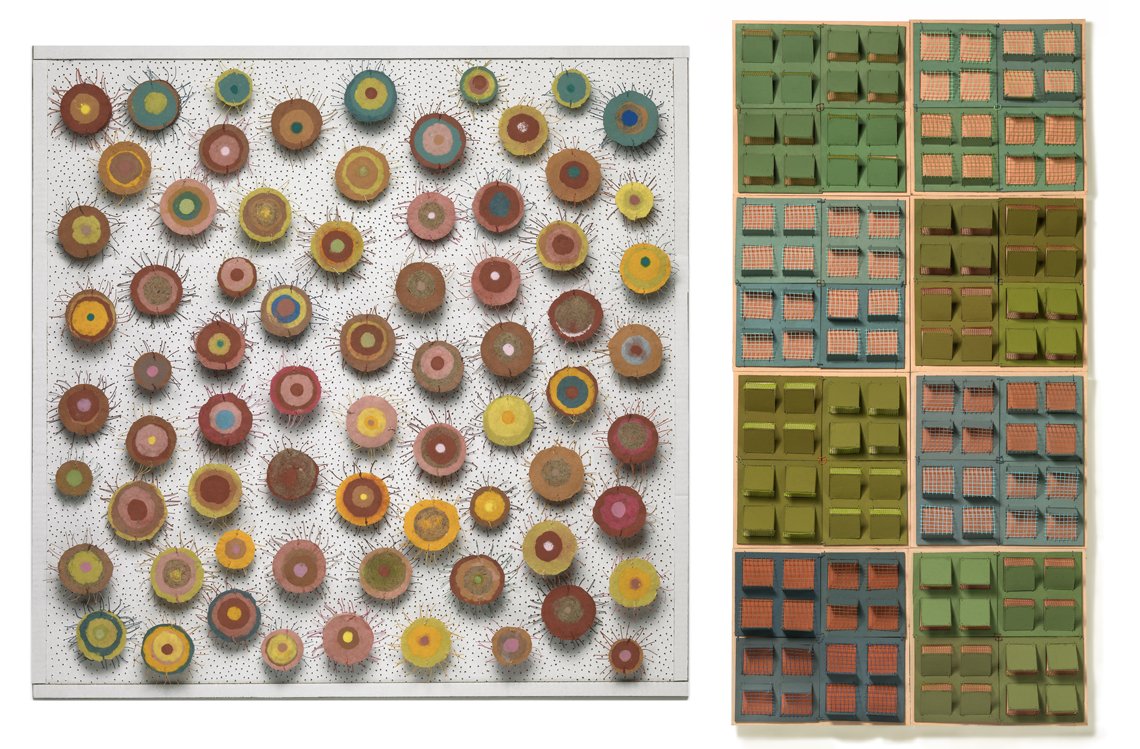 Left: Laurene Krasny Brown, Target Board, 2012. Handmade abaca, wire mesh, waxed linen on board, 36 x 36 x 1.5 in. © Laurene Krasny Brown. Right: Laurene Krasny Brown, Facades, II, 2022. Gouache, acrylic, wire mesh, tread on paper, 42 x 21 x 1.5 in. © Laurene Krasny Brown. Images courtesy of Olde Hope.
Brown worked primarily in paper, creating collages, assemblages, works in relief and small sculptures. The goal was to evoke emotion, some kind of raw or true feeling. "I take much inspiration from the traditions of American Folk Art: appreciation for material, fine craftsmanship, ingenuity, attention to detail, an economy of means and especially the ways an object often ages to advantage," Brown says.
The artist was also especially happy to have her work on display alongside furniture and decorative arts as if on show in a period home. "Creating conversations between my work and American antiques makes this show very special for me; its why I feel so much at home here."

Laurene Krasny Brown was born and raised in New York City. After obtaining degrees from Cornell University, Columbia University and Harvard University, Brown embarked on a career in education, research and childhood cognitive development. She authored seventeen books for young children, including titles dealing with well-being and friendship. For the past twenty years, her focus has been creating art. As a self-taught artist, Brown has been exhibited at galleries in New York, Boston, and Martha's Vineyard, where she summers with her husband, Marc. She has been a Visiting Artist working and exhibiting in Amherst Virginia, Paros Greece, Auvillar and Marnay-sur-Seine France and, most recently, at The American Academy in Rome. She exhibited in 2020 with JVS Project Space at Art on Paper, and her first solo museum show was at the Fenimore Art Museum in 2021.

Olde Hope Antiques was established on July 4, 1976 in New Hope, Pennsylvania by Edwin Hild and Patrick Bell. Both were in their early 20s and inspired by the 1974 exhibition at the Whitney Museum of American Art entitled "The Flowering of American Folk Art." They were exhibitors at The Winter Show at the Park Avenue Amory for 23 years before opening a second gallery location on the Upper East Side in 2019. Olde Hope is recognized as a leading source for exceptional examples of American folk and decorative arts, including painted furniture, weathervanes, textiles, fraktur, and portraiture.