Shelf Love: 2021's Best New Design Books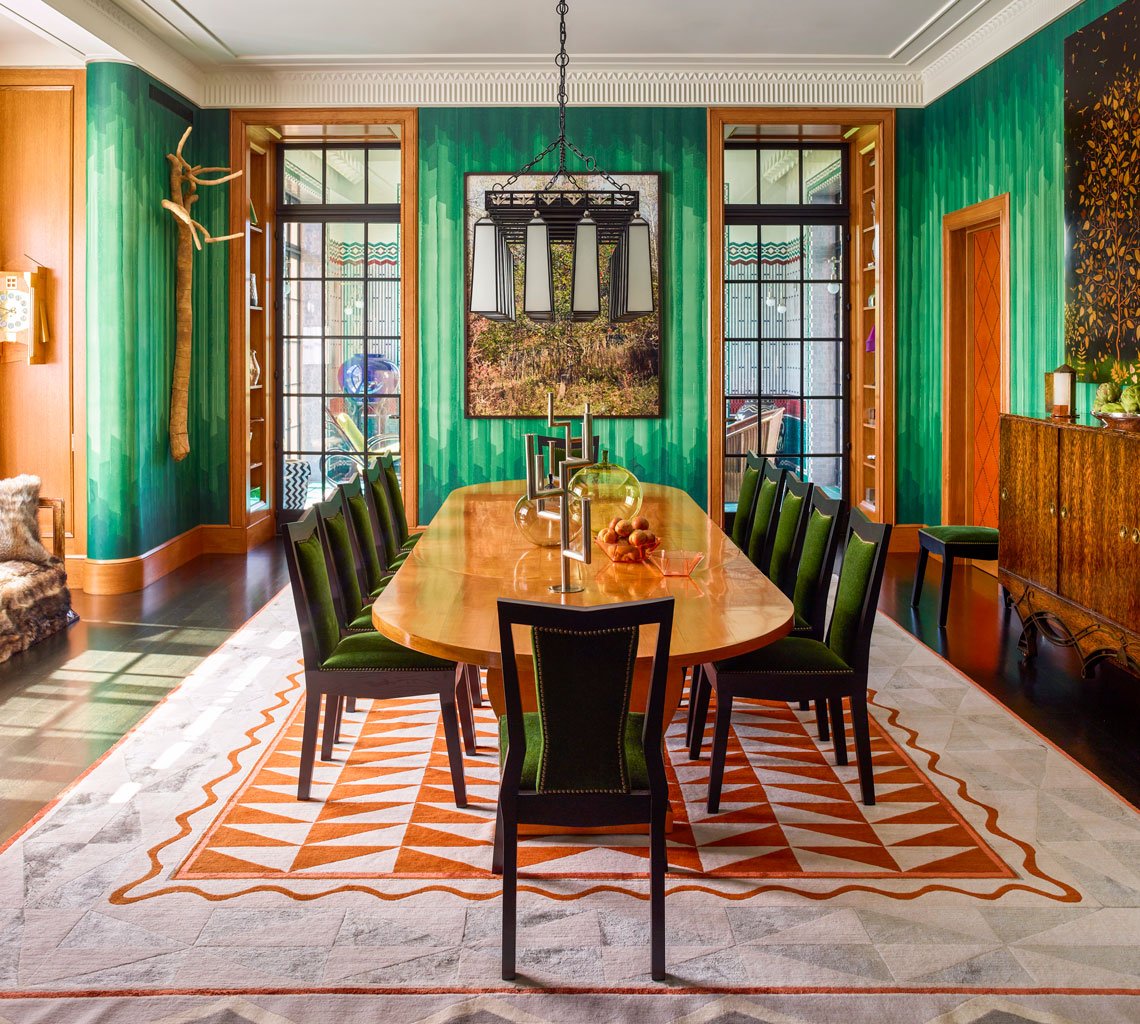 In Peter Pennoyer Architects extraordinary art-filled ode to Czech Cubism, Rowdy Meadow, walls clad in a malachite green hand-painted silk wallcovering of Cubist-inspired striations drench the dining room in saturated color, setting off the earthy tones of wood, leather, fur, straw and clay found in the furnishings and artwork. The pearwood dining table is by Jean-Michel Frank, with dining chairs by PPA Interior Design, based on a design by Czech architect Josef Gočár. At right, a palmwood sideboard by Eugene Printz, presented at the Pari Salon d'Automne in 1943, and above, a painting by Fred Tomaselli. Seen at left, a clay-covered tree branch, the byproduct of Andy Goldsworthy's site-specific installation Orchard, which adorns the landscape. Glimpsed In a window niche, a rare 1924 daybed by Eileen Gray draped in coyote fur, and a Gustave Serrurier-Bovy wall clock. The design of the rug was inspired by a 1925 Gabriel Moiselet painting. Photo by Eric Piasecki.

2021's Best New Design Books

2021 has brought a spectacularly diverse bounty of new releases, and whether you are looking to escape into a dreamy session of sensory overload, searching for ideas to "freshen up" your own abode, or shopping for the perfect gift for your hosts (or yourself!), here are Incollect's top picks.
We're highlighting worth-the-wait debut volumes from some of our favorite designers, fresh insights from hall of famers, and inspirational tomes from brilliant architects, all of which offer reflections on the meaning and beauty of home.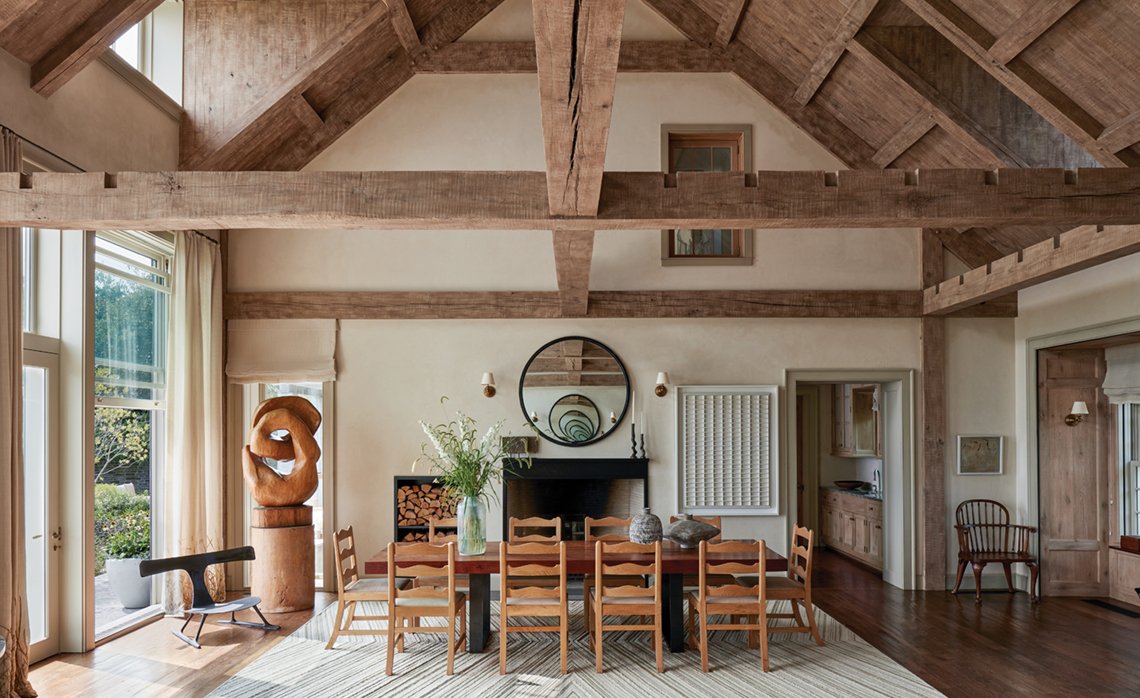 In collaboration with interior designer Michael S. Smith, a new modified saltbox in the Hamptons was designed to tell a tale of time unfolding through generations, with a history of transformation and patina of age. In the barn-like great room, weathered timbers with joist pockets hint at a now-gone second floor that never actually was. Carefully chosen antiques and hand-crafted pieces add notes of authenticity to the story.
Collaborations: Architecture, Interiors, Landscapes: Ferguson & Shamamian Architects
Rizzoli International Publications
Text by David Masello; Foreword by Margaret Russell
This latest monograph from the legendary and award-winning Ferguson & Shamamian Architects treats readers to a tour of 14 extraordinary new residences. From sprawling country estates to urban abodes, the homes featured showcase Ferguson & Shamamian's mastery of classic styles, their renowned attention to detail, and their commitment to collaborative partnerships with world-class craftsmen, decorators, and interior designers, including Bunny Williams, Michael S. Smith, and Victoria Hagan.
Available online from Rizzoli, Amazon, or from your local bookseller.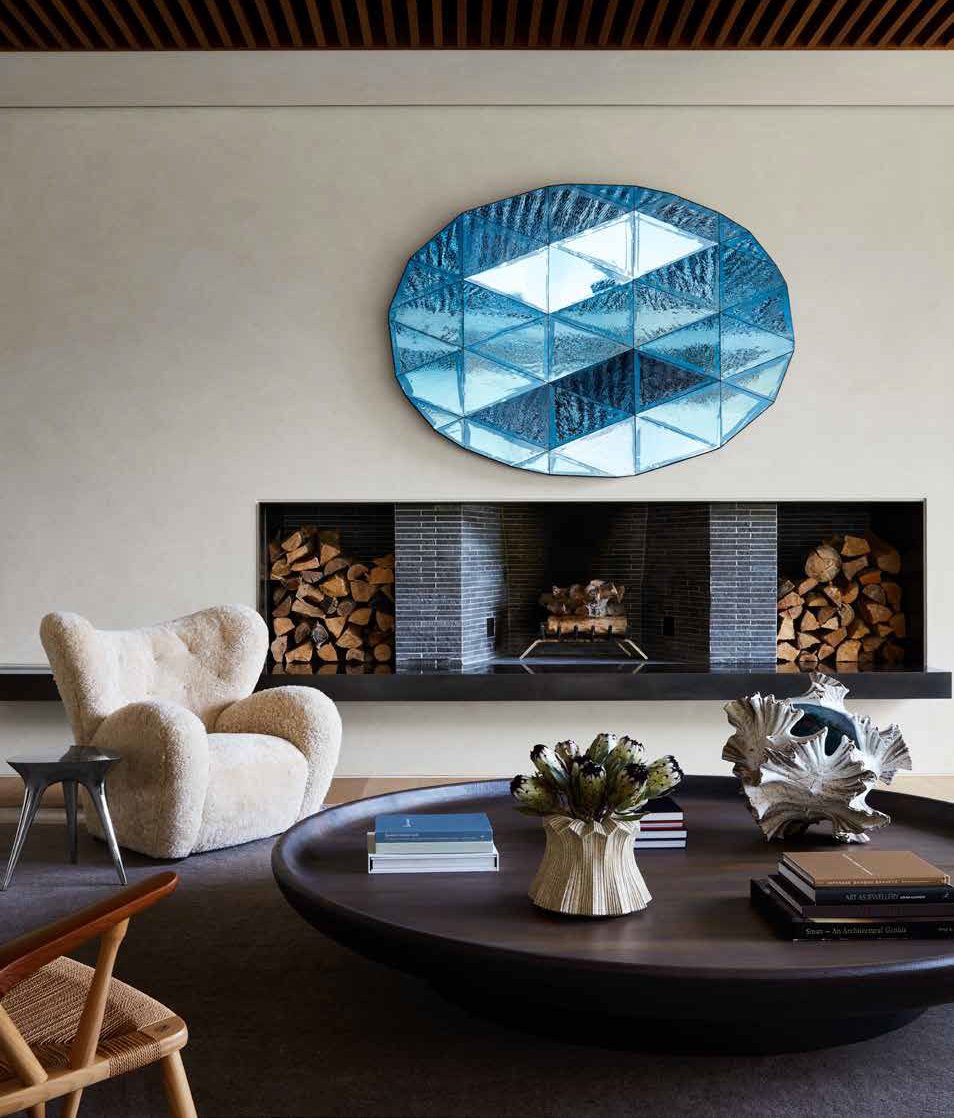 With spectacular floor-to-ceiling panoramic views of the Elk Mountains as a backdrop, Shawn Henderson opted to decorate with fewer, more impactful pieces in his clients' Aspen retreat. A brilliant blue faceted mirror by Sam Orlando Miller suggesting a crystalline snowflake is situated over the hearth, where it reflects the shifting sunlight by day and firelight at night. The seating arrangement is centered around a low, seven-foot diameter cocktail table, with a 1930s designed sheepskin-covered armchair by Danish architect Flemming Lassen and classic Hans Wegner Peacock chair adding Nordic authenticity. Photo by Stephen Kent Johnson.
Shawn Henderson: Interiors in Context
The Monacelli Press
By Shawn Henderson with Mayer Rus
This long-awaited first monograph from acclaimed designer Shawn Henderson showcases the serene and sophisticated interiors that have become his signature. From urban townhouses and lofts to historic farmhouses and rustic country estates, the 14 remarkable projects featured in this volume are warm, intimate, and refined, with elegant finishes and textures, custom and vintage furnishings, and exceptional art on every page.
Available online from The Monacelli Press, Amazon, or from your local bookseller.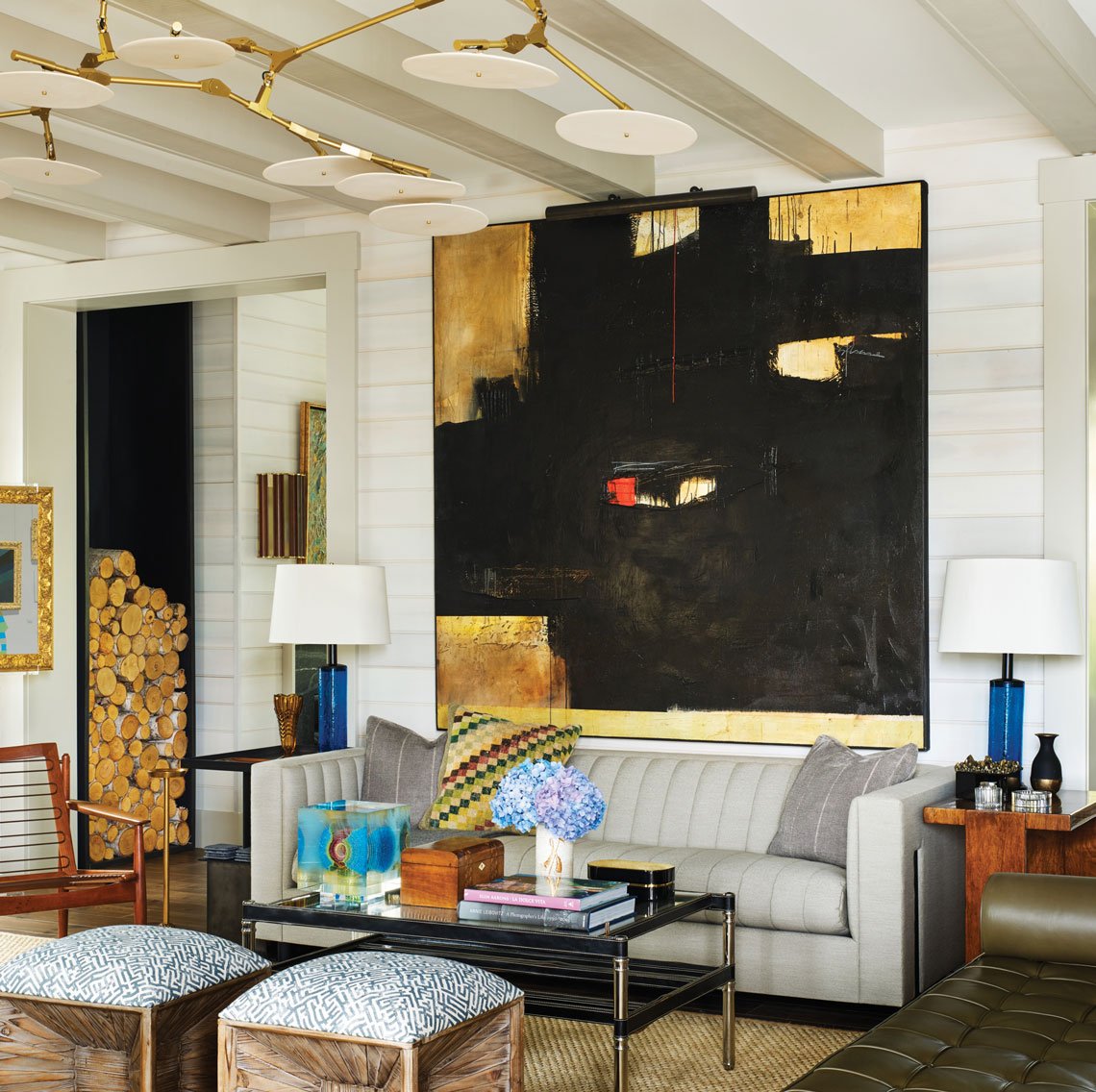 A couple's collection of eclectic artwork and furnishings with strong sculptural presence stand out against lapboard walls which they, strictly by chance, viewed in their primed but not yet painted stage, and fell in love with. A channel-quilted sofa, Mies van der Rohe daybed, and midcentury Italian wood frame chairs hold their own married with a striking work by Drew Harris. Lindsay Adelman's Branching Discs chandelier's exuberant organic sprawl tempers the linear forms, and pair of vintage blue glass Blenko lamps add jewel-like sparkle. Photo by Annie Schlechter.
Collected Interiors: Rooms That Tell a Story
Rizzoli International Publications
By Philip Mitchell and Judith Nasatir; Foreword by Bunny Williams
Every space has a story to tell and none more so than the interiors featured in this volume. Philip Mitchell is known for his clean classicism and modern maximalism, and the rooms in this tome overflow with his distinctive color, warmth, energy, and personality. Each interior exemplifies Mitchell's masterful ability to integrate antiques, family heirlooms, contemporary collections, and modern art, showing readers, in turn, how to blend old and new to create eclectic, authentic spaces all their own.
Available online from Rizzoli, Amazon, or from your local bookseller.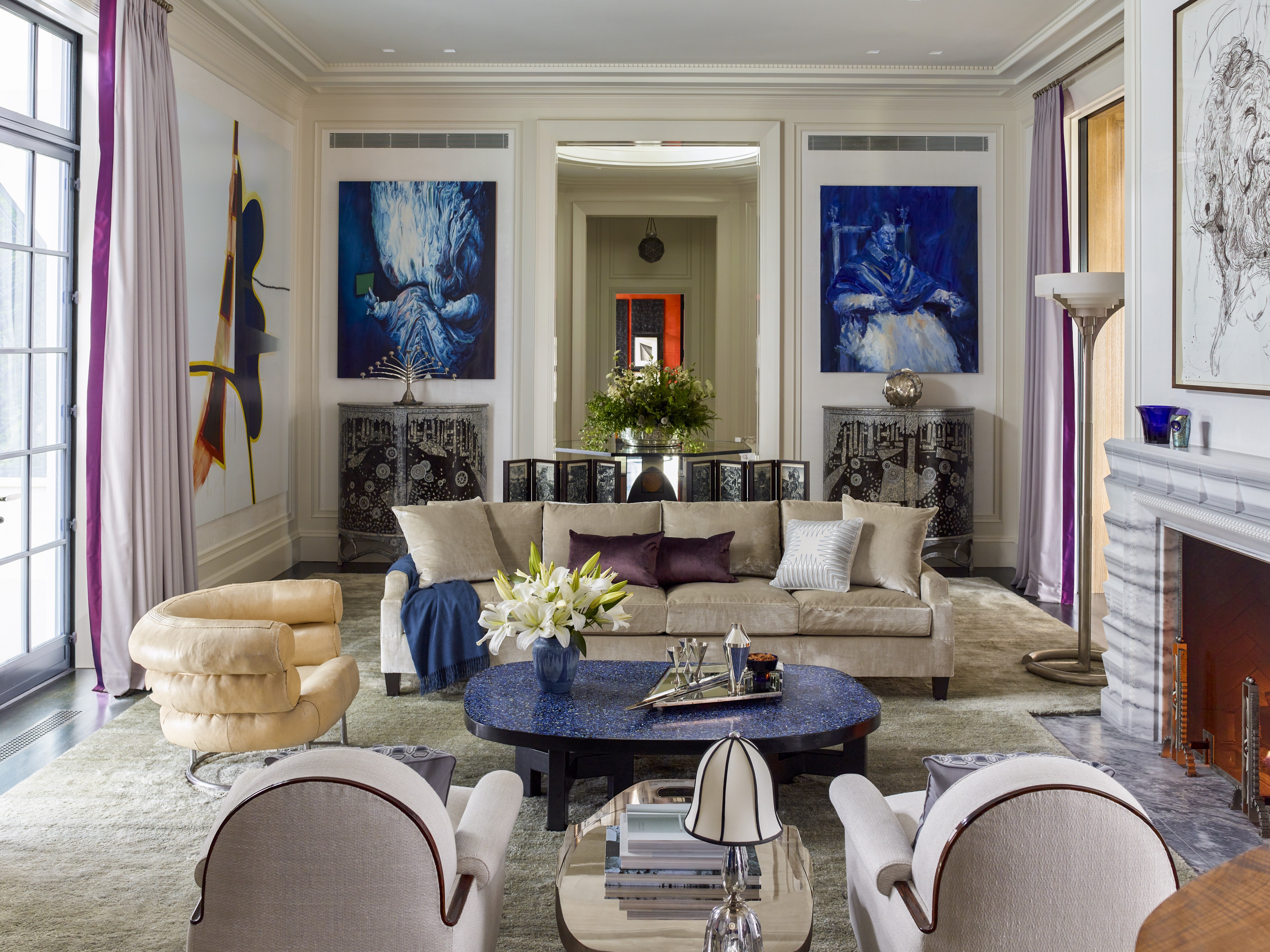 Designed as an homage to the obscure Czech Cubist style, and incorporating a melange of corresponding styles including Art Deco, Werner Werkstatt, and Arts and Crafts, Rowdy Meadow was created as a family home first and foremost, but also as a gallery for the owner's extraordinary collection of art and design. The living room seating area includes elegant 1925 Leliere armchairs by Émile Jacques Ruhlmann paired with a Maria Pergay table from 1958, and an Eileen Gray Bibendum chair, named for its resemblance to Bibendum, the cartoon Michelin Man. The lapis lazuli-topped resin coffee table is by Ado Chale (ca. 1975), nickel-plated floor lamps are by Jean Perzel (ca. 1928), a 1923 Josef Hoffmann table lamp is seen at center front. Flanking the doorway, above contemporary cabinets embedded with mother-of-pearl from Galerie Mougin, intensely saturated paintings by Glenn Brown and Yan Pei Ming almost pulsate. Photo by Eric Piasecki.
Rowdy Meadow: House - Land - Art
Vendome Press
By Anne Walker; Introduction by Peter Pennoyer
Renowned architect Peter Pennoyer is back with a new book that explores his most ambitious project to date. Rowdy Meadow is a house unlike any other, a visionary Czech Cubist-inspired residence in Ohio's Hunting Valley that is a triumph of history, style, and geometric composition—and home to a museum-worthy collection of fine art and furnishings. Written with historian and frequent collaborator Anne Walker, this volume walks readers through the house, highlighting its stunning prismatic interiors, astonishing trove of furnishings and art, and extensive private sculpture garden.
Available online from Vendome Press, Amazon, or from your local bookseller.
"Emptiness, to allow the space to breathe" is how Rose Unlacke proclaims one of her foremost considerations in the design of her home's interiors. A grand old wreck of a house, previously the residence and studio of an artist, then an art school, and finally an exhibition space, it had deteriorated considerably, but much of the superb plasterwork — as seen here in the dining room — survived. A custom-built dining table modeled after an antique drapers table encircled by a suite of Kaare Klint's iconic 1930s Red Chairs in original mahogany and Niger leather, a neoclassical mirror above a richly figured marble console table, and Yayoi Kusama's hypnotic Infinity Nets (2000) simultaneously evoke past, present and future. Photo by François Halard.
Rose Uniacke at Home
Rizzoli International Publications
By Rose Uniacke; Text by Alice Rawsthorn, Vincent Van Duysen and Tom Stuart-Smith
A limited, 2500-copy edition of leading interior designer Rose Uniacke's first book gives select readers an unprecedented, privileged window into her private London home. The intimate and exclusive glimpses within its pages reveal a residence that embodies Uniacke's design principles, with interiors that are at once airy and light, luxurious and robust, and always extraordinarily serene. This volume is the ultimate bespoke reading experience, a luxury item as exquisite and carefully crafted as the spaces it captures.
Available online from Rizzoli, Amazon, or from your local bookseller.
Casa Cabana
Vendome Press
By Martina Mondadori; Foreword by Aerin Lauder
Groundbreaking cult interiors magazine Cabana is known for its distinctive aesthetic and effortless sense of cool. Casa Cabana is an immersive new visual anthology from the magazine's founder, Martina Mondadori. In it, she introduces readers to her coterie of design and lifestyle tastemakers and highlights the details, accents, and accessories—including iconic Renzo Mongiardino fabrics—that are capable of transforming any space into a Cabana-worthy interior. A feast of sumptuous photographs, personal essays, and Italian recipes, this is a must-have guide to home decorating and entertaining.
Available online from Vendome Press, Amazon, or from your local bookseller.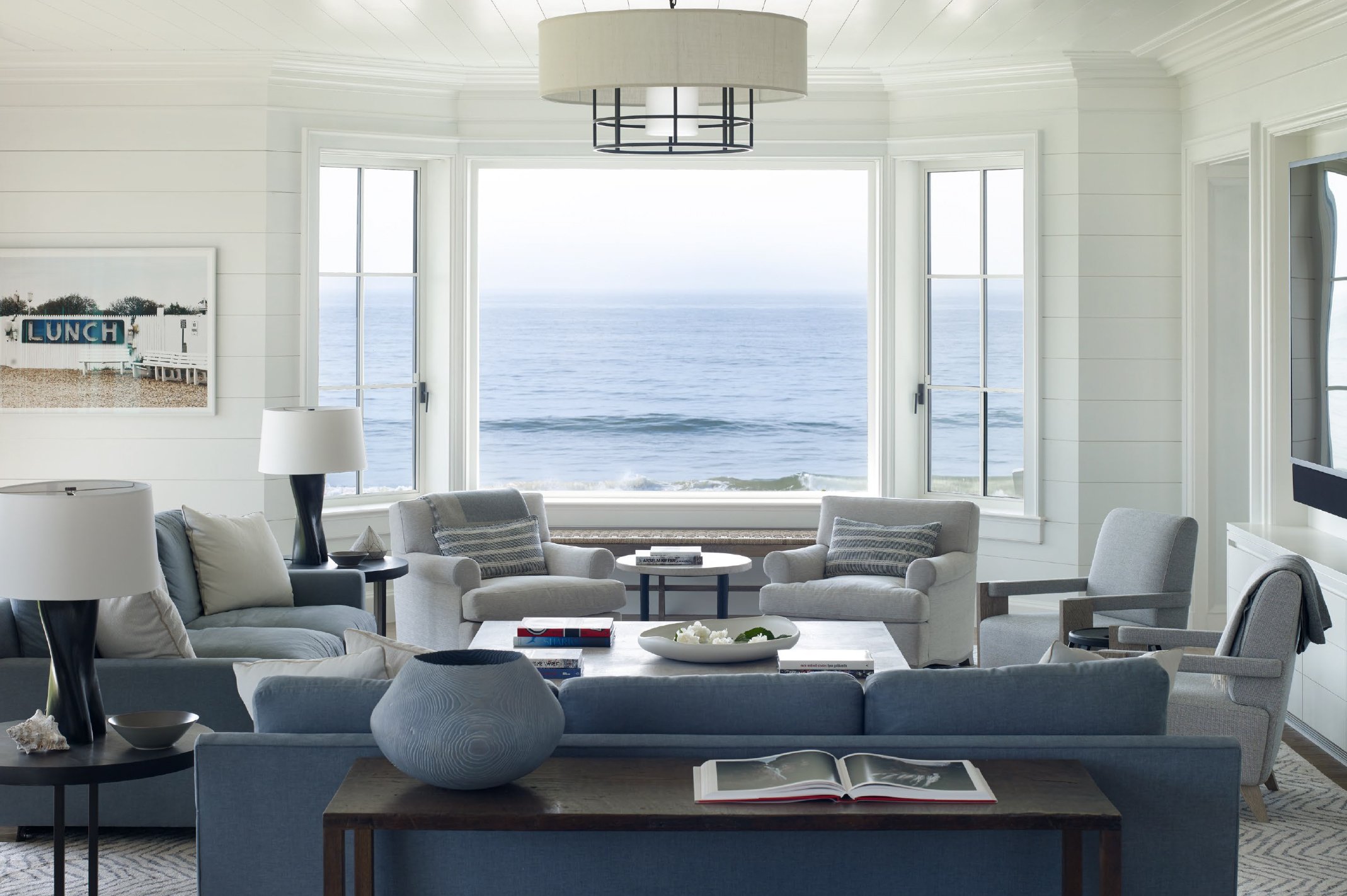 Subtle and magically serene, a Hamptons beach house sitting room flows seamlessly into the endless vista of the sea and sky. Deceptively simple at first glance, Victoria Hagan crafted a luminous palette of exquisitely balanced tonality. Patterns in the rug and the blue vessel play upon the theme of waves, and a caged ceiling fixture hints at traditional nautical design. Photo by William Waldron.
Victoria Hagan: Live Now
Rizzoli International Publications
By Victoria Hagan
A member of both the AD100 and the Interior Design Hall of Fame, Victoria Hagan has been an icon in the design world for more than a quarter-century. But in 2020, throughout an unimaginable year spent inside, she found herself reconsidering the meaning of life, home, and interior spaces. This new book is a response to that shared experience and a celebration of the true nature of home—how it comforts and heals us, how it nourishes us, and how it holds the quiet beauty of the everyday.
Available online from Rizzoli, Amazon, or from your local bookseller.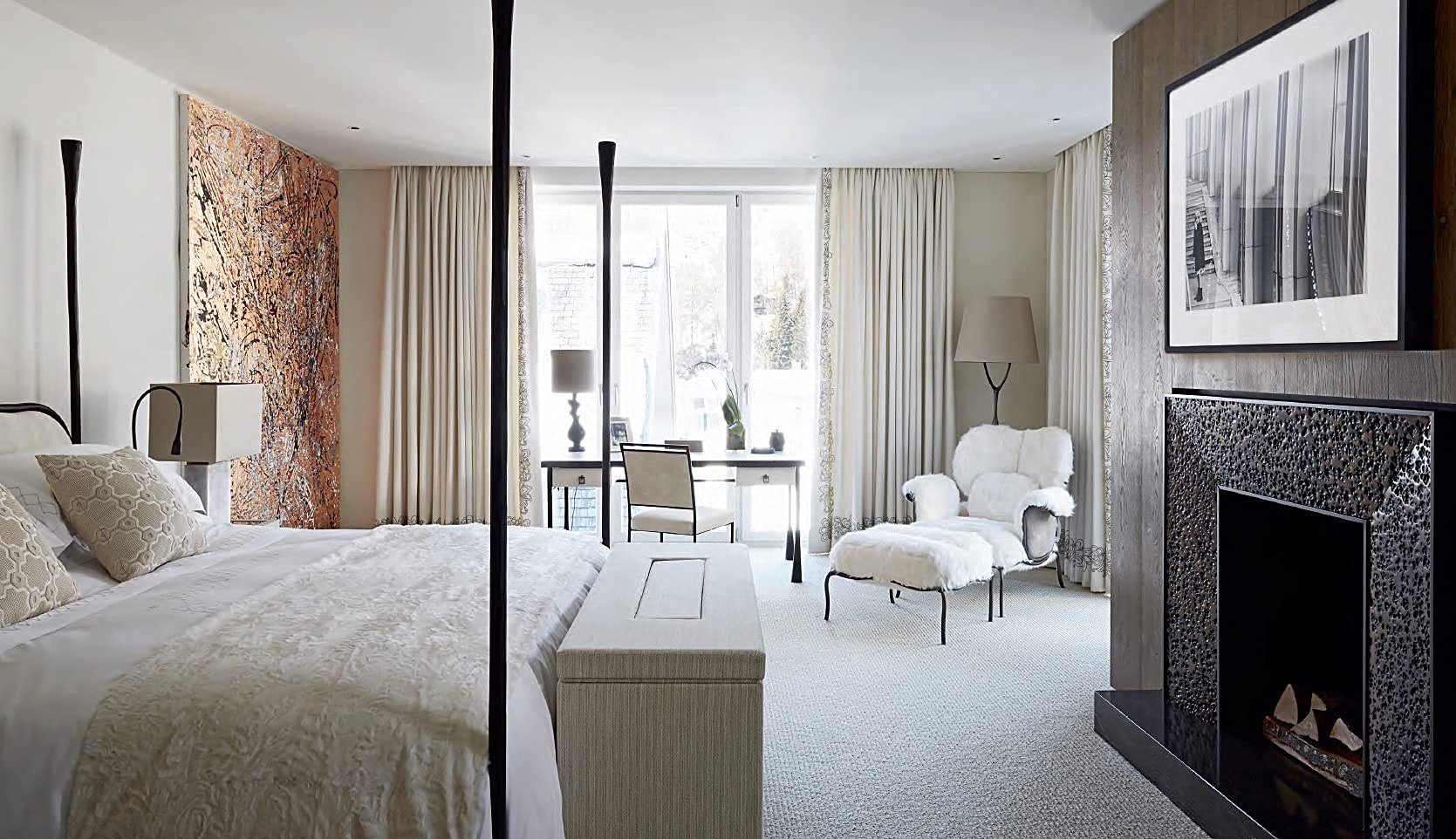 On the seventh floor of a glass building designed by Norman Foster, this apartment in St. Moritz was reimagined as a cozy, contemporary chalet. In the main bedroom, the palette is subdued, so as not to distract from the stunning Alpine scenery. Beautiful textures — bronze, fur, wool, cashmere, leather and fumed oak evoke a softly sumptuous atmosphere. The cast bronze fireplace surround is set into a wall of fumed oak, with a photograph by Cindy Sherman hanging above. A fur-lined chair and embroidered cashmere curtains, walls lined in wool, and velvet headboard on the Francis Sultana-designed bed wrap the room in cosseting luxury. Photo by Paul Massey.
Modern English: Todhunter Earle Interiors
Vendome Press
By Emily Todhunter and Kate Earle; Text by Helen Chislett
Sometimes the most striking spaces are the ones that whisper rather than shout. Based in Chelsea, London, Todhunter Earle is a studio known for its relaxed, unpretentious, and discreet approach to design. The 18 private homes featured in this gorgeous new volume are elegant and carefully considered, exemplifying the extraordinary range of the firm's portfolio and the diversity and dynamism of its approach to interior aesthetics.
Available online from Vendome Press, Amazon, or from your local bookseller.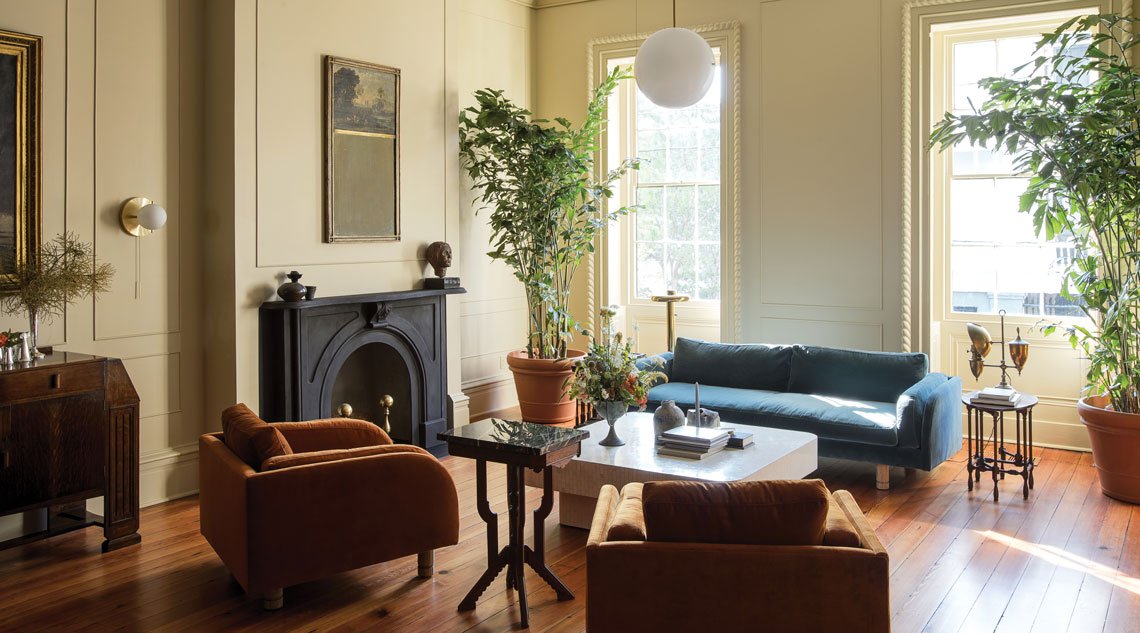 "Southern Modernism" is the stylistic moniker Stephanie Brechbuehler and Robert Highsmith, the founding duo of Brooklyn design studio Workstead, use to describe their signature mix of antique, vintage and contemporary elements seen here in their painstakingly restored 1853 Italianate Victorian brownstone on historic Bee's Row in Charleston, South Carolina. Built as a private residence, it was for a time a warehouse for Civil War contraband smuggled through the Union blockade. Original heart pine floors and plaster moldings, including the unusual rope form framing the windows, were restored. Together with a honeyed neutral wall color, they create a backdrop that evokes a dialogue with the past. Streamlined contemporary seating and a vintage horn mosaic table in the style of Karl Springer were combined with a mashup of antiques, chosen for their sculptural appeal — an Eastlake marble-topped table, and a quirky Mission/Deco/Craftsman sideboard. The ethereal, floating bubble lighting is from their own Signal line.
| | |
| --- | --- |
| | |
Workstead: Interiors of Beauty and Necessity
Rizzoli International Publications
By Workstead; Text by David Sokol
Looking for design inspiration that is both cozy and elegant? Traditional styles and contemporary innovation have always been at the heart of Workstead's one-of-a-kind interiors. The Brooklyn-based design studio envisions spaces that are unlike any others, and this book showcases an array of their historic renovations, ambitious new constructions, and large-scale projects, all of which demonstrate an effortless blending of history and modernity, individual and community, and above all, beauty and necessity.
Available online from Rizzoli, Amazon, or from your local bookseller.